Ms Hughes Teaches
History resources to engage and educate.
11Uploads
42k+Views
15k+Downloads
History resources to engage and educate.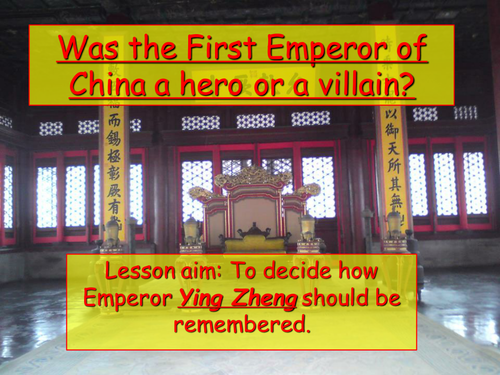 In this lesson students are asked to decide whether Emperor Ying Zheng should be remembered as a hero or a villain based on his actions. He was the first emperor to unify the seven warring states of China. The lesson includes: - A handout describing Ying Zheng's a life. - A worksheet with questions and activities for the students to complete. - A powerpoint with instructions and activities and also some recent photographs of the Forbidden City and the Great Wall of China. - A link to a video (3.26 minutes) from the documentary "The man who made China". - Optional and simple essay planning sheets for extended writing. This lesson was devised to go along with a whole unit I teach on China: past and present. The lesson contains cloze questions and higher order thinking tasks. To extend my students I ask them to consider what makes a good leader and can a person be a good leader but still be considered a villain, for example. The preview file only has a sample of the slides. I had tried to make a PDF with pictures of all the slides and worksheets but it was too big to upload! This lesson would work well as part of a world History study as well as being quite timely for Chinese New Year. Thanks for looking and I hope you find this helpful! © A. Hughes (MsHughesTeaches)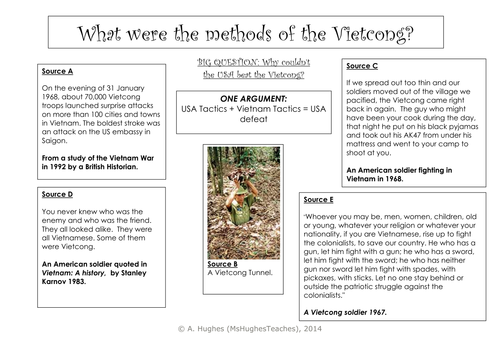 This worksheet uses contemporary sources to investigate the different methods used by the Vietcong fighters during the Vietnam war. The focus is on the Guerrilla tactics and the American GI's reactions to them. Students have to be able to infer from the sources to get a fuller picture of the methods used by the Vietnamese. I use this lesson as part of several on the methods of the Vietcong AND the methods of the American troops to help explain why America was unable to win the war. Students have to complete 5 questions using the sources and then write a diary entry as either an American GI or a Vietnamese fighter using the sources they have just interrogated.