Ms Hughes Teaches
History resources to engage and educate.
11Uploads
42k+Views
15k+Downloads
History resources to engage and educate.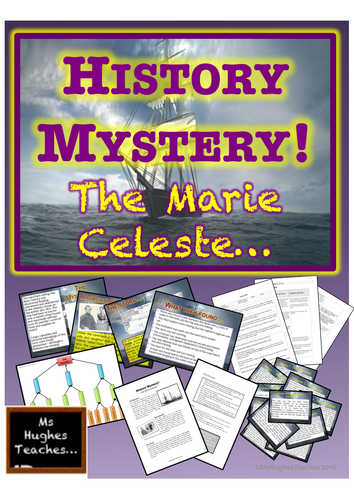 Can your students decide what happened to the Mary Celeste and all of her crew? In this lesson they will compare and evaluate 12 possible theories before deciding on the most likely scenario as the 'winner'. They will then justifying their decision both verbally and in writing. The lesson works as a knockout tournament, comparing two theories at a time. They must apply the background in formation presented to them along with the theories to come up with the most plausible answer. It is great for developing higher order thinking skills especially when they have to tease out the strengths and weaknesses of each idea. It also provides me with some fabulous display ideas using the students work! The lesson contains: - 23 slide powerpoint. -12 Theory cards (on powerpoint to be printed off in handout mode and cut out - they are in colour and black and white to help you save some ink!) - 2 page background information handout. - 3 page detailed lesson plan - Tournament structure handout (also on powerpoint in colour and Black and white) Please read my TERMS OF USE document attached to this lesson download.

Get your students thinking and working like historians I have used this lesson for several years as part of a project on developing history skills in my pupils. Students have to infer and reach a reasoned judgement based on the evidence at hand. This includes primary sources in the form of artefacts and secondary reports. The class works in pairs to decide why and how the man found in the peat bog in Denmark died. They assess the evidence to decide whether it was: Murder, Suicide OR Sacrifice - you can choose depending on your students needs. Illness/natural causes. The evidence is not given to them all at once, instead the teacher drip feeds it throughout the lesson. This is in a bid to challenge preconceived ideas and see if pupils will change their minds when faced with new information or sources. The last task is to write at least a paragraph or more explaining what they think happeend based on the evident. It is a bit like a DBQ) explaining what the different options were and what they believe happened to Tollund Man based on the evidence they have collated. The lesson encouraged students to analyse, evaluate and consider causation. The grade descriptors are skills based - i.e: identify, then describe then explain then evaluate at the top end of ability. This can be used to mark the written work produced. The zip file contains: fully animated and annotated PowerPoint Clues from the crime scene worksheet Answer Table worksheet (with two opt Full lesson plan description My classes have had great fun with this lesson. It can stand alone or be used part of a project on historical skills. If you like this method you may also be interested the following 'history mystery' resources in my shop. I hope you find this useful and enjoyable and that your students have as much fun as mine have over the years! Thanks © A. Hughes (MsHughesTeaches), 2014 Keywords: history skills social studies mystery cause critical thinking evidence sources argument TERMS OF USE: This download (free or purchased) is for your own personal use in your classroom or your home. Please do not share my resources with others unless given explicit consent by me. Please direct them to my store instead. This download MAY NOT be used in whole or in part on any distance learning course platforms including, but not exclusive to, Outschool or Udemy. You may not share this download. You may not alter any item in this download, resell and claim as your own work. Similarly, you may not sell or share these resources with anyone and you may not use the contents of this download to create anything for commercial purposes or other commercial products. If you are an education board or school and would like to use my resources district wide, please contact me about licensing. Amy Hughes (MsHughesTeaches) All rights reserved.

This lesson asks the big question 'why did the Great Fire of London Spread so far and so fast in 1666?'. Your students have to evaluate the evidence available to decide what they think was the biggest contributing factor. Students have to infer and reach a reasoned judgement based on the evidence at hand. This includes primary sources and secondary reports. The class works in pairs or groups to decide why the Great Fire of London was able to spread so far in such a short space of time. They assess the evidence to decide whether the main reason was: -Human mistakes, -Weather conditions -Housing -Firefighting equipment. The evidence is not given to them all at once, instead the teacher drip feeds it throughout the lesson. This is in a bid to challenge preconceived ideas and see if pupils will change their minds when faced with new data or sources. The lesson also works well as a station activity with the children moving around the room to gather information. The last task is to write an extended piece (like a DBQ) explaining what the different factors were and what they believe was the biggest contributing factor to the fire spreading in this way. The lesson fits with the common core requirement for students to analyse, evaluate and consider causation. It is designed for the UK National Curriculum and I have kept in the level descriptors as these may help you with grading your students as they are skill descriptors: ie: identify, then describe then explain then evaluate at the top end of ability. But if not they can be easily deleted from the slides. The zip file contains: fully animated and annotated PowerPoint Clues from the scene worksheet Answer worksheet graphic organiser Full lesson plan description My classes have had great fun with this lesson. It can stand alone or be used a a project, for example on Stuart housing. I hope you find this useful and enjoyable. If you do, please check out my other enquiry lessons like this on various topics and I even have a growing bundle of them in my store. TERMS OF USE: This download (free or purchased) is for your own personal use in your classroom or your home. Please do not share my resources with others unless given explicit consent by me. Please direct them to my store instead. This download MAY NOT be used in whole or in part on any distance learning course platforms including, but not exclusive to, Outschool or Udemy. You may not share this download. You may not alter any item in this download, resell and claim as your own work. Similarly, you may not sell or share these resources with anyone and you may not use the contents of this download to create anything for commercial purposes or other commercial products. If you are an education board or school and would like to use my resources district wide, please contact me about licensing. © A. Hughes (MsHughesTeaches), 2014 All right

Powerpoint, graphic organisers, information texts and full lesson plan. This thorough lesson begins with the reasons for large scale immigration into the USA from Central and South American countries in the mid 19th century and looks at the situation for Hispanic Americans in the USA at that time. There is a particular focus on Mexican Americans and the Chicano American campaigns as the largest minority group. The lesson begins by discussing what is meant by the term Hispanic and where culturally do hispanic Americans come from with a map activity. Students sift and sort Push and Pull factors on immigration and categorise them into political, social and economic factors. The song 'I like to be in America' from West Side Story is used as hook to consider positive and negative experiences for immigrants into America in the 1950 and how these experiences framed the civil rights movement into the 1960s and 1970s. (the link to a version on Youtube is on the powerpoint slide) The class finds more information around the room and summarises it with a graphic organiser before assessing the successes and limitations of the campaign into the 1970s. They complete a 15 minute written essay using their notes and the mark scheme. Lesson contains: 21 page animated and annotated PowerPoint Differentiated information texts 2 graphic organisers 'I like to be in America' lyrics - annotated with examples. Full lesson plan. I hope you find this useful. Thanks for having a look! ***************************************************************************** TERMS OF USE: This download (free or purchased) is for your own personal use in your classroom or your home. Please do not share my resources with others unless given explicit consent by me. Please direct them to my store instead. This download MAY NOT be used in whole or in part on any distance learning course platforms including, but not exclusive to, Outschool or Udemy. You may not share this download. You may not alter any item in this download, resell and claim as your own work. Similarly, you may not sell or share these resources with anyone and you may not use the contents of this download to create anything for commercial purposes or other commercial products. If you are an education board or school and would like to use my resources district wide, please contact me about licensing. © A. Hughes (MsHughesTeaches) All rights reserved.

Help your students improve their inference and deductions skills with these lessons. In these lessons students work in pairs or groups to evaluate the evidence and arguments given and reach a valid judgement. Save over 30% on the items if bought separately! Check out the individual lessons in my store. Grab a bargain.

***Newly Added - RED SCARE WORD WALL/FLASH CARDS!*** This growing bundle contains 6 RESOURCES on key people and campaigns in 20th century USA. Lessons included look at the presidencies of Herbert Hoover and Bush Sr, as well as the Civil Rights movement and The Red Scare. SAVE OVER 30%

Learn how to work out 4-figure grid references and devise a map to test each other. This lesson is fully interactive and the PowerPoint is animated with sound effects. NO PREP CUTTING AND LAMINATING! Just print out the provided grid and go! I've also added plainer versions of the fully animated slides in case you would like to print them out and have the children work on them individually and not as a whole class while the teacher goes through on the whiteboard. It explains the method students should use to work out 4-figure grid references on maps. I have created two animated examples to show the students how to work them out. (The preview is a PDF of just two slides to give you an idea of the themes but the real download is fully customisable and animated and the animated parts disappear out of the way when not needed.) Students have to design their own treasure island using the grid outline provided. They then swap with a partner who has to state where certain things are using 4-figure grid references. I have always encouraged my classes to be as imaginative as they like with this activity resulting in some really interesting magical islands! The lesson could take a one hour period but it would be better over two hours to give students time to fully realise their own designs! **Contains: 10 slide powerpoint with animated explanations Grid proformer for drawing a treasure map (best blown up to A3 size) Symbols that can be used by students in their design. Full lesson plan I hope your students find this as fun and informative as mine have. Thanks for looking. Some graphics from: www.mycutegraphics.com** TERMS OF USE: This download (free or purchased) is for your own personal use in your classroom or your home. Please do not share my resources with others unless given explicit consent by me. Please direct them to my store instead. This download MAY NOT be used in whole or in part on any distance learning course platforms including, but not exclusive to, Outschool or Udemy. You may not share this download. You may not alter any item in this download, resell and claim as your own work. Similarly, you may not sell or share these resources with anyone and you may not use the contents of this download to create anything for commercial purposes or other commercial products. If you are an education board or school and would like to use my resources district wide, please contact me about licensing. © A. Hughes (MsHughesTeaches)

***Can your students beat the puzzle code and find out about the first people to populate America? *** This word code puzzle is about how Native Americans travelled across the Bering Straits in the last ice age. It is an interesting topic and this task works well as an introduction to the Native American cultures or as a bellringer. I have particular success with my classes as a home work task. You could also set this as a brain teaser for any lesson including morning registration to get those brain cells working! Students have to work out the letter/number code and fill in the paragraph accordingly. Five letters have been given already to help start them off. I introduce an element of competition to keep my classes focused. Not only do they have to fill in the paragraph they must pick out at least 3 key facts and be the first to tell me. This keeps the students heads down and learning! TERMS OF USE: This download (free or purchased) is for your own personal use in your classroom or your home. Please do not share my resources with others unless given explicit consent by me. Please direct them to my store instead. This download MAY NOT be used in whole or in part on any distance learning course platforms including, but not exclusive to, Outschool or Udemy. You may not share this download. You may not alter any item in this download, resell and claim as your own work. Similarly, you may not sell or share these resources with anyone and you may not use the contents of this download to create anything for commercial purposes or other commercial products. If you are an education board or school and would like to use my resources district wide, please contact me about licensing. Copyright Amy Hughes (MsHughesTeaches) All rights reserved.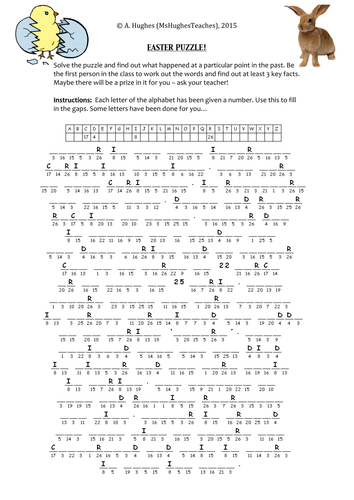 Can your students beat the puzzle code and find out at least three key facts about Easter? This word code puzzle is about where Easter gets its name and what it celebrates. Students have to work out the letter/number code and fill in the paragraph accordingly. Four letters have been given already to help start them off. I introduce an element of competition to keep my classes focused. Not only do they have to fill in the paragraph they must pick out at least 3 key facts and be the first to tell me as the teacher. Great for a bell ringer! Thanks for looking!

Can your students beat the puzzle code and find out at the history of Halloween? Can they also find at least three things about the holiday and tell the teacher before their classmates? It is an task that will get them thinking as well as celebrating halloween in class. It works well simply as a brain teaser for any topic, a bell ringer or an intro task. Students have to work out the letter/number code and fill in the paragraph accordingly. Four letters have been given already to help start them off. I introduce an element of competition to keep my classes focused. Not only do they have to fill in the paragraph they must pick out at least 3 key facts and be the first to tell me as the teacher. Keeps the students heads down and learning something! Thanks for looking! ***************************************************************************** TERMS OF USE: This download (free or purchased) is for your own personal use in your classroom or your home. Please do not share my resources with others unless given explicit consent by me. Please direct them to my store instead. This download MAY NOT be used in whole or in part on any distance learning course platforms including, but not exclusive to, Outschool or Udemy. You may not share this download. You may not alter any item in this download, resell and claim as your own work. Similarly, you may not sell or share these resources with anyone and you may not use the contents of this download to create anything for commercial purposes or other commercial products. If you are an education board or school and would like to use my resources district wide, please contact me about licensing. © Amy Hughes (MsHughesTeaches) All rights reserved.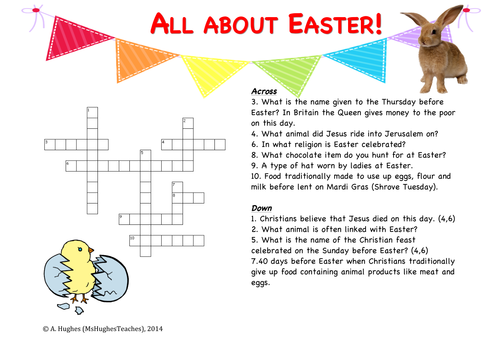 This crossword has 10 questions about the Easter celebration and traditions. It would work well as a starter activity or bell ringer. Clip art from: www.clipartstand.com Digital Dollface https://www.teacherspayteachers.com/Store/Digital-Dollface Digital Dollface ***************************************************************************** TERMS OF USE: This download (free or purchased) is for your own personal use in your classroom or your home. Please do not share my resources with others unless given explicit consent by me. Please direct them to my store instead. This download MAY NOT be used in whole or in part on any distance learning course platforms including, but not exclusive to, Outschool or Udemy. You may not share this download. You may not alter any item in this download, resell and claim as your own work. Similarly, you may not sell or share these resources with anyone and you may not use the contents of this download to create anything for commercial purposes or other commercial products. If you are an education board or school and would like to use my resources district wide, please contact me about licensing. © Amy Hughes (MsHughesTeaches) All rights reserved.