5Uploads
1k+Views
151Downloads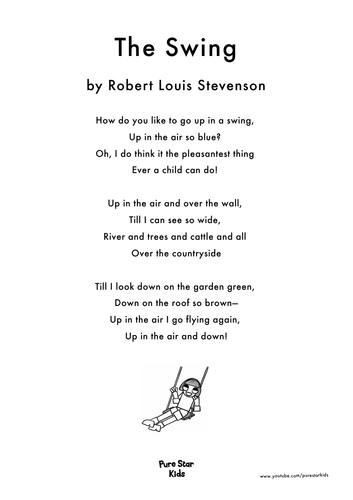 A downloadable PDF print out of the poem The Swing by Robert Louis Stevenson to be used alongside the poetry video from Pure Star Kids. The poem is from his 'A Child's Garden of Verses' collection of poems.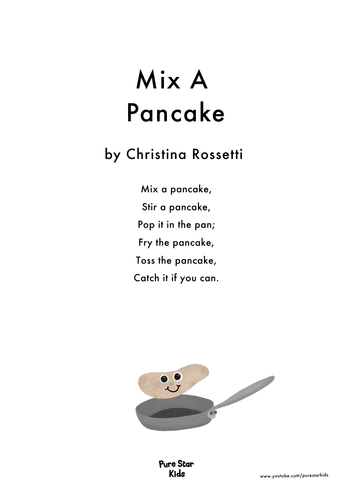 A free downloadable print out of the poem Mix A Pancake by Christina Rossetti. An animated video of the poem is also on the Pure Star Kids Youtube channel.
This fun & engaging free tangram puzzle sheet which can be used alongside the tangram videos on Pure Star Kids channel: Tangram Playlist A fun way to practice geometry, logic skills and fine motor skills. Text on the Tangram puzzle sheet reads: print and colour in your tangram stick the paper onto card to make your puzzle more sturdy cut out the tangram puzzle carefully along the lines create shapes and pictures using your tangram puzzle watch the Pure Star Kids Youtube channel for ideas and more information about Tangrams
Get the free times table number circle sheet and watch the video to show how it is used here Draw your own times table number circles with this free download and watch the beautiful patterns made by the multiplication tables appear. This is a fun way of learning the times tables and watching how they make amazing geometric shapes, great for right brained thinkers.
This is a colour by numbers printable, showing the most commonly missed areas in hand washing. Washing hands is the most effective way of preventing the spread of germs. This colour by numbers sheet helps to remember which parts of the hands we often forget to wash properly. It's a good way to discuss hand washing with children and help them to visualize the parts of the hands that are commonly missed. So that they can wash their hands more effectively to help them to stay safe and well. I hope that you find this free printable useful