RaspberryPiFoundation's Shop
11Uploads
10k+Views
4k+Downloads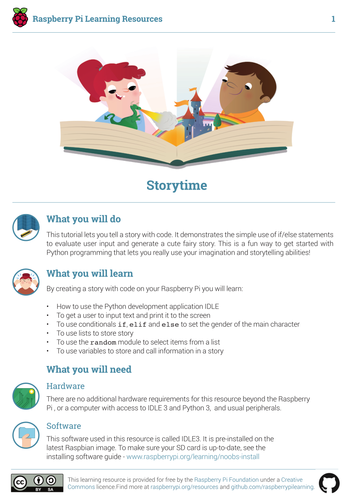 Tell a story with code. This is a fun way to get started with Python programming that lets you really use your imagination and storytelling abilities! It demonstrates the simple use of if/else statements to evaluate user input and generate a cute fairy story. By creating a story with Python 3 you will learn: - How to use the Python development application IDLE3 - To get a user to input text and print it to the screen - To use conditionals if, elif and else to set the gender of the main character - To use lists to store names of characters or places in your story - To use the random module to select items from a list - To use variables to store and call information in a story Suitable for KS2 and KS3 students.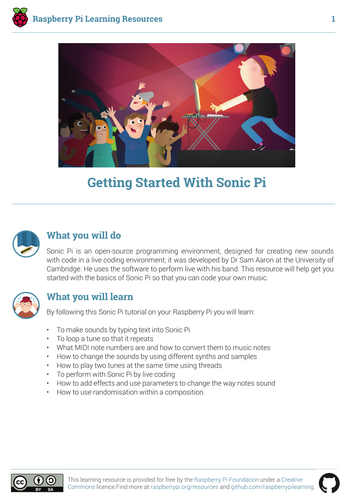 Make music with code with this activity and Sonic Pi. Sonic Pi is an open-source programming environment, designed for creating new sounds with code in a live coding environment; it was developed by Dr Sam Aaron at the University of Cambridge. He uses the software to perform live. Learn the basics of Sonic Pi so that you can code your own music. By following this Sonic Pi tutorial on you will learn: - To make sounds by typing text into Sonic Pi - To loop a tune so that it repeats - What MIDI note numbers are and how to convert them to music notes - How to change the sounds by using different synths and samples - How to play two tunes at the same time using threads - To perform with Sonic Pi by live coding - How to add effects and use parameters to change the way notes sound - How to use randomisation within a composition Suitable for KS2 and KS3 students.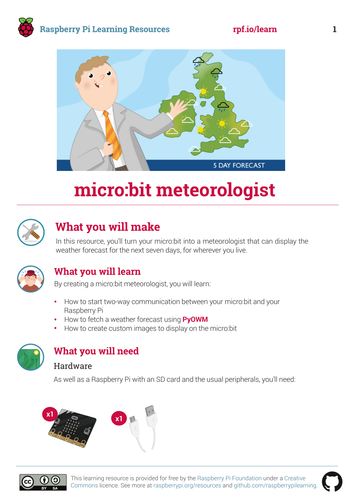 This resource uses a BBC micro:bit and a Raspberry Pi to forecast the weather. Your students can run some provided Python code to communicate with the micro:bit and OpenWeatherMaps, and fetch the local weather forecast. This data can then be used to display weather icons on the micro:bit's LED matrix.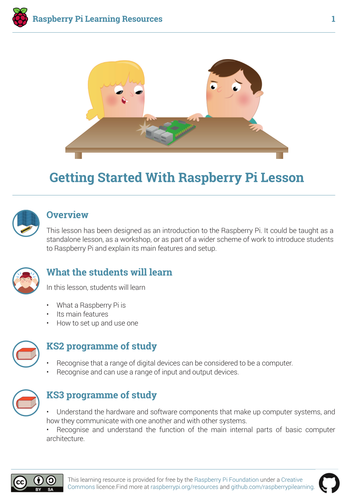 This lesson has been designed as an introduction to the Raspberry Pi. It could be taught as a standalone lesson, as a workshop, or as part of a wider scheme of work to introduce students to Raspberry Pi and explain its main features and setup. In this lesson, students will learn: - Know the basic architectures of a computing device. - Understand the difference between hardware and software. - Be able to set up a Raspberry Pi, turn it on, load the graphical user interface, and navigate the desktop for the first time. Suitable for KS2 and KS3 students.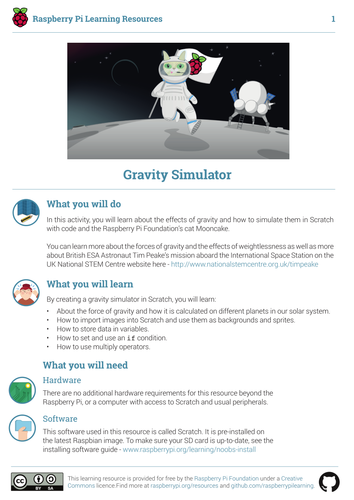 With this Physics and Computing activity, learn about the effects of gravity and how to simulate them in Scratch with code. You can learn more about the forces of gravity and the effects of weightlessness as well as more about British ESA Astronaut Tim Peake's mission aboard the International Space Station and the Astro Pi Project here: https://www.raspberrypi.org/competitions/astro-pi/ By creating a gravity simulator in Scratch, you will learn: - About the force of gravity and how it is calculated on different planets in our solar system. - How to import images into Scratch and use them as backgrounds and sprites. - How to store data in variables. - How to set and use an if condition. - How to use multiply operators. Suitable for KS2 and KS3 students.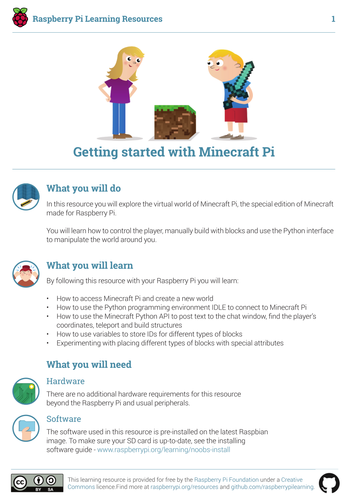 Explore and code the virtual world of Minecraft Pi, the special edition of Minecraft made for Raspberry Pi. Learn how to control the player, manually build with blocks and use the Python interface to manipulate the world around you. By following this resource with your Raspberry Pi you will learn: - How to access Minecraft Pi and create a new world - How to use the Python programming environment IDLE to connect to Minecraft Pi - How to use the Minecraft Python API to post text to the chat window, find the player's coordinates, teleport and build structures - How to use variables to store IDs for different types of blocks - Experimenting with placing different types of blocks with special attributes Suitable for KS3 and KS4 Students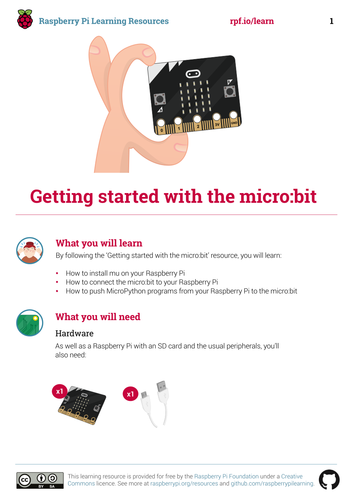 This resource is an introduction to using the BBC micro:bit and a Raspberry Pi computer. Students can use the mu code editor on the Raspberry Pi, to write MicroPython code that can be run on the micro:bit.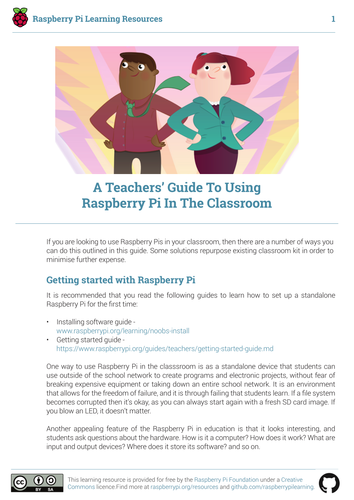 If you are looking to use Raspberry Pis in your classroom, then there are a number of ways you can do this outlined in this guide. Some solutions repurpose existing classroom kit in order to minimise further expense. The guide includes: - Hardware required - Monitor solutions - Networked solutions - Cross curricular opportunities - Links to classroom resources - Information on training and the Raspberry Pi community. Suitable for Teachers and School Network Administrators.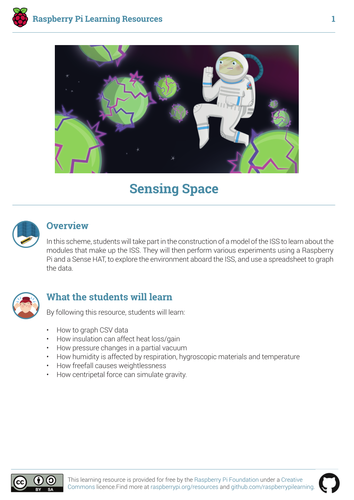 In this scheme, students will take part in the construction of a model of the ISS to learn about the modules that make up the ISS. They will then perform various experiments using a Raspberry Pi and a Sense HAT, to explore the environment aboard the ISS, and use a spreadsheet to graph the data.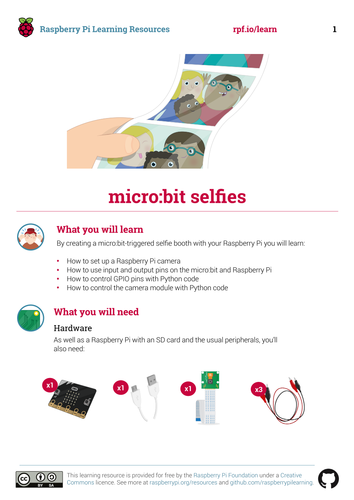 This resource uses a micro:bit, a Raspberry Pi and a Picamera to take amazing selfies. Your students will learn how to use the gpio pins on the micro:bit and the Raspberry Pi, so that the two devices can talk to each other and then trigger the Picamera.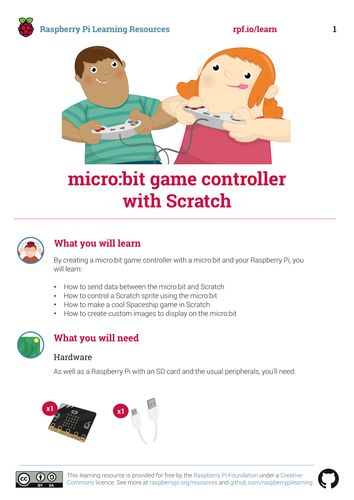 This resource turns your BBC micro:bit into a Scratch games controller, using a Raspberry Pi. Your students can use the provided Python code to communicate between the micro:bit and Scratch, and then create an interactive spaceship game, using the micro:bit's accelerometer to control their vessel.