14Uploads
6k+Views
4k+Downloads A study into Martin Luther King Jnr's "I have a dream" speech. An activity exploring the purpose of the speech, its relevance to today and an activity for children to illustrate their understanding of his speech. An extension activity I did after this was for children to write a speech inspired by "I had a dream". An interactive study guide for the first book in the "A series of Unfortunate Events" franchise. Literacy tasks focusing on prediction, visualisation, inference, listening and talking. Extension tasks that have a cross-curricular focus.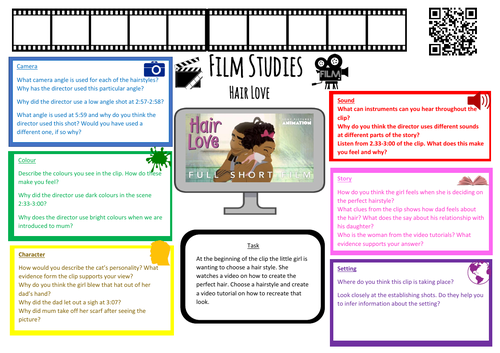 Film study placemats. Placemats include: -Hair love Toy Story 3: Furnace scene Zootopia: News conference scene Digital praise card Please feel free to adapt and personalise the bottom templates. Upload your work to your OneDrive or Google drive and click share. Copy the share link and visit the website below to create your QR code https://www.qrcode-monkey.com/ (can personalise the QR code) Or https://www.the-qrcode-generator.com/ Copy the QR code and paste it on your postcard of praise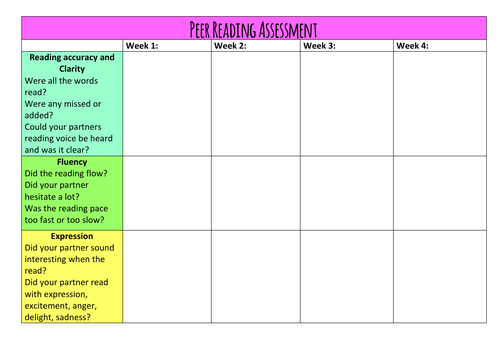 A peer reading assessment chart covering a month of work. I use this resource weekly to focus on the children developing their reading and assessing skills. I would do a walk-through and discuss what feedback to record rather than yes or no. By the end of the four week block children begin to record constructive feedback for their partner. I would love to hear/see how you use this resource. Thanks :) Disney Music Comprehension placemat with a focus on mental health too.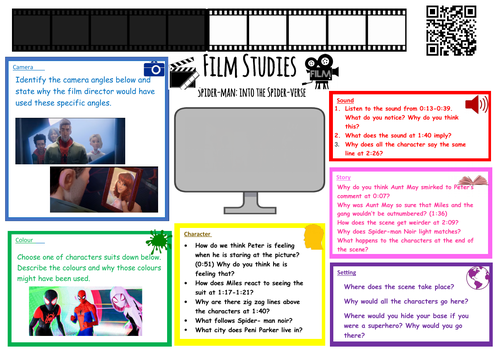 Spider-Man: Into the Spider-Verse film placemat is used within media studies. The short clip focuses the 3c's and 3s's within media studies. Each comprehension question allows the children to analyse a piece of film. They delve deeper into the world of film and breakdown each part. This resource is in word format as well as PDF. Can be uploaded to your virtually class as children can scan the QR code to access the scene. If not accessible the clip can be found here: https://www.youtube.com/watch?v=ChI-Edgnf-0 If you notice anything that needs to be changed please feel free to contact me.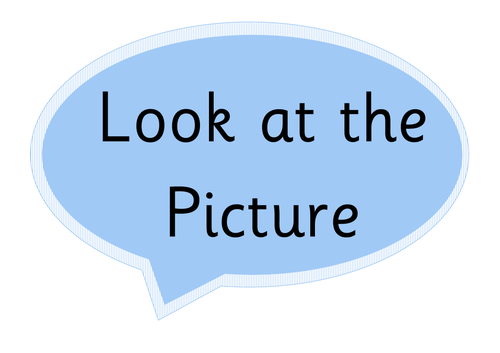 Reading Strategy for a wall display. Print out and laminate. Pdf and editable word document.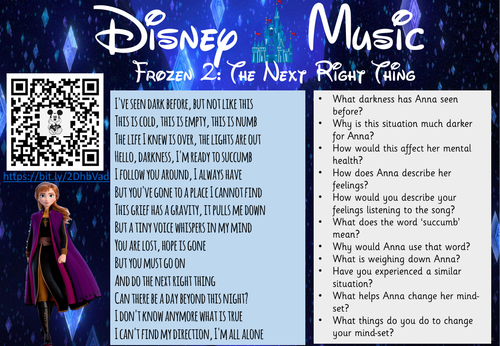 An activity exploring the lyrics of Disney songs, with a focus on mental health. Editable PPT added if you wish to change the questions etc. Let me know how you find these resources. Would love to see or hear how you have used them, and how to make them better. "Learning through health and wellbeing promotes confidence, independent thinking and positive attitudes and dispositions. Because of this, it is the responsibility of every teacher to contribute to learning and development in this area." Curriculum for Excellence Each positive affirmation will have a mindfulness on the back of them for children to do. Print two-sided Editable word document attached for adjustments to be made if you wish.