115Uploads
20k+Views
2k+Downloads

Over 20 Christmas-themed printable activities for elementary music lessons that are great for Sub Plans or Centers because they are no-prep. Most of the activities involve coloring and a music theory component. There's also a word find to put on the backs of the handouts in case your sub has extra time. This set is included in my yearly bundle! Check out the preview to see all of the pages in this set. :) Included: 3 Spinner Game Instructions 4 Santa Spinner Game - Rhythm 5 "Dance of the Sugarplum Fairy" Glyph (harder) 6 "Dance of the Sugarplum Fairy" Glyph (easier) 7 "Dance of the Sugarplum Fairy" Coloring Page 8 Duration Dash (rhythm addition - level 1) 9 Duration Dash (rhythm addition - level 2) 10 Duration Dash (rhythm addition - level 3) 11 Duration Dash (rhythm addition - level 4) 12 Christmas Lights Color-by-Beat 13 Christmas Carol Word Find 14 Christmas Carol Word Find Answers 15 Interval Gifts 16 Line Note Gifts 17 Space Note Gifts 18 Treble Clef Note Gifts 19 Bass Clef Note Gifts 20 Alto Clef Note Gifts 21 Trim the Rhythm Tree (meter of 4) 22 Rudolph Color-by-Note (words to symbols) 23 Rudolph Color-by-Note (symbols to symbols) 24 Cactus Christmas Tree Color-by-Note (treble clef) 25 Christmas Chant in 4 26 Christmas Sounds (1 or 2 sound words) 27 Christmas Rhythms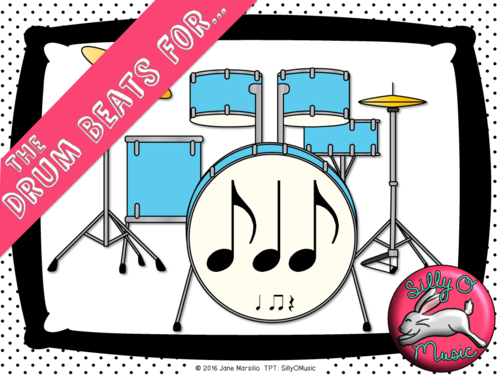 The Drum Beats For is an active and fun PowerPoint music game for aural reinforcement of syncopa. The PPT contains embedded mp3 files with 40 slides. This game requires listening and aurally matching rhythmic patterns and changing seats with classmates. My students absolutely love this game and there is no "winner" so it can be played for any length of time. Look for more versions them in my store! The Drum Beats for Bundle of all Games at a Discount The Drum Beats for Ta, Ti-Ti The Drum Beats for Ta, Ti-Ti, Rest The Drum Beats for Half Notes The Drum Beats for 4 Beamed 16th Notes The Drum Beats for 8th Note & 16th Notes Combinations The Drum Beats for Syncopa

These 27 music printables, glyphs, coloring, and games are great for your Spring music lessons will be a life-saver for Sub Plans or Centers because they are fun and require no prep! Most of the theory pages have a colouring element for early finishers, a word search is also included. Answer keys are available for subs as well. Coloring also makes the pages fabulous for music bulletin boards. This set is included in my yearly bundle! This set has been updated and several more activities have been added on March 5, 2018. INCLUDED: SPINNER ACTIVITIES • Spinner Game Tips • Beat Value Spinner Game • Treble Clef Notes Spinner Game • Dynamics Spinner Game • Tempo Spinner Game • Spring Rhythm Words (individual work) • Spring Treble Clef Notes (individual work) • Spring Bass Clef Notes (individual work) • Spring Alto Clef Notes (individual work) LISTENING ACTIVITIES • Vivaldi's "Spring" Listening Glyph • Ternary Form RHYTHM • Polly's Rhythm Pick-Up Game 1: quarter note, 8th notes, quarter rest • Polly's Rhythm Pick-Up Game 2: half note • Polly's Rhythm Pick-Up Game 3: sixteenth notes • Polly's Rhythm Pick-Up Game 4: syncope 8th-quarter-8th • Spring Sounds: 1 or 2 sounds COLOR-BY-NOTE • Butterfly: note symbols • Butterfly: note names - US • Butterfly: note names - UK • Butterfly: treble clef (E, F, G, A, B, C) • Butterfly: bass clef (E, F, G, A, B, C) • Butterfly: alto clef (E, F, G, A, B, C) PITCH • Bee Vocal Explorations 1 • Bee Vocal Explorations 2 • Piano Panda: lines or spaces • Piano Panda: treble clef • Piano Panda: bass clef • Piano Panda: alto clef WORD FIND • Spring Songs

These printable charts are a handy tool for beginning and middle school band directors to keep at the podium in order to correct fingerings for the concert Bb scale. Student worksheets include 1-octave scales and arpeggios with fingerings, and sections for students to write-in the notes of the scale on the staff. It's also useful as a quick transposition reference! Instruments Fingerings: Trumpet F Horn Trombone Baritone B.C. Tuba Flute Oboe Clarinet Alto Saxophone Tenor Sax Bassoon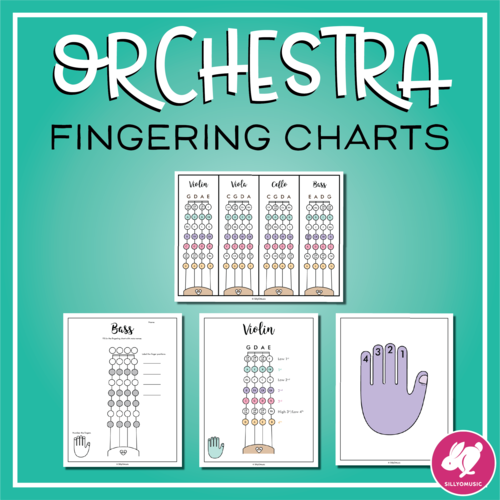 Here are some handy, attractive posters and printables of 1st position fingering charts for violin, viola, cello, and double bass. All four instruments are available on one page for easy reference and as individual pages. Use them for posters, anchor charts, and reference sheets. Charts come in color and in black and white. Check out the preview to see what's included! I've listed enharmonic equivalents for sharps and flats, except Bb, F#, and C# because these charts are intended for beginning orchestra/string students. INCLUDED: •Table of Contents • Fingering Chart with all 4 instruments on one page (b&w) • Fingering Chart with all 4 instruments on one page (color) • Violin Fingerings (b&w) • Viola Fingerings (b&w) • Cello Fingerings (b&w) • Bass Fingerings (b&w) • Violin Fingerings (color) • Viola Fingerings (color) • Cello Fingerings (color) • Bass Fingerings (color) • Poster of Hand with Fingers Numbered ( green) • Poster of Hand with Fingers Numbered ( Purple) • Poster of Hand with Fingers Numbered ( Pink) • Poster of Hand with Fingers Numbered ( Peach) • Poster of Hand with Fingers Numbered ( White) • Poster of Hand with Fingers Numbered ( Black) • Poster of Hand with Fingers Numbered (Brown) • Worksheet - Violin: label notes (open strings labeled) • Worksheet - Viola: label notes (open strings labeled) • Worksheet - Cello: label notes (open strings labeled) • Worksheet - Bass: label notes (open strings labeled) • Worksheet - Violin: label notes (open strings not labeled) • Worksheet - Viola: label notes (open strings not labeled) • Worksheet - Cello: label notes (open strings not labeled) • Worksheet - Bass: label notes (open strings not labeled)

This set of 34 music Easter activities and color-by-note coloring sheets are great supplemental resources for your February lessons,Sub plans, and centers. Answer keys are included for subs and there is a word find to print on the back for early finishers. Alto and bass clef versions are also included for your band and orchestra students. This set is included in my yearly bundle! THIS SET HAS BEEN UPDATED WITH NEW PAGES! March 13, 2018. Included BOARD GAMES • Spinner Game Tips • Easter Egg Note & Rest Value Spinner Game • Easter Egg Beats Spinner Game • Peter Rabbit's Melodies: sol-mi-la • Peter Rabbit's Melodies: sol-mi-la-do • Peter Rabbit's Melodies: do-re-mi • Peter Rabbit's Rhythm Pick-Up: QN, beamed 8ths, QR • Peter Rabbit's Rhythm Pick-Up: Half Note • Peter Rabbit's Rhythm Pick-Up: Beamed 16th notes • Peter Rabbit's Rhythm Pick-Up: Syncopa LISTENING ACTIVITIES • Carnival of the Animals VIII: drawing activity • Carnival of the Animals VIII: listening glyph RHYTHM • Musical Egg Decorating • Hop Two Rhythm Maze • Rabbit Chant: • Rhythm Hop 1: QN, 8ths, HN, QR • Rhythm Hop 2: Half Note (+ above) • Rhythm Hop 3: flagged 8th (+ above) • Rhythm Hop 4: QN, 8ths, 16ths, HN, QR • Rhythm Hop 5: flagged 16th, flagged 8th, QN, 8ths, 16ths, HN, WN, QR, HR, WR PITCH • Bunny Vocal Explorations 1 • Bunny Vocal Explorations 2 • Interval Hopping • Jellybean Notes: treble clef • Jellybean Notes: bass clef • Jellybean Notes: alto clef BUNNY COLOR-BY-NOTE • Note Symbols • Note Names - US • Note Names - UK • Treble Clef (E, F, G, A, B, C) • Bass Clef (E, F, G, A, B, C) • Alto Clef (E, F, G, A, B, C) MISCELLANEOUS • The Quiet Basket: loud & soft • Speedy Eggs: fast & slow • Easter Songs Word Find

This is a fun music activity to help reinforce note identification and increase reading fluency for the 1st five pitches in the concert Bb scale. It's great for elementary/beginning band students and contains 46-pages of speed trials (similar to Mad Minute) where students can compete against the clock, each other, or themselves! Check out the preview to see all of the worksheets. Answer keys are also in the set in case you need it for sub plans or you'd like students to check their work. Instrument Groups Include: •C Treble (flute, oboe, mallets) •C Bass (baritone, euphonium, bassoon, trombone) •C Bass Low (tuba) •Bb (clarinet, trumpet) •Bb high (tenor sax) •Eb (alto/bari sax) •F (French horn) Each Set of Instrument Groups Include: Ideas for competitive use 2 pitch identification sheets with whole notes 2 pitch indentification sheets with whole, half, and quarter notes 2 sheets where students draw-in the notes 4 blank templates for you or the student to create their own worksheet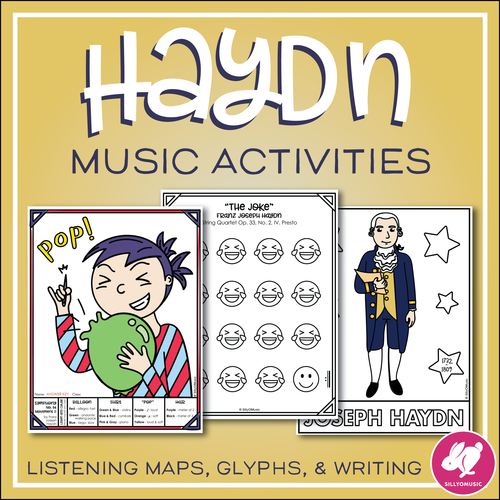 This set of Franz Joseph Haydn printables are useful for Composer of the Month activities, sub plans, and for incorporating writing. Almost all pages contain a coloring or drawing element and there are listening maps, glyphs, and a writing prompt for the "Surprise Symphony," "The Clock," and "The Joke." A word search is also included for early finishers and there are answer keys and sample answers for subs to reference as well as a brief description of each listening piece. Check out the preview to see what's included. Included: •Table of Contents & Ideas for Use •Haydn Bio •Coloring page with bio •Coloring page with fill-in-the-blanks bio •Coloring page of Haydn with birth and death dates •Brief information sheet about the following 3 pieces •Surprise Symphony •Listening map •Listening glyph •Writing prompt with illustration boxes •The Clock •Listening map •Listening glyph •Writing prompt with illustration boxes •The Joke •Listening map •Listening glyph •Writing prompt with illustration boxes •Haydn Word Search

These zentangle-inspired, colouring sheets of musical instruments of the orchestra are perfect for early finishers and sub plans. They are a coloring activity for students needing to wind down. I've just added bonus pages, where students label the instruments in each instrument family (see thumbnail above). April 2, 2018 These are great worksheets/activities to use and reuse in your substitute plans because you can color them differently every time. Students can get pretty creative with how they color and texture each page.They will look fabulous on your music bulletin board! There are 42 instrument/family pages and 2 versions of each colouring sheet: The instrument image The instrument image with question boxes where students write in: -Name of instrument -Instrument family Included: •Table of Contents & Coloring Ideas •Brass Family •Baritone •Cornet •French horn •Trombone •Tuba •Woodwind Family •Alto saxophone •Baritone saxophone •Bass clarinet •Bassoon •Clarinet •English horn •Flute •Oboe •Piccolo •Tenor saxophone •Percussion Family •Bass drum •Chime tree/mark tree •Cymbals •Gong •Marimba •Snare drum •Tambourine •Timpani •Triangle •Tubular bells/chimes •String family •Cello •Double bass •Viola •Violin •Keyboard family •Celesta •Piano •Harpsichord •Pipe organ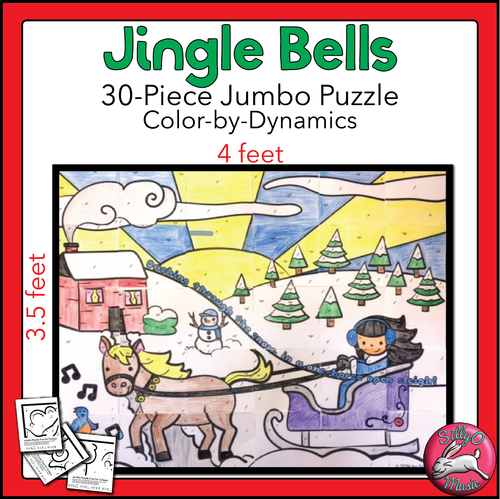 This is such fun Thanksgiving, Winter, or Christmas music activity - students color-by-dynamics and assemble a giant 4 x 3.5-foot mosaic style puzzle to accompany the song, "Jingle Bells." It will also make your walls and bulletin boards pop with brightly colored student work. It contains 30 pieces that students color-by-dynamics, and then assemble to form a giant picture depicting a scene of a sleigh ride through the snow. Some pages are simpler than others, to allow for differentiation. Also, extra pages can be given to early finishers. :) Includes • Suggestions for Use • Map of pieces • 30 pages of puzzle pieces with coloring key For more Christmas Music Coloring and Activities check out my Christmas or Winter Music Worksheets which includes printables and a fun board game.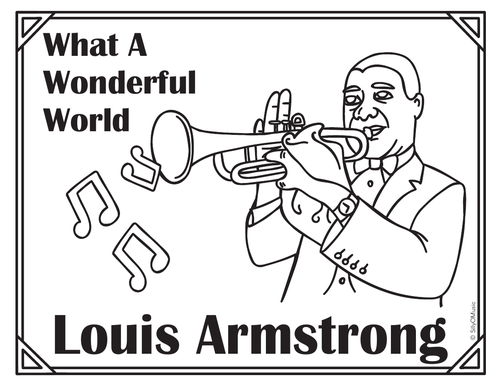 This set contains coloring printables and a movement activity to accompany the song "What A Wonderful World" performed by Louis Armstrong. It's great for music sub plans and to use during Black History Month. Read an illustrated children's version of the book, by Tim Hopgood (can probably be found at the library) and then play the song. Students can move to the music, read about Armstrong, color, write, or draw. Everything except for the rhythm identification can be completed with a non-music sub. Updated Dec. 2019 to include a few more activities band will give you or your sub several options to choose from! Includes Armstrong coloring page Listen-and-Color to the song Draw and describe your wonderful world Biography that you can also color Biography with missing keywords that can be used as an assessment Word Search for early finishers Rhythm of the words activity Movement activity Group movement activity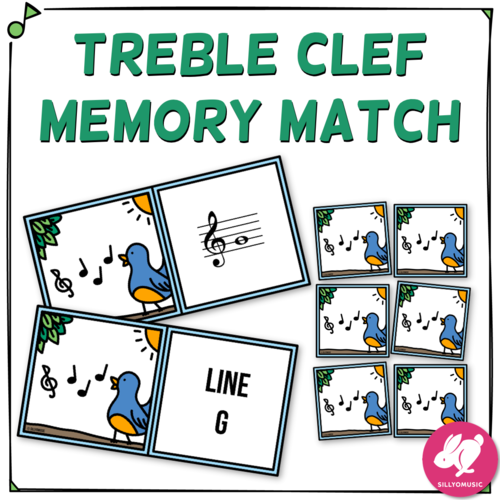 This is a game Memory/Concentration type game that is great for reinforcing the note names on the treble clef staff. They are also useful in terms of having productive sub plans and centers. Students must match the pitch's letter with its position on the staff. I usually give one set to a group of about 3 students. It's great for sub plans because you won't have to keep photocopying new worksheets, etc. I just keep a box of card games for my sub tub. Alternative use for game: give each student a card and have them walk around the room to find their match. The pitches contain all the notes on the lines and spaces, plus additional cards with: G above the staff D below the staff Middle C F# on the line and space Bb on the line A blank card and staff for you to personalize Reference card for the players Thanks for visiting!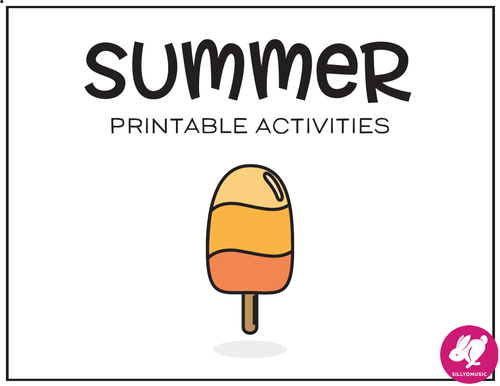 These fun, no-prep printables are a great activity for celebrating summertime your music class, and make for easy music sub worksheets and plans, centers, and colorful bulletin boards. I have added an additional coloring glyph, updated the center games graphics, and added a page for syncopa. May 15, 2018 Handouts Include: -Beach Ball Vocal Explorations (2 pages) -Vivaldi's "Summer" Listening Glyph -A Midsummer Night's Drew Listening Glyph -Popsicle Color-by-Music (treble clef) -Popsicle Color-by-Music (bass clef) -Popsicle Color-by-Music (note durations) -Popsicle Color-by-Music (rhythm symbols) -Ice Cream Instrument Families -Dynamic Flip-Flop Matching -Seashell Printable Rhythm Games (quarter note/rest, beamed 8ths) -Seashell Printable Rhythm Games (above notes + half note) -Seashell Printable Rhythm Games (above notes + beamed 16ths) -Seashell Printable Rhythm Games (above notes + syncopa)

This science-themed bulletin board will look great in your classroom and remind students of the different elements of music: Rhythm Melody/Contour Pitch Dynamics Timbre Tempo Since "M" is not on the periodic table, I included a substitution. You can also use "C" for contour instead of "M" so that the chemistry teacher won't be upset! Included: Directions for assembly Letters in "Elements of Music" 8 Beakers/Test Tube with Faces 8 Beakers/Test Tube without Faces 6 Periodic Element squares used to display musical elements I use this on my small, square-shaped bulletin board and it fits perfectly. To give you an idea of the scale of the images, the yellow beaker is about the size of one sheet of copy paper. Also, I have broken this down and used it to display student work. For example, if they have been working on dynamics, I only list the dynamics image in the center (underneath "Elements of Music") with the beakers and student work around it.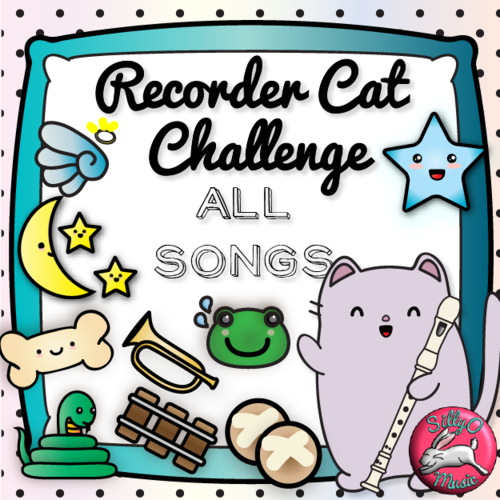 This is the complete, 9 lesson set of my Recorder Cat NO Prep bundle of songs for your music/recorder class! My students have learned more songs and notes with this system in comparison to when I solely relied on method books. Every set breaks down the song by rhythm, pitch, and fingerings. It even includes a quality mp3 accompaniment track embedded in the PowerPoint and handouts for classwork and homework. It also includes a printable to track student progress. Every time a student passes a playing test, they can put a sticker on their tracker or you can initial underneath their badge icon. Included in each belt set: 1) PowerPoint presentation of song 2) Student badge tracker 3) Classwork/Homework/Sub Worksheets for each song 4) Mp3 accompaniment track (also embedded in PPT) 5) Class Belt Chart (only available in the bundle) ***BONUS: a 7 page PDF of exercises has been added to the bundle only for students to practice in-between belts!***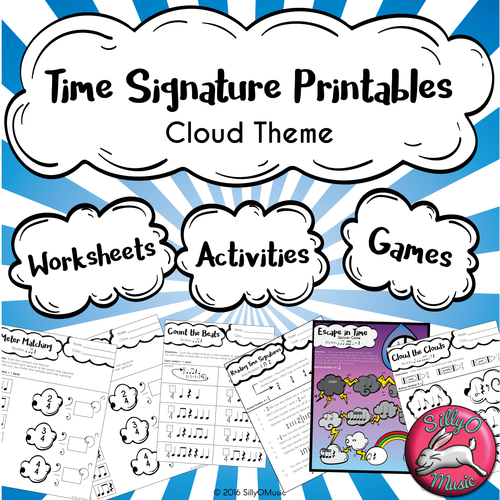 60 clear-cut, no-prep handouts that assess time signatures/meter in 2/4, 3/4, 4/4, 6/8+ time, that would be great for subs and centers. It features counting rhythms, composing, performing, and a fun spinner game. All of the pages contain elements of rhythmic addition. Great for incorporating math. It can be used in class when introducing meter, for homework, or leave it for a sub for students to review. PRINTABLES INCLUDE •Escape in Time - printable spinner board game (great for centers and subs) •Spin & Doodle - spin and draw by meter •Cut, Glue, & Clap - cut and glue measures onto the correct time signature •Conflicting Times - perform multiple time signature •Strange Times - count unusual meters •Compose a Measure - compose one measure per time signature •Missing Note Fill-In - fill-in missing beats in each measure •Meter Matching - match measures and time signatures, compose a measure •Count the Clouds - color-by-time signature •Mixed Meter Mystery - determine the meter of every measure •Count the Beats - add rhythms to determine top number •Reading Time Signatures - read top and bottom numbers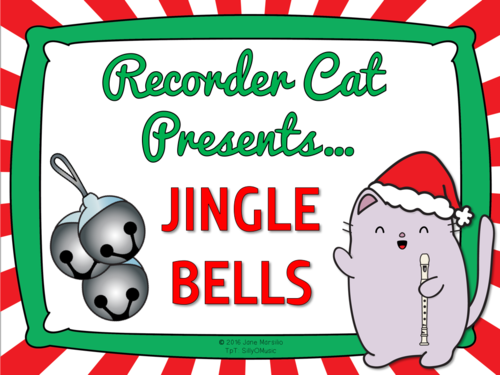 This PowerPoint lesson can be used with my Recorder Cat Challenge bundle or by iteself for your music/recorder class. It's easy to use and my students have learned more with this method in comparison to others that I've tried because it teaches the music in multiple ways. Jingle Bells is broken down by rhythms, pitch, and fingerings. It even includes a quality mp3 accompaniment track embedded in the PowerPoint, and handouts for classwork and homework. It also includes a printable poster for students to sign once they pass their playing assessment. Included: 1) PowerPoint presentation of song 2) Poster to sign after passing playing test 3) Classwork/Homework/Sub Worksheets for each song 4) Mp3 accompaniment track (embedded in PPT) 5) Slower version of the mp3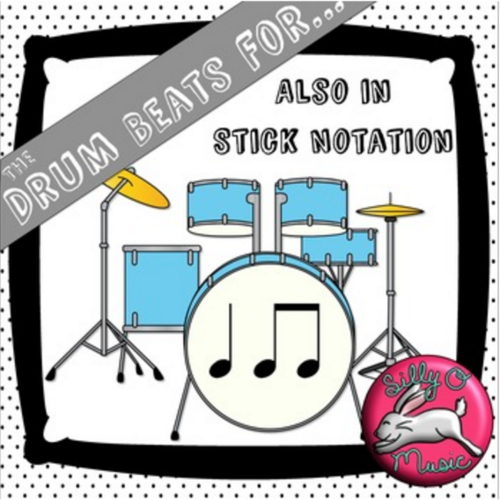 The Drum Beats For is an active and fun PowerPoint music game for aural reinforcement of Quarter Note and Beamed Eighth Note rhythms! This PPT game contains embedded mp3 files on 40 slides. This game requires listening and aurally matching rhythmic patterns and changing seats with classmates. My students absolutely love this game and there is no "winner" so it can be played for any length of time. Check out more versions in my store: The Drum Beats for Bundle (all games at a discount) The Drum Beats for Ta, Ti-Ti The Drum Beats for Ta, Ti-Ti, Rest The Drum Beats for Half Notes The Drum Beats for 4 Beamed 16th Notes The Drum Beats for 8th Note & 16th Notes Combinations The Drum Beats for Syncopa

This cute dragon, music advocacy bulletin board is great for Back-to-School or Music in Our Schools month (MIOSM). Great for vocal music and instrumental music teachers. It lists some benefits of elementary music education. All of the facts listed are derived from scientific research and scientific publications. I've grouped the benefits into 5 categories, that start with the letter "S." The banner at the top reads, "MUSIC MAKES ME" -Smart -Strong -Social -Studies -Smile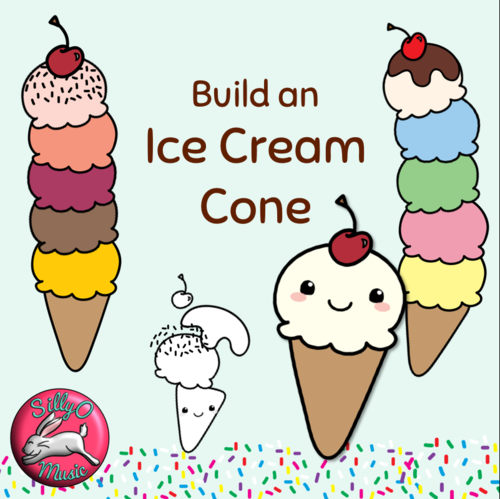 Build your own high resolution, ice cream cone clipart! Everything also comes in black and white line art. -Ice cream cone -Cone -Cherry (dark and bright red) -12 Scoops (as seen in cover image) -Happy face -Sprinkles -Hot fudge/syrup 300 ppi PNG files, OK for small commercial/TES use.