13Uploads
12k+Views
2k+Downloads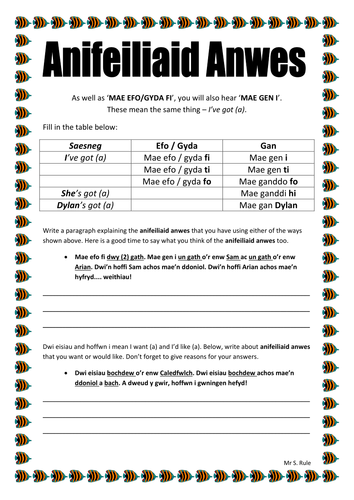 Welsh (second language) resource for working with ANIFEILIAID ANWES (pets). This can be used to consolidate MAE GEN I etc, as well as pushing students to give reasons and opinions.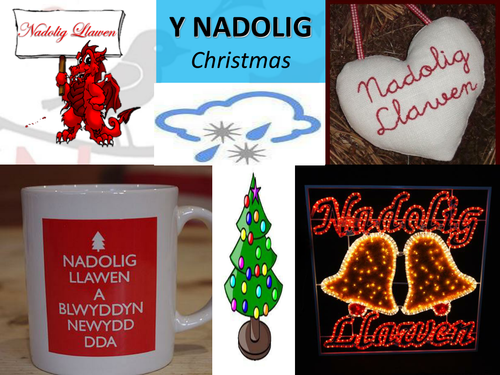 Sioe Sleidiau am Draddodiau (hen a newydd) y Nadolig yng Nghymru yn cynnwys lluniau, cerddoriaeth, gweithgareddau, fideos, gwybodaeth a llawer mwy. Mae'r adnodd yn addas i blant o bob oed - yn enwedig rhai sy'n dysgu'r Gymraeg fel ail iaith mewn ysgolion uwchradd (CA3 neu 4) Ffordd fach neis i orffen y flwyddyn cyn y gwyliau!
Stori Madog yn darganfod yr Amerig wedi'i hysgrifennu gan ddod â gwahanol fersiynau gyda&'i gilydd a chan ychwanegu lluniau, geirfâu pwysig, cerdd gan Ceiriog a chôd YG (QR code) â chysylltiad i wefan Wicipedia am Fadog.
Eto, diolch i PL yma. Dyma waith i atgyfnerthu dysgu am fwyd ac am amser bwyta. Atgyfnerthu siarad, sgowsio (gair y gogledd ddwyrain am sgwrsio ;) ) a thrafod yn y dosbarth.
Taflen waith gyflym er mwyn i ddysgwyr ysgrifennu am fwyd gan sôn hefyd am bobl neu gymeriadau maent yn eu hadnabod Simple and quick work sheet for learners to complete when talking about food together with people / characters they recognise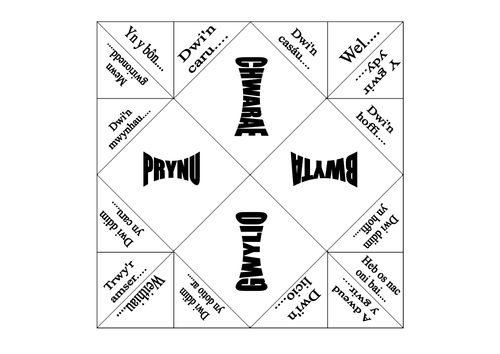 Torri'r sgwâr allan a'i ffoldio er mwyn creu brawddegau. Bydd rhaid dysgu beth sydd ar y daflen ei hun yn gyntaf. Gellir dod o hyd i sut i'w creu ar y we neu, siwr o fod, bydd rhywun yn y dosbarth yn gwybod sut i'w creu yn barod! Cut out the square and fold it in order to make sentences. Teachers much teach the vocab' that's on the sheet initially. Instructions on how to assemble the paper can be found readily on the internet, or someone in the class will most likely know how to make them!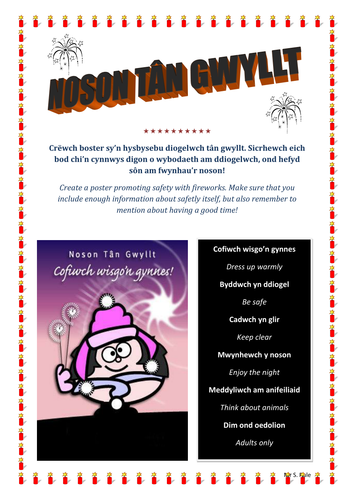 Syniadau am greu poster noson tân gwyllt, a'i wneud yn ddiogol i bawb. Enghreifftiau yma yn bennaf ar gyfer dysgwyr yr iaith fel ail iaith yn yr ysgol uwchradd.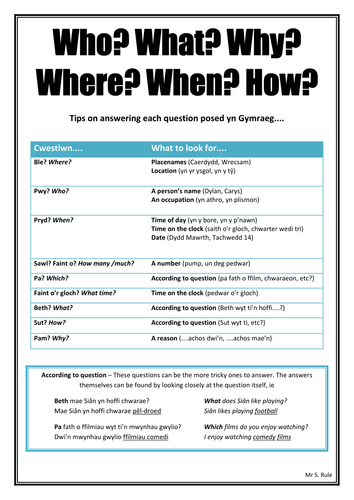 Pethau i edrych amdanynt wrth ateb cwestiynau yn y Gymraeg Things to look for when answering questions in Welsh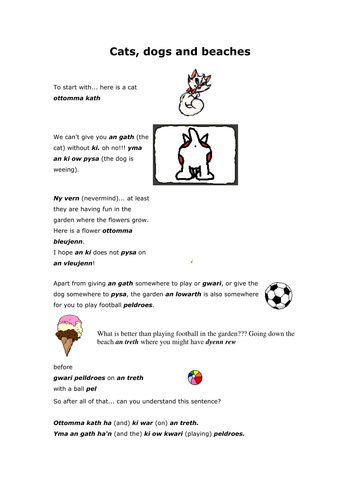 Just a random worksheet for anyone wishing to put a bit of Cornish (Kernewek) into their language (or any other) lesson. Very easy to follow and easily changed / edited.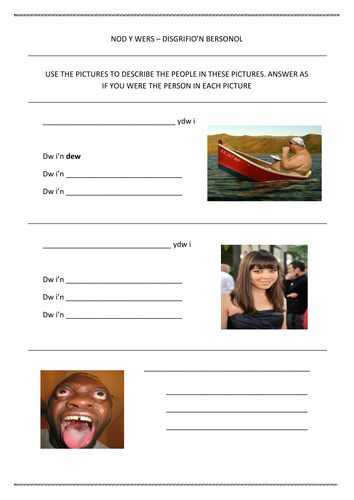 Taflen waith gyflym sy'n galu para am ryw ddeg munud am ddisgrifio pobl yn y person cyntaf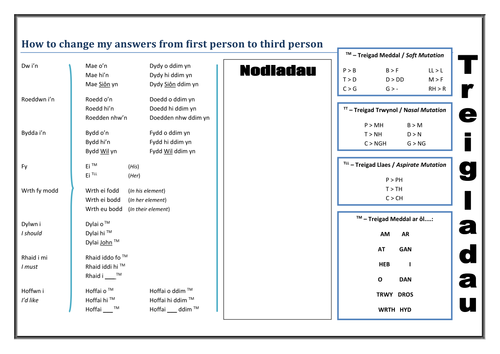 At ddefnydd dosbarth blwyddyn 10 - TGAU Cymraeg Ail Iaith For the potential use of year 10 - GCSE Welsh Second Language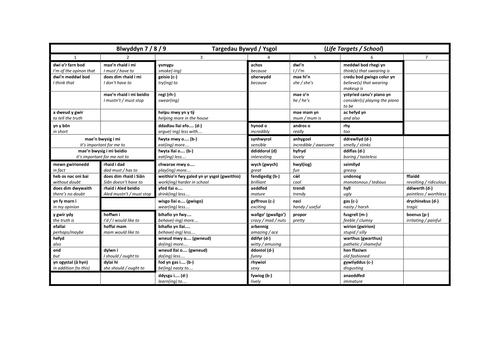 Quick reference guide to talking about 'life' in general. This can be a sheet for promoting speaking in the classroom and improving confidence amongst students. Special thanks to Phil Lovell of Ysgol y Grango, Rhsollannerchrugog for this - Ei waith ef yn bennaf ydyw hyn! - Siwr o fod bydd yn hapus gweld ei waith yn helpu athrawon y Gymraeg!