49Uploads
65k+Views
17k+Downloads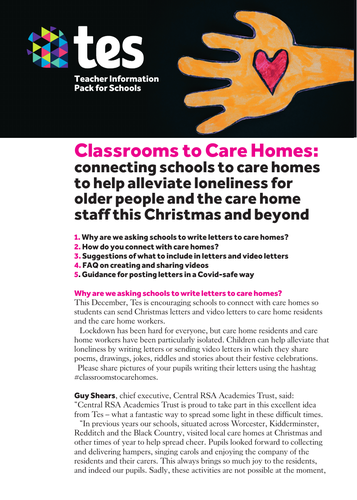 All the information you need to take part in the letter writing campaign run by Tes. Make connections between your school and local care homes, and help bring joy to those in care homes.

The Tes Research series: volume two will provide you with the information you need to know about: Spotting research myths Tackling literacy problems in secondary The role of genetics in education How to judge teacher and school effectiveness Why you're probably not making the most of your teaching assistants What every teacher needs to know about setting Gender stereotyping in schools – its damaging effects and how to prevent it Understanding race in education

The Tes Guide to Your First Year In Teaching is the definitive handbook to your NQT year. It will equip you with all you need to know for your first year on the job, with informative articles planned and written by experienced teachers – just for you! The guide will help you thrive in those exciting first 12 months, with all the answers, research and tips you need to be the best teacher you can be. What's inside? What to expect in your NQT year and how to deal with common problems – by school leader Mark Roberts A fail safe way to learn 30 names in 5 minutes – by Jo Baker How to make your planning more efficient – by Department head Rebecca Foster Pedagogy – get the right balance between research and your natural style – by research lead Megan Dixon Retrieval practice – why you should think of it as your handbag – by headteacher Clare Sealey The psychology behind good behaviour management – by executive headteacher Jarlath O'Brien What I wish I had known about research and marking – by research lead Mark Enser A brief guide to dealing with parents – by Tes columnist Nancy Gedge How to use your Sendco wisely – by Tes columnist Gemma Corby The art of a good explanation – by head of department Emily Seeber How to use research to help you improve and find answers – by research lead Megan Mansworth

The Tes Research series: volume three will provide you with the information you need to know about: Character: All schools strive to instil or develop 'character' in their pupils. Professor Angela Duckworth explores whether character can actually be taught, and if so, just how that might be done in schools. Language development support: Developmental Language Disorder (DLD) impacts – on average – two children in every classroom. Professor Courtenay Norbury explains what we know about DLD and offers advice on how to support children who have a DLD diagnosis. Executive function: Executive functioning issues are weaknesses in a set of important mental skills that are key to learning. When kids struggle with executive skills, it impacts them in school and in everyday life. Professor Lucy Cragg explains how executive function skills underpin learning, and so need to be better understood in schools. Teacher talk: Professor Neil Mercer is emeritus professor of education at the University of Cambridge and director of Oracy Cambridge. He is a leading expert on the role of spoken language in the classroom. He discusses the evidence for, and practical strategies to implement, both teacher and pupil talk. **EAL interventions: ** Victoria Murphy is professor of applied linguistics at the University of Oxford. She is an expert in EAL and bilingualism, and has conducted extensive research into both areas. She explains what the research can tell teachers about the best ways of supporting EAL learners. Limits of research: Professor Steve Higgins was one of the creators of the EEF Teaching and Learning Toolkit and is one of the leading education researchers in the UK. He discusses whether we will ever really know exactly what works in education. Direct instruction: Professor Paul Kirschner details what exactly direct instruction is and why the research suggests it is the best approach to teaching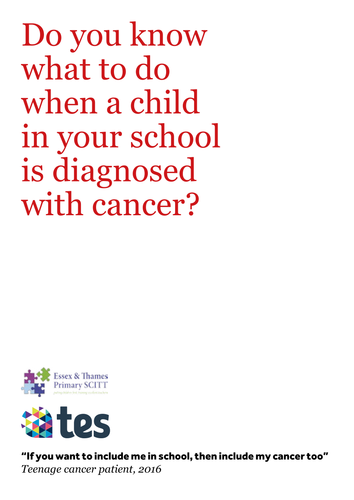 Do you know what to do when a child in your school is diagnosed with cancer? In this guide, former headteacher Jo Palmer-Tweed dispels myths about children with cancer and shares her advice for how schools can best support them, drawn from personal experience of being the mother of a child with cancer. Essential reading for all school leaders.

Schools are not just places of academic learning - they are environments in which children learn valuable life lessons and where they encounter things that shape them as adults. Teachers and parents alike have strong views about what these lessons should be, but what do children themselves value? TES surveyed 2,500 pupils under the age of 11 to find out what experiences they think every child should have before they leave primary school.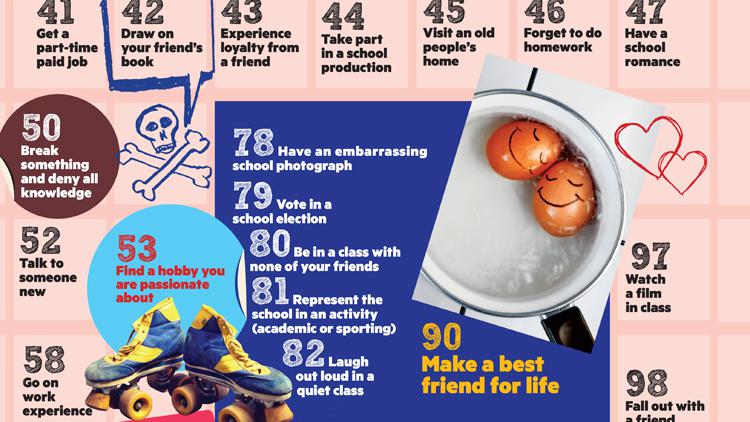 When TES asked teenagers to suggest experiences they thought every student should have had at school before the age of 16, many of the answers were as you might expect - a mix of rebellion and frivolity. But one trend that emerges was a surprise: our current crop of secondary students place a high value on schools teaching them lessons for life. Here are the 100 things that every 11- to 16-year-old should have done before they leave school - according to the pupils themselves.

One English teacher threw away her class sets of reading books and came up with a revolutionary new canon to inspire reluctant readers. Working with her school librarian, she sought out teachable, modern books that were connected to the curriculum but were also exciting to read and relevant to students' lives. These seventy-two books are her suggestions for transforming English lessons and getting students reading for pleasure. But don't take her word for it that this approach works. Try it yourself. Use this poster as a starting point to create a new canon of your own.

A PDF e-booklet containing 13 useful recent articles from Tes magazine giving guidance on how to approach the following as a result of the Coronavirus lockdown: Closure Checklist for school leaders 5 lessons from a school in lockdown How to create home-learning booklets 8 tips for setting up lessons via video A guide to tech to help you cope with school closures 11 tips for using Google classroom 9 key safeguarding areas for school closures How to support children in EYFS How to support children in primary education 4 tips to support SEND students remotely 5 wellbeing tips to for teachers working from home 5 staff wellbeing tips for closed schools 10 tips for acing a remote job interview