50Uploads
4k+Views
342Downloads
Resource includes an example classification key with animals for pupils to match in the right place. There is also a second blank key for children to add their own classification questions.
Resource includes a knowledge organiser on the KS2 geography topic of Volcanoes.
Worksheet involves various rectilinear shapes on a cm grid for use with teaching perimeter. Worksheet involves a challenge sheet finding the largest perimeter from a selection of shapes.
Differentiated resource with 3 stages of difficulty. Each stage includes rounding to 10, 100 or 1000 before estimating the answer. Differentiation includes beginning with 2 digit numbers then progressing to 3, 4 and 5 digit numbers.
Resource includes 3 plans which can be used before writing a first draft of a letter, persuasive argument or postcard.
Resource includes 4 worksheets involving 2d and 3d shape comparison, 2d faces on 3d shapes, sorting 3d shapes in a Venn diagram and finally comparing the properties of common 3d shapes.
Resource includes 2 differentiated worksheets involving using number lines to subtract 2d by 1d numbers. Worksheets differ by crossing the tens.
Resource includes 3 differentiated worksheets involving finding the missing number on a number line. The number lines differ by scale. There is a mastery activity to apply the skill to an open ended number line.
Worksheet includes pictorial representations of 4 digit numbers using Base 10 and Place Value Counters.
Resource includes two differentiated worksheets involving pictorial representations of Base 10. The worksheets differ from smaller to larger 2 digit numbers.
Resource includes a human body outline with smaller individual organs that make up the human digestive system.
Resource includes a blank overview sheet for children to find and record the features using a biography.
Differentiated Bronze, Silver, Gold worksheet involving finding the perimeter of rectilinear shapes with missing sides.
Worksheet includes various rectilinear shapes on a cm grid for teaching area by counting squares.
Resource includes 3 worksheets involving reading and drawing the time 1 hour, 30 minutes, and 15 minutes later than a given time. There are word problems and a TV guide to develop on this skill.
Resource includes a blank word web which can be used to increase knowledge around a specific spelling. Word web includes thinking about sounds, syllables, dictionary meaning, visualisation, and word association.
Resource includes worksheets where pupils will explore and compare the differences between things that are living, dead, and things that have never been alive through cutting and sorting various images into a table.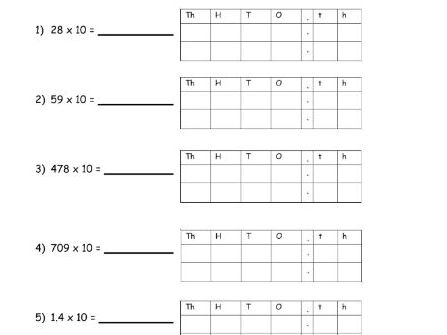 Resource includes sheets on x10 and /10 with visual place value chart.
Resource includes mixed multiplication and division questions all by 100 with visual place value chart to help.
Resource contains a sorting activity for common unit and non-unit fractions. The activity has a mixture of fraction, words, and diagrams of fractions to sort.