Year 7 Greek Myths. Group activity to introduce 12 Greek Gods. Three PPT's to be used with the accompanying texts - various comprehension questions and language tasks.
A complete scheme to work through Louis Sachar's Holes (6-8 weeks). Includes numerous tasks focusing on themes, character and setting. Used for Year 8 mid ability. Reading Assessment and relevant text included.
Produced for the end of Year 7 (2017) but could be adapted for any year. Will be used to encourage audience participation in sharing goals and successes. Introduces the idea of SMART targets and how we can all be successful.
A presentation on symbols in scene two and an introduction to speech theory and language analysis. Full Year 12 lesson including various activities including applying knowledge of conversational theories to analysing the text.
The lesson identifies features of an Aristotelian Tragedy. Pupils are asked to consider how the theme of threat is established. Pupils respond to the question: What do we learn about Blanche from her encounter with the newspaper seller? Other dramatic terms explored.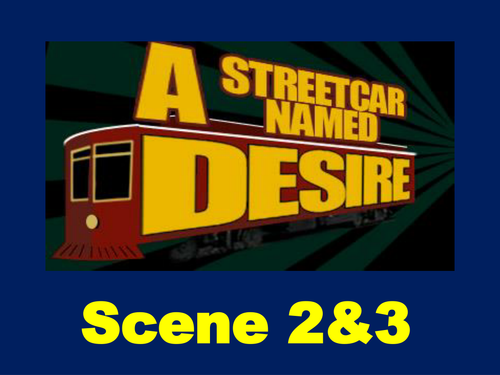 Lesson focusing on the presentation of characters and setting. The stage directions at the beginning of Scene Three reference "The Night Café," Vincent Van Gogh's painting of a billiard-parlor at night, pupils complete a chart comparing the painting to the description of the poker night in the scene. The PPT also includes the 'Poker Night' painting commissioned in 1947 by Thomas Hart Benton for class discussion on the interpretation of the characters.
Year 12 lesson focusing on imagery, Freytag's triangle and the characterisation of Blanche.
This lesson focuses on Stanley's ethnicity and critical interpretations. It also explores Williams choice of music and symbols. Pupil tasks include discussion, writing introductions and exploring possible questions.
Year 12 lesson looking at the theme of illusion and reality in A Streetcar Named Desire. Second part of the lesson asks pupils to consider the presentation of class and race in Scene 8.
A PPT presentation introducing the historical, cultural and social contexts of the play.
A Yr13 Lesson introducing Isabella or the pot of Basil. The lesson begin with pupils analysing different paintings before inferring the narrative of the poem. The powerpoint presentation leads pupils through a series of thought provoking questions before listening to a reading of the poem (You Tube). The accompanying worksheet takes pupils through a stanza by stanza analysis reading for class discussion. This was delivered over two 100 minute lessons.
Year 13 Revision. 35 multiple choice context questions and excerpts for pupils to guess the poem. All answers included.
A selection of critical interpretations for pupils to engage with in order to develop the ability to 'have mature and confident discussion of relevant interpretations' AO5 Eduqas marking criteria.
Free by David Grant tells the story of a class of Year 8 left without a teacher. A short play ideal for performance and study - my pupils love it. The SoW work covers characterisation, setting and language and is completed with a group task to produce a production programme. I have set this task up over several lessons and had pupils competing to win prizes for the best programme.
Year 7 scheme of work. Questions and discussions focusing on flashbacks, dialogue, chapter summaries and Point of view.
Year 7 Introduction to Merlin (1998 BBC Version), focused on the meaning of legend and introducing paganism. The lesson task is to create character profiles and consider the relationship of the characters.
Assessment question following the study of Merlin (BBC 1998) Who was to blame for the fall of Camelot?' In pupils responses they will weigh up different viewpoints and present a balanced analysis of the issue. The frame provided will guide pupils to refer back to character profiles in order to make notes on each of the bullet points.
Year 7 lesson (Merlin BBC 1998) Lesson involves pupils thinking of reasons both for and against Merlin helping King Uther. The main task is to write him a letter, advising him on what to do.
A suggested scheme of lessons to follow the 1998 BBC version of Merlin, including an end of unit essay plan.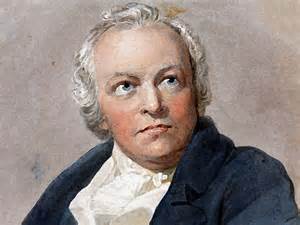 Year 12/13 handout. A selection of 15 critical quotes building an understanding of his reception. Rousseau, whose writings Blake studied, argued that one of the principles that motivated human beings was revulsion at seeing fellow human beings suffer and die. 'Everything is good as it comes from the hand of the creator; everything degenerates in the hands of man' this sentiment is echoed in Blake's poetry.
John Keats Hyperion Fragment and Fall created for Year 13 study. PPT includes contextual information, analysis and pupil tasks. Fragment sections focus on the soundscape of the poem and tasks encourage pupils to analyse Keats's 'principle of melody in Verse . . . particularly in the management of open & close vowels'. The Fall guides pupils through the narrative of the poem. A sequencing task, pupil worksheets and comprehensive handout is also included.