4Uploads
140Views
47Downloads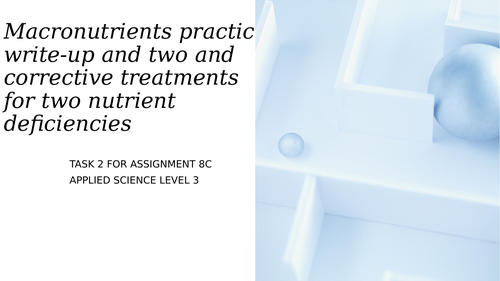 appplied science level 3 unit 8 (assignment 8c ) task 2 PowerPoint evidence that you have correctly carried out a series of practical analytical tests and investigations to establish the nutritional content of a wide variety of foods. These must include sources of: of starch (Iodine test) of protein (Biuret test) of lipids (Emulsion test) of reducing sugars (Benedict's test) of non-reducing sugars (Hydrolysis then Benedict's Test) of vitamin C (2, 6-dichlorophenolindophenol (DCPIP) test) b) Provide information about the importance of these key nutrients for a balanced diet. P6 c) Produce a detailed description of the signs and symptoms that may occur in individuals suffering from nutritional deficiency caused by dietary related diseases. P7 Use your previous research to explain how nutrient deficiency for TWO nutrient deficiency conditions may be treated in order to relieve the symptoms. *For reference only .Give credit or cite if used.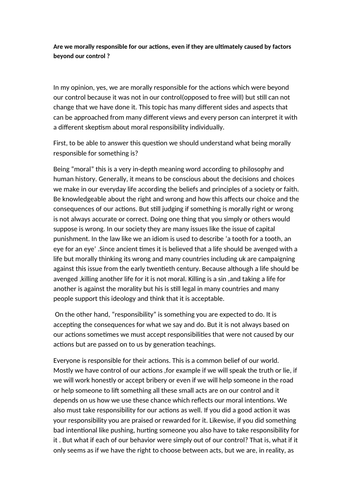 This is a philolosophy essay with the topic 'Are we morally responsible for our actions, even if they are ultimately caused by factors beyond our control ?' These all are my own personal views and approach to this question and is this topic is not limited to these. 3 pages argument 1 page bibliography total 1557 words
As edexcel mathematics ebook and worked out solutions (pdf).