39Uploads
8k+Views
439Downloads
An ideal SEND template to aid transition of pupil's with SEND and support teachers and teaching assistants in the classroom. An ideal one-page SEND Pupil Profile sheet (word document) detailing SEND, Strengths, Areas for Development, Targets, and External agencies working with the child for ease of reference.
In line with the SEND Code of Practice 2014 this one page SEND register records children across the Primary school who require SEN Support. Children are recorded in one of the four groups of SEND as seen below. Communication & Interaction Social Emotional Cognition & Learning Sensory & Physical This gives a detailed and thorough overview of SEND across the school. A simple colour code identifies pupils with additional PP / LAC / and AFN / HLN Funding. Easily adaptable to fit your own settling. A super resource for the busy SENCo.
An easy to use book banding tracking system for the whole Primary school from Foundation Stage through KS1 and KS2. Easily adapted to own assessment without levels system. Terminology can be easily edited to suit own school. Entering / Emerging Developing / Working Towards Age Related Expectations Secure / Working at Age Related Expectations Greater Depth / Exceeding Age Related Expectations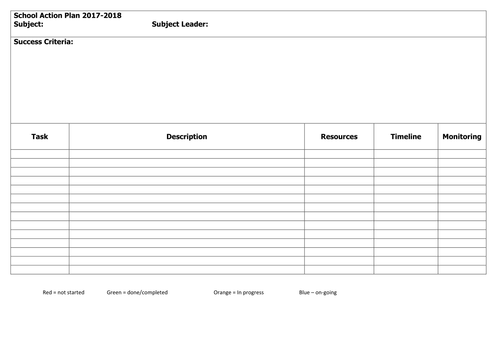 A simple School Action Plan blank Template to support middle leaders in setting targets for the year.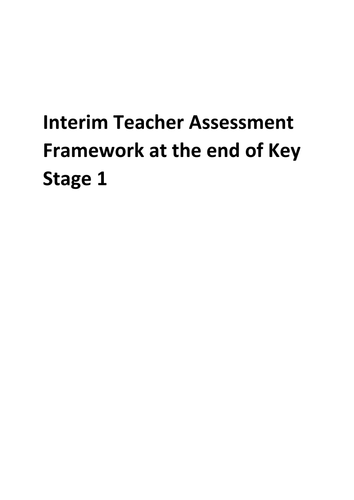 A quick reference booklet for Assessment KS1 Interim End of Year KS1 for Reading, Writing, Mathematics and Science giving up-to-date assessment criteria for working towards, at expected and greater depth standards. Could be sent home to parents to inform them of targets for the end of year.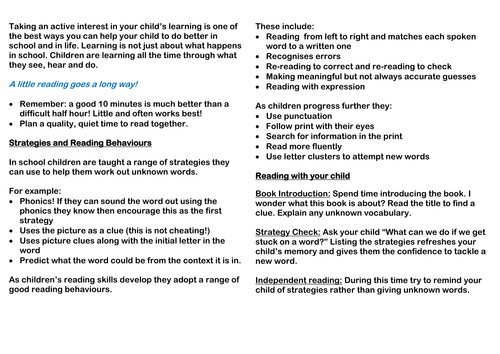 An easily adaptable reading leaflet to send home to parents to encourage a love of reading.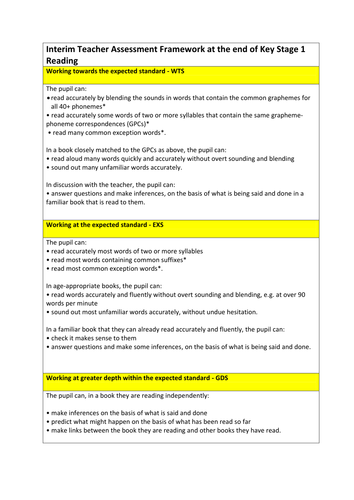 A simple booklet to record progress and attainment at the end of the Key Stage 1.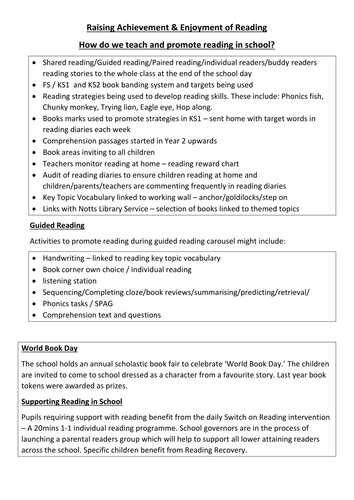 A simple document showing ways that school might raise progress and achievement in Reading.
A blank SIP template which can be easily edited to add targets for the percentage of KS2 children attaining Reading, Writing, SPAG, Mathematics age related expectations, greater depth or working towards. Also includes Year 1 Phonics screening % targets and Year 2 % teacher assessment targets for Reading, Writing and Mathematics.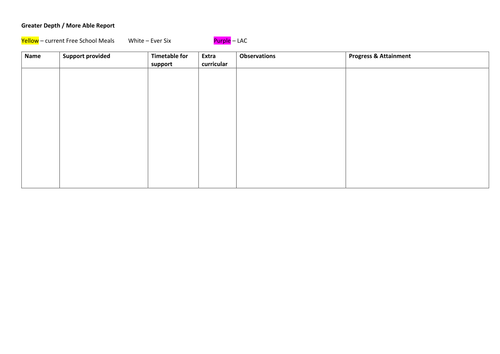 A simple report template to track the progress and attainment of More Able children and to monitor specific provision to meet their needs.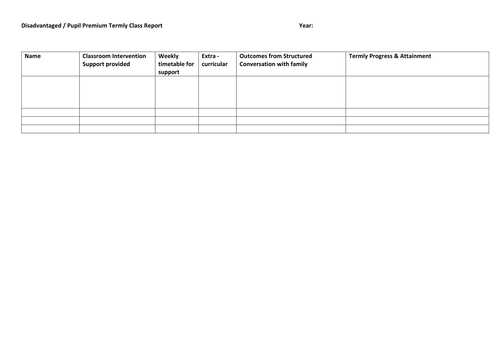 A simple pupil premium report tracking termly progress and attainment. Individualised provision shown for children and how this has positively impacted teaching and learning.
A useful guide to explain how to use new the PIVATs 5 to assess progress and attainment for children working on p-levels or children working significantly below their age related expectation.
A set of weekly plans (week 1 to 5) for teaching Phase 2 Letters and Sounds. Children are taught how to read, write and spell Set 1 / Set 2 / Set 3 / Set 4 / Set 5 sounds & words. Weekly homework set will help to revise and reinforce the sounds and words. Page numbers in the weekly planning refer to games and activities from the Letters and Sounds document which is available freely to download.
A useful flowchart to help staff and SENCo work towards identifying when a child has additional needs in school. Easy to follow steps supporting the identification of pupils with SEND in school.
Pupil Voice Questionnaire A 3 page questionnaire designed to collect information linked to SEMH of vulnerable/all pupils. Useful evidence for the impact of targeted interventions for SEND / PP / LAC.
A one page simple and easy to use Case study template that aims to show the impact both qualitative and quantitative of Pupil Premium Funding. Easily adaptable to suit own school setting. Recommended by Ofsted.
This audit tool is designed to assess the classroom teaching and learning environment for all pupils. It could be equally used to assess the provision made for pupil's with SEND or as a self-reflection tool to develop awareness of environmental issues that can affect behaviours for learning.
A clear one page Literacy and Maths planning template that shows learning intentions, main teaching and success criteria for the whole week.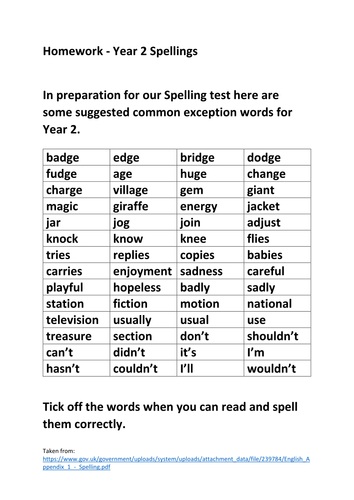 A table of suggested common exception words for Year 2. An ideal termly homework giving parents and children an understanding of the requirement for Year 2 Spelling.