3Uploads
377Views
51Downloads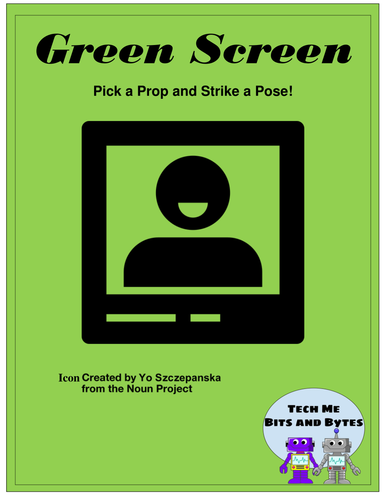 If you haven't started using a green screen with your students, go on and give it a try! We recently had our school fundraiser and I set up a green screen photo booth. We had a blast choosing props and backgrounds - over 140 photos were taken. This Tech Me Bits and Bytes handy guide will show you how to create a Green Screen Photo Booth in 8 easy steps. (You won't even need to print the photos. How cool is that?!) Plus, you can easily use a green screen to enhance your lessons. Picture this - students bring their stories to life using their own backgrounds AND starring themselves. This will definitely enhance your creative writing classes. I have used the green screen in Math, Science and Social Studies too. The technology integration possibilities are endless. You will need : green fabric, the Do Ink Green Screen iPad app, and a 'web' photo album (such as Walgreen). Download this 'Green Screen Photo Booth' guide today to learn all the details. It's easy and awesome!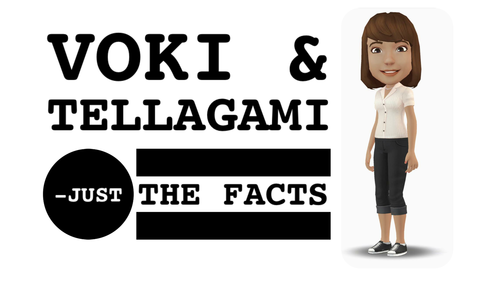 With Tellagami and Voki, you can make animated videos using talking avatars! This 'just the facts' guide contains step-by-step instructions, tips, and screenshots for you to learn how to use Tellagami and Voki. You can customize your characters and backgrounds. Bring your characters to life by recording your voice or typing text. Using text-to-speech, you can even change the speaking voice to a male or female, with different accents. You and your students will have a blast creating awesome videos. Tip: Try combining multiple short Tellagami or Voki videos to create longer ones. Save the videos to your device, send via email, or share on social media. Features: Tellagami, (Mobile App) Free - limited customization & 30 second audio recording Paid Edu edition - many customization choices, 90 second audio recording & text to speech Voki (Website) Free - 60 second audio recording, up to 600 characters for text-to-speech Paid Classroom edition - 90 second audio recording, 900 character limit, plus other features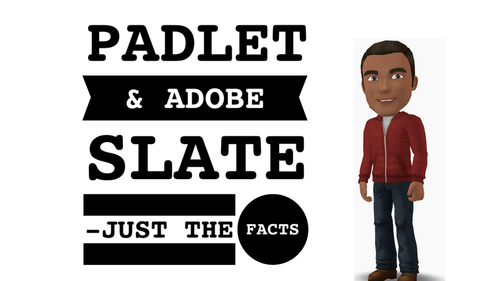 This 'just the facts' guide contains step-by-step instructions, tips, and screenshots for you to learn how to use Adobe Slate & Padlet. Adobe Slate Adobe Slate is a free iPad app that lets you create and publish gorgeous web pages. • Your Slate story can include headings, text, quotes, hyperlink buttons, and images. • When you scroll you see an effect known as parallax or window scrolling where the image and text do not scroll together. It makes for an awesome electronic magazine–like presentation. • Your completed Slate can be published online to Adobe's website. • Using the generated URL, you can then share your Slate with anyone or post it anywhere. Use Adobe Slate to create class newsletters, write book reviews, share photos, create visuals, retell stories, or even publicize events. Padlet Padlet is a free web and mobile app that lets you easily collaborate by posting notes on a digital wall. Think of it as 'an online sheet of paper where people can put any content (e.g. images, videos, documents, text) anywhere on the page, together with anyone, from any device.' Padlet can be used in endless ways. For example: • Use it as a brainstorming tool • Display student work • Students can posts comments & receive feedback • Share resources • Hold discussions • Upload assignments • Complete exit slips Start using Adobe Slate & Padlet today!