A selection of resources I have created and used with my GCSE class to help them with analysis of Haydn's 'The Clock'. Included; An introduction to the study piece looking at instrumentation and general features, An analysis of structure, An analysis of key musical features, Composition tasks and worksheets related to features of the study piece, A short listening activity, Quiz Quiz Swap activity to help students recall key points, A homework in which students research the background of classical music. These resources can obviously be adapted to suit the needs of your own students.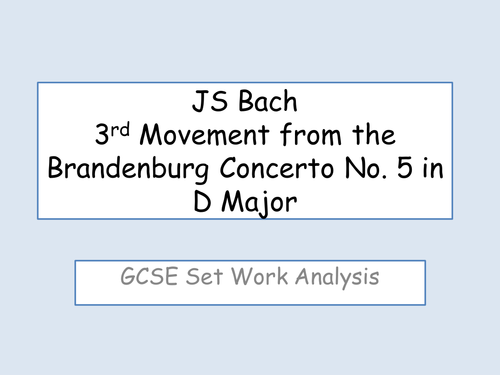 A selection of activities and a presentation with the objective of familiarising students with the key vocabulary and elements from Bach's Brandenburg Concerto No. 5 in D Major, 3rd Movement. This resource intended to be used as part of the new Edexcel Music GCSE syllabus from 2016 onwards. This resource includes; 'Quiz, Quiz, Swap' whole class activity to introduce the context of the set work, Differentiated first listening activity with a focus on the key elements of the piece, A PowerPoint presentation and to help students with score annotation, Obviously, it can be differentiated and adapted to suit your students needs.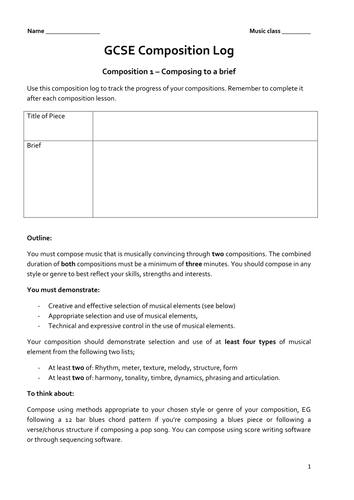 A composition log I have made to use with my GCSE classes to aid them during the first composition, which involves composing music in response to a given brief. Includes: A space to write the given brief, A general description of how the unit works and its aims, Space to plan the structure of the composition and record key features of the chosen style or genre, A week by week log for students to record what they have done and for the teacher to leave feedback.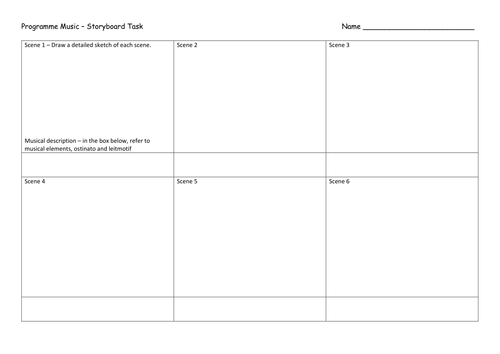 A short but in depth unit looking at composition techniques within the genre of programme music. Students are encouraged to respond to music they listen to, and familiarise themselves with such techniques like ostinati and leitmotif. Students are also encouraged to compose music for pictures using prompts from Pictures at an Exhibition as a stimulus. Other stimuli are also included. During these tasks students should apply knowledge of composition techniques learned during initial listening tasks. The unit culminates in students producing music, either acoustically or through music technology to fit a storyboard. This can be differentiated to suit a range of abilities. Included in this resource; PowerPoint presentation of tasks. Homework research task Ideas boxes for composition Storyboard worksheet.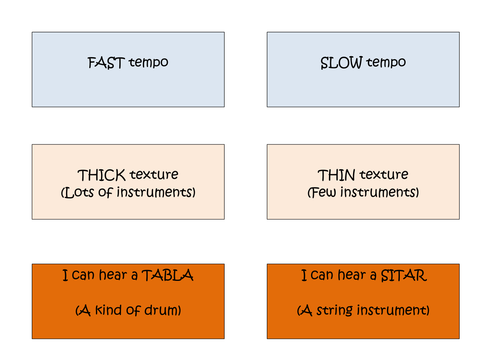 Here's a lesson I used to introduce Indian music at KS3 (Year 9). The lesson includes a PowerPoint presentation, a flashcard activity, two audio examples and a video. The lesson aims to help students understand how the rhythmic taals work and how they are a basis for Indian raga. Any feedback would be helpful!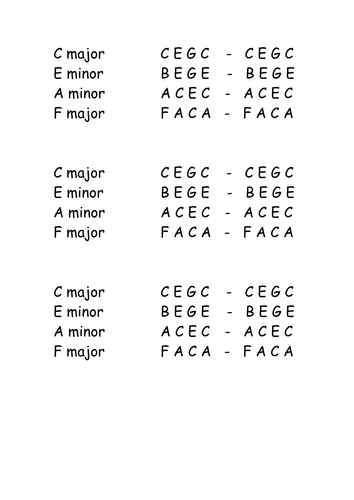 A resource I use to introduce pop songs to year 7 - although it would work with older year groups too. Its been a nice way of encouraging classroom singing. It uses the Adele song 'Someone like You'. Includes a lesson plan and PowerPoint. The end of objective is to play a very simplified version of the hook (it's in C) either as broken or block chords. If all goes well, students might be able to perform it as a whole class.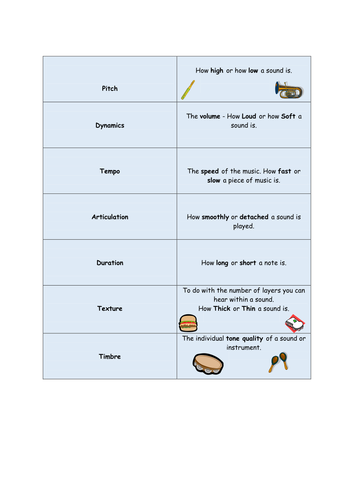 Some differentiated flashcards I made to help introduce the musical elements to Year 7. Can be used in pairs or in small groups of lower ability students.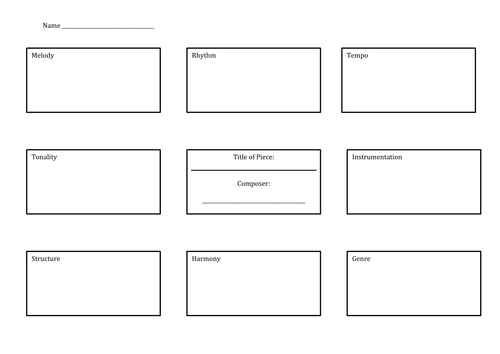 This is a worksheet I use to help students practice for the first question of the A2 Edexcel Music listening paper. It is a way of helping students compare and contrast passages of music - as is required for question one. I generally play the group contrasting passages from the same work, and students should use the headings to note down key musical features before using this information to complete exam style questions.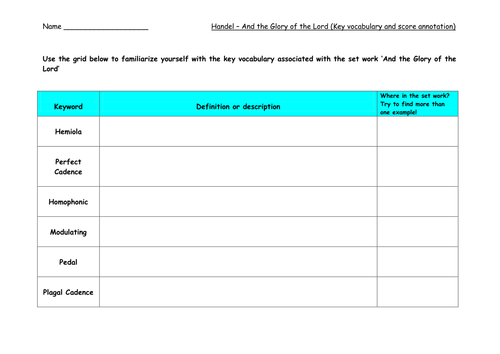 To help students gain a stronger grasp of the key vocabulary associated with the Handel set work. There's a differentiated version which is more of a fill in the gaps exercise for the first part. The final six are words my group have covered already, so they simply come up with their own description. Students then use their own descriptions to annotate their scores. I allow the less able students to use the text books (pg8-14) to help them.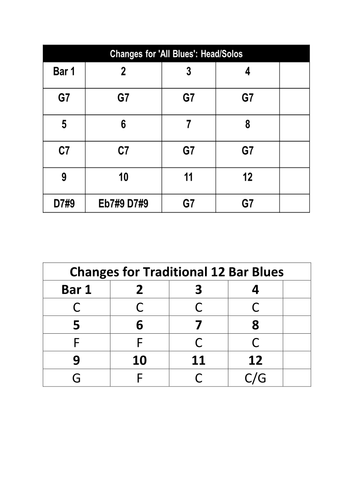 A short PowerPoint I put together to help with the analysis of the Miles Davis set work. Includes a short practical task and a 'Section B' style activity at the end. Also Included the chord changes for the practical task.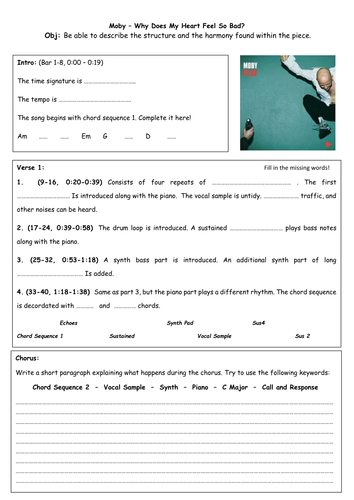 This is a resource I used to round off a couple of lessons on the structure of the set work. I set it as a homework, but can be used just as easily in class.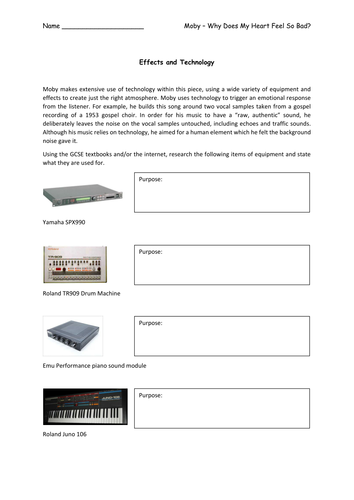 A short activity which I gave to my GCSE class of Year 10 and 11 to help them gain an understanding of Moby's use of technology within his song. I differentiated it slightly so that the version aimed at weaker students became a 'fill in the gaps' activity.