26Uploads
7k+Views
6k+Downloads

This is a listening activity based on an authentic news video report about Justin Trudeau's vision for diversity in Canada. I have done this with my Y13 French New A Level group. Students listen to the video and answer the questions in English. There is an answer sheet too. The video can be found at the links below: https://www.dailymotion.com/video/x44q6dx_canada-la-revolution-trudeau_news http://blog.francetvinfo.fr/bureau-washington/2016/04/17/canada-la-revolution-trudeau.html

In preparation for teaching the new AQA A Level French Spec, I spent ages trawling the internet looking for useful resources to teach "Entre les murs". This is a very useful dossier put together by the Institut Français (credited to Alice Mennesson). I am posting it here as I can no longer find it online! So far I have used this for matching images to key scenes and describing images with legends. I intend to use this for describing characters too. There is also an incredibly useful sequence by sequence breakdown of the entire film. Enjoy!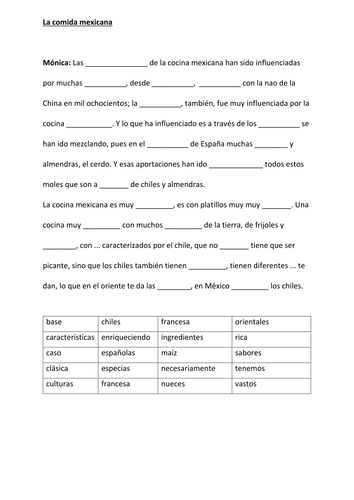 This is based on a video from the BBC series Sueños about Mexican food. I've included a worksheet, additional question, the transcript and 10 ideas for how to use it.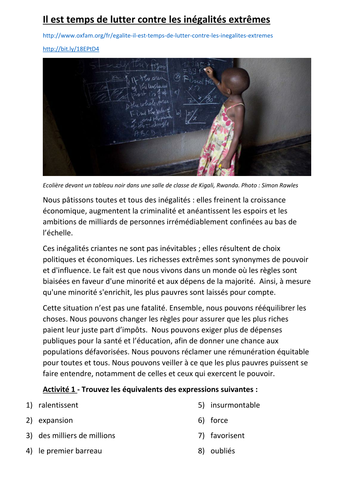 A worksheet exploiting information from the French version of Oxfam.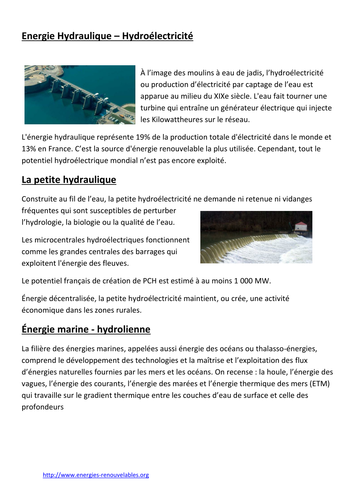 This is a translation activity, along with the answers taken from from http://www.energies-renouvelables.org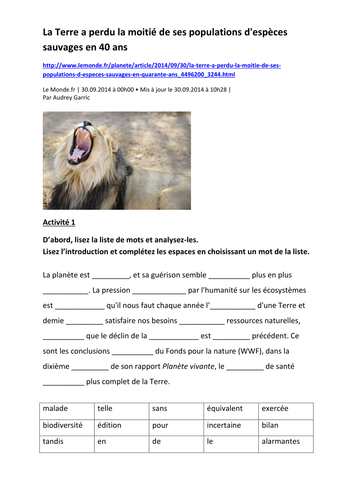 Environment/protection of the planet. This worksheet exploits an an authentic text from lemonde.fr with cloze activity, true/false/not mentioned and a translation task.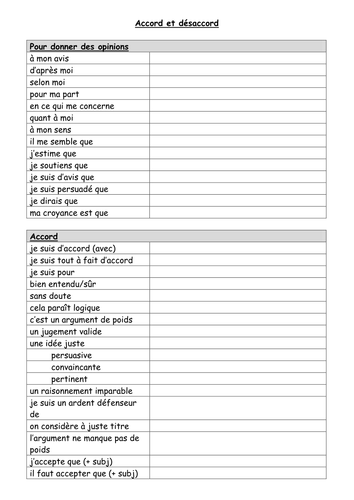 A vocab worksheet I use with A2 French but could be used with higher ability GCSE groups. Students complete the English column then use phrases in their written work.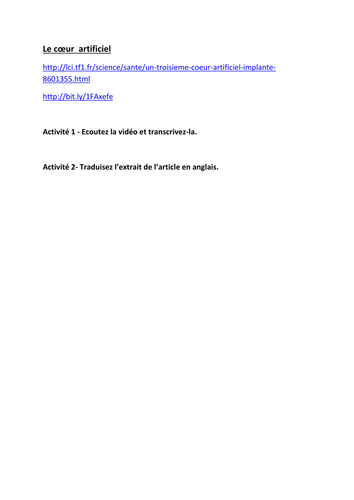 A link to a TF1.fr report about the use of an artificial heart. Students listen and transcribe, then translate into English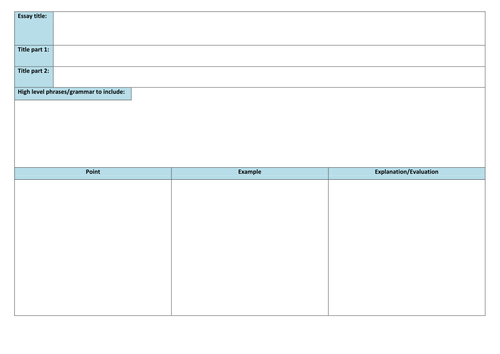 We used this sheet to help our students plan essays more effectively. In particular we felt it helped them address weaknesses in how analytical their essays were.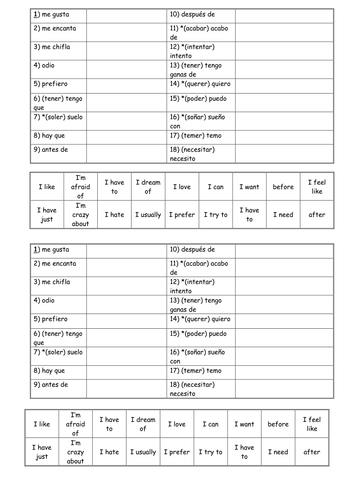 A worksheet for students to complete to build their knowledge of infinitive phrases. I have given the infinitive of some of the verbs in these phrases and marked with * the trickier irregular verbs.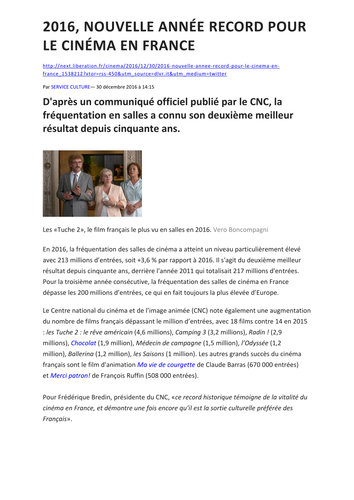 This is a nice reading worksheet based on authentic texts to introduce Y12 AS French students French cinema. There is a short article from libération.fr (http://next.liberation.fr/cinema/2016/12/30/2016-nouvelle-annee-record-pour-le-cinema-en-france_1538212). With this I got my group to practice saying the numbers out loud as they find this quite difficult. The second activity takes the popular film titles from 2016 mentioned in the article and requires students to match them with a synopsis taken from http://www.allocine.fr/ and https://en.wikipedia.org/wiki/Les_Tuche, The third activity feature 3 whole class discussion questions to get them talking about French cinema.

I used this with my Y12 group to encourage them to generate opinions about various different aspects of new technology as part of the AS French Unit on Cybersociété. The aim is for them to try to see both positives and negatives. We then debated these in class with students trying to argue against each other. I have put an "agreeing and disagreeing" worksheet on TES which helps with this.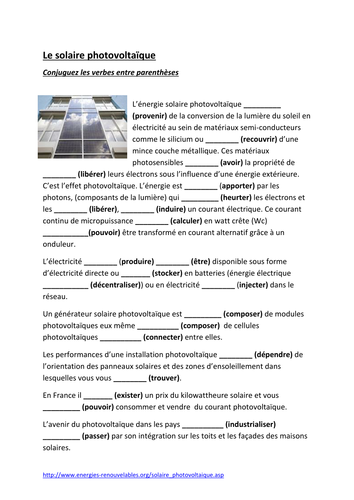 Students conjugate the verbs in this authentic texts. The worksheet includes the answers from the original. Authentic text from http://www.energies-renouvelables.org/solaire_photovoltaique.asp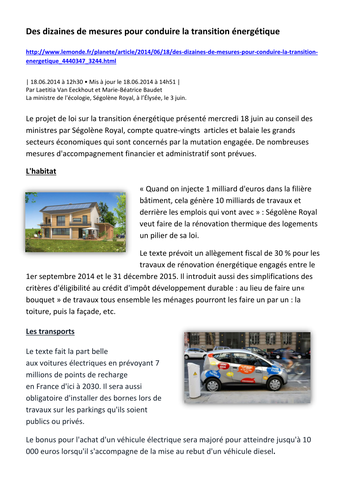 A worksheet exploiting an authentic text from lemonde.fr along with answers.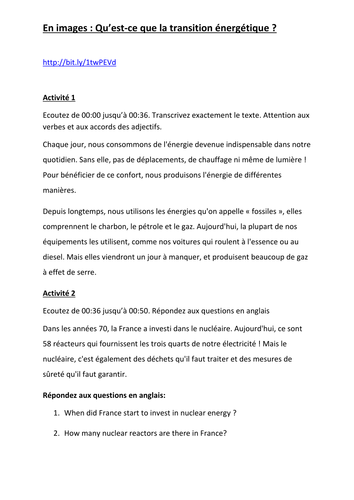 A woksheet which exploits an authentic video about the changing energy situation in France. These is an answer sheet to accompany it.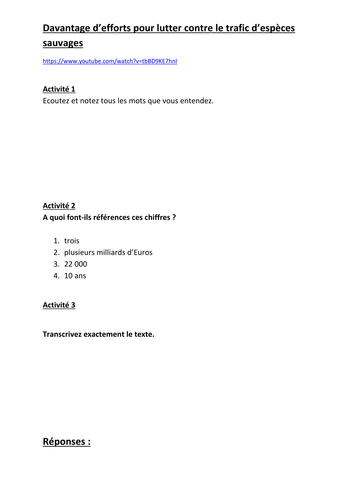 The worksheet exploits an authentic video on euronews on youtube about the trafficking of species. Make sure students watch the video on full screen as the transcript is visible at below it!

These are some of examples of the inflammatory language used by Nicolas Sarkozy, the then interior minister, to describe the riots in Clichy-Sous-Bois in 2005. I use this as a translation activity with Y13 A Level French students, which then feeds into a discussion about the causes and consequences of the riots, immigration, racism and integration.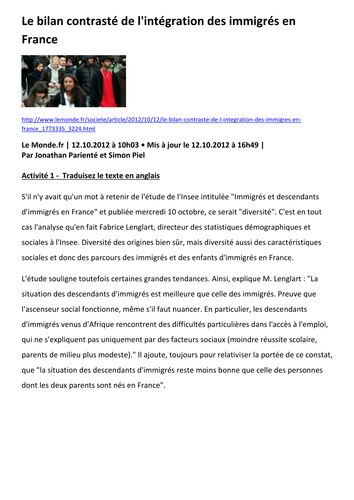 This worksheet is a series of reading and writing activities based on an article from lemonde.fr which can be found here: http://www.lemonde.fr/societe/article/2012/10/12/le-bilan-contraste-de-l-integration-des-immigres-en-france_1773335_3224.html I have used this with Y13 A Level French to cover the concept of immigration and integration. More recently, I have used this with my Y12 French class to give them some background context before they watched "Entre les murs".