Miss Robinson's Shop
Secondary school English teacher and Literacy Co-ordinator
14Uploads
23k+Views
8k+Downloads
Secondary school English teacher and Literacy Co-ordinator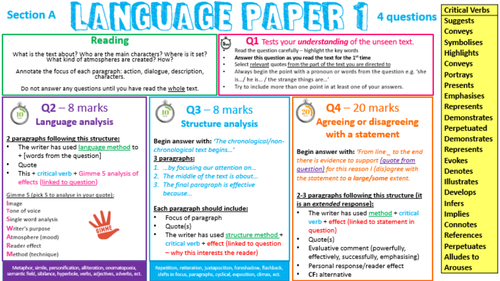 A concise revision resource providing guidance on each of the AQA English Language Section A questions (1-4) including: writing frameworks guidance on timing critical verbs subject terminology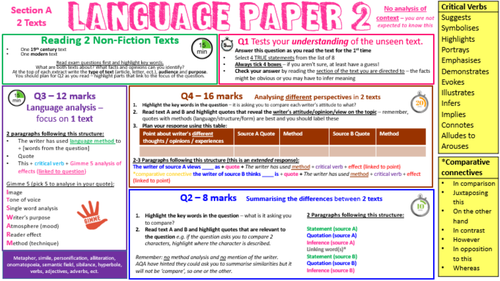 A concise revision guide for section A of AQA English Language Paper 2 (questions 1-4). Including: writing frameworks guidance on timing vocabulary critical verbs to enhance extended writing planning frameworks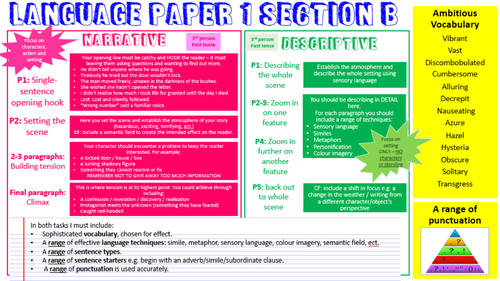 A concise guide to AQA English language paper 1 section B, including guidance on the narrative and descriptive writing option. complete with a criteria check-list, extended writing structures and vocabulary suggestions. I created this chapter by chapter, reading and comprehension quiz to monitor and assess my sixth form students' reading and understanding of this OCR 'Comparative and Contextual Study' set text. Each week they were assigned 3-4 chapters to read for homework and answer the questions in preparation for SA/PA in class the following week. Each of the 27 chapters has approximately 10 chronological questions with answers (some with key quotes as evidence - page references are for the Penguin Classics 1993 edition of the text). A collection of 28 1hr 15min lessons aimed at top set year 10 students who are preparing for the Dr jekyll and Mr Hyde AQA English Literature examination. Critical theories explored: Sigmund Freud's Uncanny Sigmund Freud's concept of the ID, Superego and Ego. Simone De Beauvoir's Second Sex Theory Helene Cixous' feminist theory Marxist theory mock assessments and extracts are also included.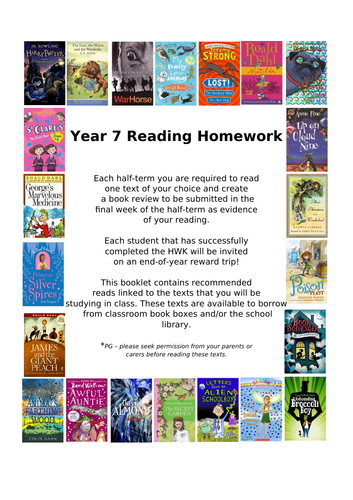 Two separate recommended reading lists (year 7 and year 8) encouraging a love of reading through promoting topical reads and fiction linked to SoWs throughout the year. These reading lists will be set as homework throughout the academic year where we are asking students to read at least one text each half term.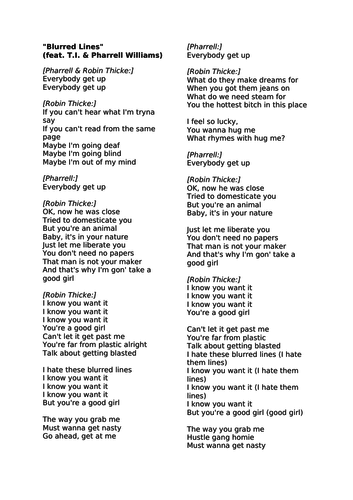 A collection of 2hour lessons introducing and studying the OCR ALevel Language in the Media exam component. complete with resources and an essay structure (used by my students who attained a grade A in the June 2017 examinations). Lessons introducing/studying language and power, gender and technology theories/theorists.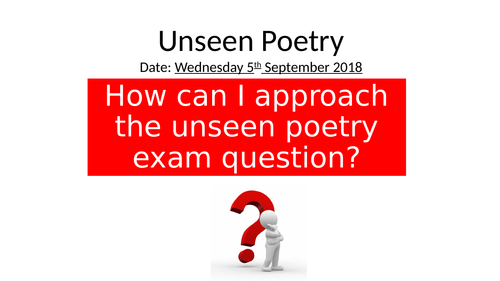 Intorduction to the AQA English Literature unseen poetry paper 1 question.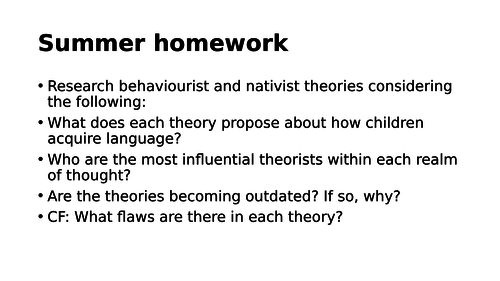 A complete unit of work (12 x 2hr lessons) focusing on the Child Language Acquisition unit of the OCR England Language ALevel paper 2. Includes model responses, data, OCR exemplar material from an OCR training course, complete lessons, revision material and a personal learning check list for students to use to guide their revision. English display and support posters for the AQA command words, for example, evaluate, analyse, compare. With success criteria, key words and models.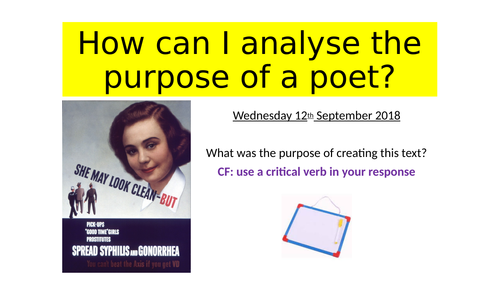 An unseen poetry lesson focused on analysing the writer's purpose. HWK task look at building comparisons with Dulce et Decorum Est.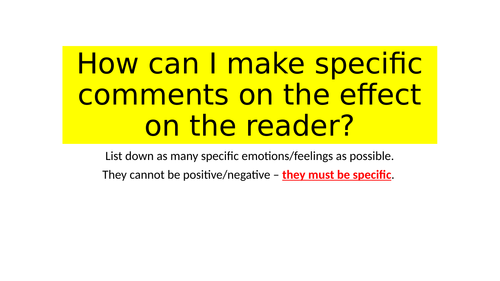 An unseen poetry lesson for the AQA literature paper 1, focusing on the effect on the reader and the poem Your Dad did what?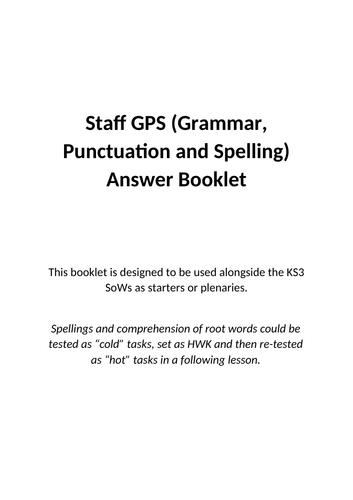 Included is a student booklet with space to answer each of the 52 activities that focus on spelling, punctuation and grammar in order to develop proficiency and confidence in literacy. The booklets have been created for KS3 students to be used as 10min starter activities throughout the year and have been devised with consideration of the KS2 (year 5 and 6) National Curriculum spelling list and GPS SATs papers. The activities alternate between spelling tests, vocabulary/root word activities and grammar tests. A teacher answer booklet is also included.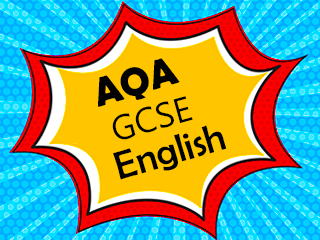 A 6 week SOW based around the new AQA GCSE English Language Paper 2 section B: non-fiction writing. Lots of 'language through literature' resources linked to our AQA literature texts too: Macbeth, An Inspector Calls, Jekyll and Hyde and War and Conflict Poetry anthology. Designed to use with mixed ability year 10 students.