10Uploads
2k+Views
543Downloads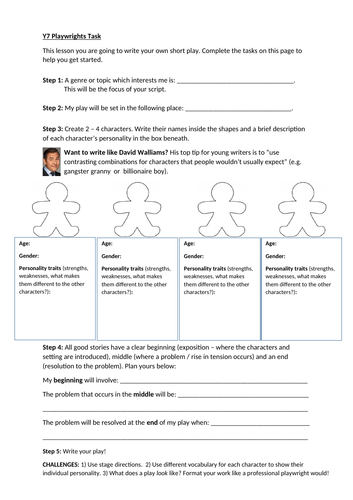 Cover lesson task for KS3 drama pupils. The task is scaffolded so that pupils can complete it independently with little to no input from the teacher making it perfect for lessons covered by non-specialists. Pupils work through simple tasks on the sheet to help them to organise ideas for a play before they write their own script (e.g. 'A genre or topic that interest me is:'; 'My play will be set in the following place: '; etc). This could be completed over more than one lesson to allow pupils to develop their writing and create longer scripts. They could then work practically to create scenes of scripted drama using their own or each other's work. Pupil ownership / engagement: Top writing tip from David Walliams' radio talk with Chris Evans on BBC Radio 2 (paraphrased) Scope for pupils to write about whatever genre, topic, characters, setting etc that interests them **Challenges: ** Use stage directions. Use different vocabulary for each character to show their individual personalities. What does a play look like? Format your work like a professional playwright would! **Resources required: ** Pens / pencils, paper or workbooks, the worksheet provided OR Computers / laptops for pupils to type their work & the worksheet provided (alternatively it could be emailed to pupils to save trees… we all <3 trees!)
Worksheet suitable for KS3 drama pupils. Ideal for cover work, homework or catch up work for pupils who have missed introductory lessons to proscenium arch and end on staging. The 5 page worksheet includes: Starter task Learning objective Success criteria Images to support comprehension Reading task on staging positions (strengths, names, history on raked staging) 5 questions, with space to respond after each of them, for pupils to demonstrate comprehension of learned theory Written plenary task to lead into future lessons on staging styles Dyslexia friendly (worksheet is in sixe 12 Comic Sans font) Images in the worksheet are taken from a powerpoint I created for teaching different staging styles. I am hoping to finish making another worksheet soon which will cover traverse, promenade, arena and thrust staging.
Worksheet requiring pupils to analyse and describe the use of vocal skills by a comedy actor in a video clip. 3 questions, visual prompts and a list of key words provided. Suitable for use as a homework sheet, as catch up for pupils who have missed introductory lessons on exploring vocal skills, as starter / plenary task, or as part of a cover lesson. I use this with Y7s in their first few weeks of term. Images of the worksheet have been altered to prevent printscreening. The sheet that you will download will not have grey clouds on it!
Used with Y9s and KS4 to help them to identify the skills and qualifications they will need in order to enter their chosen career. Ideal for use before they chose their options! Powerpoint suitable for a lesson in a computer room or as a homework project. The slides include starter tasks, lesson objective and additional areas of learning, main research based lesson task with several weblinks, extension task on finding jobs and writing cover letters, and a plenary task to help pupils recongise the beneifts of the lesson and identify gaps in their knowledge. A tried and tested lesson that has always been successful with many Y9 groups! I usually provide them with weblinks to local colleges and sixth forms too. If taught over two lessons pupils often enjoy researching house prices in their local area, or where their chosen univeristy is, and figuring out what their take home pay will be from the average salary earned in their chosen career. Images have been edited to prevent printscreening. The document you download will be completely legible!
6 PowerPoint lesson plans complete with starters, learning objectives, success criteria, lesson tasks and plenaries for each lesson. The topic is suitable for Y9 and is based on devising around the Stephen Lawrence Inquiry. SOW explores themes of gang culture, knife crime, racism and media. Work links to PSHRE, media studies and exploration of naturalistic, Brechtian and surreal drama. Perfect for use with The Colour of Justice by Richard Norton-Taylor. The worksheet allows for written evaluations after each lesson as well as an evaluation of how skills have been developed throughout the topic. It is based on the theory of metacognition and uses colour coded feedback through use of coloured stickers to speed up marking.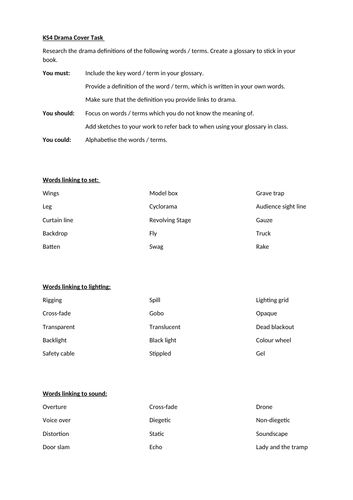 Research task appropriate for a cover lesson for high ability KS3 or for KS4 drama. A simple but beneficial task which pupils should be able to complete independently if taught by non-specialists. Resources required: Computers, pens / pencils, paper or work books (or pupils could type their work up). **Task: ** Pupils will research a number of key words and terms which link to various elements of theatrical design and create a glossary to use as a learning reference tool in future lessons or for revision. Design elements included: Set, sound, lighting, costume, hair, make-up. Total of 57 words/terms provided! Learning Objectives: You must: Include the key word / term in your glossary. Provide a definition of the word / term, which is written in your own words. Make sure that the definition you provide links to drama. You should: Focus on words / terms which you do not know the meaning of. Add sketches to your work to refer back to when using your glossary in class. You could: Alphabetise the words / terms. **Extension task: ** Create a key and colour code the words / terms to show which areas of theatrical design they link to. Pupil Ownership / Engagement: Pupils select the words which they wish to research. Words are divided into elements of theatrical design to help them to identify words linking to areas of interest. A few intriguing / funny sounding words and terms provided to hook pupils in Cross-curricular links: Science: Vocabulary for describing transparency of materials Music: Vocabulary for describing sound Art: Vocabulary for describing make-up tone and effects. Drawing task included Media studies: Vocabulary for describing different types of sound effects English … obviously!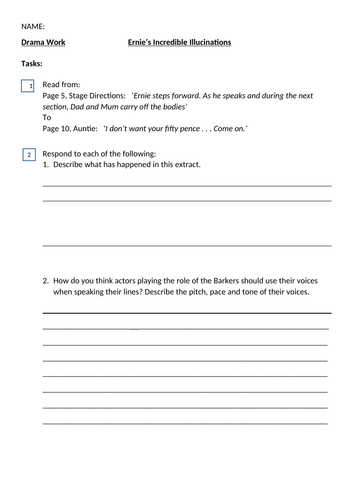 Free worksheet for a cover lesson on Alan Ayckbourne's - Ernie's Incredible Illucinations. Suitable for Y7.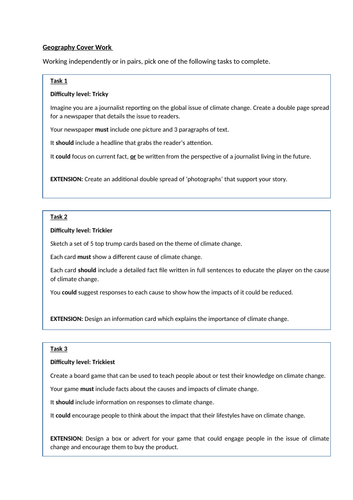 Worksheet for a KS3 cover lesson. Suitable for lessons covered by a non-specialist if pupils have already learned about climate change. If they haven't already done so, the task would work for a double lesson if pupils spent the first researching causes, impacts and responses to climate change. Differentiation / pupil ownership: 3 tasks are provided for pupils to choose from and are entitled 'Tricky', 'Trickier' and 'Trickiest' to help them to identify the difficulty level Each of the 3 tasks have their own success criteria ('Your work must include… It should include… It could include…') Extensions are provided for each of the 3 tasks. This was originally created for a very low ability Y9 class.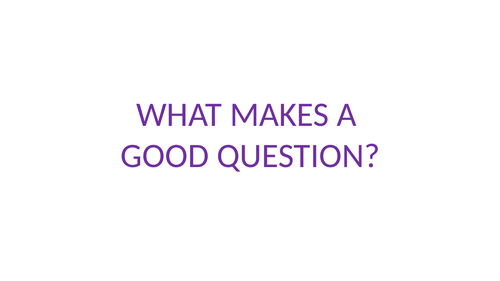 2 slide powerpoint used in tutor time prior to a careers fair. Purpose of activity: To get pupils to consider what makes a good question To learn the difference between open and closed ended questions To provide prompts to help pupils to create their own appropriate and beneficial questions Follow up task: Get pupils to write their own questions to ask at the careers fair.
A card sort activity suitable for classroom learning, or adaptable for remote learning. The 19 cards are based on events in the lives of drama practitioners Brecht, Artaud, and Stanislavski. They also feature a few other notable milestones in history and drama history to provide context to the information presented. The activity is based on metacognition and can be used as a tool for cross-curricular learning (E.G: History - World wars; Maths - calculating ages & dates; PSHRE - morals and ethics; Geography - birth/death places of practitioners). Two copies of the card sort are provided - a teacher's copy (cards are in the correct order), and a copy for pupils (cards are jumbled). Pupils should sort the cards into chronological order. They can then consider/discuss how the events may have influenced the development of each practitioner's style. A tried and tested resource! I've use this with multiple KS4 classes and have found it to be a great starter activity after teaching modules on each of the practitioners. I've also used it to introduce one of the practitioners after teaching modules on the other two. All groups I have used this with have found it engaging, and it has proven to be a great conversation starter. More able learners usually complete the card sort in around 5-8 minutes, but discussions around the facts could last for as long as you allow! Feedback on the resource would be greatly appreciated :)