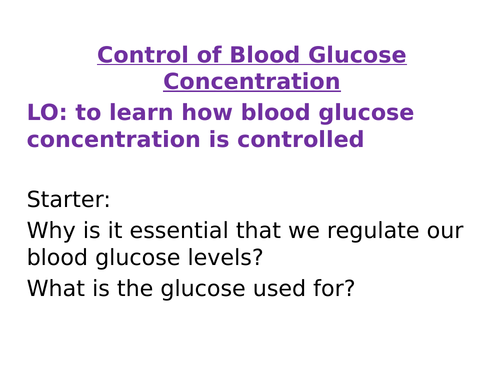 8a - PPT covering how insulin and glucagon are involved in the control of blood glucose concentration. Students could research first and complete the placemat or the placemat can be completed as you go through the PPT - they match each other. My students found it was very easy to follow. Includes a quiz comparing glucose, glycogen and glucagon 8b - research task on diabetes. Students can make a wikipedia page or complete the research table. Answers in PPT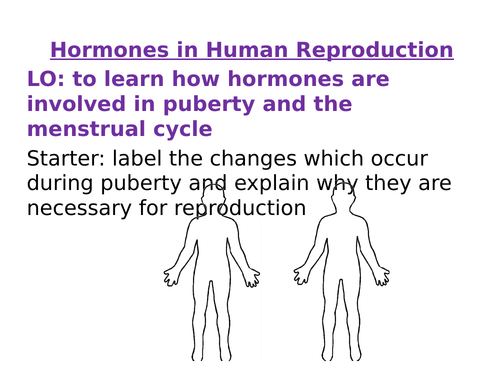 Simple PPT with a range of activities - colour match, hormone table to complete, menstrual cycle to label, card sort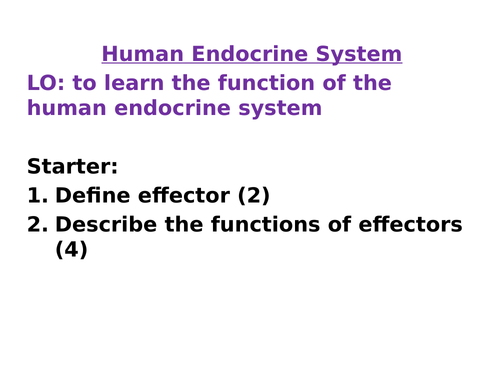 Simple PPT. SEN work sheet asks students to label the endocrine system (matches PPT), match the gland with the hormone produced and the function of the hormone and then compare reflex and hormonal action by completing a table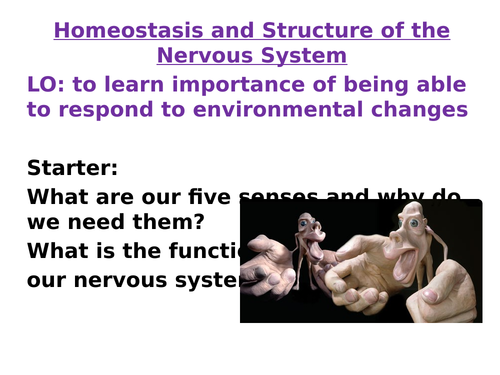 Simple explanations of each key word, examples of stimuli and receptors, structure of nervous response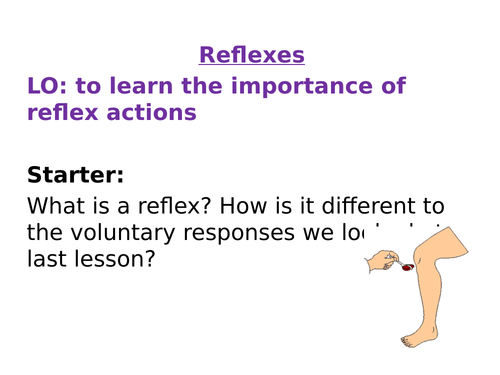 Reflexes, reflex response, recap of nervous response, very simple. My students found very easy to follow. Follow up with exam questions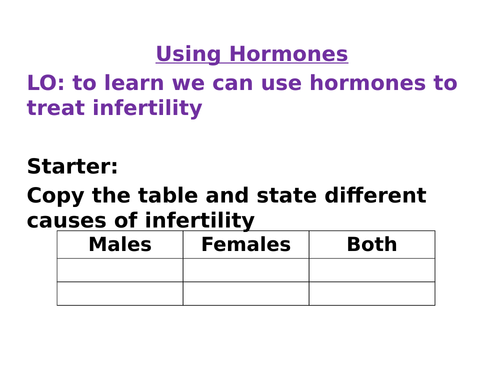 Simple PPT and 6 mark question - stages, reasons for infertility and adv/disadv of IVF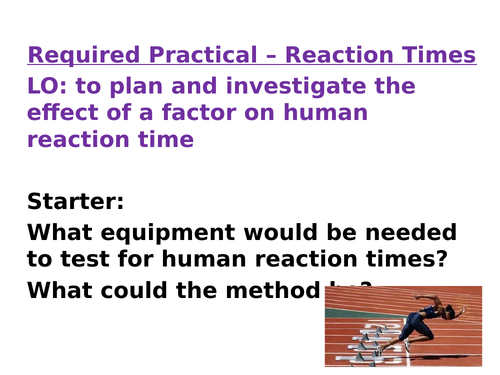 PPT and analysis questions for the required practicals for reaction times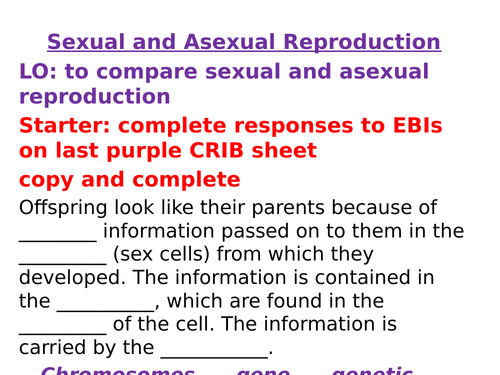 Comparison of sexual and asexual reproduction with examples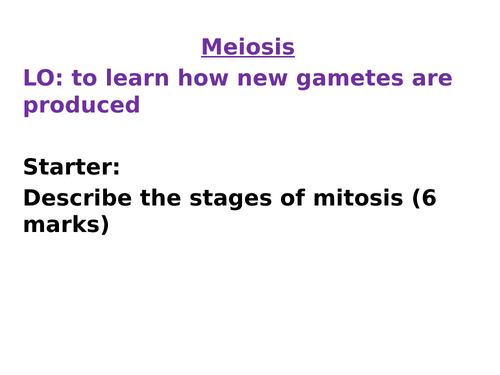 Stages of meiosis and then comparison to mitosis - various tasks for you to choose from. The cell division task is courtesy of another user - thank you.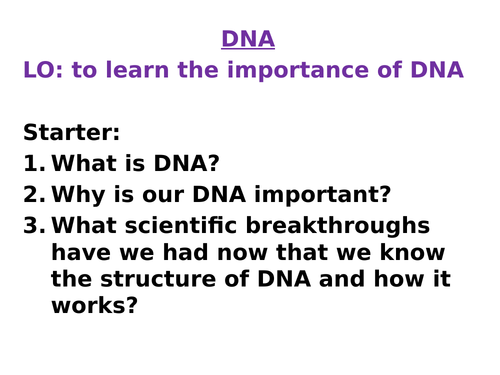 Structure of DNA, how DNA codes for amino acids and proteins, DNA fingerprinting. Follow up with exam questions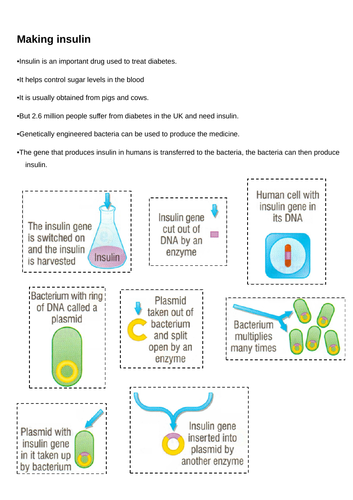 PPT including definitions and stages of. Stages of based on exam questions/mark schemes. Insulin task from another user - thank you!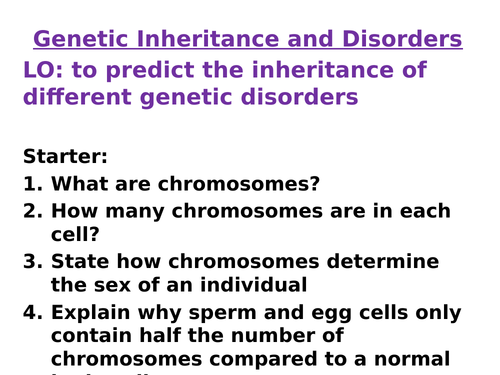 Simple PPT covering all key words, examples of Punnett Squares, tasks for students to complete on whiteboards. Discusses Cystic Fibrosis and Polydactyly and then a simple worksheet to summarise. Follow up with exam questions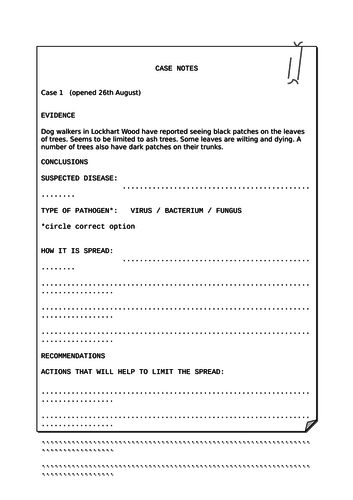 PPT covering plant disease. Case studies taken from another user on the internet but is a fantastic resource… answers in PPT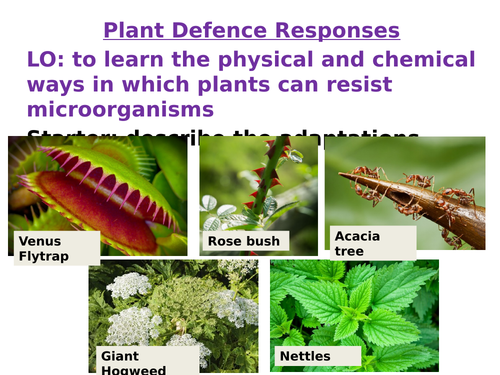 PPT covering mechanical, physical and chemical defences of plants with examples. Follow up with exam questions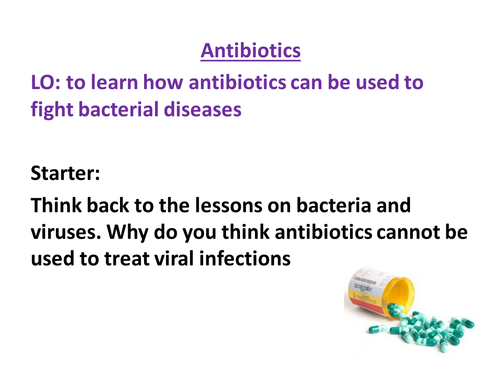 PowerPoint, outline for antibiotic resistance storyboard and answers to assess storyboards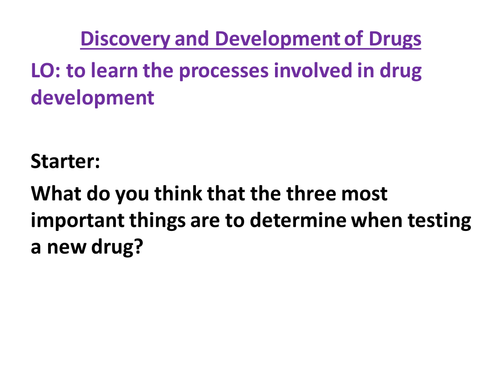 PowerPoint, questions linked to video from BBC on YouTube - Emergency at the Hospital, Drug Trials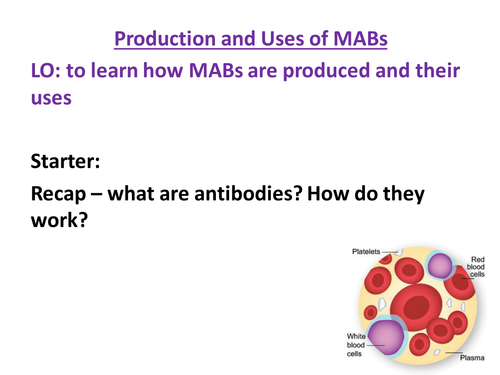 PowerPoint, worksheet to label the process of producing MABs, posters for information on each use and advantages and disadvantages. May take a couple of lessons.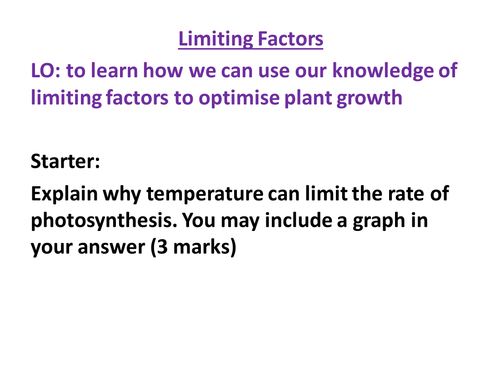 Linked to overcoming limiting factors (greenhouses, polytunnels). Explanation at the end of graph-style exam questions. Usually give exam questions based on graphs from Exampro as a task.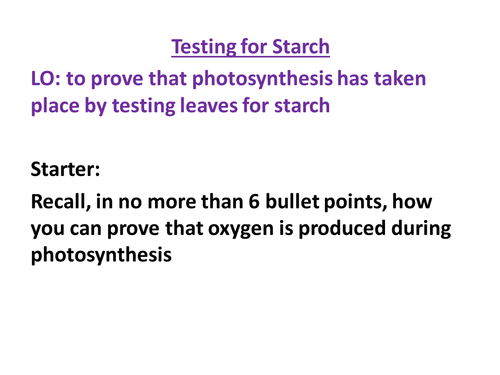 PowerPoint explaining why glucose is stored as starch and how the results may differ if leaves have been left in different conditions. Very simple match sheet - matches part of practical to its purpose, answers on slide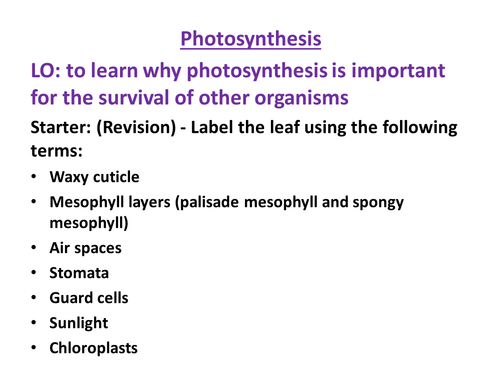 Covers the main points, quiz at the end. Need to print diagrams from PPT so students can label cross-section of a leaf