Brandy1810's Shop
Teacher of Biology for 10 years both in the UK and internationally.
24Uploads
3k+Views
458Downloads
Teacher of Biology for 10 years both in the UK and internationally.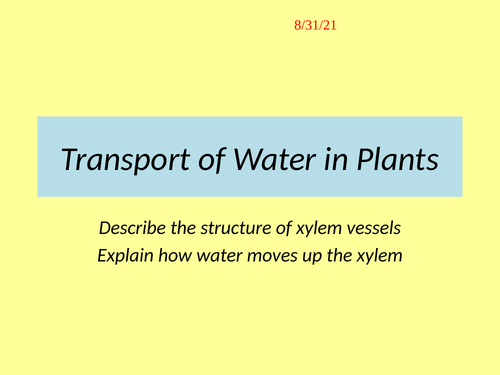 Powerpoint made for an interview lesson. Complete with diagrams, explanations, spec links, video link, exam question and some extension questions to apply their knowledge. For the AQA new spec, but could be used for other exam boards.

Introduction to populations in ecosystems - key words list, abiotic factors and concept of a niche. Designed for AQA A level syllabus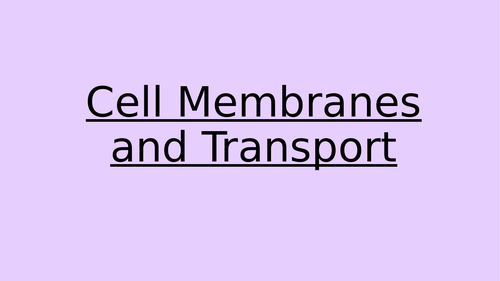 A summary powerpoint made for revising the cell membranes and transport topic. AQA A Level spec.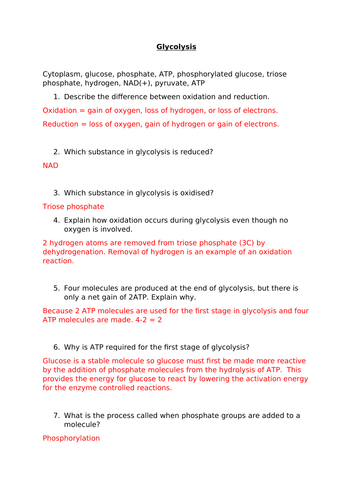 Made for A Level Biology AQA syllabus, but can be used with other exam boards. Includes a gap fill, key recall questions and harder application style questions to stretch and challenge. Answer sheet included.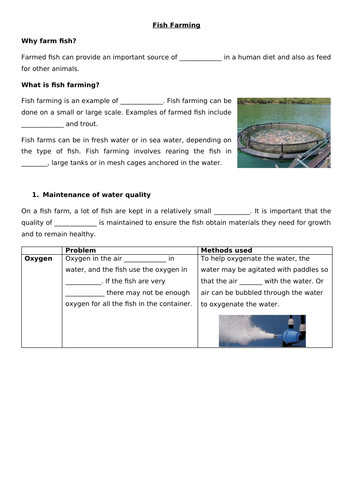 Set of complete notes with missing words about fish farming. Made for the edexcel igcse biology spec for a lower ability group. answers are provided on a separate sheet.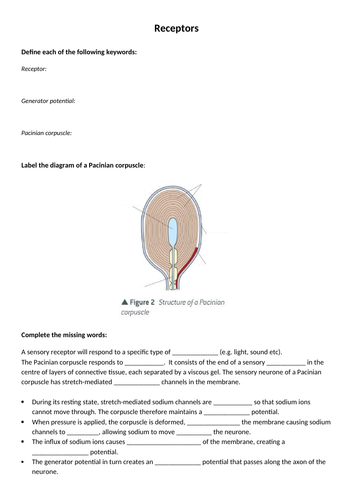 A worksheet about receptors and pacinian corpuscle for the AQA A Level Specification. Includes definitions, labelling a diagram and gap fill. Useful to support low ability students.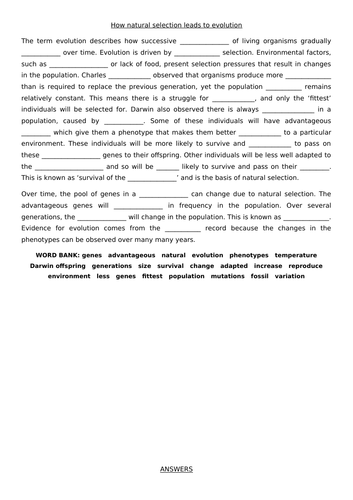 Gap fill activity (cloze procedure) on evolution and natural selection for GCSE. Word bank at the bottom but can be removed to make to the task more challenging.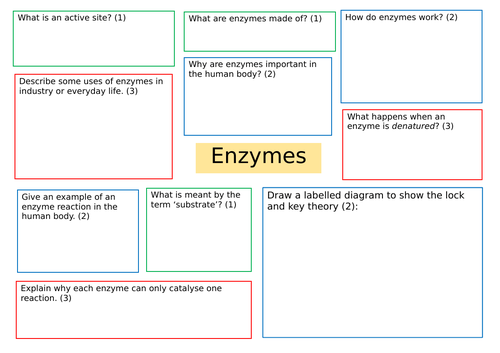 Made for a Y9 lesson in home learning/remote teaching but could similarly be used as an independent task in a normal lesson or set for cover work. The worksheet is differentiated using different levels of questions.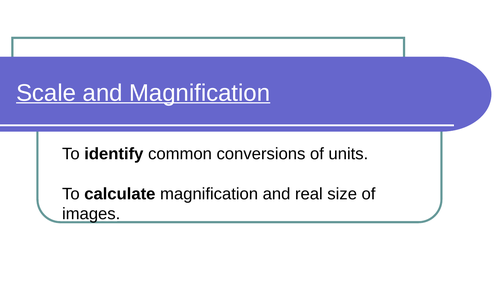 A powerpoint with worked examples on magnification, converting units and scale bars. Made for an A Level lesson but could also be used for a high ability GCSE class.

Worksheet about insect gas exchange. The worksheet includes a diagram to label, summary questions and an exam question. Designed for the AQA course.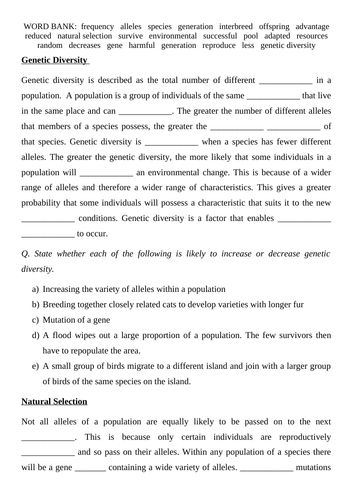 Used as an activity in lesson or for revision with year 12 A level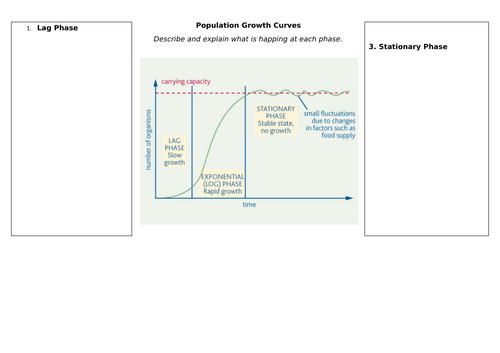 Made for the AQA A level course. Includes a presentation and activity. The graph activity could be done individually or in groups.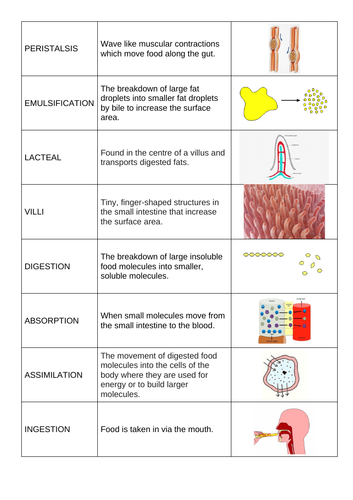 List of key words with matching definition and diagram. Useful for revision. I print out and cut up into a card sort for the students to do.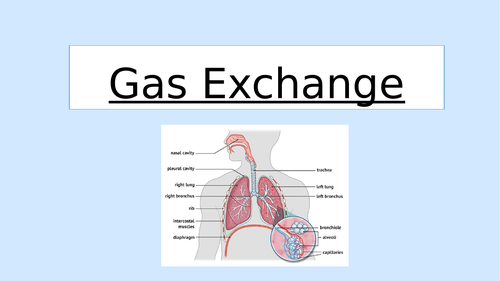 Revision powerpoint on the topic of gas exchange (Unit 3 AQA syllabus) including plants, fish, insects and humans. There is a starter quiz followed by the key points and an example calculation question.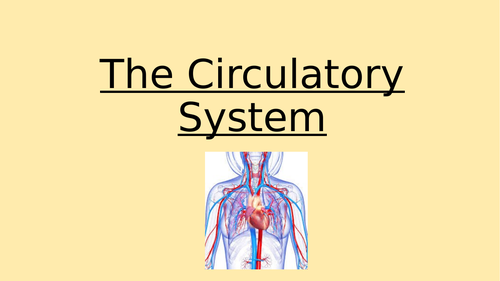 Powerpoint with the key information from the mass transport in humans topics. Designed for the AQA spec.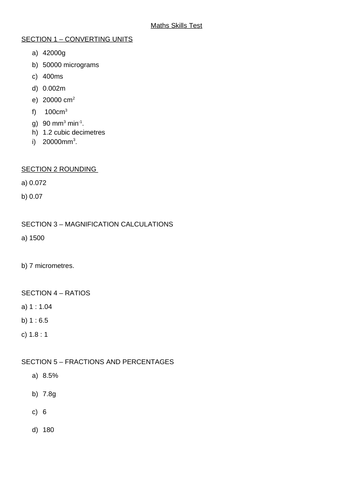 A worksheet of questions on different aspects of maths in Biology e.g. percentages, coverting units etc. Could be used as a test to assess their maths ability or as an activity in lessons. Answer sheet provided. I haven't double checked the answers so as far as I am aware they are correct, but if I have made an error please let me know in the comments so I can change it. Thank you!

For Biology A Level ecology and statistics units. I prefer to print these A3 size and use for group work. Students analyse the data in the table and answer questions about the data. Can be adapted for lower ability groups by hinting which statistical test they should use or providing the formulae. Three sheets included - t test, spearmans and chi squared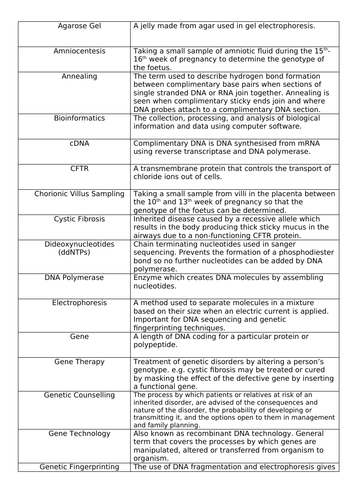 List of around 50 key words with definitions for the A2 genetic technology unit For example: electrophoresis, DNA polymerase, gene therapy, vector. The words are already matched up so can be given to pupils as a list of definitions to learn, or what I do is cut them up and make into a card sort for revision. The objective of the activity is for pupils to revise key words and identify any misconceptions or unknown vocab needed for the written exam. The resource can easily be adapted once downloaded by adding or removing words from the table to suit different ability groups or syllabuses. Originally made for Cambridge A Level Syllabus but is very similar to the other major exam boards. Enjoy!