Charlotte Shanks's Shop
A range of Geography resources for KS3-5
12Uploads
4k+Views
311Downloads
A range of Geography resources for KS3-5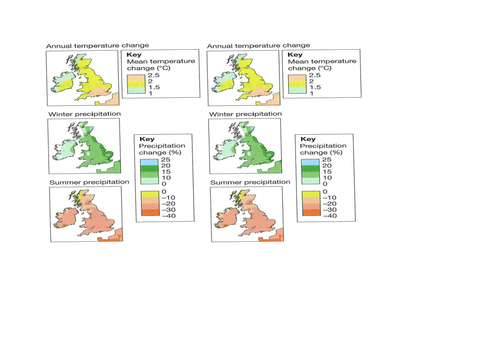 A complete lesson on the impacts of climate change on the UK All worksheets included. Activities include: a continuum line, sorting the effects into positive and negative, GCSE style question with success criteria and a newspaper article Learning Objectives: TBAT explain how the UK may be affected by climate change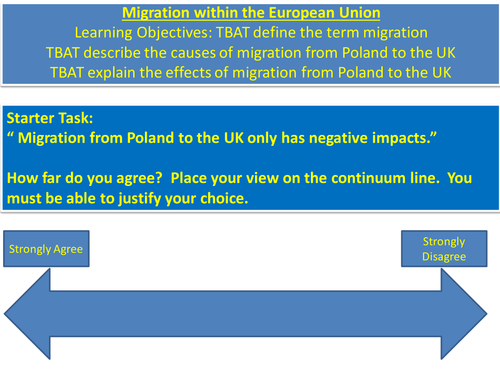 A full lesson including worksheets on migration within the EU from Poland to the UK The lesson includes a definition of migration. A re-cap on push and pull factors Cause of migration from Poland to the UK and the impacts of the migration. For the new specification, blank A3 revision sheets for the Tectonics topic (A LEVEL) for pupils to fill in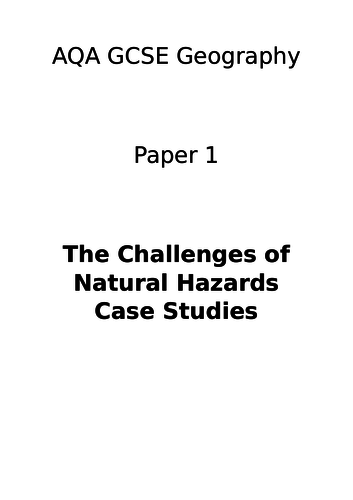 I have created a blank case study booklet for paper 1 for the 9-1 AQA Geography GCSE. The pupils are to complete the booklet as part of their revision It has been based upon the specification. -Challenges of natural hazards -Living World -UK physical landscapes (coasts and glaciers - can be easily adapted to rivers)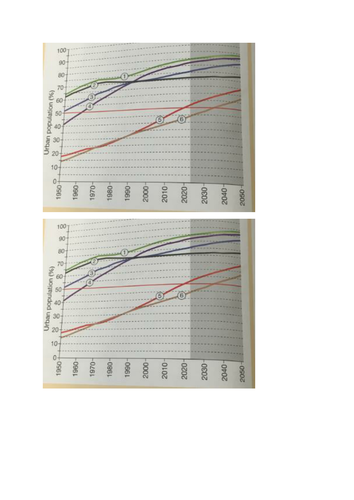 GCSE Geography Edexcel B Challenges of an urbanising World - Lesson 1 An Introduction to Urbanisation *Fully planned to the first point of the specification *Lesson includes a range of activities and homework *All worksheets included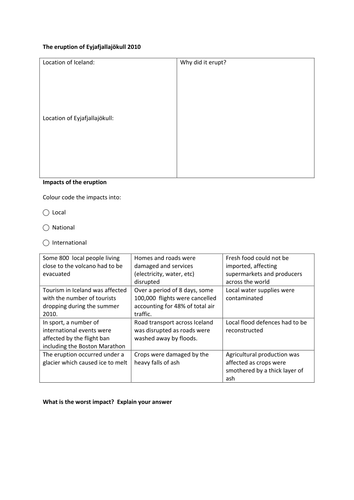 Learning Objectives: To explain the impacts of a volcanic eruption A lesson on the impacts of volcanoes and the Iceland 2010 eruption Planned for mid ability year 8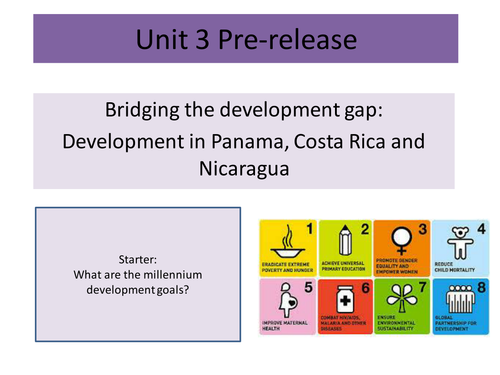 A Powerpoint presentation for the 2017 Edexcel Unit 3 pre-release This is the second lesson which focuses on: -MDG's -Ecotourism -Transoceanic megaprojects -Environmental Challenges -Views 1-5 The lesson includes definitions, references to the pre-release booklet and a number of questions for pupils to focus on.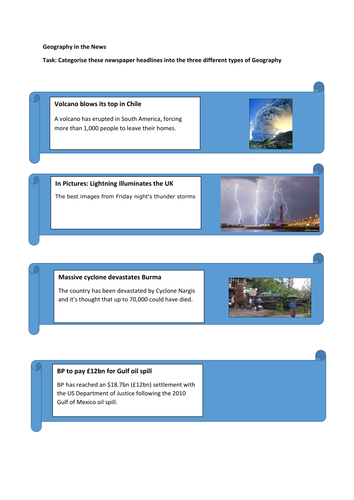 Learning Objectives: TBAT define physical, human and environmental geography TBAT classify different components of geography A lesson within the 'Introduction to Geography' SOW Lesson includes definition of human, physical and environmental geography Activities to check progress Worksheets included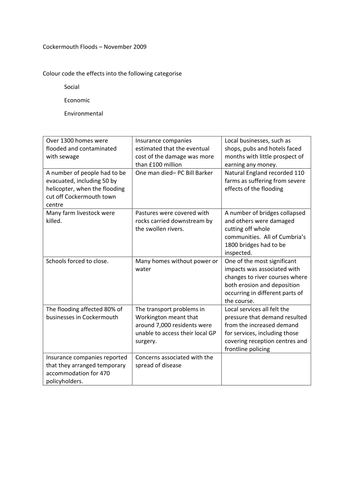 Learning Objectives: Describe the causes of the Cockermouth Floods Explain the social, economic and environmental impacts The lesson includes: Location of Cockermouth Causes and effects of the flood Worksheet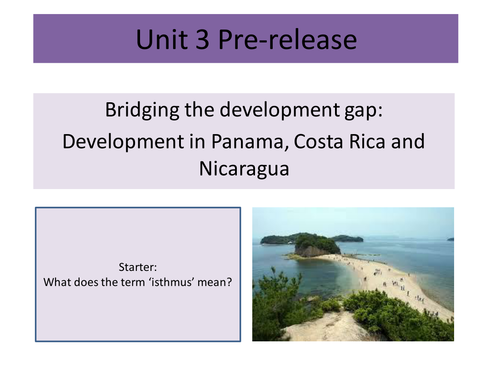 A complete powerpoint presentation using figures from the pre-release booklet. It includes: -Colonisation -Indicators of development -Exports -Poverty -Primary school enrolment -Informal employment The powerpoint consists of questions and tasks to go through with the students and to help them make synoptic links IT DOES NOT INCLUDE: ECOTOURISM, TRANSOCEANIC PROJECTS AND ENVIRONMENTAL CHALLENGES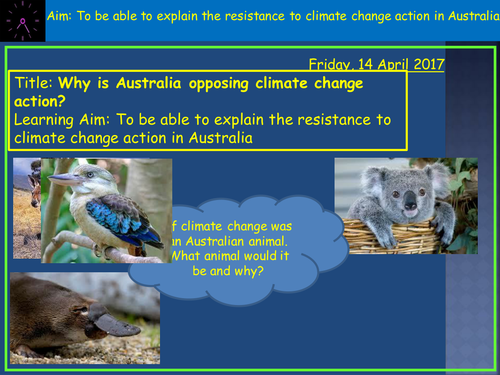 Learning Objectives: To be able to explain the resistance to climate change action in Australia Included all worksheets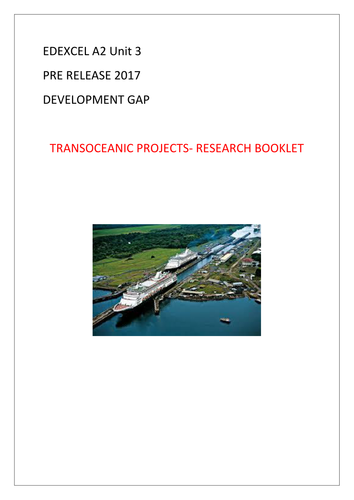 A research booklet for the 2017 pre-release on development gap -Include Panama Canal -Transoceanic Projects