Social Science Superstore
WJEC Criminology resources AQA GCSE 9-1 Sociology resources AQA A Level Sociology resources AQA A Level Psychology resources
68Uploads
6k+Views
13k+Downloads
WJEC Criminology resources AQA GCSE 9-1 Sociology resources AQA A Level Sociology resources AQA A Level Psychology resources NEW & IMPROVED!!! Full unit bundle for A Level Sociology AQA Families & Households, activities, homeworks, essays, revision, assessment and everything in between. Everything on AQA A Level Psychology Attachment. Our centre uses the 'Green Hair Girl' textbook but these resources are created from a variety of different sources. Includes activities, homeworks and end of unit assessment with feedback.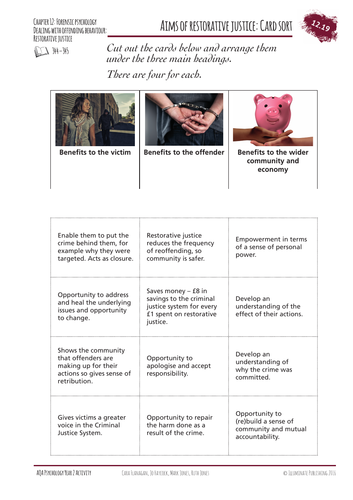 PPT, video and activities on dealing with offending behaviour: restorative justice. Essay plan PPT and structured worksheets for family diversity 20 mark questions.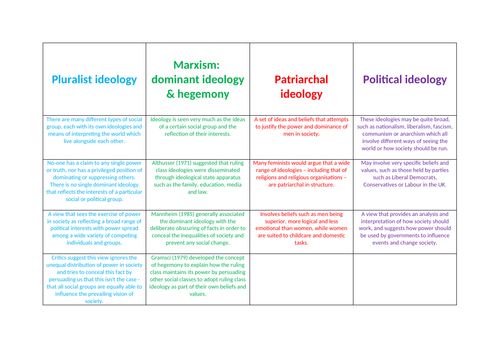 Full unit of work for ideology & science topic of Beliefs in Society. Comprehensive PPTs, activities, end of unit essay, and student versions of PPTs.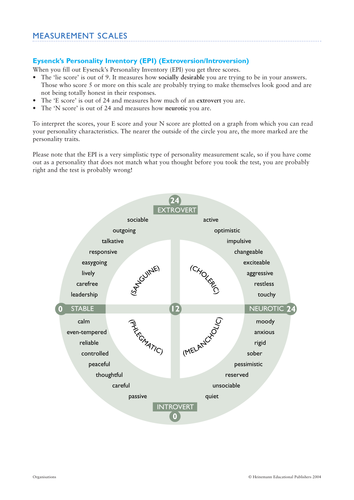 PPT an activities based on Eysenck's explanation for criminal behaviour. Includes Personality Inventory quiz sheet and scoring information.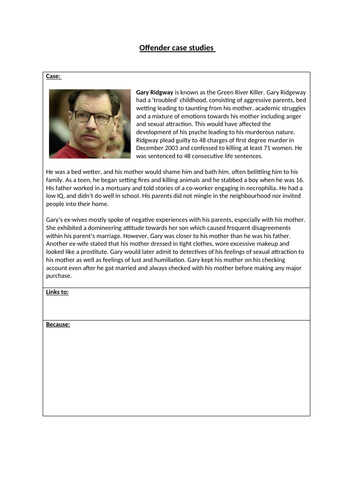 Could easily be across 2 lessons. PPT with lots of resources and activities covering Freud, Bowlby and the psychodynamic approach to offending.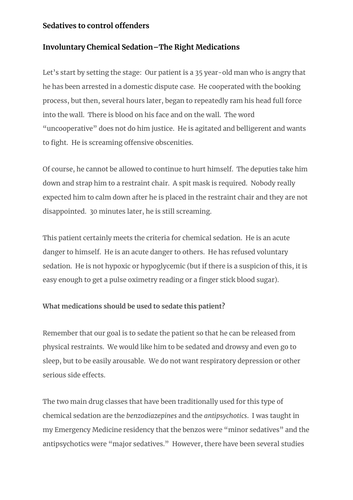 Double lesson for unit 4.1 focusing on the biological crime prevention strategies. WJEC Level 3 Applied Certificate and Diploma Criminology #criminology #biologicaltheories #policy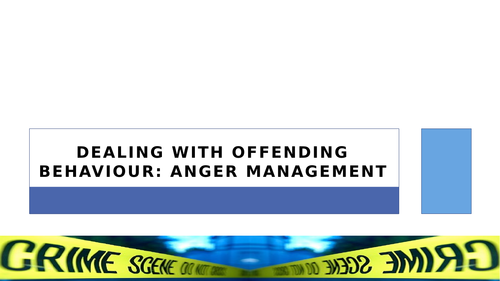 Basic PPT on dealing with offending behaviour: anger management.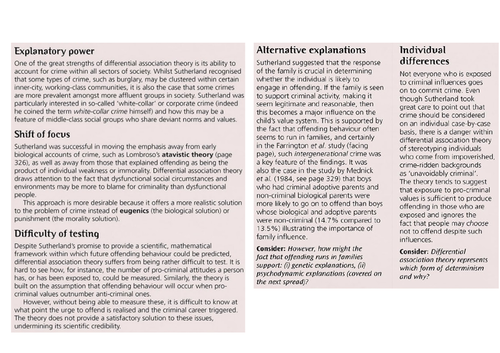 PPT, video clip and activities on Sutherland's Differential Association Theory as an explanation for crime.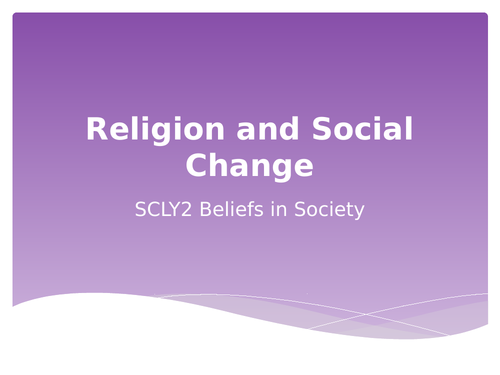 Four lesson mini bundle on theory regarding religion's role in social change. Includes Neo-Marxism, Weber, Civil Rights Movement, Liberation Theology and more. PPTs, tasks, and essay plan/model answer.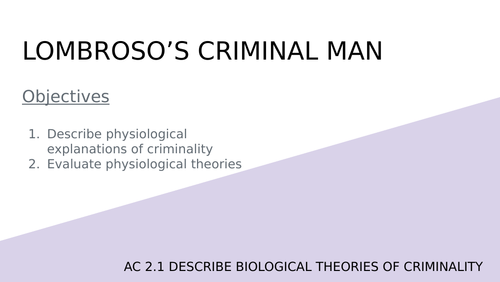 Approximately 8 lessons on AC2.1 - Biological theories of crime. Included end of unit assessment, revision resources, lots of activities, videos and PPTs. #WJEC #Criminology #AC21 #Biologicaltheories #fullunit #bundle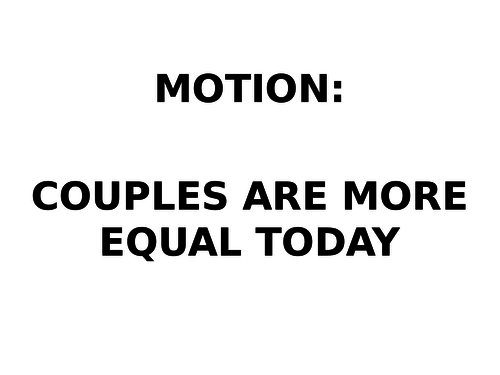 2 lessons surrounding the question - are couples becoming more equal? Includes activities.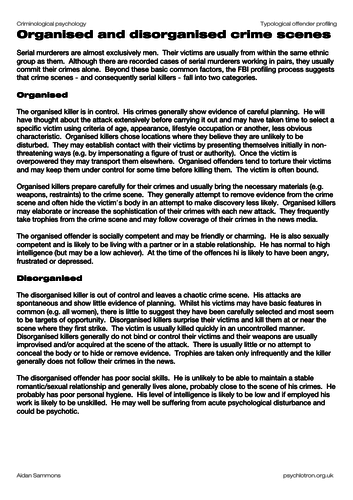 PPT and activities on the top down (FBI) approach to offender profiling.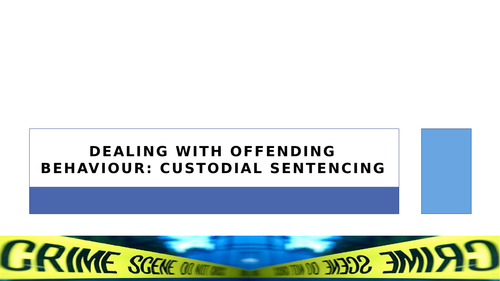 PPT, readings and activities on dealing with offending behaviour: custodial sentencing.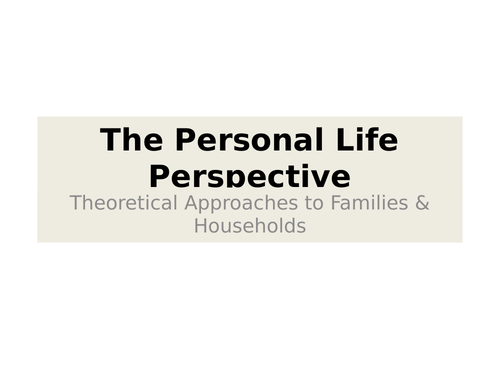 A PPT on the Personal Life Perspective for AQA families and households. Includes documentary and comprehension questions.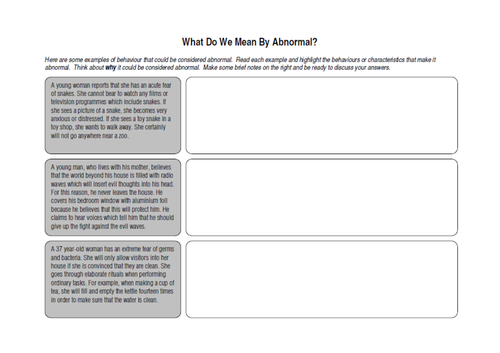 Full unit of work for AQA A Level Psychology Psychopathology topic. Includes PPTs, activities, homeworks, assessment, revision materials, videos and lots of extra readings.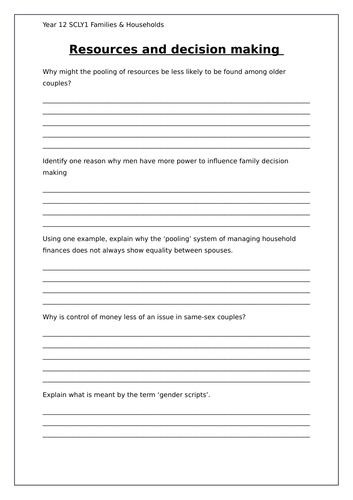 Lesson and activities covering pooling, the allowance system and decision making in families.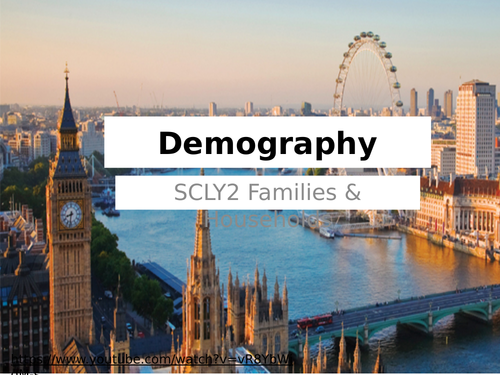 Introduction to demography Mortality rate Migration and emigration Short answer questions