15Uploads
3k+Views
258Downloads
Mini quiz for a starter/plenary based on e-safety. More slides/questions can be added. Total of ten question, interactive so students can interact on an interactive white board.
Good starter/Plenary quiz based on Photoshop. Questions can be change/more questions added.
Here is a 3D printing/ design your own cover SOW for a duration of 6/7 weeks. The SOW document outlines lesson objectives,success criteria and taskS for each lesson with students using Tinkercad for 3D modeling and then converting their final designs ready to print using a 3D printer. I will upload more 3D printing resources I created soon to aid this unit of study but this should be a real useful resource for those teaching 3D design and for the concept of students creating covers for a USB.
Files contain a SOW (Scheme Of Work) for OCR GCSE Computing, Example of a yearly delivery plan and a Code Academy tracker. Files SOW for the OCR A451 theory aspect of the GCSE qualification. The spreadsheet breaks down the theory into manageable chunks and provides an easy overview of the content and expected learning outcomes, with suggested teaching reference. Sheet is editable so it can be changed and used as reference to support creating your own SOW. Delivery Plan: This is an example of a yearly delivery plan for the OCR GCSE computing course, can be used as a template and amend based on your own academic year/duration of course Code Academy Tracker used along side the code academy website. Conditional formated to show progress over time. Manual input is needed. I hope the templates and information can help and save time creating SOW from scratch.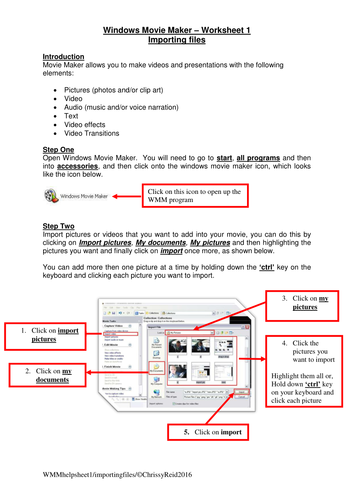 4 Worksheets that show a step by step guide on how to create a movie using Windows movie maker. Easy to follow and suitable for all ages.
BTEC First Information Technology Level 2 student tracker/Credit calculator/feedback assessment for WWW/EBI. Unit 1 & 3 included. Can be mailed merged and great to show progress over time
Simple step by step help sheet on how to create a Database in Microsoft Access.
Mini Data protection ICT quiz - Can be used as a starter or plenary. Total of 9 questions but more slides/questions can be added.
Mini quiz to test students understanding of binary - 5 question, you can add more to the template.
Range of ICT/Computer Science quiz's that can be used as starters and plenaries. More questions and slides can be added.
Interactive presentation that contains a variety of educational links to suitable websites that contain resources, lesson plans, games etc. The following subjects/topics are included: English , Math, Science, Drama, Art, PE, IT/Computer Science, Music, History, Geography, SEN, Behaviour, Jobs, Games, Resources and other (section for non specific subjects) Total of 20 slides and hundreds of links all in one presentation. Great resource for primary teachers, cross curricular of subject specific.
Arduino and Tinkercad simulation assessment task. Contains starter, main tasks, challeneges and plenary activity.