12Uploads
6k+Views
307Downloads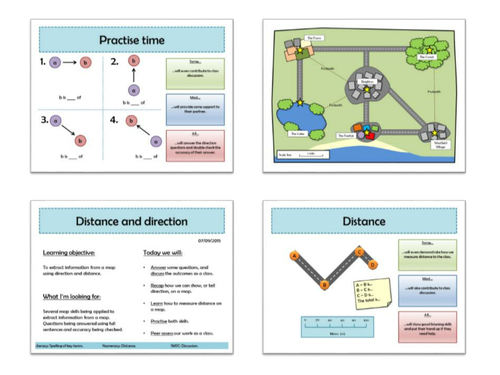 Whole lesson - all worksheets and visuals included. Clear lesson structure and regular progress prompts. A KS3 map skills lesson. Introduces two different skills – showing direction / measuring distance. The starter activity is four short questions based around maps. A discussion slide follows this with 4 opportunities for students to contribute. This can be stretched out if students can 'improve or extend' an answer. Direction is introduced with a visual aid – the students should write down their own way of remembering the 8 points, or even draw their own. A short activity allowing students to practice the skill. Measuring distance is introduced. A short activity allowing students to practice the skills. The main activity involves students using a map and answering a series of questions, applying the two skills they've just learned. This is also a numeracy and literacy opportunity (get students to underline key words and specific figures). The plenary is a peer assessment opportunity – the students can lead the activity.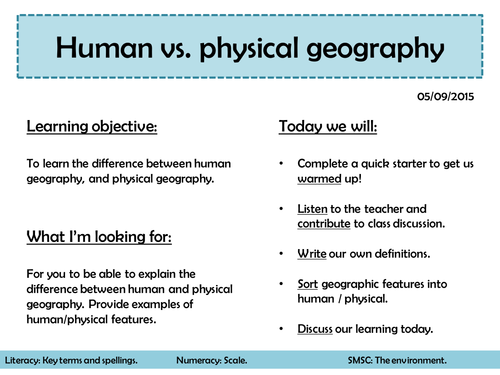 A KS3 lesson (ideal for a new year 7 group) exploring the difference between physical and human geography. Starter involves students looking at a blank map of Europe with the teacher giving clues / hints as to where countries are (to build spatial awareness). Class discussion uses visual stimuli to introduce several aspects of both human and physical geography. Students are to then write their own definitions using word boxes provided on the screen. Students then work in pairs/groups to complete a Venn diagram. Several differentiated discussion points are the plenary – allowing open ended discussion / assessment opportunity. Give students thinking time to think about the ones they would like to answer. All resources included within the PPT. Summary slides provide the structure and progress for the teacher / learning journey for the students. Each activity is differentiated.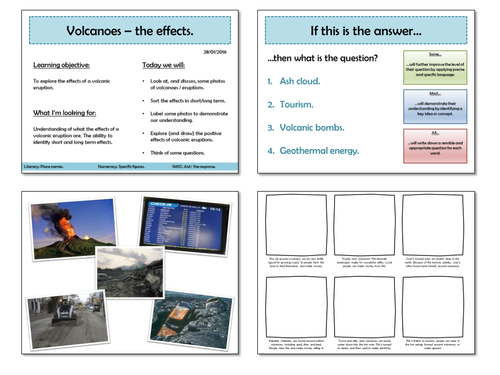 This lesson focuses on both the negative and the positive. It also introduces foundation groups to short / long term effects. The starter is a sorting activity. The students draw a table and add the effects to it. You'll need to discuss what immediate and long term effects are first. The next activity is some photo analysis (the photos are on a sheet at the back of the slideshow). I get the students to identify the effects, and also the features of a volcano where appropriate. The next activity focuses on the positive effects. Introduce the idea that volcanoes can have positive effects, and then ask the students to read each description, highlight the keywords and then draw a diagram to illustrate it (using the keywords). Afterwards - discuss what the positives are. Plenary - there is a game on 'If this is the answer...then what is the question' aimed at consolidating two points from the lesson and two which are about the features of a volcano. Overall this lesson has worked well - the activities are differentiated visibly. The learning journey is clear. There are a few photos to show them as well.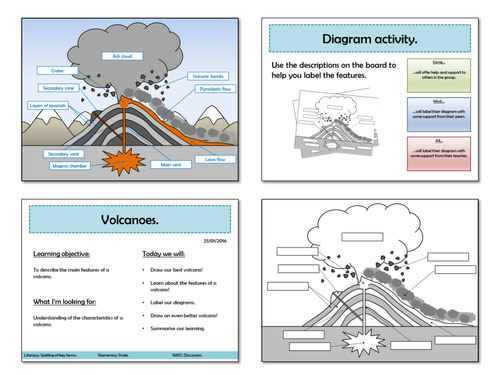 The main aim is to develop understanding of the features (and their key terms) of a volcano. I've taken elements of the lesson out because I was using pictures from other places. It's best to have a few photos of volcanoes, and also be prepared to explain what a cross section is (I draw a birthday cake). Sheet and diagram included - there is a whole lesson here and the children enjoy it. Start off with a volcano drawing competition - share your findings. Go through the key points - explain why volcanoes occur. Give students the blank diagram and ask them to label the features using the descriptions on the board. Colour in and check understanding. Literacy activity - students then describe the features of a volcano using words only. Share your findings and check understanding. Put books away. Draw a cross section of a volcano - see who can draw the best! (Excellent progress check).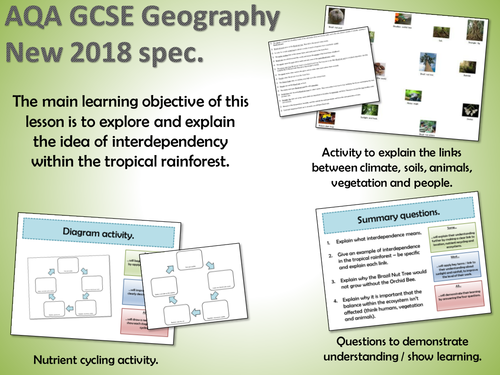 Whole lesson - AQA GCSE Geography 2018 - Interdependence in the tropical rainforest. "To explore interdependency within the tropical rainforest." Starter - if this is the answer, then what is the question? Students demonstrate understanding of previous learning. Ext. Students think of their own 'answer' and develop another question (to show off!). Content - Sequence diagram included to help teacher explain nutrient cycling (teacher understanding required). Activity - students draw a diagram for each stage of nutrient cycling Resources included. Differentiated on the slide. Display and discuss the key points. Activity - students read a list of statements and identify / describe / explain links between the items on their sheet (climate, soils, vegetation, animals and humans). This is the main learning activity, and will enable students to explain indirect relationships in the context of interdependence (it explores the Brazil Nut Tree). There is a sheet to print in A3, and a tick sheet. Activity - plenary questions. Students are to demonstrate understanding, encourage GCSE style answers. I ask the class beforehand to suggest a word box (which I put on the whiteboard) of words that should be included somewhere in their answers. As a starter for future lessons I've cut out each item and handed them out to the class. I then give them three minutes to find as many links as they can between each other (like a perfect partners activity).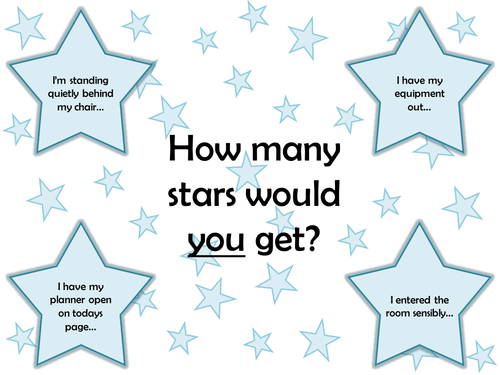 A complete lesson aimed at a new year seven class. Classroom charter to establish expectations. Mind map and discussion to explore prior knowledge / understanding. Activity to introduce what KS3 geography involves. Literacy activity at the end to summarise learning and provide assessment opportunity. All resources are included within the PPT. Each activity is differentiated, and the lesson structure is clear on each summary slide.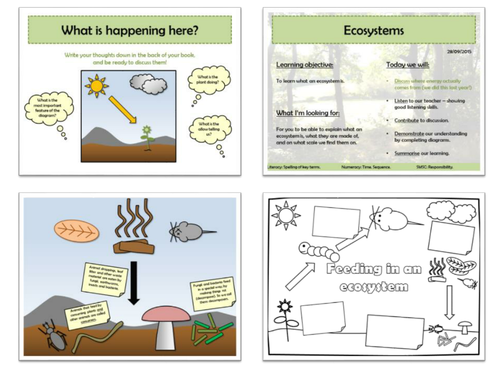 Starter - recap on introduce where energy comes from. There is an animated visual to support. Learn: Teacher presents feeding in an ecosystem and introduces the scale, key terms and key concept. Demonstrate: Main activity is to complete a diagram to show feeding in an ecosystem. There are three differentiated sheets to fill in. These look really good when nice and colourful. Consolidate: Plenary is a fill in the blanks activity. Words are provided and consolidate learning / provide assessment opportunity. To extend, the plenary can be added to, or the diagrams can be improve with examples and key words. Learning journey is very clear, the lesson is fully resourced and features a number of animations.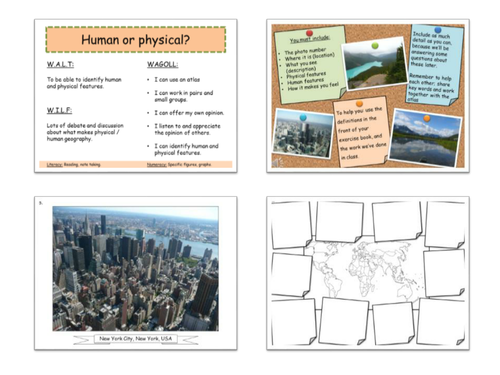 KS3 lesson. Works well as a group activity. Learning objective is to apply their understanding of human and physical features. So they must have been introduced to the difference already. Main: There is a series of photos to print and place around the room. The students have a grid to fill in identifying features from the photos. It works well in small groups / pairs. This is a large activity. Replace the photos with photos you've taken to improve relevancy. There is a 'post it' style grid as well, use with higher groups and an atlas so they can locate each place. Plenary: An opinion piece which requires literacy skills being applied. Plenty of scope for discussion as the students will all come up with different ideas. Extend by exploring environmental features / how humans use the environment / impact the environment. Could work as an assessment piece if needed. Activities are differentiated. Lesson structure / learning journey clear.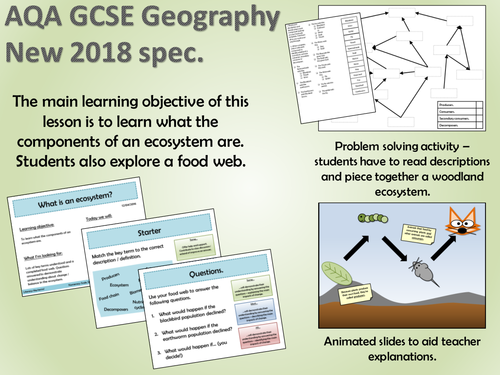 AQA GCSE Geography 2018 - What is an ecosystem? Whole lesson, all resources included. Activities visibly differentiated on the slides. Clear learning journey. This is a straightforward lesson aimed at a Y9 group with a little understanding of food webs / food chains. The main aim of this lesson is to consolidate / teach students the main components of an ecosystem. The lesson includes a food web activity. By the end they should know the difference between a food chain and a food web, understand nutrient cycling and energy transfer, as well as develop an understanding of interdependence. Activity: key terms activity (use the printout), display the key terms on the board. Students have to work out which term is which. Animated slide to help discuss this. Content (teacher understanding required): 1. some key points to prompt discussion (students can write these depending on understanding). 2. animated slides to introduce energy transfer, food chains and food webs. 3. nutrient cycle diagram to explain and discuss Activity: food web activity - students cut out each component, and place it on the food web using the descriptions. There is only one correct way for this to work so it's best to let students arrange them before gluing. There is also a key to colour code each component for producer, primary consumer, secondary consumer and decomposer. Activity: there are some questions right at the end to test their understanding about change / balance in the food web.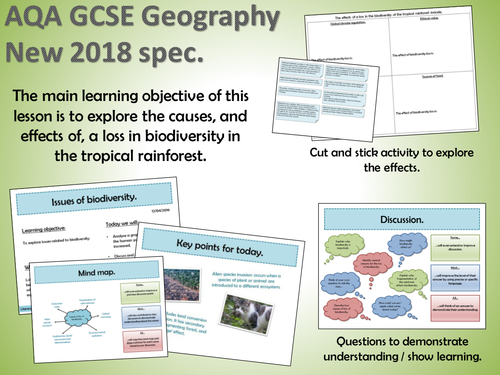 AQA GCSE Geography 2018 - Issues of biodiversity in the tropical rainforest. Whole lesson, all resources included. Activities visibly differentiated on the slides. Clear learning journey. The main aim is to teach students the issues of biodiversity in the tropical rainforest. The lesson does this in two ways, firstly by exploring the causes of a loss of biodiversity, and then exploring the effects of this. Activity: Graph analysis - the students have to analyse a graph showing world population growth. I put this in to practice a skill, but also to allow students to make the link between human population growth and the issues explored in the lesson. Content: There are several slides intended to be read through and discussed by the class - to establish the key points. They could copy these out, but they're revisited later in the activities. Activity: Mind map - the causes are displayed already, the students have to illustrate each cause. Activity: Students highlight the key terms in each statement and then cut them all out. They place them on the 2x2 grid. This will allow the students to explore the issues, and compare any similarities or differences (which I use as an extension where necessary). Plenary discussion: There are differentiated discussion prompts related to the learning today.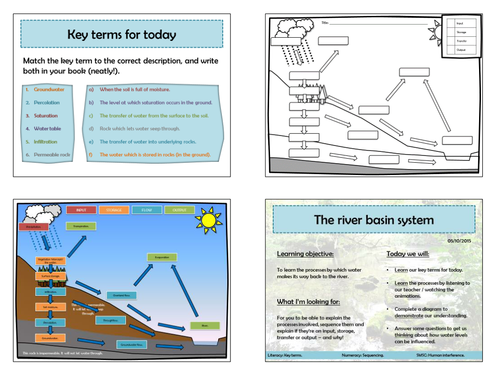 Ideal for rivers topic. Whole lesson! Teaches students the processes of the river basin system. Differentiated and provides several assessment opportunities throughout for AFL purposes. Colourful animations. Starter - key terms for today. Students match key terms, which then change colour and allow for discussion. Content - bullet pointed slides introduce key ideas. Animated slide shows each process. Activity - students complete a diagram using a clue sheet. The resources are included. There is a modelling slide to show the students how this is to be completed. Plenary - some questions to get students thinking about inputs and outputs. Clear learning journey, all resources included.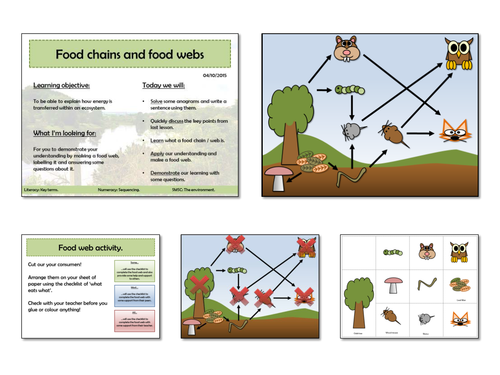 Learning objective: To be able to explain how energy is transferred within an ecosystem. Second lesson, the first one looked at where energy comes from, producers, consumers and decomposers. Starter: anagram and sentence writing. Students are to work out the anagrams and then form several sentences or a paragraph using them. Differentiated on the slide to provide a range of challenge. Animated diagram allows teacher to introduce the food web, and explain how energy is transferred. Introduce the idea that it is more complicated. Activity: Students have a list of 'what eats what' and a number of components to place on their food web. They can either be cut out or drawn depending on time. Students are to work out the food web for a woodland using the information. These look good cut out, coloured in and placed on A3 paper. Activity / plenary: Several questions based on the food web, gets students thinking about the balance. Can bring in some SMSC with responsibility here. Final activity / plenary 2: Animated diagram to use with the whole class. Encourages thinking and discussion about what will happen (links well to the questions in previous activity). All resources included - in both colour and black and white outlines. Learning journey clear for both teacher and students. Activities differentiated throughout - clear on slides.