33Uploads
30k+Views
17k+Downloads
Based on DK's book How to Be A Scientist by Steve Mould this free key stage 2 (ages 7 to 9) lesson plan covers the following curriculum aims: Use the idea of the Earth's rotation to explain day and night and the apparent movement of the Sun across the sky Describe the movement of the Moon relative to the Earth Describe the Sun, Earth and Moon as approximately spherical bodies It includes class activities and also a suggested quiz.
Free comprehension worksheet for Key Stage 2/Years 5 and 6. DK Reader Rogue One: A Star Wars Story Secret Mission, the book the work sheet is based on, has a reading age of 9 to 11 years old. The sheet asks children to write a battle report based on the description from the book.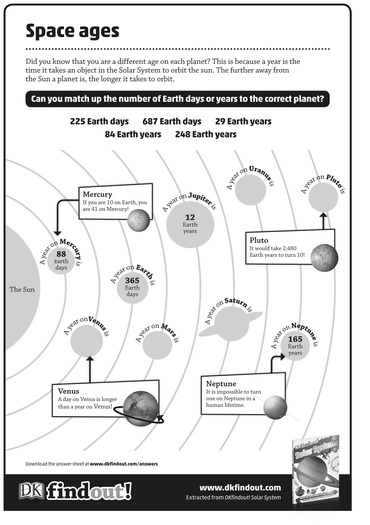 Based on DK's new series of DKfindout! books, this space/solar system worksheet also helps build maths and research skills as children are asked to work out how long a year is on each planet. Perfect for Key Stage 2 pupils.
Taken from Help Your Kids with SATS. These two practice examples can be used to show parents what they can expect their children to do during their SATS.
Based on DK's Utterly Amazing Dinosaur book, this activity sheet is for children at Key Stage 1 and 2. It takes children through the fossilization process stage by stage but also asks them to use their research skills and reasoning to select the right answer. The answer sheet is separate to ensure there is no peeking!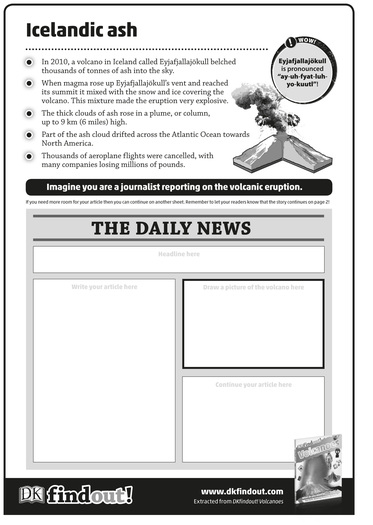 Based on DK's new book series, DKfindout!, this comprehension sheet is based around children writing their own newspaper article around the volcano eruption of Eyjafjallajokull in Iceland in 2010.
Based on DK's series and website www.dkfindout.com, this poster has fun facts for key stage 2 pupils.
This worksheet is for Key Stage 1 pupil aged 5 - 6. It shows them how to use the content page of a book and how to use the index. The answers are on a separate sheet. The companion worksheet for this is about using a glossary. The worksheet is extracted from Carol Vorderman's English Made Easy workbook published by DK.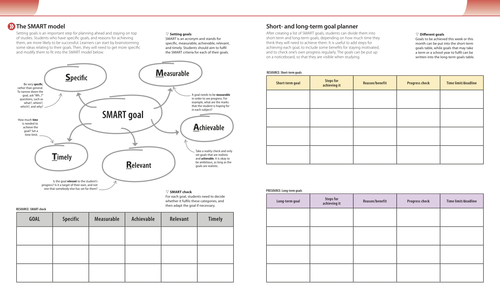 Help pupils and their parents set their study goals with this downloadable SMART model chart and short- and long-term goal planner taken from Carol Vorderman's Help Your Kids with Study Skills.
This worksheet looks at how to use a glossary for Key Stage 2 pupils aged 7-8. The answers are on a separate sheet. The companion worksheet is on content and index for Key Stage 1 pupils.
In this booklet, we have pulled together a selection of activities which can easily be recreated in your classroom or, for keen pupils, at home.
A fun activity sheet requiring pupils to fill in the missing words in each marine fact from the list of answers provided. Five facts are featured on this sheet, introducing children to concepts such as bioluminescence and marine conservation. Ideal for Key Stage 1 students interested in animals, our oceans, and the environment. Content is taken from The Sea Book from DK Books. Available now.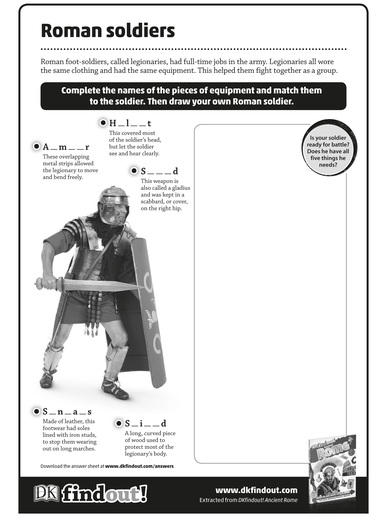 Based on DK's DKfindout! book series which compliments www.dkfindout.com, this Ancient Rome worksheet is perfect for Key Stage 2 pupils and covers Roman Soldiers.
To celebration National Non-fiction November 2016, the Federation of Children's Book Groups has produced a list of the 100 Brilliant non-fiction books for Children and Young People. The list includes seven DK books. Here you can download a poster, a leaflet and the details of DK's books in the promotion.
Based on the DKfindout! Sharks this poster includes the top sharks - highest leaper, fastest swimmer and deepest living , prehistoric sharks and weird and wonderful shark facts. It is perfect for KS2 children.
Based on DK's book DKfindout! Pirates, this free poster includes myth busters on parrots, walking the plank, treasure maps and hooks for hands, the secrets of a pirate ships and impressive pirate facts.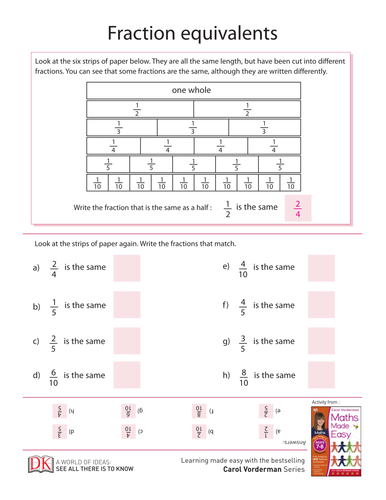 Taken from Carol Vorderman's workbook Maths Made Easy Key Stage 2 Ages 7-8, the sheet is free for schools to use and is linked to the national curriculum. This worksheet focuses on fraction equivalents. Using a sheet or paper cut into different fractions to demonstrate how some fractions are the same, although they are written differently. The sheet includes eight questions to get your pupils trying their new skill.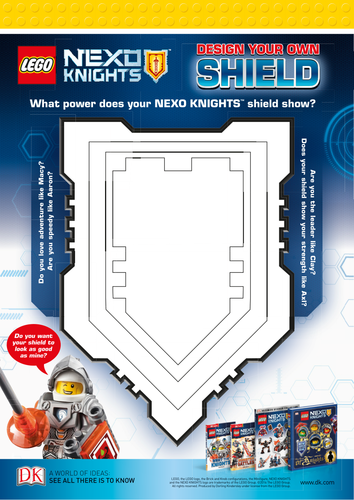 While defending the Kingdom of Knighton from danger, the LEGO® NEXO KNIGHTS™ heroes use shields for protection. Each of their shields has a symbol that represents their personalities. If you were a hero, what would your shield look like? Download the printable PDF, and you can design your own! ©2016 The LEGO Group.
Activity sheet exploring light waves through fun Star Wars lightsaber activity. Includes step by step instructions, list of equipment required, and the science behind how it works.
A step-by-step engineering project on how to build your own boat powered by elastic. From Look! I'm an Engineer from DK Books.