Sophie's English Resource Shop
GCSE and A Level English Language and English Literature resources.
26Uploads
1k+Views
208Downloads
GCSE and A Level English Language and English Literature resources.

This assessment consists of two parts. Section A is 12 short questions that assess knowledge of terminology, theories and language development stages. An answer sheet is provided. Section B is a transcript of a child and its mother. Students should complete an exam style response to the question. This can be marked using marking guidance from your exam board.

A 'paint by numbers' colour coded structure strip to guide lower ability students through the creative writing describe a picture task for paper 1, question 5 of the GCSE English Language exam.

This 9 page work booklet gives key information on strategies to learn spellings and avoid common spelling mistakes, punctuation types and grammar rules. The resource includes activities at the end of each section to assess a student's knowledge of the information they have been given.

This resource should provide material for a few lessons (depending on lesson length). It is aimed at GCSE English Language students of any exam board). It is designed to teach learners the typical structure of a persuasive text and provide an opportunity for teaching/revising/analysing persuasive language features. This resource can be used by students as a scaffold when writing their own persuasive speech. This resource has four parts. It contains: 1.A text structure template 2.A persuasive speech (Student copy) 3.A copy of the speech with a colour coded structure (Teacher copy) 4.A copy of the speech with colour coded language features (Teacher copy)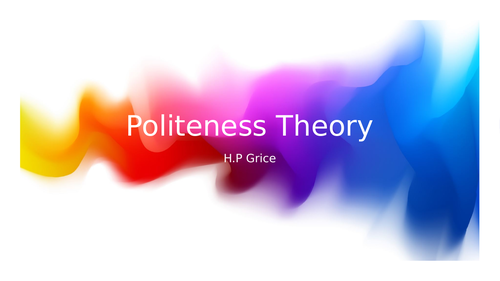 This resource is designed for the A Level English Language Spoken Language unit. This 12 slide PowerPoint covers the Brown and Levinson; Lakoff, Goffman and Grice theories on politeness. It also includes a couple of activities including a short transcript for students to analyse.

This 10 slide PowerPoint resource is an activity based step by step approach to tackling the evaluation question. It will be most useful for lower to middle ability students, or as an introductory lesson for higher ability students. The PowerPoint covers the following: What evaluation is. Choosing relevant phrases from a piece of text. Giving reasons why the phrases have been chosen. Evaluating and ranking those phrases according to their effectiveness Analysing word choices/techniques Commenting on the effect on the reader.

A colour coded paragraph template for each section A question on both papers of the AQA GCSE English language exam. The resource includes the template and written up examples. This resource was created to help students working at below a grade 4 to structure their answers

This document gives hints and tips for answering the comparison questions 7a and 7b on the Edexcel GCSE English Language Paper 2. This resource is also easily adaptable for the AQA comparison question too.

This resource is aimed at revising the basic skills needed to succeed at GCSE English Language. It covers basic language features, connotation and inference skills and passage analysis. It can be used in class to reinforce skills learned in a session, or it can be used for revision or for an independent study task. It is aimed at students of grade 2/3 level. It references the AQA syllabus but can be used for all exam boards.

This resource includes a 7 slide PowerPoint and a features of spontaneous speech terminology matching task. The matching task comes with an answer sheet. The PowerPoint includes : An overview of the differences between scripted and spontaneous speech Non-fluency features Grammatical features of spontaneous speech Lexical features of spontaneous speech An activity for which students read a transcript of a conversation, identify the features of spontaneous speech in it, decide why the speaker may have chosen to use them and the effect they have in the conversation.

This resource has three sections which provide information on the context of Macbeth including King James 1st, witchcraft, regicide, the Divine Right of Kings, The Gunpowder Plot, the Great Chain of Being, theatre popularity and audience reception. At the end of each section there is an assessment activity which assesses the knowledge and/or key terms learned in that section. At the end of the resource there is a wordsearch. The words to be found are Macbeth key terms from the resource. This resource is ideal either as an in class activity or as an independent study/homework task.

This resourse is a list of questions for students to ask themselves when they are analysing a fiction text for language. Aimed at GCSE English Language students.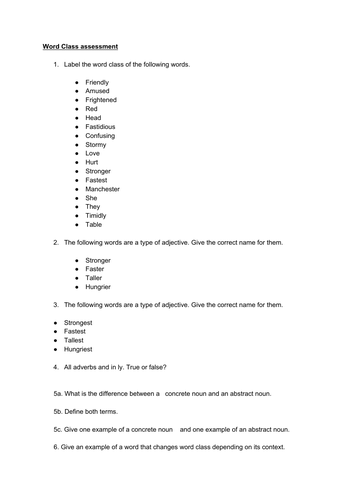 A short assessment aimed at GCSE level that assesses knowledge of the following word classes: Adjectives Superlatives and comparatives Adverbs Nouns, including concrete and abstract.

A colourful, single page 'mat' containing a range of questions for students to ask themselves when analysing a text for structure. Questions are categorised as tone and atmosphere, order, narrative perspective, setting, time and textual links.

This is a starter activity that introduces the idea that we commonly match the weather to a mood in texts. Students are given four short pieces of text and must match them to the four corresponding images. This is an activity aimed at lower ability or resit GCSE students.

This resource is a list of questions for students to ask themselves when analysing the structure of a text. This resource is aimed at GCSE English Language students and can be used for any exam board.

This resource comes with an answer sheet. The matching task includes the following terms: Generalisation Addition Reduction Underextension Overextension Deletion Assimilation Substitution Consonant Clusters Reduplication

A worksheet that consists of 4 tasks. It comes with an answer sheet. Task 1- Fill in the blanks Task 2- Match the word with the definition Task 3- Write a sentence of your own with the key word in it Task 4- The words where, were, wear and we're have been used incorrectly. Read the paragraph and correct the mistakes.

This is an 11 slide PowerPoint designed for an introductory lesson on the poem Tissue. It introduces the key themes along with relevant quotations, encourages independent thought and class discussion and has a variety of tasks including a scaffolded paragraph response at the end.

A poster that contains a list of books that have LGBT main characters or are about LGBT topics. The books are probably suited for college aged students due to the reading level and content.