104Uploads
634k+Views
838k+Downloads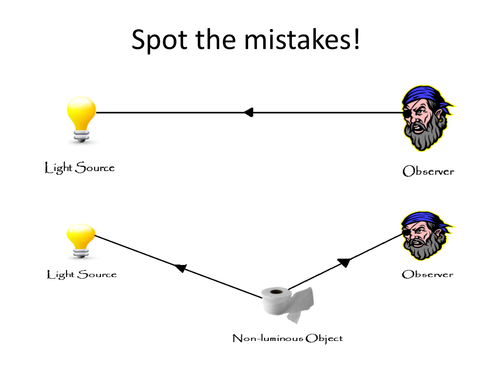 Light lesson 1 Powerpoint 2 This worksheet focuses on spotting the common mistakes made when drawing light ray diagrams.. Please find the full scheme of work for light here: http://www.tes.co.uk/teaching-resource/Full-Scheme-of-Work-Light-KS2-KS3-6162648/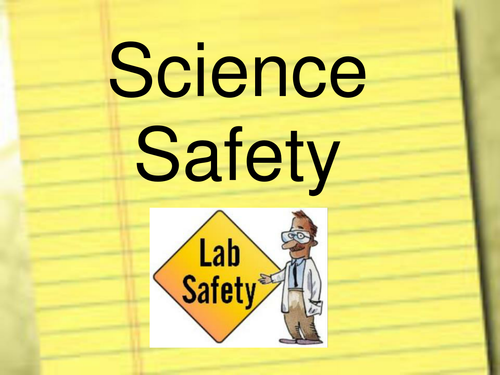 A guide that introduces basic scientific skills and explains the process of writing a scientific report. This is fairly universal, I use it with year 6 although it could easily be used with KS3.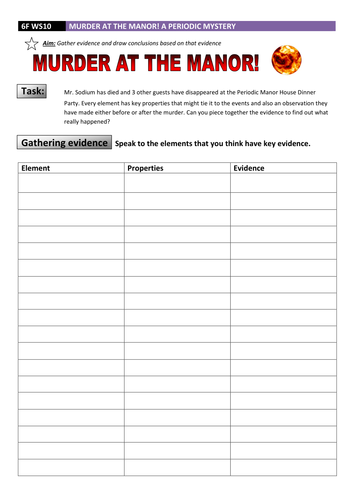 A really fun introduction to some common elements and their properties. Mr. Sodium has exploded and three other guests have gone missing at the Periodic Manor House. Can your students match chemical properties to clues in this super sleuth extravaganza! Variable group size with variable difficulty. Min group size: 13 Max group size: 30

Light Lesson 7 Knowledge Checklist A checklist for students who have followed the resources created the the KS2 Light topic Please find the full scheme of work for light here: http://www.tes.co.uk/teaching-resource/Full-Scheme-of-Work-Light-KS2-KS3-6162648/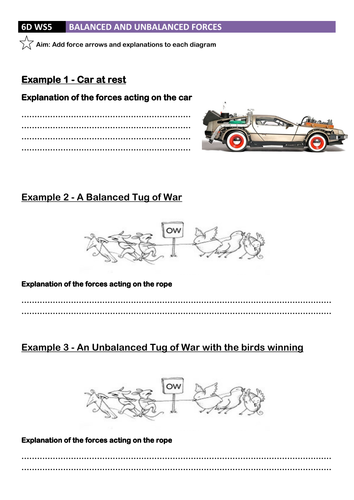 Students have to add forces arrows and explain the effects of balanced and unbalanced forces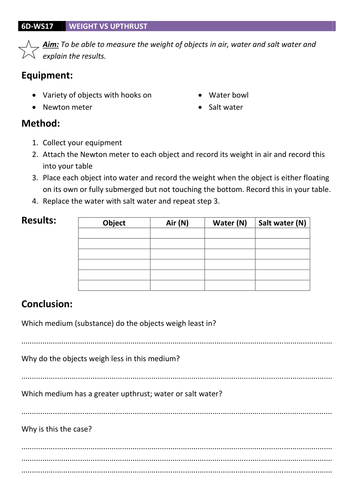 Students use force meters to determine how much objects weigh in air, water and salt water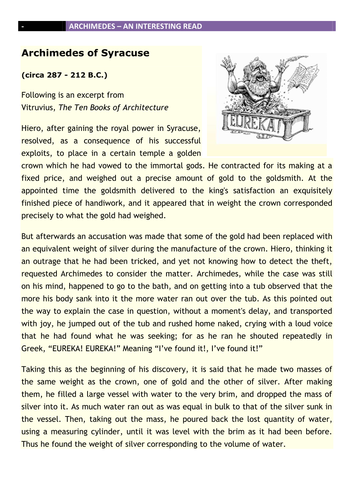 Collaboration and rewording of the Story of Archimedes. This is not my own work. I have edited a few words to make it easier for students to digest. Please find references in the worksheet.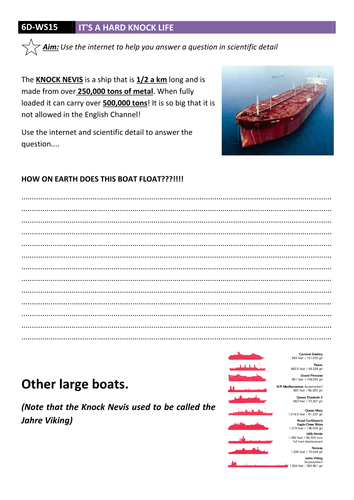 Students find out how the Knock Nevis (largest and heaviest boat in the world) can float when it is made from metal. Ideal homework to lead into buoyancy and upthrust.

A guideline worksheet for students to make a poster on Isaac Newton's 3 laws of motion.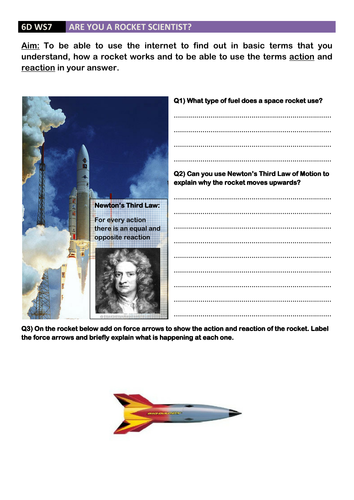 Internet research questions on rockets and action/reaction forces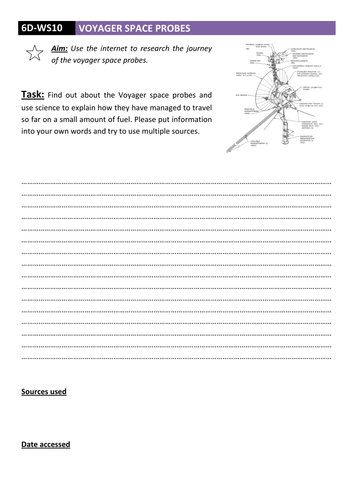 Questions on how the Voyager Space Probes have managed to get so far on relatively little fuel.

Students receive an atom card and have to make molecules by finding other atoms required to make their molecule. Variable group size from 10 up to 32.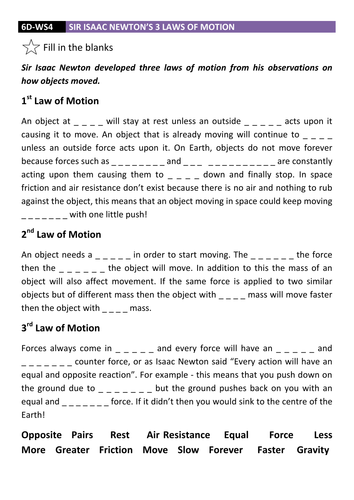 Scaffolded Fill in the Blanks activity for the 3 laws of motion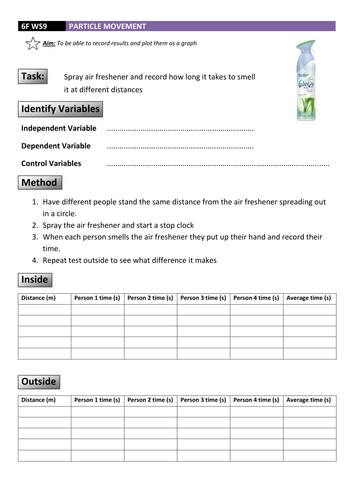 How long does it take a smell to travel across a room? Students can find out using this structured worksheet including results tables, graph paper, and conclusion space.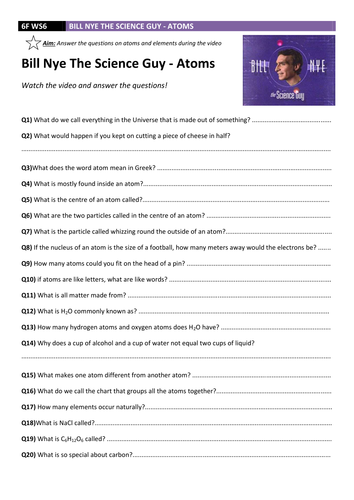 A series of questions to accompany the Bill Nye Episode on Atoms. Its easy to find the video if you type it into Google!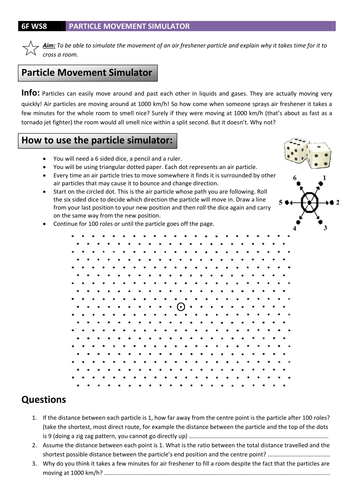 Activity to simulate the random movement of air particles by using triangular paper and a 6 sided dice.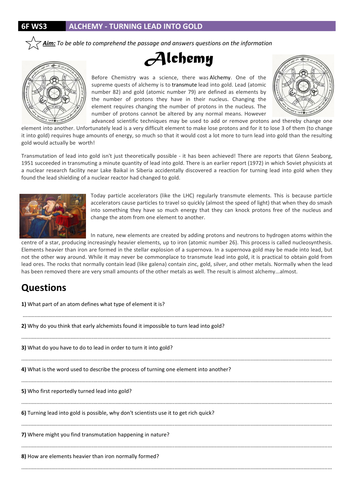 A comprehension activity to introduce students to the idea of alchemy and turning one element into another. A great side activity for when studying the periodic table.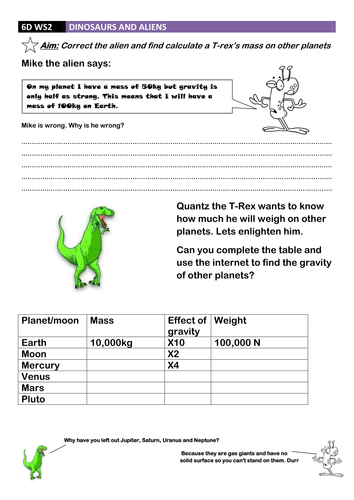 Correct Mike the Alien and his mass and weight misconception and work out the weight of a T-Rex on different planets!