Ethan_tw's Shop
Less paper, more playing!
14Uploads
13k+Views
10k+Downloads
Less paper, more playing!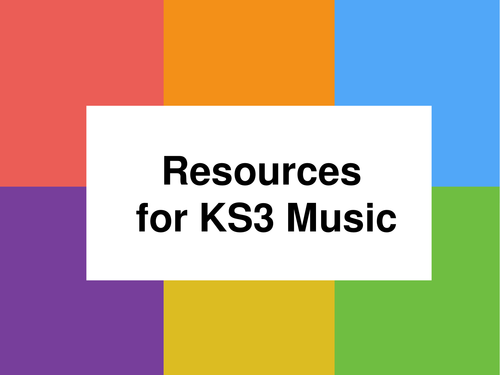 Slide per unit powerpoint covering elements of music, theory of music, musical periods and instruments of the orchestra. Useful for KS3 or KS4 lessons including pictures and links to youtube clips relevant to each section. Colourful and attractive. Also useful for a school shared area resource for pupils to undertake prior learning or homework. Elements of Music includes: duration, dynamics, pitch, structure, tempo and texture. Theory of Music includes: notes, musical symbols, chords and sharps and flats. Musical Periods includes: Medieval, Renaissance, Baroque, Classical, Romantic and Modern. Instruments of the Orchestra includes: strings, woodwind, brass, percussion, voices and world instruments.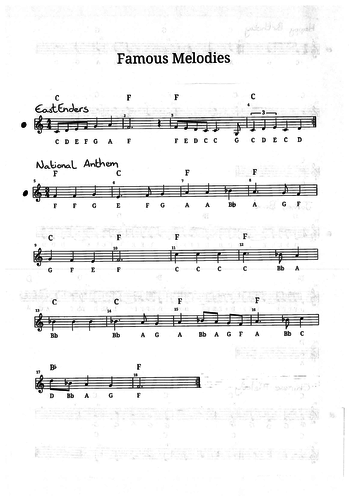 For starters or cover lessons... A resource that can be easily placed on keyboards for a starter activity or for extension work. Includes Christmas melodies for seasonal interest. Right hand melody with left hand triad chords. Can be played in pairs.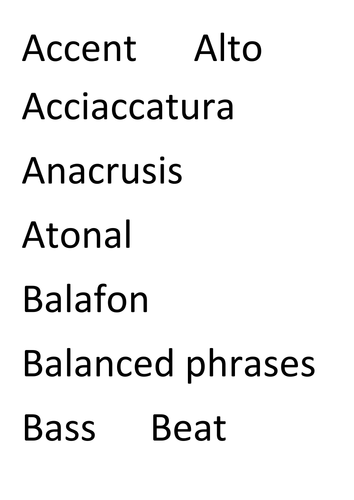 Words taken from the back of the edexcel GCSE Music revision guide. Great for wall displays.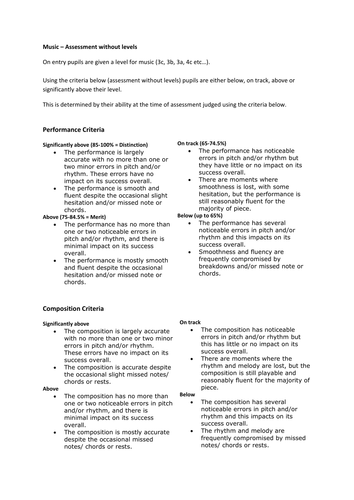 I have created a document for our SLT explaining how the music department will deliver assessment without levels at key stage 3. The criterion includes written assessment descriptions for performance and composition adapted into pupil language from the London College of Music Performance assessment criteria. They are categorised as: Below On Target Above Target Significantly Above Target We still expect pupils to make 3 sub levels of progress each year (e.g. 4a – 5a) however if they are meeting this expectation we say they are On Target. If pupils are surpassing this expectation we use the term Above Target or Significantly Above Target. If pupils are below what's expected (e.g. 4c – 4a) they are Below target. Hope this helps.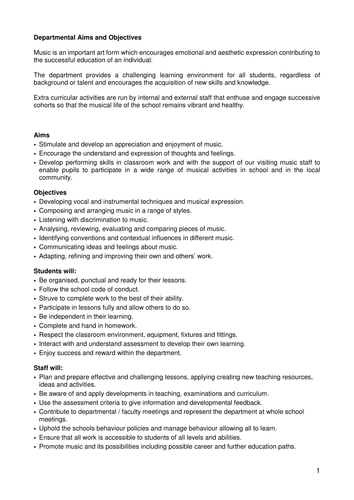 This document can be edited to suit your departmental needs and used for your music department overview. All done and dusted! A completed music department overview including: Departmental aims and objectives Teaching and Learning Rules and Expectations (both yours and the pupils, including behaviour and homework) Curriculum breakdown (this can be easily changed for your department)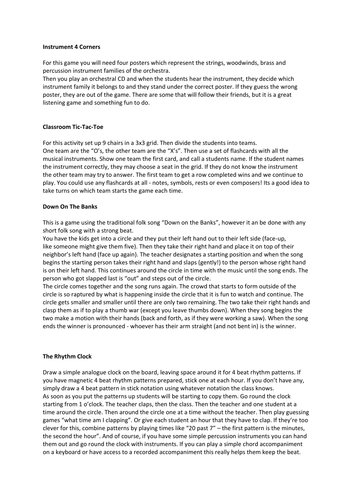 Ideas I have taken from various websites and put them on to one document. Ideal for primary and secondary.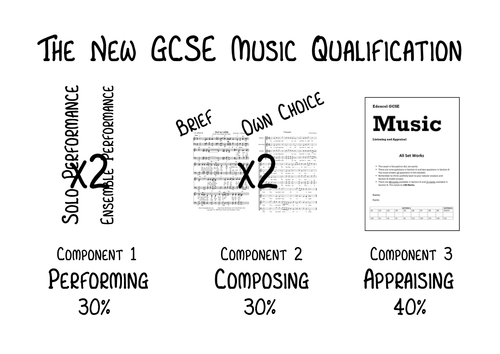 Display information and pictures for the new Edexcel Music GCSE Spec (first examined 2018). For classroom displays or OPTIONS EVENING. Simple and easy to understand.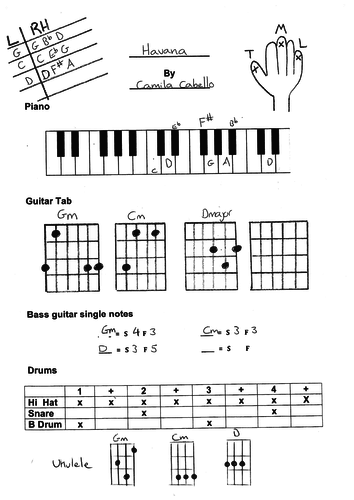 Havana by Cabello Too Good At Goodbyes by Smith House of Gold by 21 Pilots Perfect by Sheeran Musical Futures style score for popular instruments (guitar, keyboard, drums, bass and ukulele)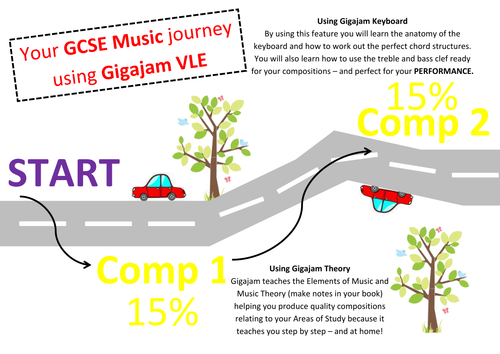 I couldn't find a blank car journey display to visually organise my curriculum anywhere! This is a very basic (but does the job) car journey created on Microsoft Word. It looks good on A3 paper and can easily be edited for any subject or topic. The two roads meet when placed next to each other.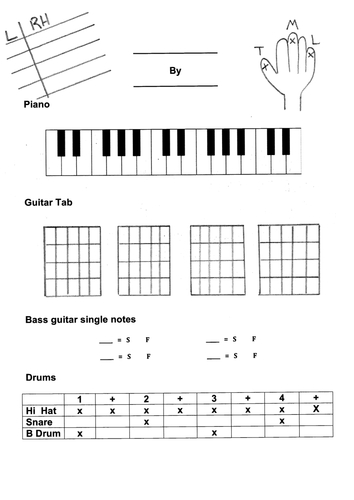 Blank musical score for composing or performing (guitar, bass guitar, keyboard and drums). This score is ideal for pupils that have little or no musical theory or practical knowledge. It can be used to compose a song, or to simplify an existing song using numbers and images. I have used it to write pop songs for KS3 where pupils work in small rock bands and it works really well. I have built up a library of songs using this blank score! It creates complete songs using single notes, triads and tab chords that are easily found on the internet. Note: The box in the top left corner indicates a single note in the left and the triad in the right (keyboard). I have also included some example songs.