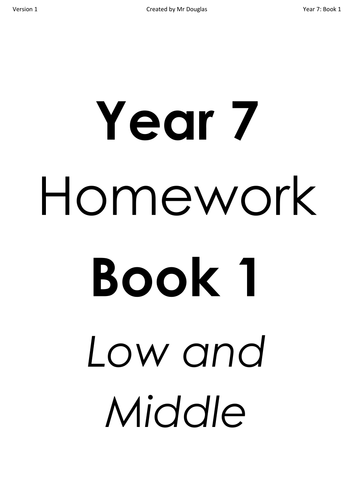 Three Differentiated Year 7 Maths Homework Books. Life without levels. 30 homework's to complete. Answers included. These books match my SOW found on TES. You can also find my Year 7 curriculum grid on TES. You can change the names of the different tiers to suit your school. Low: Level 4 Middle: Level 5 High: Level 6 Able: Level 6/7 Can be used for both KS2 and KS3. Homework topics Powers of 10 and negative numbers, converting units, area and perimeter, expressions, formula and algebraic fractions, fractions, calculating fractions, fractions and percentages, FDP, angles, properties of 2D shapes, probability, Venn diagrams, graphs, rounding, order of operations (BIDMAS), integer calculations, transformations, solving equations, number (multiples, factors, primes, squares and cubes), sequences, decimal calculations, proportion, ratio, averages and spread, charts and diagrams, collecting data, construction and 3D shapes and Volume.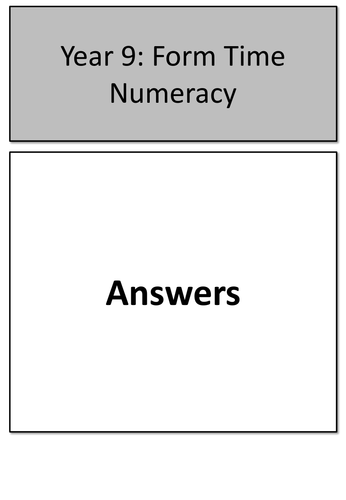 32 weeks of quick mental numeracy questions which are to be completed in form time. Each session should take between 5 to 10 minutes to complete. Over 600 question per year in total: Year 7 and 8 workbook. NEW: MIXED QUESTIONS ADDED EVERY TWO WEEKS NEW: YEAR 9 HAS NOW BEEN ADDED Topics include the following: Times tables Division Powers of 10 Multiples and factors Negative numbers Simplifying fractions Fractions of amounts Simple adding and subtracting fractions Converting between FDP Percentages of amounts Squares and cubes Collecting like terms Averages V1.0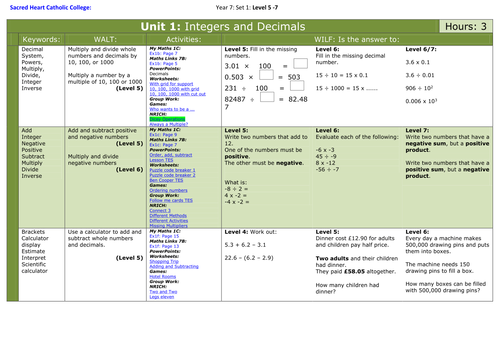 Detailed Scheme of work. Includes the following suggestions: WALTs WILFs Activities NRICH tasks Group Work activities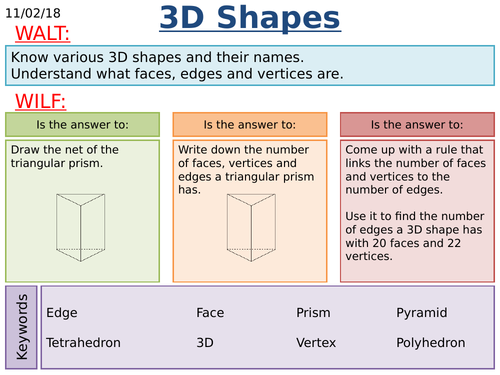 1. A PowerPoint designed to prompt pupils to fully understand 3D shapes. 2. A worksheet allowing pupils to investigate Euler's Formula. Questions within the worksheet are well differentiated to allow pupils to maximise their progress. Pupils will also investigate Platonic shapes. 3. Pupils will gain a full understanding of Prisms and Pyramids. 4. Pupils will gain knowledge on Polyhedrons and Non-Polyhedrons. Pupils will be able to explain why a Cylinder is not a Prism. 5. All misconceptions are addressed in this lesson.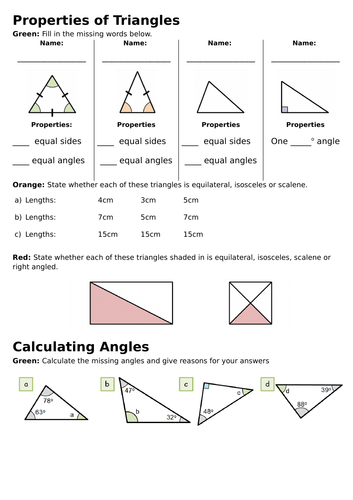 1. A PowerPoint demonstrating angles in a triangle and properties of a triangle. 2. A well designed and differentiated worksheet on properties of triangles and angles allowing pupils to maximise progress 3. PowerPoint contains detailed answers to the worksheet.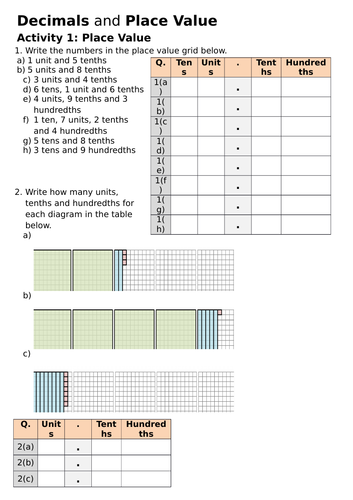 1. Includes a PowerPoint and a worksheet designed to allow all pupils make progress and grain a full understanding of decimal place value. 2. Decimal place value: Tenths, hundredths and thousandths. 3. Highly visual approach to teaching and learning decimal place value.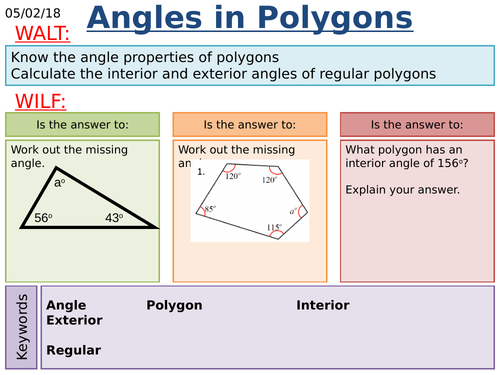 1. A PowerPoint taking pupils through interior and exterior angles of polygons. 2. A well designed worksheet encouraging pupils to investigate interior and exterior angles. Two differentiated activities on finding interior and exterior angles allowing pupils maximise their progress. 3. PowerPoint includes answers to the worksheet. Updated with fixes to worksheet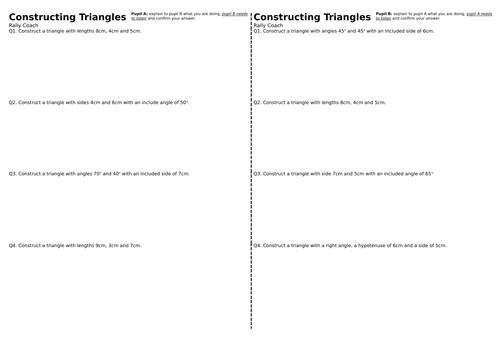 1. A fully loaded PowerPoint with step by step instructions of how to construct SAS, ASA, SSS and RHS triangles. 2. A Rally Coach to encourage paired work and peer assessment. Worksheet well differentiated to maximise progress.
LINK TO MY SUMMER QUIZ Every year I make my famous Christmas Quiz. The kids in my school love taking part in them. Even classes I don't teach stop me in and out of school just to tell me how fun the quiz was. So I have decided to share my quiz with TES. The quiz runs by itself and requires little input from the teacher. This allows the teacher to get on with some marking. Instructions: 1. Download 2. Extract Folder 3. Double Click the Play File 4. Enjoy Rounds: 1. General Christmas Knowledge (10 Questions) 2. Adverts (5 Questions Picture Round) 3. Movies (10 Questions, pupils watch a 20 seconds clip) 4. Christmas Logos (5 Questions) 5. Name all 9 Reindeer 6. Music (10 Questions, pupils listen to a 20 seconds clip) 7. Toys (10 Questions Picture Round) 8. Guess the movie/song from the picture code (10 Questions) 9. Celebrities dressed as Santa etc. (10 questions) Over 60 questions: Designed to last the whole lesson Quiz includes a timer on each slide with quiz music to increase excitement within the classroom. Answers will appear at the end of the PowerPoint. This allows pupils to mark each others answers. Your pupils will love this. Please review . Thanks and Merry Christmas
A bundle containing highly visual and detailed activities on all things angles. The activities are well differentiated and allows pupils to make maximum progress. Each activity has a corresponding PowerPoint taking pupils through the different facts. Each PowerPoint has detailed solutions to the activities.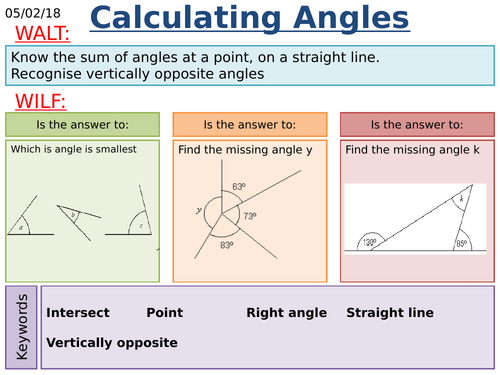 1. A PowerPoint demonstrating in detail how to calculate angles on a straight line and about a point. 2. A well differentiated worksheet to help pupils maximise progress. 3. PowerPoint contains detailed answers. Updated with fixes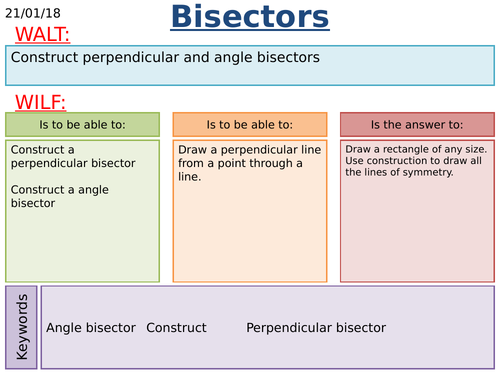 1. Constructing Perpendicular Bisectors 2. Constructing Angle Bisectors 3. Constructing Perpendicular lines form a point. PowerPoint taking pupils through a step by step process of construction. A nicely differentiated worksheet to allow pupils maximise progress.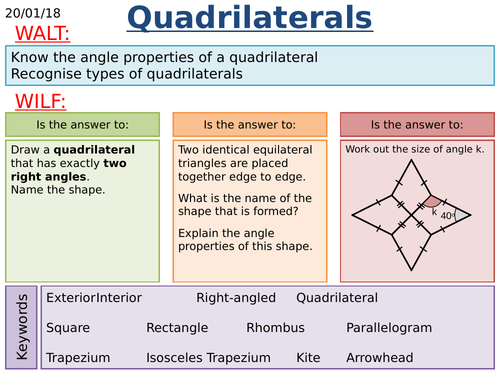 1. A PowerPoint demonstrating the properties of quadrilaterals and how to work interior and external angles of them. 2. A well differentiated worksheet designed to maximise progress. 3. The PowerPoint contains detailed solutions to the worksheet.
1. A PowerPoint with examples, questions and answers on converting between FDP. 2. A Tarsia puzzle for pupils to complete as a summary. 3. A homework worksheet.
A large bundle containing resources I have made involving fractions, decimals and percentages.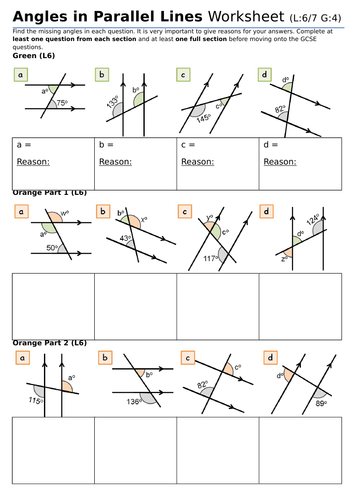 1. Highly visual PowerPoint taking pupils through the different types of angles in parallel lines. 2. A well differentiated worksheet encourgaing pupils to give reasons for their answers. 3. Worksheet includes 3 challenging GCSE questions and a NRICH task. 4. PowerPoint includes fully worked out answers. Converting between metric units of length, mass (weight) and capacity. 1. PowerPoint demonstrating converting units 2. Worksheet including a crossnumber (Number crossword) and problem solving and reasoning questions. 3. Answers included on the PowerPoint. Update: Crossword has been fixed.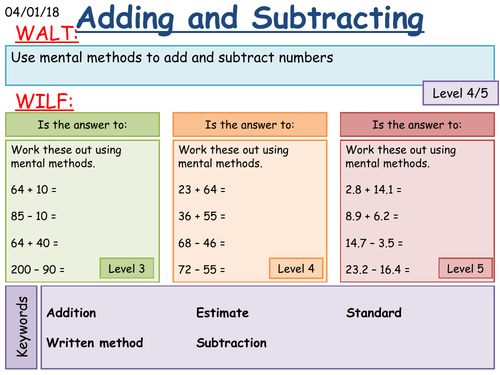 1. Two lessons on adding and subtracting decimals using mental and written methods. 2. Lessons are well differentiated. ***Worksheet Free***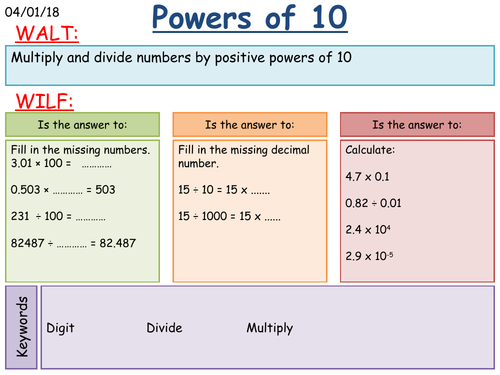 1. Powers of 10: looks at multiplying and dividing decimal numbers by 10, 100 and 1000. 2. Multiply and Divide by Powers of 10: looks at multiplying and dividing numbers by 0.1, 0.01, 1/10, 1/100 etc. 3. Both lessons are well differentiated. ***Worksheet Free***
Decimals lessons designed for pupils learning how work with decimal numbers.. Highly visual to support pupils understanding of decimal numbers. 1. Place Value and Ordering Decimals (2) 2. Adding and Subtracting Decimal Numbers (£2) 3. Multiplying and Dividing by Powers of 10. (£2) 4. Multiplying and Dividing Decimal Numbers (FREE)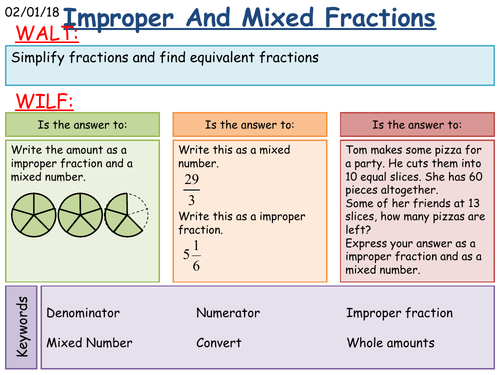 1. PowerPoint showing pupils how to convert between improper fractions and mixed numbers 2. PowerPoint illustrates through diagrams and pictures how to convert between them. 3. Designed to allow all pupils make progress through carefully designed activities. 4. Worksheets including answers.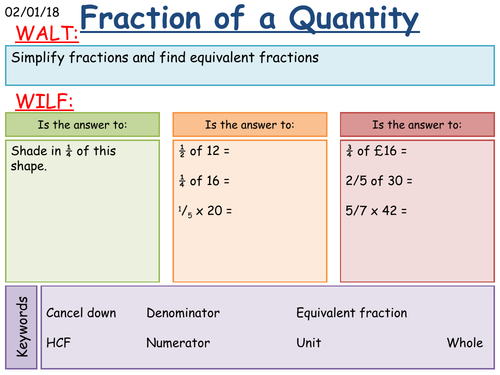 1. PowerPoint demonstrating fractions of amounts (Includes visual examples) 2. Worksheet containing two activities and an NRICH task (Includes visual questions for differentiation) PowerPoint and worksheet designed to allow all pupils make progress and fully understand how to find fractions of amounts. This is done by illustrating the problems on the PPT and having a worksheet that is well differentiated. Answers included.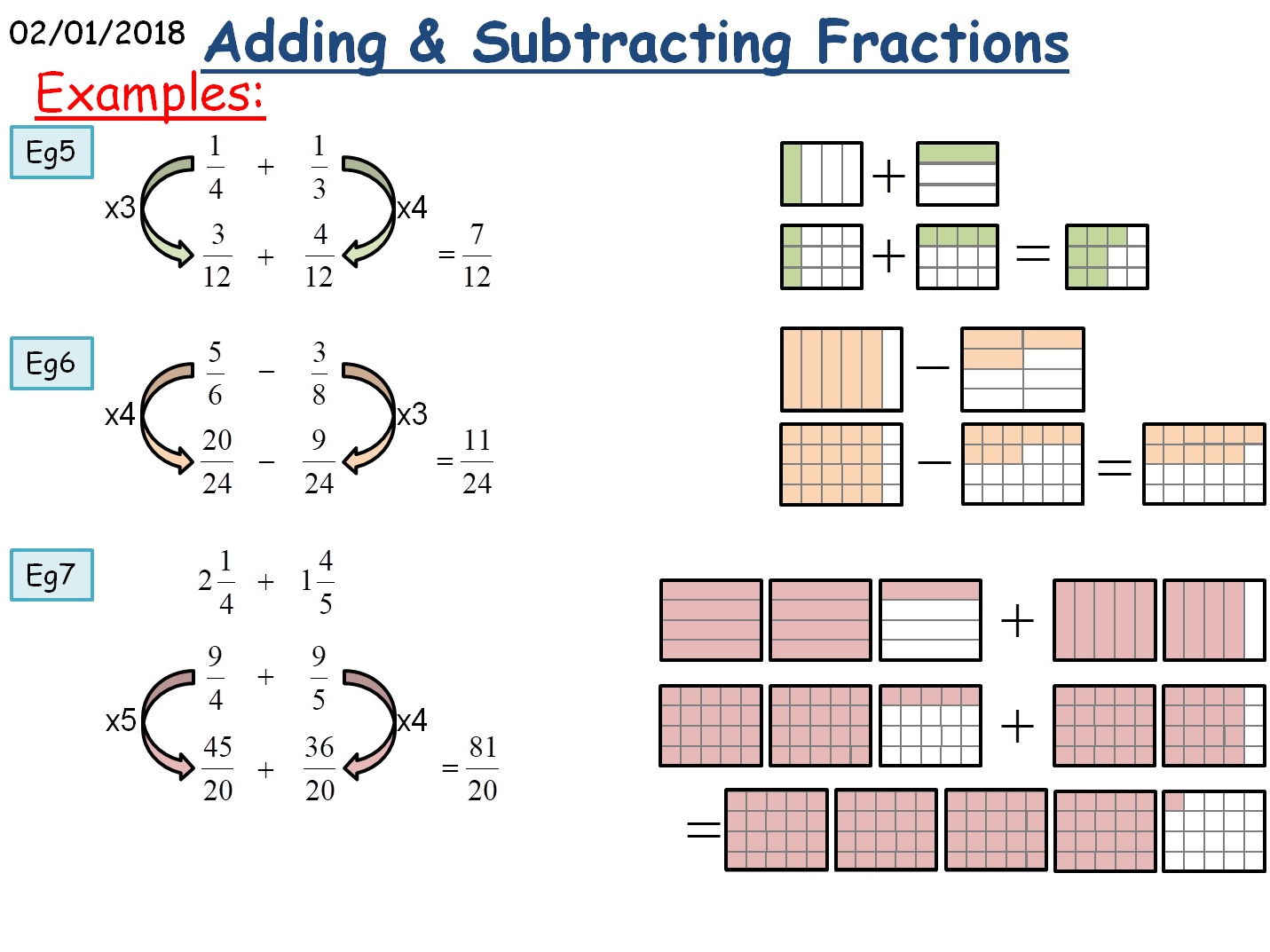 Fractions lessons designed for pupils learning how to simplify, add, subtract, multiply and divide fractions. Highly visual to support pupils understanding of fractions. 1. Simplifying Fractions 2. Improper Fractions and Mixed Numbers 3. Fractions of Amounts 4. Adding and Subtracting Fractions 5. Multiplying and Dividing Fractions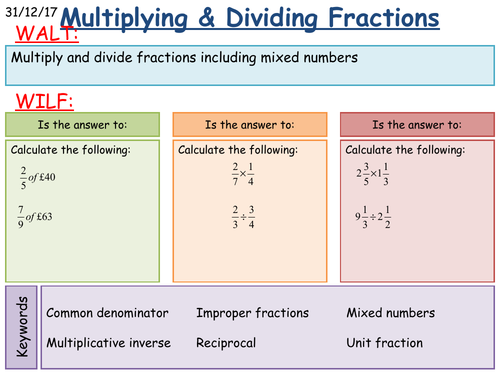 1. PowerPoint showing pupils how to multiply and divide fractions 2. PowerPoint illustrates through diagrams and pictures how to multiply and divide fractions. 3. Two different activities including a differentiated card sort (TARSIA). 4. Includes a starter and key questions. Download TARSIA at: http://www.mmlsoft.com/index.php/products/tarsia