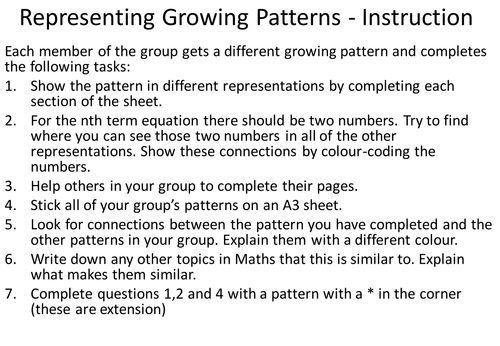 Differentiated group activity involving different representations of a pictorial sequence including: - nth term equation - table - graph - worded explanation Includes both linear and quadratic sequences for extension. The emphasis is on collaboration and spotting connections between the different representations of the sequence.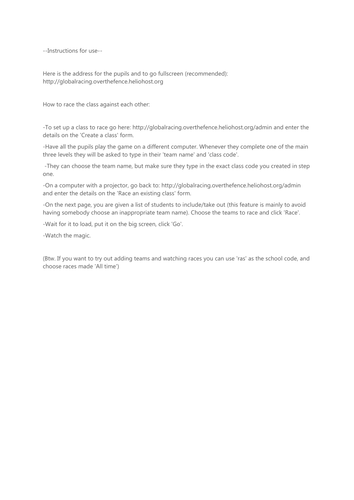 Includes three main levels that require measuring bearings and working with different scales (and ends with a class race!) There is also a warm-up level (to give the idea of bearings) and an extension level introducing reverse bearings. The link is to the game, the word document is a guide (which also explains how to have the class race against each other)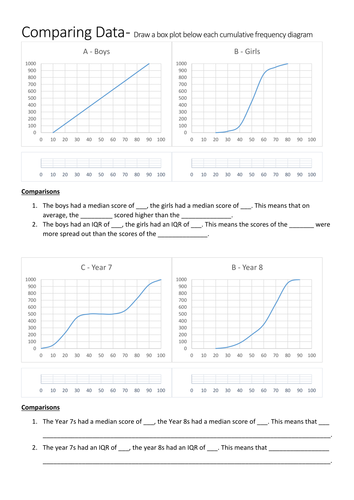 This is an adaptation of the activity given in the standards unit - Improving Learning in Mathematics (S6). There are some frequency graphs and some pre-drawn box plots that match each CF graph in that pack, which you should be able to find online. I wanted to make it fit exam requirements more accurately, and I wanted students to get lots of practice drawing box plots, without getting bogged down in plotting CF graphs.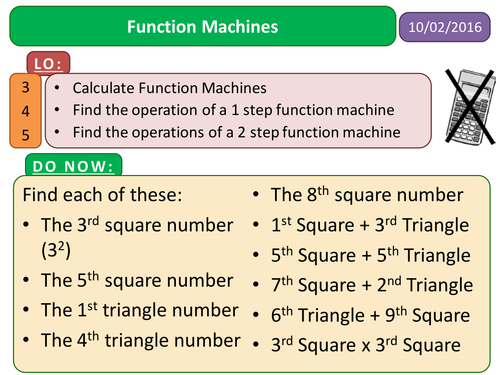 Lesson on function machines aimed at a KS3 group, highly differentiated with plenty of challenge.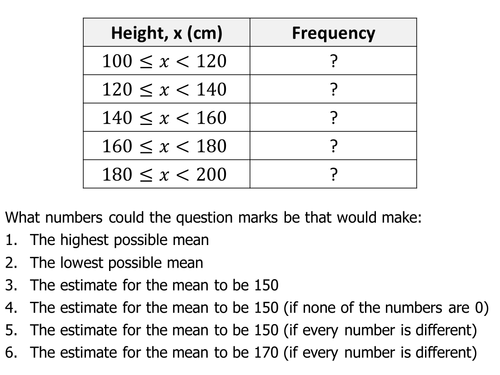 Estimating the mean from grouped data is one of those topics that all my students can do in lesson, but tend to forget in tests. Because it is quite an abstract process, students often learn the steps of the method without really understanding what is happening. These questions aim to remedy that. The idea is to get students to think about how the steps they are calculating relate to their final answer. This resource is a natural companion to another I have made, just search for: "Rich task: Finding the mean from a grouped table discovery"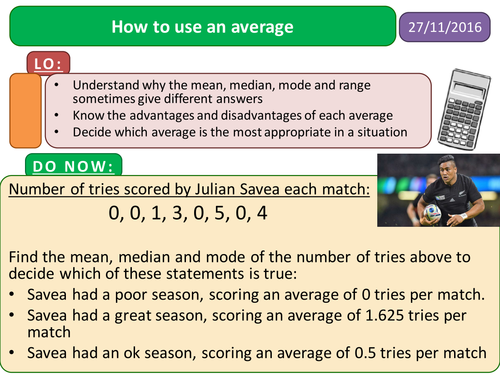 This powerpoint and lesson aims to help students understand the different advantages and disadvantages of each average (mean, median and mode) and gets them to think about which situations each average is most appropriate for.
Create infinite questions matching straight lines to their equations. Good as a print out AND a board activity.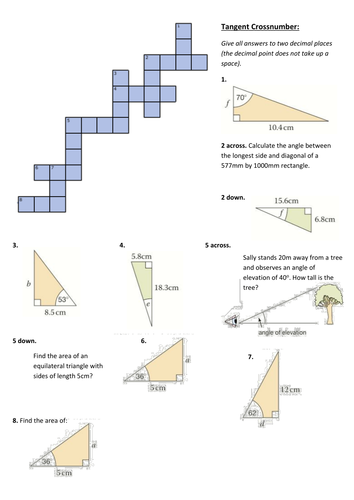 Missing sides and angles as well as a few harder questions only using tan (Since I tend to teach trig using only one ratio at a time). I totally copied this from dmarshall1988: https://www.tes.com/teaching-resource/trigonometry-crossnumber-tan-only-6378404 but I found his version to be unreadable (and not have the answers)
I have designed this pack of 6 lessons in the style of the Maths Assessment Project from the Shell Centre. Because of that, they contain many opportunities for AfL built in, opportunites for active and constructive discussion, and rich, open tasks. Here is a brief overview of the content and activities: Lesson 1: - Initial Assessment (test) – marked to diagnose prior knowledge and set specific tasks for improvement. - Video demos on constructions of triangles. Pause and explain the videos as students follow the steps. - Class discussion about an impossible triangle. Lesson 2: - Set DIRT tasks from marking Initial Assessment or discuss common misconceptions as a group - Triangles Card Sort - students have to construct the triangles and sort them in to three groups: Impossible, Unique and Multiple possible triangles. - Discuss questions based on A03 Reason and Explain problems as a group. Emphasise different approaches and answers the students may have. Lesson 3: - Starter: Find a point exactly between A and B. Find two points that are 5cm from both A and B. - Perpendicular and Angle Bisectors, Point to a line video demonstrations. Students copy the steps from the demonstration videos then repeat the steps on their own. - Open construction challenges - Plenary – Discussion of strategies for difficult parts of the challenge Lesson 4: - Starter: Mark at least 10 points that are 5cm away from X. - Group discovery task designed to find the four main types of Loci seen at GCSE - Card Sort – Some found here: o https://www.ncetm.org.uk/resources/10771 o https://www.tes.com/teaching-resource/loci-and-construction-review-6342861 o https://www.tes.com/teaching-resource/locus-of-a-point-matching-exercise-11190166?theme=3 - Plenary: Group Discussion of Exam Q involving a combination of Loci Lesson 5: - Starter: Construction skills practice worksheet - Exam Questions done on Mini WhiteBoards - Exam Questions done on sheet – Recommend this booklet - https://www.tes.com/teaching-resource/loci-booklet-questions-and-answers-11379556?theme=0 - Plenary: Create your own question for a shape Lesson 6: - Starter: Create a loci question for your partner; answer your partner's question - Progress check - Similar to Initial Assessment, designed to demonstrate progress as well as identify any remaining misconceptions - Students Peer Mark with helpful comments - Show of hands on Learning Objectives.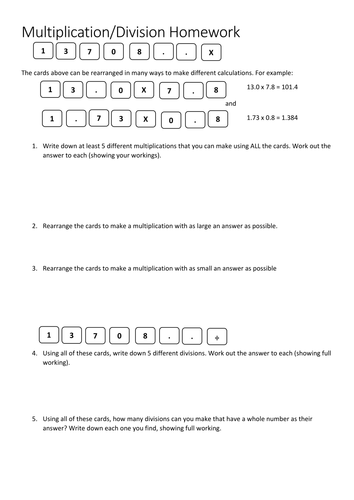 Homework designed to be more open and investigatory on the topic of multiplication and division of decimals. Students will differentiate by outcome as they can choose to make easier or harder calculations. Ideal as an extension task
Students factorise and expand quadratics to fill in the blanks on the table, including some non-monic quadratic expressions and the difference between two squares. This makes an engaging and challenging task, as it includes: - Finding common factors in different quadratics - Self-checking as the answers are given and students only need to find which position they go in. - All the different types of quadratics students could be asked to factorise/expand at GCSE.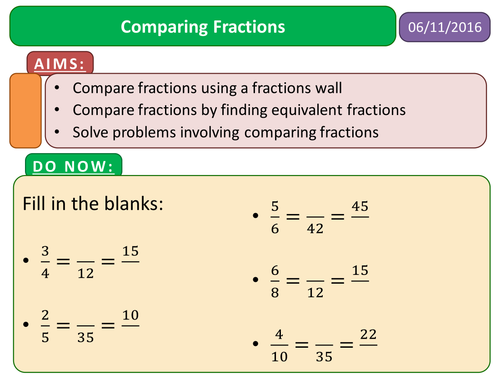 Lesson designed to go deeper in to understanding how to compare fractions, looking at multiple methods for comparing them, as well as asking more rich questions. Would go well with my worksheet also on comparing fractions found here: https://www.tes.com/us/teacher-lessons/comparing-fractions-code-breaker-7510447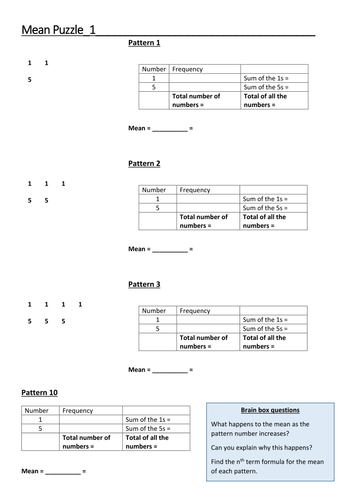 Students will discover for themselves how to find the mean from a grouped table. They will then get lots of practice with it whilst trying to find the patterns in each puzzle in the collection. They are very rich tasks, with a low entry point (students only need to know how to find the mean of a set of numbers) and an extremely high ceiling (involving sequences and series). Very easy to differentiate for different abilities (either skip pattern 10 or add the brainbox questions). The task ends with a paired activity where students create their own patterns.
This resource is designed for use in an ICT room. Students use inequalities as fences to protect the chickens from the foxes. They will start with single inequalities and move up to multiple inequalities that require great precision.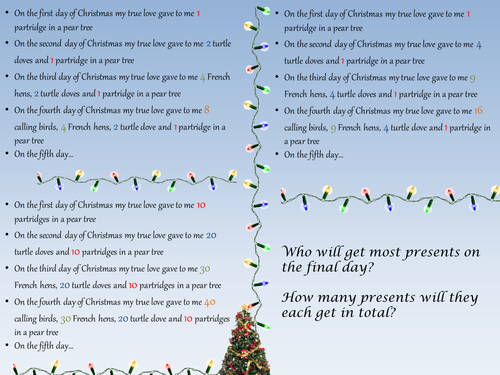 A simple activity takes the 12 days of Christmas that little bit further by comparing the totals of different sequences over the 12 days.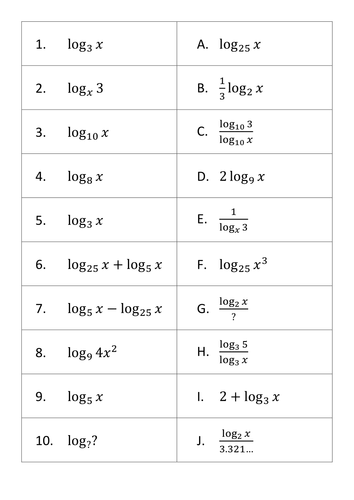 In this challenging puzzle, students are asked to match equivalent expressions involving logarithms. To do this students will need to use the Core 2 Laws of Logarithms and to change the bases of each question. I've tried to design it to tease out common misconceptions and promote thoughtful discussion.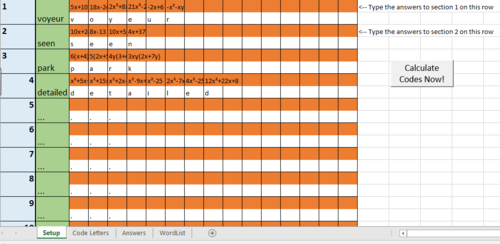 I love code-breakers. They are a great way for students to check their own answers without them being able see all the answers right from the start. It also makes marking easy because for a whole lesson's worth of work you only check four or five words. This resource automatically creates a code breaker for any set of questions! Its really good for quickly making exercise book or worksheet questions instantly more exciting/engaging. Simply type in the answers for each section (Questions 1a-g for example) in the orange rows of the 'Setup' worksheet and click 'calculate now'. The answers in each section will be assigned a random word. Show students the 'Code Letters' worksheet (either on the board or printout) and they get a letter for each answer. You can check these against the words in the 'Answers' worksheet
Set of activities I made for our whole-school STEM day a couple of years ago. As such it is suitable for a wide range of abilities and learning styles. Skills practiced include: - Co-ordinates and map references - Map Scales - Spotting patterns and drawing conclusions - Sequences (including linear, quadratic and exponential sequences) - Calculating Speed/Distance/Time - Time Series Graphs - Functional skills problem solving The activities are set in Bristol but could be adjusted by replacing the map.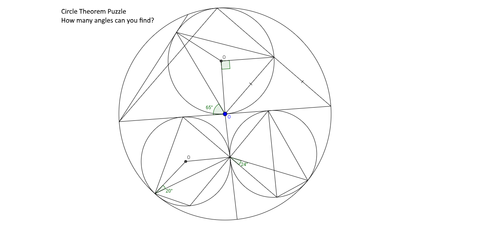 Use circle theorems and other angle rules to find all the missing angles in this single page puzzle. Ideal as a consolidation or group task on circle theorems.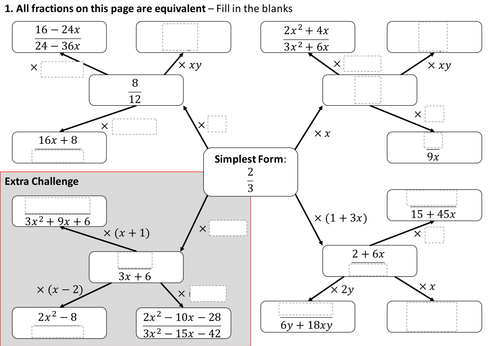 Puzzles for simplifying, adding, subtracting, multiplying and dividing algebraic fractions. Highly differentiated with single bracket factorization, double bracket factorization and questions with no factorization required. Ideal for consolidation of the topic or for extending higher ability students. Answers provided.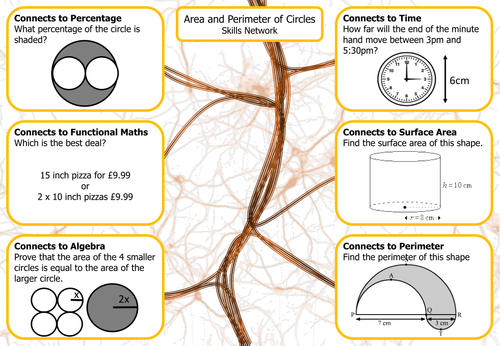 A collection of varied and differentiated resources on finding the area and perimeter of circles and compound shapes involving circles. They are aimed specifically at lower ability students, giving them more time to work on the topic and develop a deep understanding/mastery of the material. Includes: - structured/scaffolded worksheets for building confidence - a row game for paired work/peer assessment - a rally coach for paired work/peer learning - a code breaker for practicing the skills in an engaging way - 'skills network' for building connections with other topics More similar resources on other topics coming soon!