32Uploads
74Views
0Downloads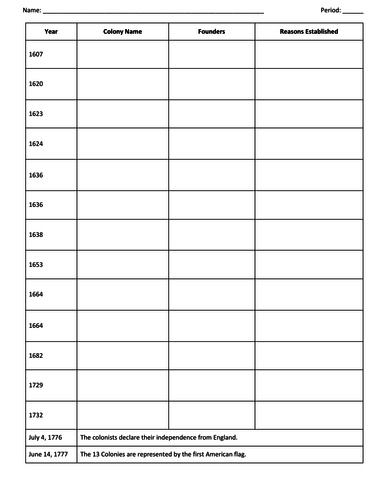 This is a great activity for the students to research the Thirteen Colonies. They have to locate the colony, date established, people who established the colony, and describe the reasons for establishing each colony. This is a great activity to include in Exploration & Colonization Unit.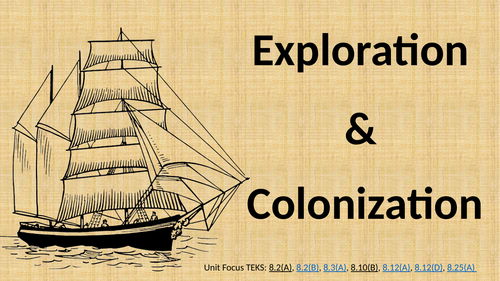 AWESOME UNIT PACKAGE!!! If you are a brand new teacher or switching subjects, grades, on personal leave, have a substitute, or homeschooling. This is everything you need for Exploration & Colonization Unit in U.S. History. All you have to do is download and you will have the teacher edition, which includes all activities, worksheets, projects, evaluations, rubrics, exams, and answer keys. For Texas Teachers it even includes the unpacked focus TEKS for the unit. To turn it into a STUDENT EDITION just make a copy and remove the answer keys and any other information you don't want the students to access. Then drop it in Google Classroom or another app and you are ready to go for the unit. As you can see with the thumbnails it is setup for students and teachers to easily follow, everything is linked so students can do this as a class, small groups, or individually paced. Truly is everything you need for a unit!!! Listed below is all the items included in this presentation: Unpacked Focus TEKS Unit Vocabulary Unit Sections with Essential Questions Exploration Colonization Representative Government Exploration Video with Notes Worksheet Exploration Readings with Notes Graphic Organizer (includes audio for each too) Voyager Letter Project Colonization Map Activity Colonization Timeline Activity Colonization (PEGS) Readings with Notes Graphic Organizer (includes audio) Slave Trade/Middle Passage Video with Questions Worksheet Colonial Region Advertisement Project Representative Government Graphic Organizer & Timeline Activity Evaluations for each unit section. Final Unit Exam (Answer Key Included) Instead of spending hours putting something like this together I have done it for you!! You have the ability to still customize it with changing font, background, color choice , etc.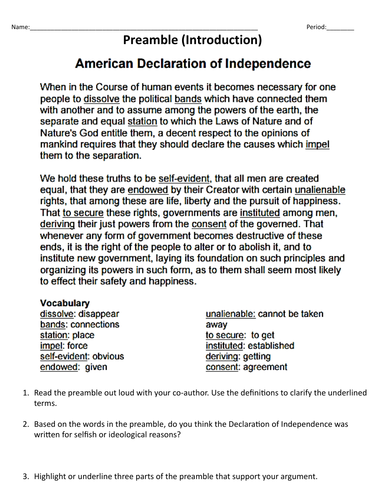 This is a great activity for students to dig deep into the understanding of the Declaration of Independence. The presentation could be dropped into Google Classroom or another education app and the students are ready to go! This includes linked modified primary source of the Declaration of Independence Preamble & Grievances, a t-chart to look at selfish or ideological reasons for declaring independence, and a transition list of words to help students write their document analysis paragraph. There is an advanced and modified copy of the document analysis paragraph. It also includes a rubric for grading!!!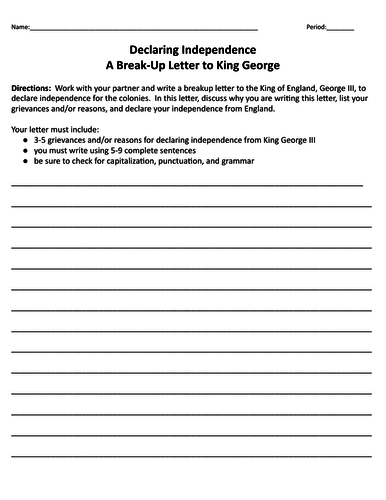 This is a great activity to do with students when teaching the Declaration of Independence. After learning about the grievances listed in the Declaration of Independence students create their own breakup letter to King George III. This includes a format for advanced students and students that need some sentence stems to help them.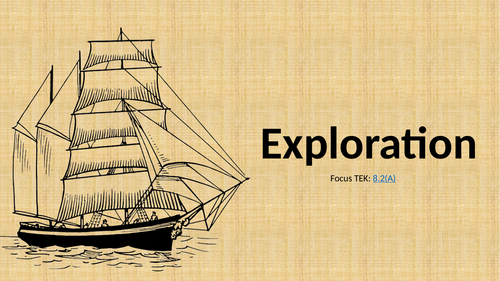 This is everything you need to teach exploration in US History. This includes essential questions, video with notes, exploration (British, Dutch, French, and Spanish) readings with graphic organizer notes (even in audio), and a voyager letter project. All you need to do is download and you are set for the exploration unit!!!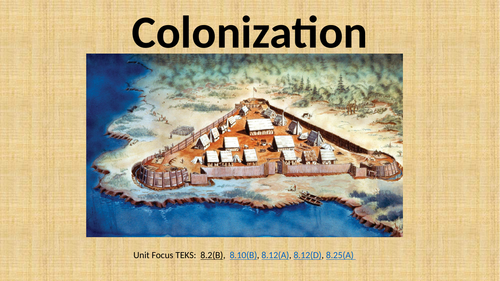 This is everything you need for the colonization unit. This lesson includes essential questions, thirteen colonies map activity, thirteen colonies timeline activity, thirteen colonies PEGS (political, economic, geographic, and social) readings with notes (includes audio), slave trade/middle passage, and a colonial regions advertisement project. All you need to do is download and BAM! you have your colonization content.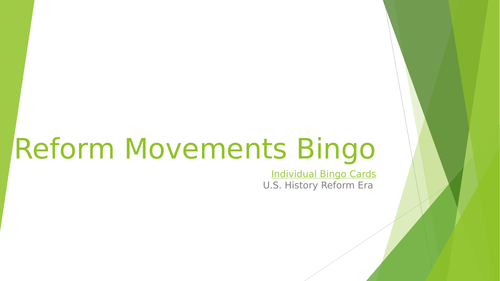 This is a PowerPoint presentation that includes bingo cards for the teacher to shuffle up and read out to the students. Also, linked in the PowerPoint is the individual Bingo cards that the students use when playing. The reform movements focused on are Women's Right, Prison Reform, Education Reform, Disabled Persons Reform, Abolitionists, and Temperance Movement. This is a fun review activity for students to do.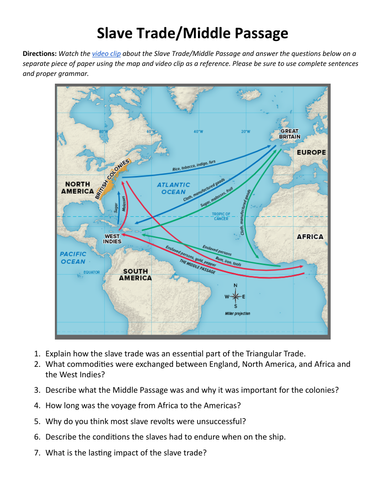 This is a worksheet on Slave Trade/Middle Passage. Students will watch a short video clip. They will then review map and answer the discussion questions. This can be used as a worksheet, group discussion, or even seminar. This is great way for students to understand the importance of the Middle Passage and how it relates to Colonization in America.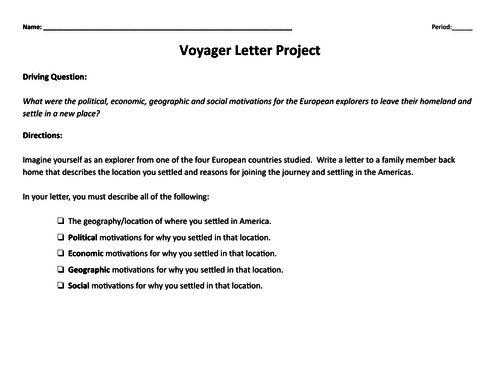 Students choose to be an individual from an exploration country and write a letter back home talking about their journey, America discovery, and the political, economic, geographic, and social aspects of their journey in America. This is an awesome end of the unit project or can be a benchmark in a PBL. Grading rubric included!!!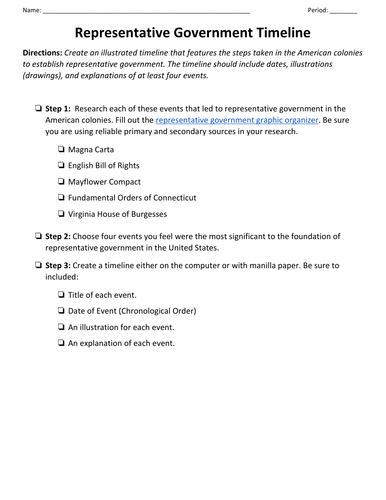 This is a great research activity for the students to learn about representative government. First, they have to research different representative governments that were first established in America. For example, Mayflower Compact and Fundamental Orders of Connecticut. The graphic organizer is linked in the document. Then they must create an illustrated timeline. This is like two activities in one!!!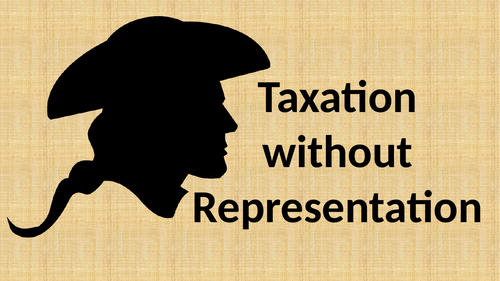 This is a fun and exciting activity to do with students who are learning about the Causes of the American Revolution. This is a presentation that all you need to do is download, buy some goldfish, small cups, and zip-lock bags and you are ready to go!! The presentation includes the rules to the activity, the different roles that are played, props, the act cards that are read by the king, and an exit ticket discussion question handout. The students get so frustrated that they run out of goldfish and get sent to jail. It helps them understand why the colonist were so angered by all the taxes that were placed on them back during that time. Plus, at the end the students get a snack.This is one of my favorite things to do each year!!!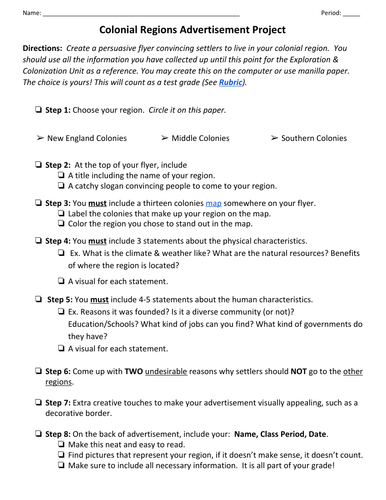 I LOVE THIS PROJECT!!! Students choose a region and create an advertisement posted for that region. The handout includes directions, the grading rubric, and a Thirteen Colonies map.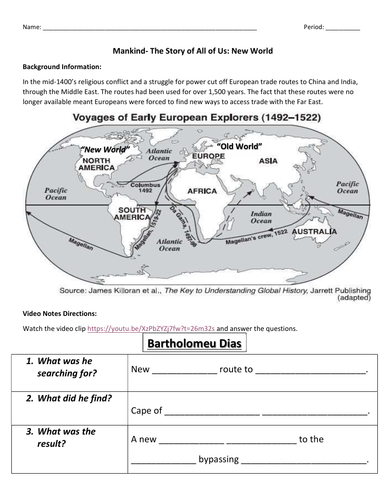 This worksheet goes with Mankind- The Story of all of Us- New World. Students will watch the 20+ minute clip and learn about three early explorers of America. Student will follow along and take notes. This is a great introductory activity to the unit.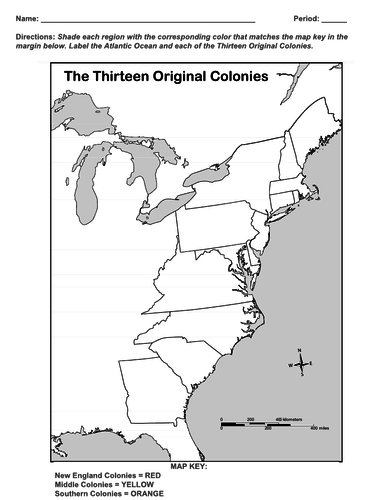 This is a great activity for any grade level. Student learn about the different regions and the colonies that make up each of the regions. I do this activity right in the beginning of the unit. Or you can add this into a station rotation.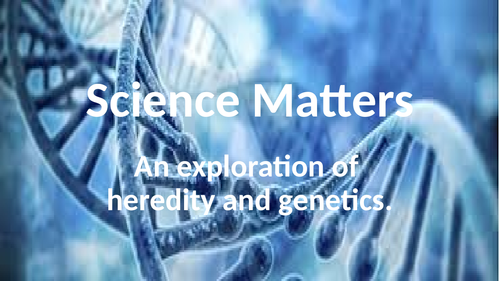 This is a six week project based learning unit on Heredity and Genetics (Can be less time, it is all self-paced learning). I use this in my 7th Grade Personal Learning Path class. Students chose to either work in groups or alone. This could be used for individual learning classes or in Science! Everything is laid out and easy for students to follow. Teachers can simply add to Google Classroom or some other classroom sharing app and your class is ready to start the unit. All the links are embedded in the PowerPoint and require NO additional access to anything. All the links either provide the PDF graphic organizers, directions, rubrics for grading, or articles, research sites, and additional materials need to complete the unit. The unit was a great success in my classroom and the students end products were amazing!!!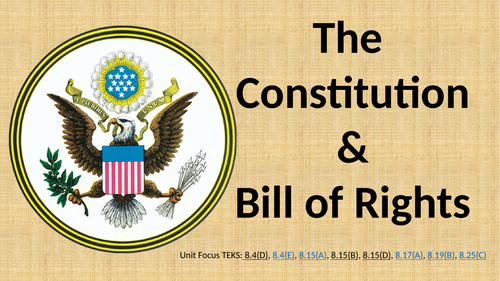 This is the whole unit for Constitution & The Bill of Rights. It has been broken into five parts. Part 1 - Articles of Confederation Part 2 - Constitutional Convention Part 3 - Principles of Government Part 4 - Federalist vs. Anti-Federalist Part 5 - Bill of Rights & The Amendment Process Within these parts there is a variety of activities that help engage the students into the world of the constitution. Included in this unit: Vocabulary Essential Questions Articles of Confederation Strengths vs. Weaknesses Shays Rebellion Socratic Seminar Readings with Graphic Organizer (Audio Included) for a variety of parts of unit Reflective Essays Principles of Government Tic Tac Toe Project Whole Class Activities T Pair Defend Activity Bill of Rights Hand Symbols Bill of Rights Scenario Gallery Walk Bill of Rights Bingo Video Clips Exit Ticket/Quiz All the work is done and wrapped up with a bow on top. All you need to do is download. Make a copy for yourself and make a copy for students (removing the answer keys). There are two videos that have not been included for copyright reasons. You can find the videos online or you can purchase them.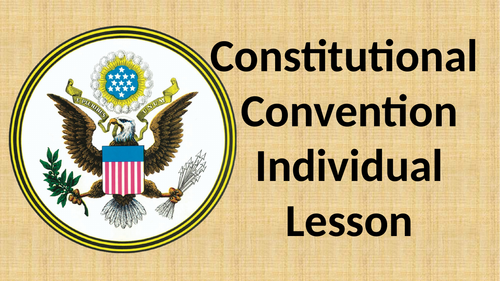 This is a great lesson on the U.S. Constitutional Convention and the compromises (Virginia Plan, New Jersey Plan, The Great Compromise, 3/5th Compromise, and The Electoral College) that came out of it. The lesson includes a Charlie Brown Episode that does a great job of showing the overall Constitutional Convention. Episode is not included in the PowerPoint for copyright purposes. Episode can be found online (DailyMotion Website) or DVD/Episode can be purchased on Amazon or Walmart. Then there is a graphic organizer with three readings that also include an audio option for students to work on and dig deeper into the compromises. The answer key is included in the presentation. Finally, there is a writing reflection assessment for the students to complete. There is a choice for core/on-level students that includes sentence stems. Or a Pre-AP option as well. This whole lesson should take 2-3 days (45 minute class periods). All you need to do is download presentation and print copies for your class! Enjoy!!!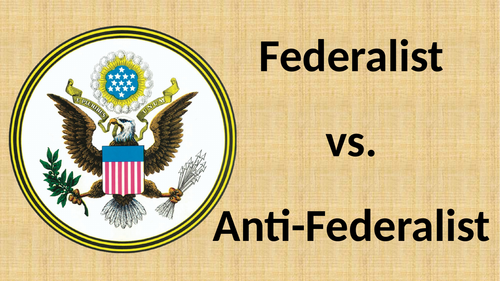 This is a great lesson that fits within the Constitution Unit. Students will learn about ratification of the Constitution and the development of Federalist vs. Anti-Federalist. This lesson will take between 2-3 days to complete. Activities included: Essential Questions Federalist vs. Anti-Federalist Introduction Activity- students are given two options of a variety of general questions. They choose either A or B. At the end if they mostly answered A's then they are Federalist and mostly B's then they tend to side with Anti-Federalist. It is an engaging way to introduce the unit. Federalist vs. Anti-Federalist Notes w/Graphic Organizer Federalist vs. Anti-Federalist Ted Talk Video T- Pair Defend Activity- students will use their debating skills to pretend to be either a Federalist or Anti-Federalist and debate their stance. There are speaking prompt to help them, but after they do it a few times then they are familiar enough that they can argue in their own words supporting a side. It is super to cool to watch the students. Who Said That??? Activity - students are given a sign and there are different statements that are read. They must decide whether it is a Federalist or Anti-Federalist statement and hold up the sign for which side it is. Another way to check for mastery. Federalist vs. Anti-Federalist Reflective Essay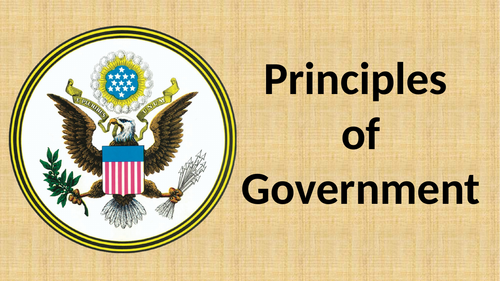 Teaching the Constitution? Principles of Government is by far one of the most important parts of teaching the Constitution. This is a week long unit that lets the students explore the seven principles. Activities include: Essential Questions Introduction Videos on Three Branches of Government Three Branches of Government Review Notes/Graphic Organizer with readings and audio. Principles of Government Intro Video Principles of Government Introduction Graphic Organizer Principles of Government Tic Tac Toe Activity Project Principles of Government Reflective Essay Everything you need to effectively teach Principles of Government while giving students an engaging way of learning and choice!!!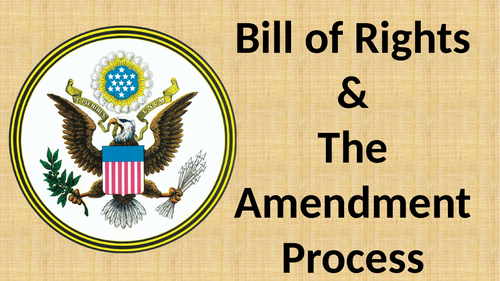 Dive into the world of constitution by examining the Bill of Rights and the amendment process. This lesson includes the following activities: Essential Questions Bill of Rights Intro Rap Video Bill of Rights Hand Symbols Brain Pop Bill of Rights Video with Notes Bill of Rights Scenario Gallery Walk The Amendment Process Bill of Rights Reflective Essay Bill of Rights Bingo