Mr English's Shop
Senior Leader. English Teacher. Poetry Geek.
39Uploads
10k+Views
2k+Downloads
Senior Leader. English Teacher. Poetry Geek.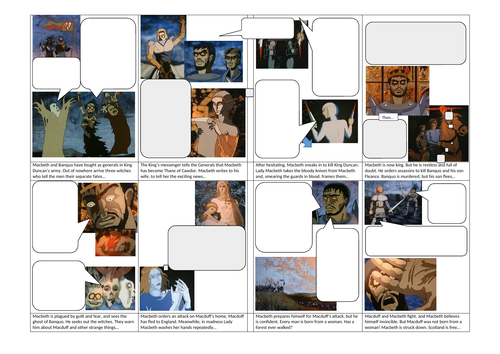 To be used alongside Shakespeare's Animated Tales, this resources allows students to watch and record key moments and quotations from the play.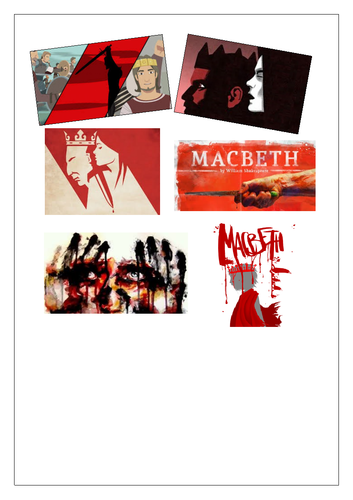 This is for the new AQA GCSE English Literature course (9-1). The pack includes 6 Macbeth AQA questions with model answers which students can use to revise and prepare. The essays are written to the top of the mark scheme.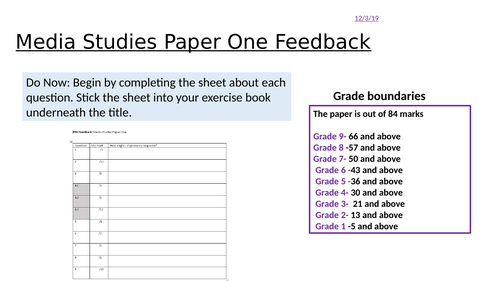 This lesson talks through the Media Studies Paper One from 2019. Sample, annotated answers for each question are provided. answers would achieve full marks.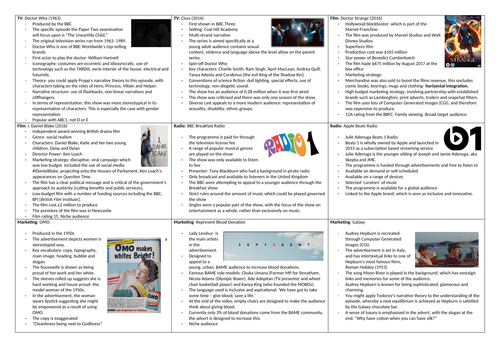 This A3 revision sheet is designed for the GCSE AQA Media Studies course. For each of the CSPs, key information is included.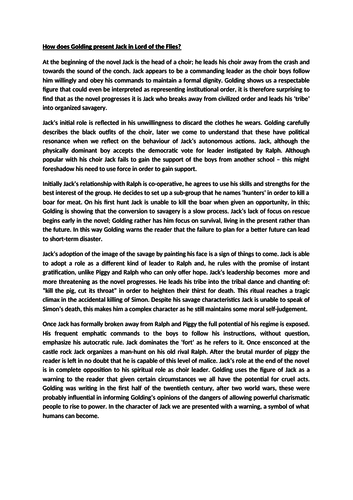 This model essay for GCSE for Lord of Flies focuses on the presentation of Jack.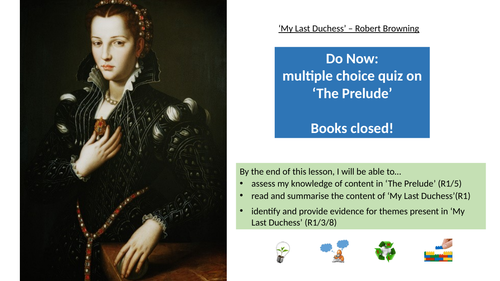 A full set of resources for the Robert Browning, My Last Duchess. These resources are designed for the AQA specification: Two full lessons including model answers. a context sheet for My Last Duchess worksheets for focused analysis of key quotations a thematic worksheet which encourages students to explore the big ideas in the poem … and much more…
Students love using this sheet to revise the plot and key quotations for Macbeth. For each scene in the play there is a short synopsis, key quotations with the significant words and phrases highlighted and key terms. Students then fill in the final column as part of their revision. Best printed in colour and on A3, stapled. Enjoy!
An A3 sheet designed for students to have a comprehensive understanding of the novel, Lord of the Flies.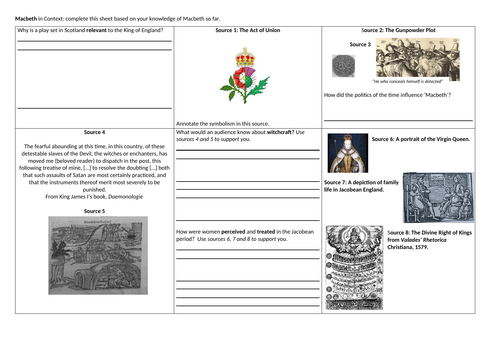 An A3 sheet designed to encourage students to understand the social, literary and historical influences which form Shakespeare's Macbeth.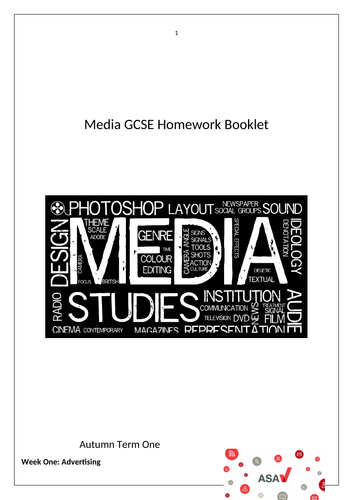 This homework booklet consists of seven articles about the Media which link to the GCSE course. Students complete the questions in the booklet.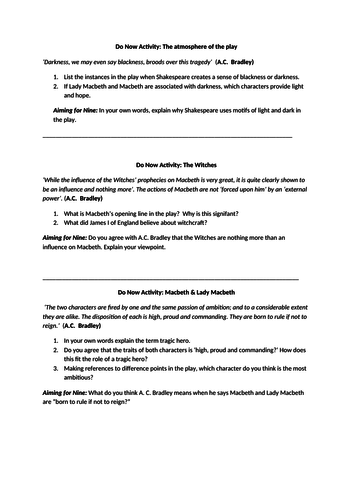 A series of quotations from A. C. Bradley about Shakespeare's Macbeth which include quotations for discussion. I use these for GCSE and A-level. They can lead to really rich and profound discussions about central characters and themes. Very useful for students aiming for grade seven and above.
This is a revision match up sheet for poetic terms. There are two versions of the sheet with one which includes the definitions at the bottom of the sheet to support students.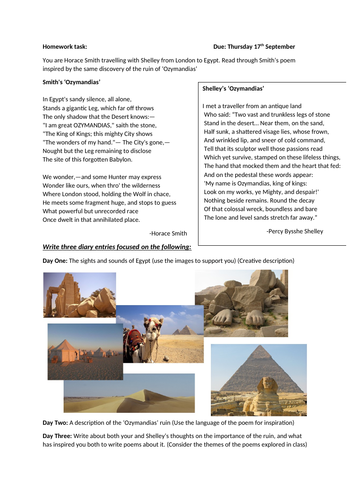 Two lessons worth of activities based on Ozymadias, Shelley. The pack includes a multiple choice quiz on the poem as well as a homework task.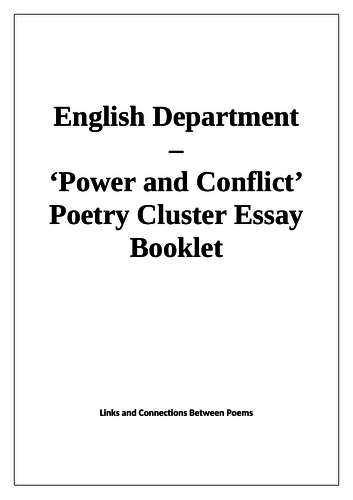 This booklet is designed for the AQA Power and Conflict GCSE (9-1) anthology. The booklet includes nine sample essays which are written to grade 9 standard, as well as bank of twenty questions.
A set of resources designed to ensure students have a detailed and substantial understanding of Wilfred Owen's poem Exposure. The poem features on both the AQA and the Edexcel GCSE English Literature anthology. In this bundle, you will receive: a comprehensive Powerpoint with annotated stanzas a copy of the poem, including a glossary of unfamiliar vocabulary. a context sheet, including the social, literary and cultural influences on Owen. a multiple choice quiz, designed to assess students' understanding of the poem. a set of revision cards which will ensure students are able to revise the key content at home.
This is an A3 double sided resource which covers the events of the novella and includes key quotations. Students can revise by analysing the quotations from each chapter.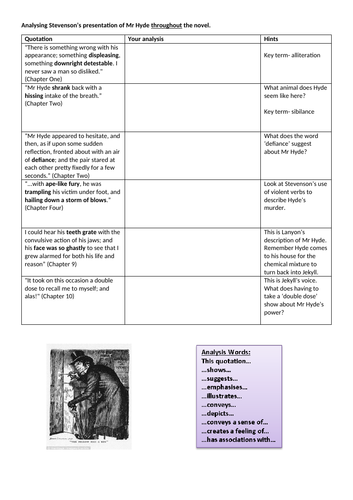 This is a great resource to get students thinking about how Mr Hyde is presented throughout Stevenson's "The Strange Case of Doctor Jekyll and Mr Hyde." The sheet can be differentiated further by removing the top tips column, Happy teaching!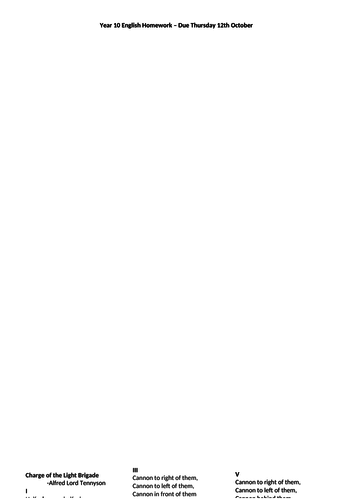 Available for FREE. Students write a letter int he voice of Tennyson explaining their reason for writing the poem, Charge of the Light Brigade.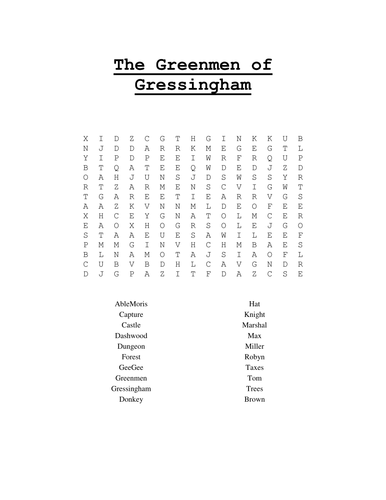 A series of lessons to use alongside the Greenmen of Gressingham book. Each lesson has both a literacy focus and a focus relating to the English curriculum.