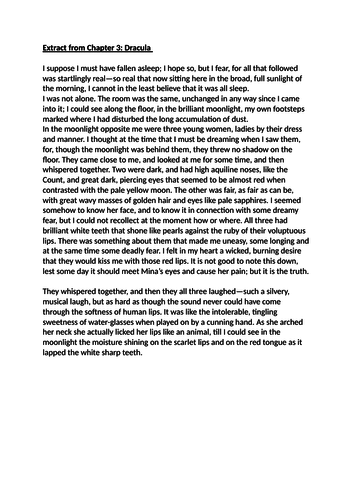 Designed to be used either as an introduction to, or revision for, the AQA Paper 1 Language. It uses an extract from Chapter 3 of Dracula by Bram Stoker so as to introduce students to the Pre-20th Century Fiction. 28 slide pack: includes titles, entry tasks, success criteria and learning objectives slide at the start of every lesson. Introduces students to a range of skills including learning difficult subject terminology, grids to help analyse language, practise questions for language, structure and evaluation as well as a creative writing task. Each practise question includes a slide containing models, differentiated success criteria and helping hand boxes. Aimed at top ability Year 9/10 or all Year 11 students.
A lesson designed to help pupils struggling with writing in appropriate register, format and style for paper 2. Uses 'silly' and fun contentious issues such as 'wearing socks with sandals,' 'the banning of crocs' and 'eating smelly crisps on public transport' to help students write from a viewpoint and construct an argument. Includes starter, explanation, task and writing slide with success criteria, impressive vocab to use and model responses.
Lesson introducing students to the format and process of crafting the dreaded discursive essay for Section B of AQA Paper 2. Introduces students to the style, how to plan for it, includes model responses as well as a mock question with writing up page with success criteria and help boxes.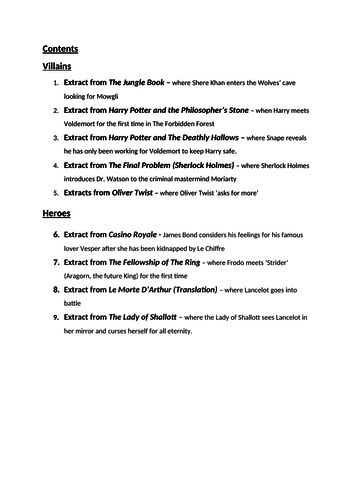 A word document with 20 practise language questions from both paper 1 and paper 2 for AQA. Includes extracts from The Jungle Book, Harry Potter x2, Oliver Twist, Lord of the Rings, James Bond, Sherlock Holmes, King Arthur, Lady of Shallott. Each extract has at least one, if not two, language questions to be answered on it. Could be used to create lessons around or just printed for students for intervention or revision! Also includes a creative writing question based around each text - 10 in total! Great extracts for interesting males in particular!
THREE LESSONS IN TOTAL! A lesson aimed at introducing the skills of 19th Century extract analysis, language question and evaluation question to a group of year 9 students or to a mid-low ability GCSE set. Lesson uses an extract from The Jungle Book. One whole lesson on the language question exploring C.W.A and connotations of certain words as well as models of how to write a PETE paragraph. Moves onto a practise language question about the character of Raksha. Next lesson looks at how to write a newspaper article about the events that happened between Shere Khan and Mowgli. Next lesson looks at writing a speech from Shere Khan to the crowd of animals at the watering hole. Includes models, planning and writing up page with success criteria, suggested words and techniques to manipulate.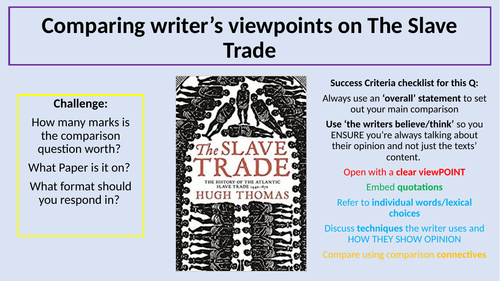 This small scheme guides students through crafting a clear response to the comparison question, with a focus on viewpoints. It uses 'The Interesting Narrative of Olaudah Equiano' and a Guardian article on slavery as the two sources. Provides step by step teaching of comparison and language question including models, differentiated grids and 'writing up' page with success criteria. Also provides extra evaluation question that can be done as homework. Three lessons = Teaching the comparison Q and planning, teaching the language Q and planning with two timed responses to both questions.
Includes relevant context linking to the poem 'Exposure' as well as colour coded annotations designed to guide students through creating their own detailed annotated notes. Also includes a mock question with success criteria for both grade 5 and grade 8 with helping hand boxes for differentiation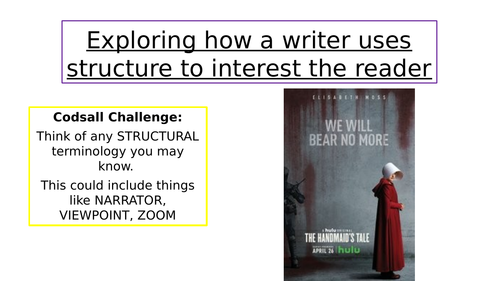 Evaluation question and structural question lessons using extract from Atwood's 'The Handmaid's Tale.' Includes models for both GCSE pass and Grade 8, success criteria for both grades, helping hand boxes and advice on how to tackle the questions. Can be used to do timed responses once taught.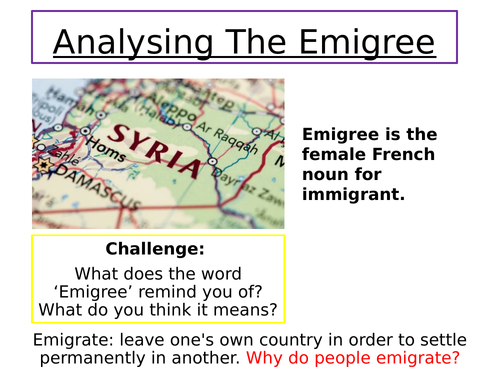 Lesson helping students to create detailed analysis and notes on the poem 'The Emigree.' Annotations slide uses colour coded questions to prompt students and direct them to salient quotations whilst developing their technical vocabulary.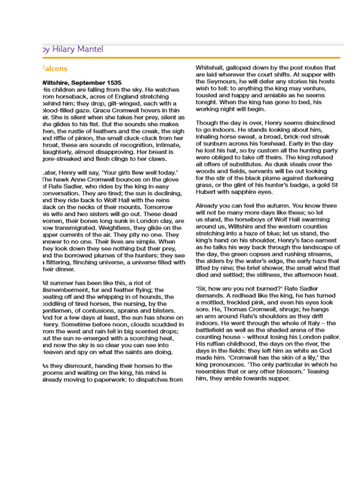 Full lesson dealing with the extract 'Bring up the Bodies' by Hilary Mantel from the AQA Resource Pack. Contains full 'jigsaw activity' designed to aid students in visualising how a text is piece together as well as structured writing up tasks. Full challenge boxes, support and success criteria. Aimed at Grade 5+
Resource includes: a Language Crossover Summary Question comparing the differences between the factual context and the presentation in the poem, full colour coded question prompts designed to help students create their own annotations to the poem and essay question response task with differentiated success criteria, helping hand boxes and prompts.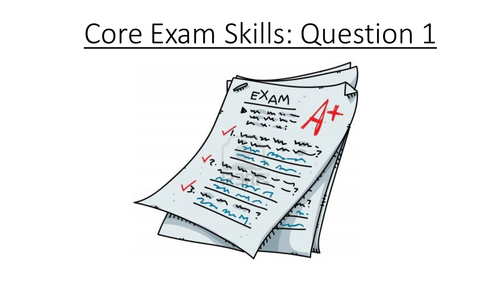 Resource designed specifically for IGCSE Cambridge Core paper Q1 skills but generally looks at writer's effects and how to answer these questions.