Helen-Rose Resources
Predominantly a History Teacher but have been known to branch out into other Humanities Subjects.
23Uploads
5k+Views
4k+Downloads
Predominantly a History Teacher but have been known to branch out into other Humanities Subjects.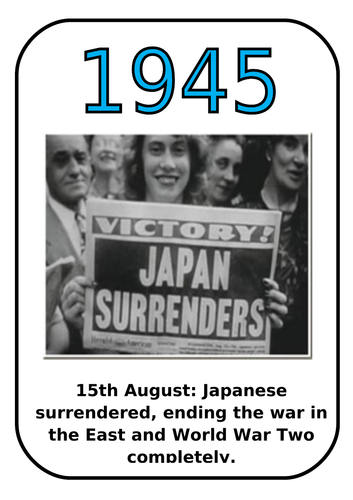 A timeline display of some of the key events from 1066 until 1945. Has 76 pages to it and I have used it by printing the sheet 2 to a page to make it A5 size but could be done to A4. Not all historical events are included and mainly focuses on British History but can be easily adapted to suit your needs. Due to how it was created, each page will need to be cut indivdually rather than layered as not all pages are aligned the same.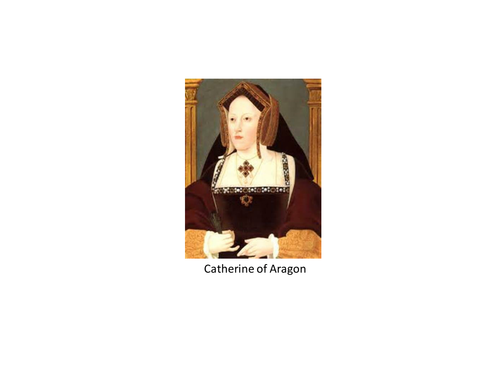 Whole Lesson on Henry VIII and his Six Wives. Students given information sheets about one of the wives and have to sort from the true or false facts. Then have to make poster using pictures to illustrate their life. They then teach each other about who the wife was. Includes an animated recap quiz at the end. Can be easily adapted and suited for your specific purpose.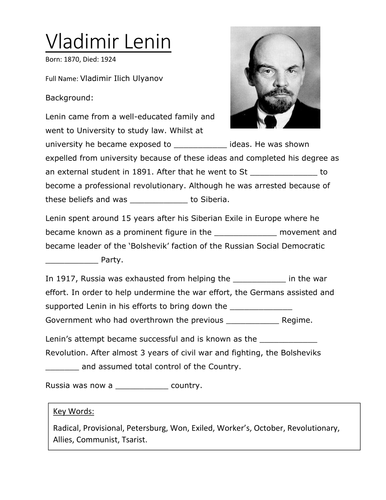 Includes information sheets about the October Revolution, Lenin (including a template to write an obtituary for him) and the Russian Consitiutions (including a gap fill activity to help students engage with the information) Was used for the AQA Depth Study module abour the Russian Revolution but can be adapted to suit other modules or exam specs. Also includes a source analysis sheet to help students practice analysing pictures and sources about the topic.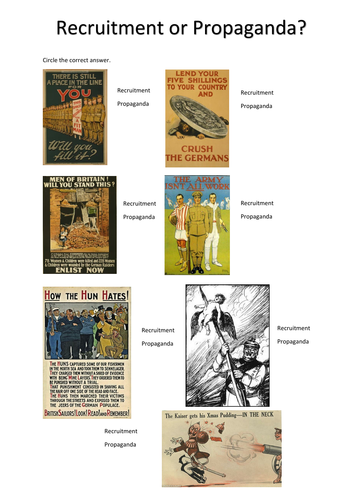 Created for the WW1 SOW. Used to a support a Year 8 class on Recruitment and Propaganda in the war. Student's have to circle which one they think it is. Some students will need scaffolding on what Propaganda is, with Lower Ability first one was circle for them to model the work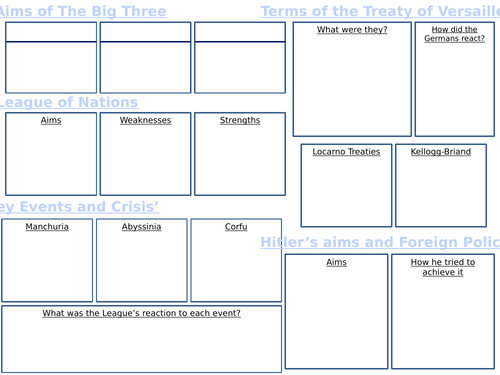 Revision sheets designed to aid revision for the New AQA Spec Conflict and Tension unit. Designed on powerpoint but can be printed on A3 paper to provide more space for the students to write.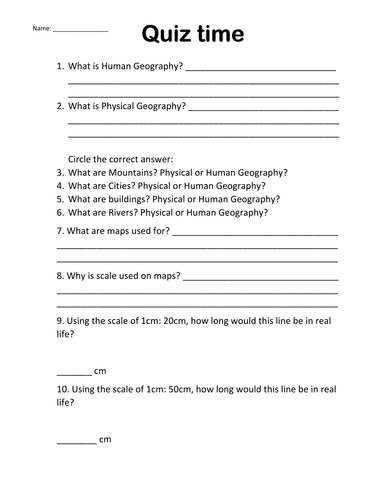 A short mini Quiz, used with a year 7 group to recap topics they had covered, such as: * Scale * Contour Lines * Grid References * OS Symbols * Physical/Human Geography Includes some multiple choice answers and could be adapted if required to either increase or decrease difficulty (will need reformatting into a word document though) (Was designed by a non specialist)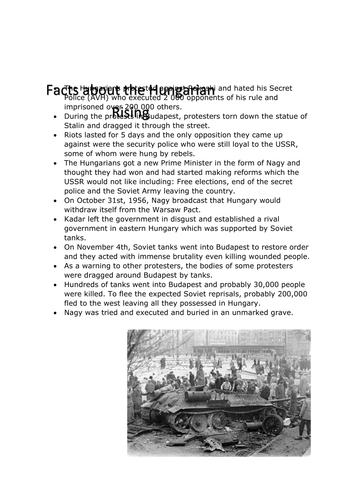 Information sheets related to the Hungarian Rising and an accompanying powerpoint with starter, plenary and main activity. Information sheets were used to help students write and perform a news report about the Rising which had different success criteria depending on their target grade (on powerpoint). May need some adapting for your own classes. Was used over course of a double lesson so may take 2 lessons to give students enough time to write and prepare their news report (could encourage students to research for themselves and incorporate it into their report?)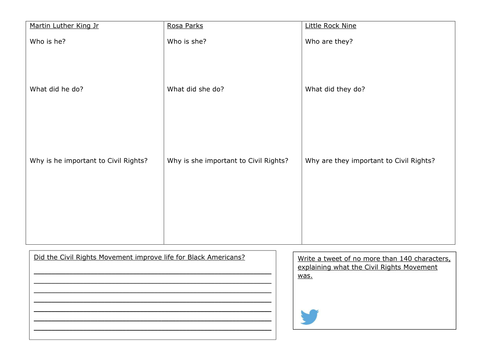 Full lesson, worksheets, activity and lesson plan based around the Civil Rights Movement and introduces class to Rosa Parks, Martin Luther King Jr, Little Rock Nine and Malcolm X (as a stretch and challenge). Was a 45 minute interview lesson but can be easily adapted to last longer. Main activity is a carousel activity using the MLK, Rosa Parks and Little Rock Nine Fact Sheet. Students can write down what they found out on the answer sheet.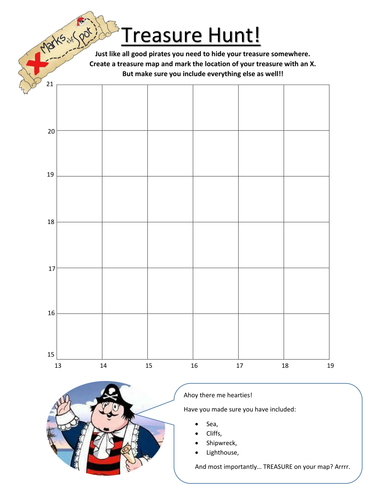 Activities and Lesson Resources made for a Year 7 lesson on 4 and 6 figured Grid References. PowerPoint talks through how to work out the grid references (along the corridor and up the stairs) then activity sheets help to transfer the knowledge in a fun and engaging activity. The Treasure map activity is best printed on small squared paper to help students with the six figure grid references but can be used either way. Can easily be adapted up or down for both KS2 and KS4.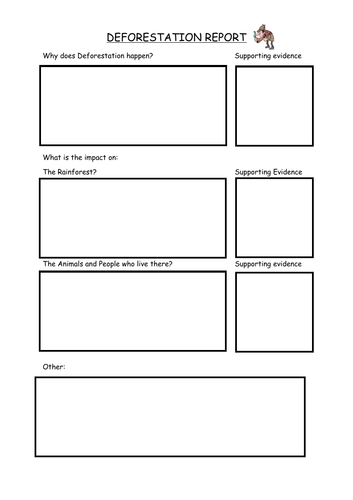 Active investigation lesson where students have a set of 10 clues to help them complete a report about why Deforestation happens and the impact of it on the rainforest and the animals and people that live there (based around the Amazon Rainforest). Can be done as pair/group or individual work. Clue 3 has been edited from a worksheet found on TES by geg60130. The end slide has been animated to include quick fire questions, which will change once the mouse has been clicked.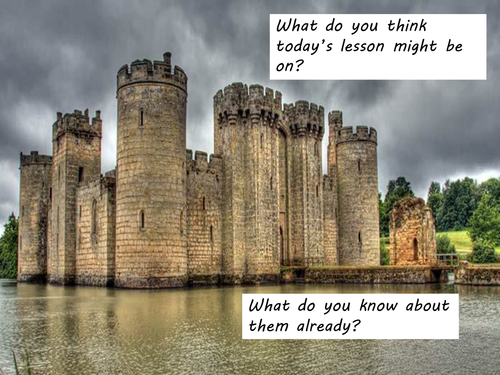 A fully resourced original lesson, aimed at Year 7s where they learn about some of the different features of a castle and then have to design their own castle but on a budget of 100 coins (can be easily changed) themed around the Norman Conquest and William the Conqueror consolidating his power through castles. Around the drawing they then have to label the features and explain why the chose those features. Was created for a department transition lesson but can be easily used as part of existing Year 7 Schemes of Work. Feedback from other members of staff was positive and students really enjoyed creating their own castles. Includes: Powerpoint, Features sheet, Drawing sheet and order form to help students count how much money they are spending.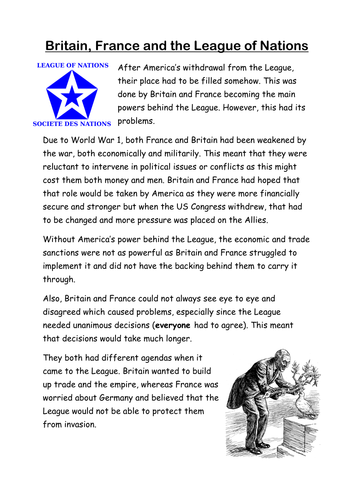 Pack includes 4 informations sheets about: - Britain, France and the League of Nations -List of the Clauses of the League -Recap sheet about the Treaty of Versailles - Introduction to the League of Nations Also includes a powerpoint used for a lesson about the Members of League and the impact America's non-involvement had. Was used for the new AQA spec topic based around the Treaty of Versailles and the League of Nations.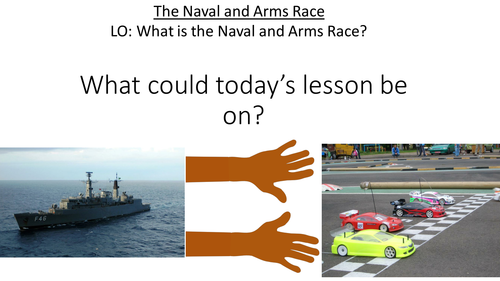 Contains: *Powerpoint with video clips, activities and starter/plenary about the pre-WW1 Naval and Arms race between Britain and Germany * Answer sheet to scaffold LA and SEN students for the explanation part of the 'Build your Navy' Task * Information Sheet which talks about Dreadnoughts, Duncan Class Battleships, and Armoured Cruisers for students to build their own Navy with the 10 points they are given * Source from Punch showing John Bull and Kaiser Wilhelm playing poker with their Navy (including one with prompt boxes for weaker students) Powerpoint will need to be adapted as it was used for a 100 minute lesson on the topic instead of a single lesson.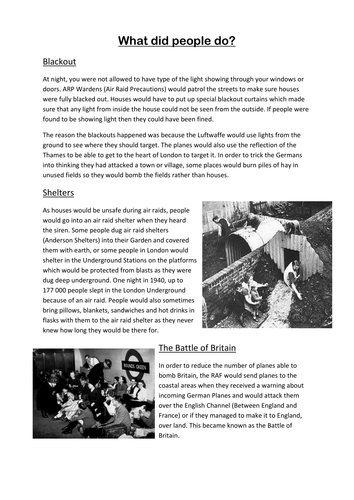 File includes: Two information sheets which describe what the Blitz is and what people did during it (was originally used in a mini-SOW about the Homefront during WW2). Power point outlines some basic tasks (Freeze Frame and Extended Writing), AfL Learning ladder template which can be adapted, links to useful youtube clips. (Will need to be adapted to suit your specfic needs and SOW) Was originally used for a lesson based what the Blitz was and how it affected Britain.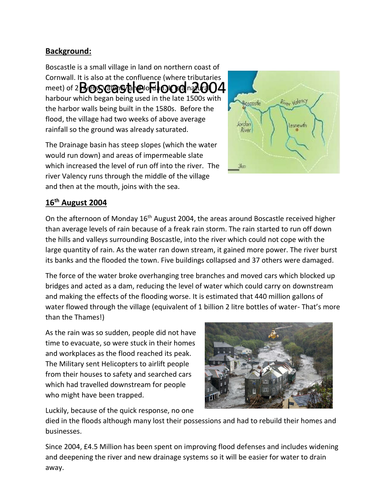 This pack includes an information sheet about the 2004 Boscastle flooding and a gap fill activity about the cause of flooding. The Flooding gap fill also includes the scope for students to think of their own answers for some gaps. The Boscastle information sheet can be used as a resource for a news report or to aid with question answering. Includes answers in a key word box. Also includes a domino game about flooding which can easily be edited to your classes knowledge levels as either a starter activity, or a revision tool. Can be easily adapted for LA students.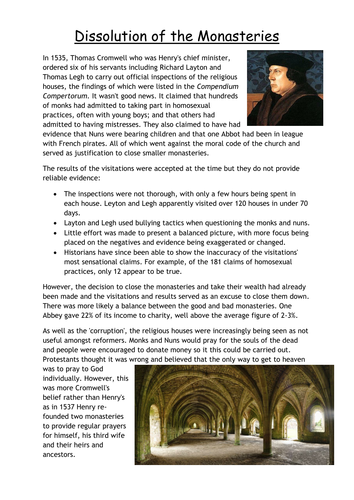 Lesson resources used for Edexcel Henry and His Ministers SOW which describes what the Dissolution of the Monasteries is, and who it impacted afterwards. Contains two lesson PowerPoints, a double sided information sheet about the Dissolution and a card sort where students sort who won and who lost after the dissolution. Could easily be adapted down for KS3 students.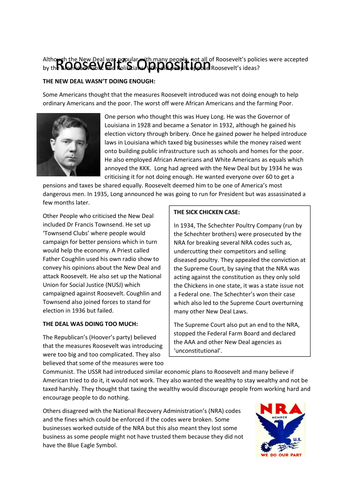 Set of 3 information sheets about Roosevelt's Opposition, Key Alphabet Agencies and First 100 days. Can be used as a revision resource or supporting a class activity. Although it looks like the title is mixed in with the main text in the preview, when it is downloaded it is not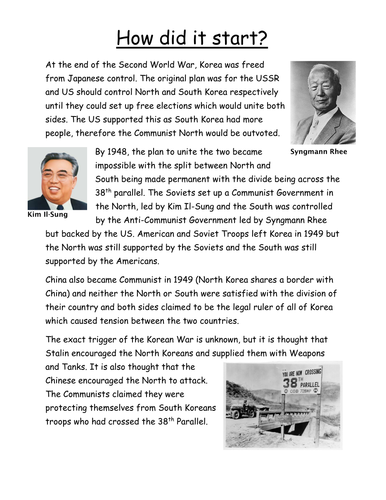 Pack includes Information sheets on: The North Korean Advance and UN Intervention, Start of the War, Final Advances of the War. Also includes 'dating' profiles (Written in a slightly sarcastic manner so should be adapted before use with some SEN students) on Kim Il-Sung and Syngmann Rhee, as well as an answer sheet. These were used in a speed dating activity to introduce the students to the two Korean Leaders. The importance of the Korean War cards have been used as a recapping card sort at the end of the topic, and includes a red herring to test the students understanding. Was created for the AQA International Relations topic , but can be used for other SOW once adapted. Some information has been taken from the AQA International Relations Textbook.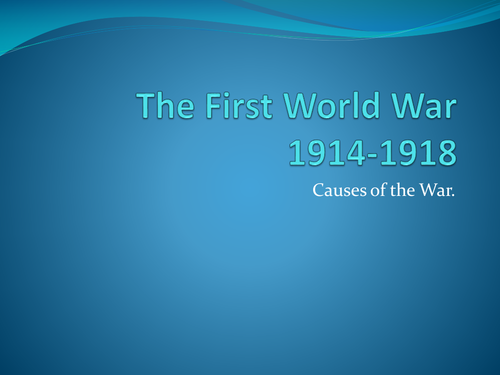 A brief presentation introducing the causes of the First World War. Scope for teachers to develop presentation furtherand adapt for own classes.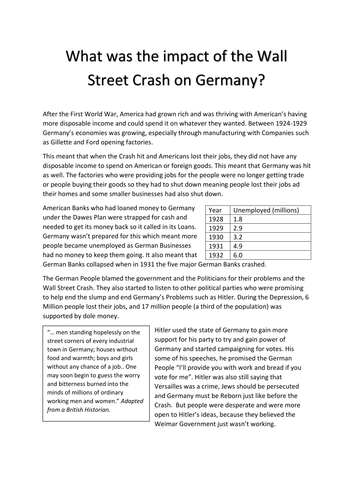 Various Information sheets used for the new AQA Syllabus based around Weimar Germany leading up to the Rise of Hitler and the Nazi Party, but can be used for any syllabus and adapted. Can be differentiated through highlighting key information or turning into a gap fill activity. Includes sheets about: Enabling Act, Hitlers change in tactics to gain power, the Impact of the Wall Street Crash, Munich Putsch, Reichstag Fire, Rise of the Nazis.