Miss Holder's Science lessons
14Uploads
316Views
551Downloads
This lesson contains magnification calculation questions and how to use a graticule. It also contains an AFL quiz.
This resource contains 45 slides on types of lipids, Structure and roles. It is based on the idea of pre reading (watching a video) and then small amounts of extra information with lots of AFL and exam questions.
Lesson 1 of B1 : labeling animal & plant cell Functions of organelles exam questions
This lesson focuses on 4 different types of microscopes and identifying the types of images that they take. The main task uses a table to compare the light and electron microscope using IPADS or The OCR Text book. Also includes exam questions.
This lesson focuses on the basics of the light microscope, How to use a microscope, sample preparation (including stains) and how to draw scientific diagrams. It contains exam questions and a quick AFL quiz to finish.
This resource contains: A starter based on a pre reading task Organic molecules and their elements Nucleotide structure Nitrogenous bases 2 x AFL Quiz DNA vs RNA Semi conservative replication Degenerate code Exam questions & MS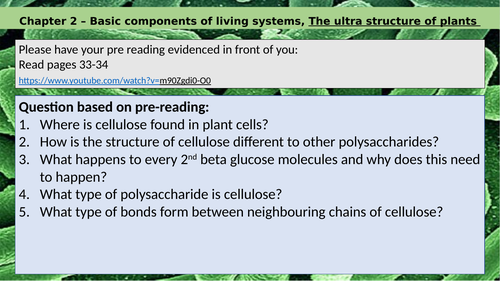 This lesson includes both the ultrastructure of plants and eukaryotic vs prokaryotic cells.
4 lessons L1 Organisation of an ecosystem & predator prey diagrams L2 Carbon/water cycle L3 Decay cycle L4 Decay require practical
This resource contains: Starter Lesson objectives Conversion of units task Standard form Magnification vs resolution Advantages & disadvantages of light vs electron Labeling a microscope Functions of the parts of a microscope Exam practice with answers AFL quiz
Includes a starter based on a pre-reading task Condensation reaction Levels of protein structure AFL Quiz Collagen OCR Exam questions and MS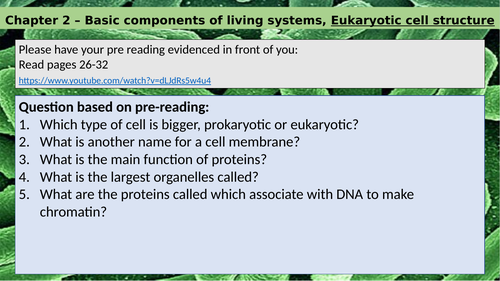 The lesson contains: A pre reading starter GCSE recap Structure and function of eukaryotic organelles AFL Quiz Exam questions
A new way of teaching!! I have produced a 'pre reading document' to aid students in their learning of cell membranes. Before each lesson, students are expected to watch a video on content they will learn in the lesson, the starter is questions based on this video. 5 lessons of a starter, content and AFL quiz to finish. Lesson 6 is a revision lesson. I would combine the osmosis PAG lesson with the osmosis theory