Food, nutrition, catering & hospitality resource shop
88Uploads
8k+Views
4k+Downloads This is six weeks worth of recipes for Christmas. Based on making gifts and edible decorations based on the theme of Christmas for my afterschool cooking club. No they're not healthy but very fun and as it is a one off course I feel I can justify it just this once! This covers up to three lessons. It involves the theoretical context of starch degradation, caramelisation and gelatinisation. The practical consists of making the custard and trifle to put into context the learning from the theory lesson. This lesson outlines the main process of gelatinisation and includes videos comparing the all-in-one and roux method of sauce making. A powerpoint that outlines diet and disease. This can be used as a market stall activity or knowledge organiser/revision mat. All information comes from the AQA FPN Hodder book.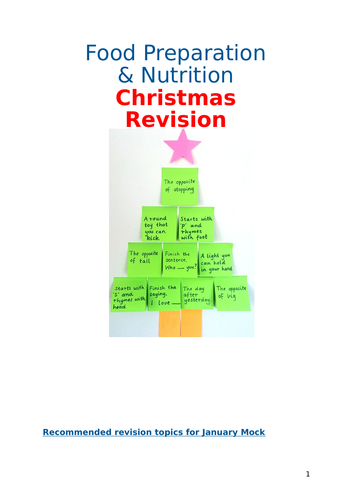 A small revision booklet with information on how to answer exam questions for the new FPN exam along with some questions from the Collins book. I gave this to my year 11's for the Christmas holidays (oh how they love me) which can be used with the CPG revision guide. A revision lesson which investigates the body's requirements of fibre and water and what happens if there is an excess or deficiency. A whole lesson which explores the traditions of the British Cuisine. This lesson focuses on seasonality and sustainability. It includes part of the documentary 'When a town runs dry' which allows students to gain an insight into the effects of drought on the economy of a small town. A powerpoint outlining the different nutritional needs of the different age groups. A quick starter/plenary activity which helps to check pupils level of understanding of the use of conduction, convection and radiation when cooking a range of foods. Suitable for KS3 or for KS4 as a quick recap. This Powerpoint discusses the differences between macro and micronutrients and includes a range of tasks that can be used to help pupils explore food sources, benefits, the dangers of eating too much or too little. Suitable for KS3, this lesson explores the eatwell guide recommendations and looks into a range of nutrients that students are expected to know as part of the new AQA catering and hospitality Technical Awards. A powerpoint which outlines the role of fat in the diet. A powerpoint on the principles of food safety including fridge storage, key temperatures, use by and best before dates, microorganisms and enzymes. A powerpoint that correlates with a revision worksheet and a number of questions and mark criteria. The powerpoint goes through why we cook food and methods of heat transfer. This is a revision lesson for AQA FPN which includes a worksheet and exam style questions which students can use to guide their revision in preparation for the exam. Most topics covered in this 162 slide revision Q/A powerpoint. Questions are derived from the CPG and Collins question books. Whole lesson on poultry. This lesson consists of a range of activities with a big numeracy emphasis exploring the cost of a whole chicken compared to individual chicken portions.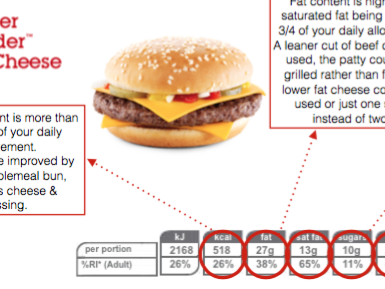 This task asks pupils to analyse a range of their favourite fast food products in relation to calorie content, sugar, fat and so on.