76Uploads
1k+Views
459Downloads Bundle of lessons for year 8 L1 - elements compounds mixtures L2 - Dissolving L3 - Solubility L4 & 5 - filtering and evaporating L6 - Melting points L7 - Simple distillation L8 - Fractional distillation L9 - Chromatography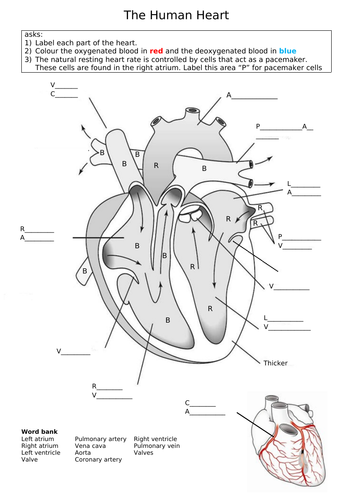 Biology Aqa trilogy, B4.3 Aimed at a mixed ability class Starter: exam question based on previous lesson on blood vessels Main: 2 minute video to introduce heart double circulatory task Then differentiated task on the heart to label Plenary : exam question on labelling the heart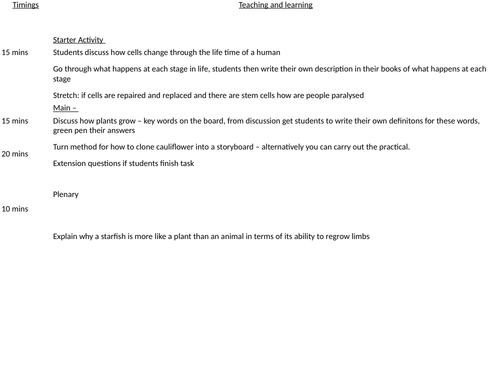 Aimed at a mixed ability year 9 class Could do the practical - but where it falls with teaching my class this im unable to, task to use the method instead Starter: Students discuss how cells change through the life time of a human Go through what happens at each stage in life, students then write their own description in their books of what happens at each stage Stretch: if cells are repaired and replaced and there are stem cells how are people paralysed Main – Discuss how plants grow – key words on the board, from discussion get students to write their own definitons for these words, green pen their answers Turn method for how to clone cauliflower into a storyboard – alternatively you can carry out the practical. Extension questions if students finish task Plenary Explain why a starfish is more like a plant than an animal in terms of its ability to regrow limbs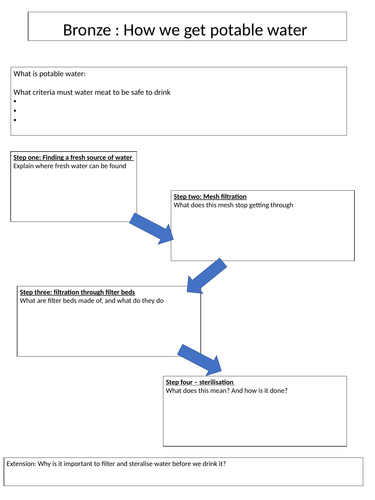 Bronze/silver/gold differentiated worksheets To show how potable water is made Aimed at low ability students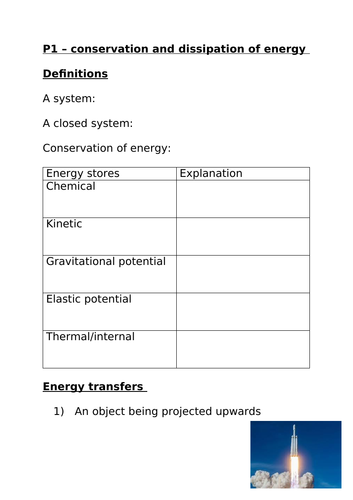 Summary powerpoint covering the P1 conservation and dissipation of energy topic from the AQA specification. (Kerboodle P1) Contains a work booklet for students to use and make notes/do tasks/answer questions in whilst teacher runs through powerpoint. Good for a summary/revision lesson. All answers are on the powerpoint.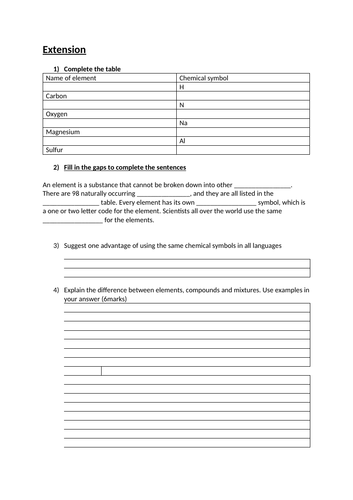 Elements, compounds and mixtures- Some resources are from other areas on TES Targeted at year 8 mixed ability class. Starter: 5 minutes timed activity, challenege to see how many words students can make from the periodic table Main: Go over definitons of elements/compounds/mixtures. Then use these definitons to identify which particle pictures are elements/compounds Go over rules of particle diagrams, then a choice of higher or lower ability sheet. Higher ability sheet: students need to draw particle diagrams lower ability sheet: students need to identify the correct particle picture Extension: Worksheet, including tasks such as identifying elements, a fill in the gaps activity, 6 mark practicce question to explain the difference between elements/compounds/mictures Plenary: Break the code using the periodic tab;e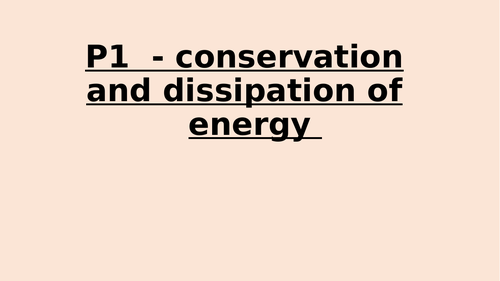 Complete paper one Physics revision following the AQA trilogy specification. Parts for higher only are highlighted. work booklets to accompany powerpoint, which can be used in lessons or revision sessions. Questions embedded in the powerpoint with answers for students to practice and focus on key concepts My year 11s have found these benefical.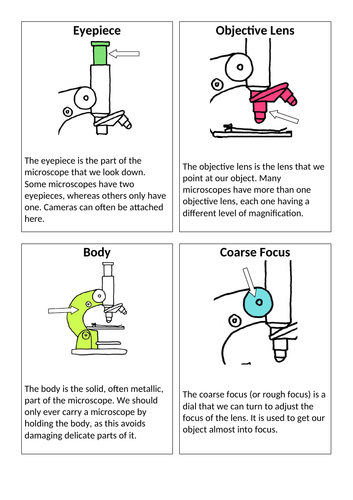 Aimed at a mixed ability year 7 class 5 mins Differentiated questions to see what students know already about the microscope   Main History of the microscope task – HA/LA version HA comprehension task about history, LA cut and stick to put in order Show students parts on real microscope then cut and stick activity to label microscope parts – HA/LA version available as well as support sheets  - go through answers Extension: magnification calculations Plenary 5 mins Tweet something you have learnt today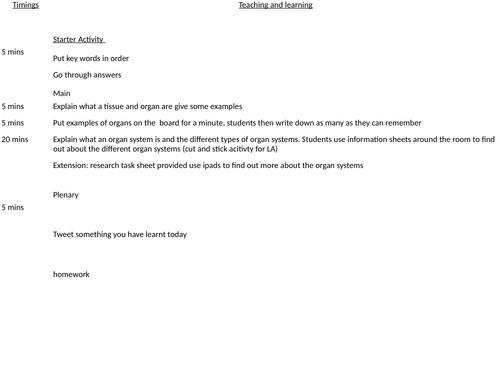 Aimed at mixed ability year 7 class, some resources from other areas of tes Starter: Put key words in size order and discuss Main: discuss what cells tissues, organs are and examples Organ systems worksheet to fill in using information around the room LA version of cut and stick match up the organ, system and function Extension: research extension questions about the organ systems (sheet provided) Plenary: tweet something you have learnt today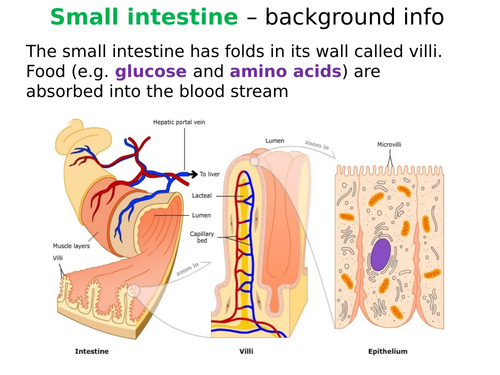 Aimed at a mixed ability year 9 class Starter: reflect on previous diffusion practical Main: explain surface area:vol, do practic equestions and mark do research task to explain how surfaces are specialised extension: checkpoint follow ups from kerboodle Plenary" tweet what theyve learnt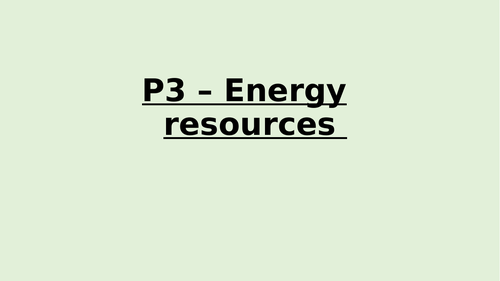 Summary of the P3 topic Including a revision booklet for students to work through AQA kerboodle topic one atomic structure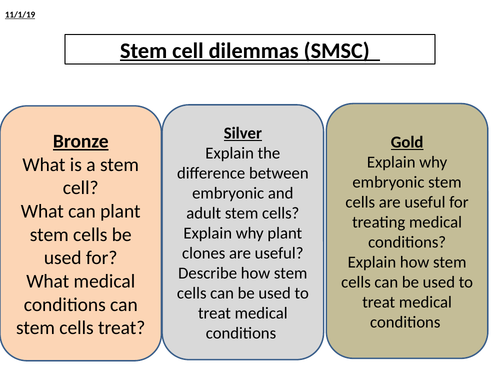 aimed at a mixed ability class Starter: differentiated starter questions, with answers on following slide Main: mini debate to start, 6 statemenets rate from 1-5 on 1 being comfortable 5 being completely against. Students watch video to hear some viewpoints about the use of stem cells. students then are given one statement so they either need to argue for or against stem cell research using their knowledge from the video and from the information sheets Whole class debate Finally summarise the points on the board into two columns, one for stem cell research one against stem cell research Plenary: exam question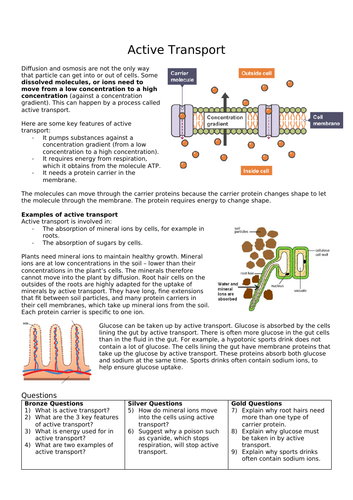 Aimed at a mixed ability year 9 class Starter: what would happen to the particles thinking about diffusions Main: introduce active transport, define active transport. show where it works in plants and animal cells complete differentiated literacy activity Extension task Plenary: mark work, tweet one thing they have learnt today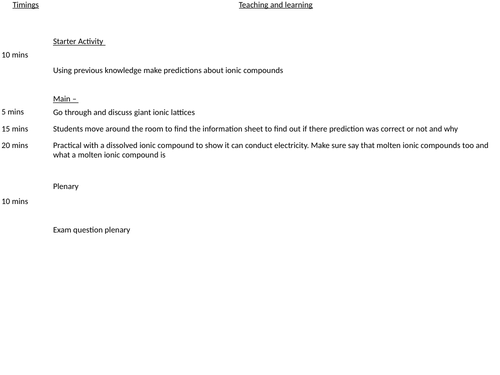 aimed at a lower ability class Starter Activity Using previous knowledge make predictions about ionic compounds Main – Go through and discuss giant ionic lattices Students move around the room to find the information sheet to find out if there prediction was correct or not and why Practical with a dissolved ionic compound to show it can conduct electricity. Make sure say that molten ionic compounds too and what a molten ionic compound is Plenary Exam question plenary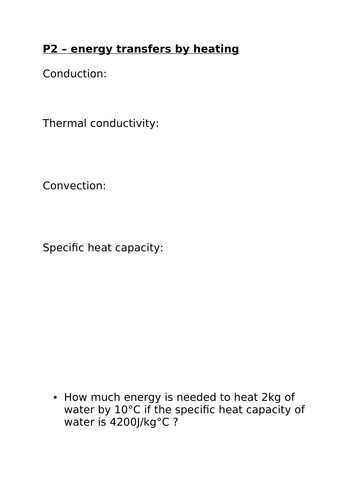 P2 - energy transfer by heating Revision powerpoint for the topic, with a booklet for students to work through P2 following the kerboodle specification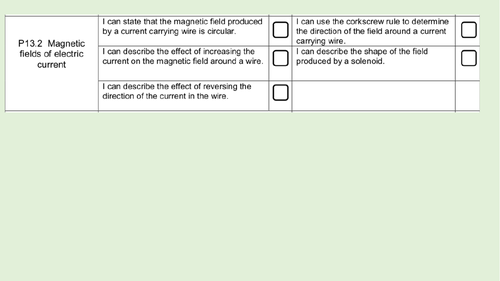 P13.2 Following the AQA kerboodle scheme of work Aimed at a low ability class with targets of level 4 Starter: differentiated bronze/silver/gold starter questions, with answers to green pen Main: diagram of right hand rule to explain and label. Then a think pair share about different scenarios that could happen. Sentence starters to help put their think pair share ideas together Work on a solenoid - reduce task to reduce the information into one sentence Plenary - differentiated pick the task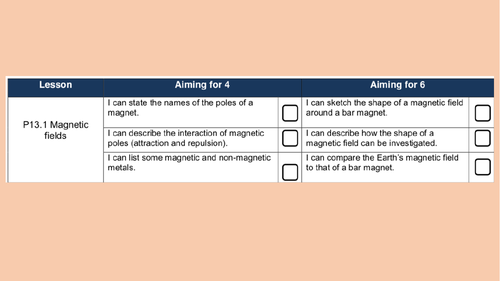 P13.1 accordin to AQA Kerboodle Aimed at a low ability foundation class (targets level 4) Stater: pictures to guess the title Main: practical element to find out what poles of magnets do. Then to use iron fillins/compasses to show field lines. can be demoed Work sheet to consolidate knowledge with an extension on induced/permanent magnets Plenary: true/false questions based on content from the lesson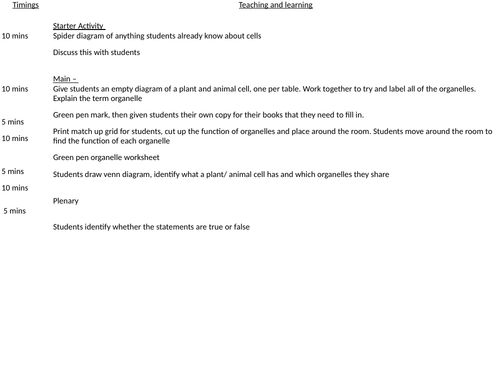 Aimed at a mixed ability year 7 class 10 mins Spider diagram of anything students already know about cells Discuss this with students Give students an empty diagram of a plant and animal cell, one per table. Work together to try and label all of the organelles. Explain the term organelle Green pen mark, then given students their own copy for their books that they need to fill in. Print match up grid for students, cut up the function of organelles and place around the room. Students move around the room to find the function of each organelle Green pen organelle worksheet Students draw venn diagram, identify what a plant/ animal cell has and which organelles they share Plenary  5 mins Students identify whether the statements are true or false