Makingsenseofenglish's Shop
64Uploads
1k+Views
83Downloads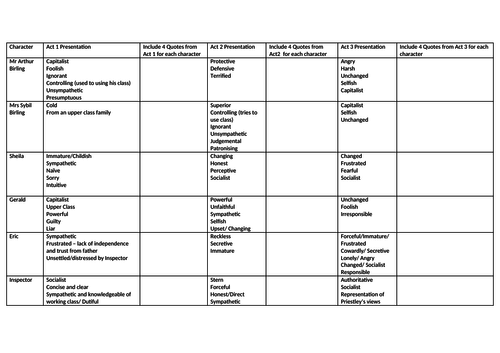 A worksheet that asks students to find quotations for each character in each act. Students are prompted to look for quotations that support the presentations listed. This worksheet could be helpful in preparation for character essays as they will have tracked quotations across the play. Great for revising!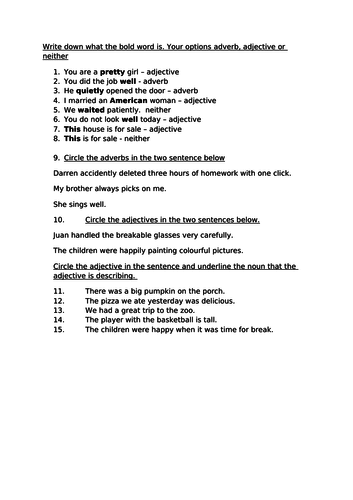 A simple worksheet that helps students identify adjectives and/or adverbs.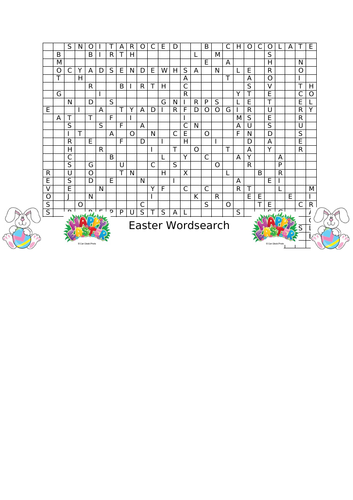 A detailed, engaging wordsearch worksheet with Easter vocabulary and a short extension. Teacher answers are included.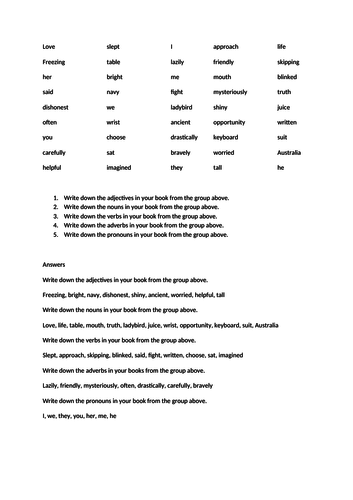 A small task that consists of a group of verbs, adverbs, adjectives, nouns and pronouns. Students have to identify and list them. The worksheet includes answers for teachers.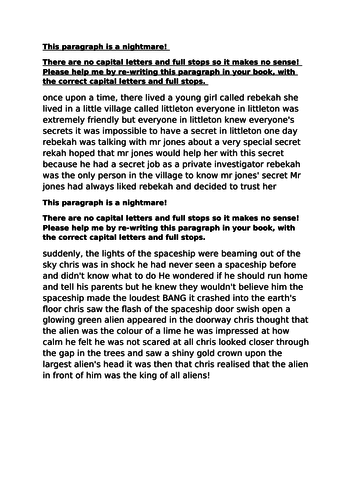 A worksheet with two paragraphs that have no capital letters and full stops. Paragraphs are made up of simple and compound sentences and works well when teaching these concepts.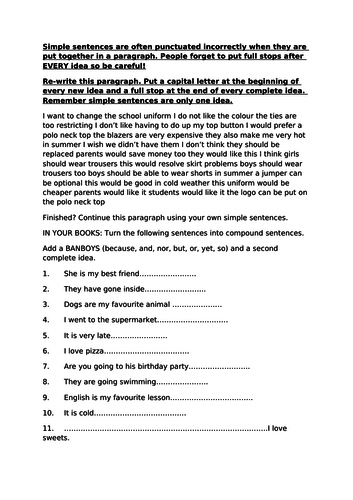 A worksheet that contains two tasks. One asks students to punctuate simple sentences accurately within a paragraph. Second task asks students to complete compound sentences.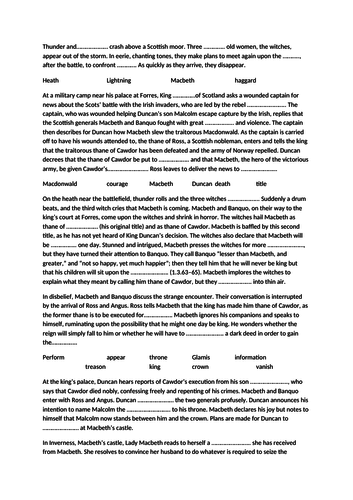 Very simple fill the gap Macbeth summary that could be used as an introduction to the unit or a quick summary.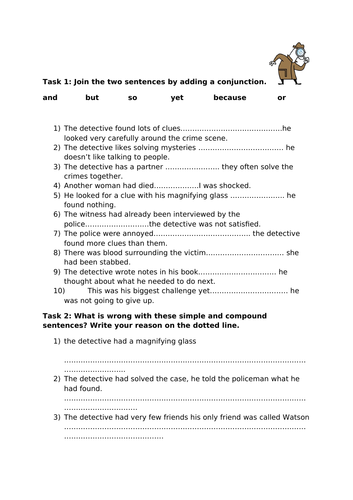 TWO worksheets with a detective theme. Students complete compound sentence exercise, identify sentences that are either simple or compound before writing their own detective advert with model and scaffolded sentences.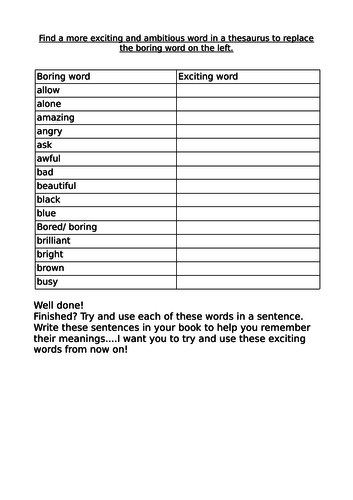 A worksheet with a list of "boring" words. Students are encouraged to use a thesaurus to improve the word but they could try to improve the word independently.

Includes: A wordsearch worksheet A worksheet full of anagrams A worksheet with a bank of Easter themed words that students categorise into adjectives, nouns, verbs and adverbs Includes answer worksheets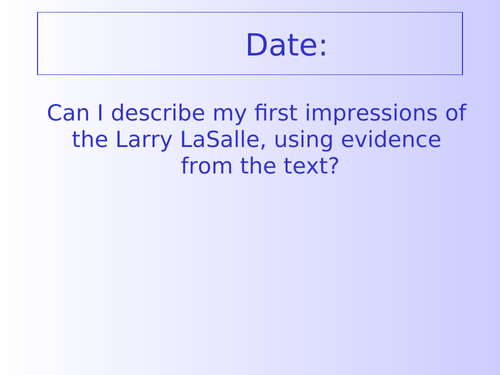 A powerpoint lesson that gets students to look at their first impressions of Larry LaSalle and his influence on the characters.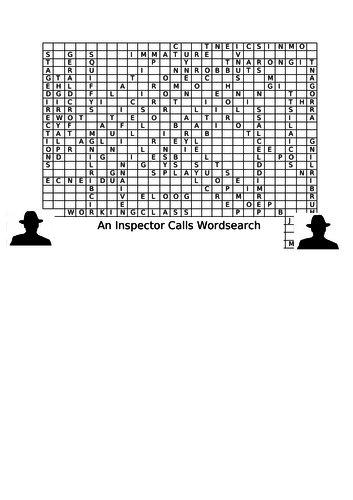 An Inspector Calls wordsearch worksheet with extension and teacher answer worksheet. Perfect for revision!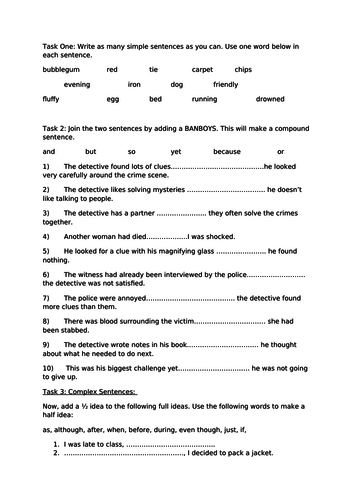 A worksheet that asks students to construct accurate simple, compound and complex sentences.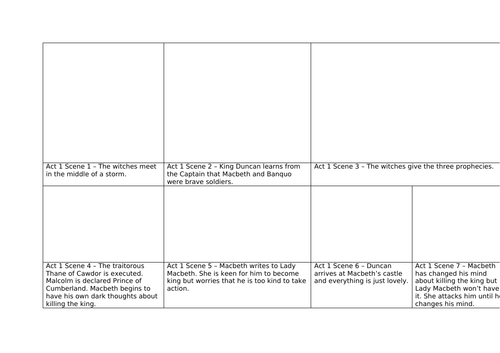 Multiple worksheets that enable students to storyboard each scene in each act of Macbeth. Great summary activity after teaching each act of Macbeth. I required students to include one key quotations from each scene with their chosen image.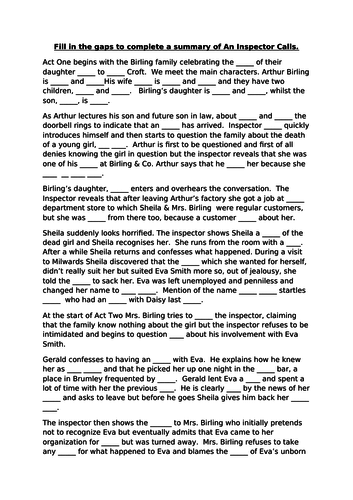 Fill the gap summary of act one and two for 'An Inspector Calls'.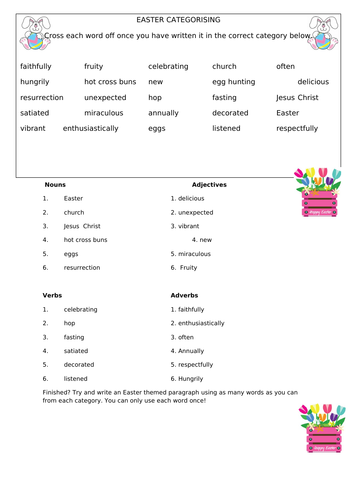 A bank of Easter themed words that students need to sort into nouns, adjectives, verbs and adverbs.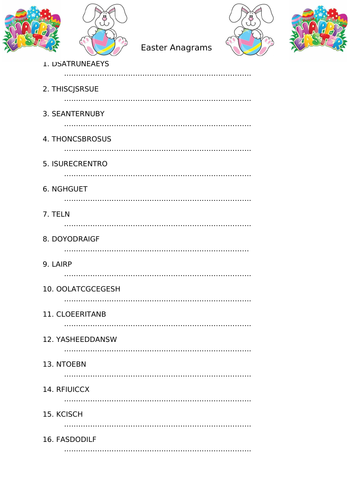 A worksheet with 20 Easter themed anagrams with short extension included. Teacher answer worksheet included.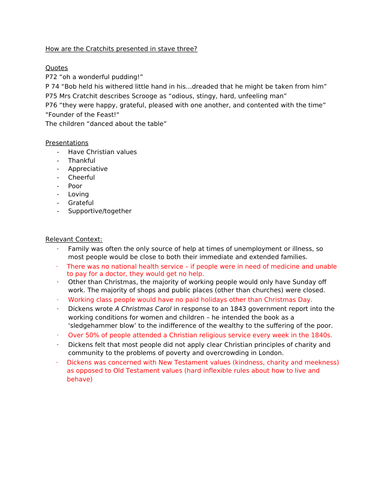 A sheet that is designed to support students in creating an analytical paragraph on the Cratchits' presentation in stave three. Includes some quotations, context and presentations for students to choose from to construct their paragraph.