MakingSenseofEnglish's Shop
155Uploads
6k+Views
1k+Downloads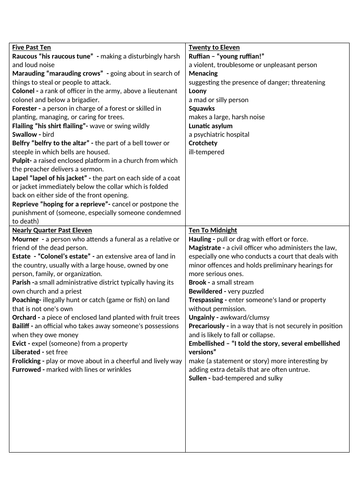 More challenging vocabulary from each chapter of Private Peaceful with definitions. Could easily be printed and stuck in books Reviews are gratefully received.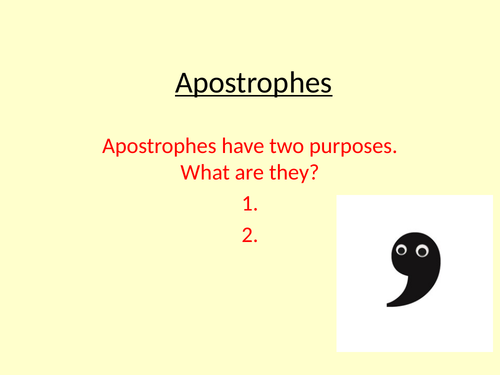 At least an entire lesson on apostrophes. A range of activities that help students use apostrophes for contractions and possession. Includes examples, extensions, misconceptions. Great resource for different ages as it is useful to remind students regularly. Can be used as part of a grammar scheme or used when writing creatively or non-fiction. Used many times, with always successful outcomes. Reviews are appreciated.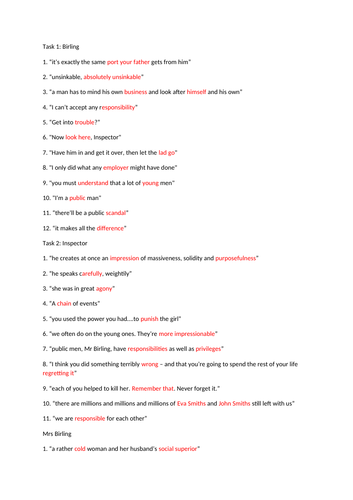 A worksheet with a quiz on 'An Inspector Calls'. Requires students to fill in gaps in key quotations and answer questions. Works best if you give complete quotations to students in advance. All reviews are appreciated.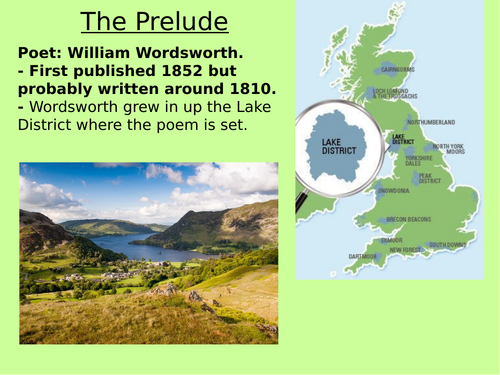 A detailed powerpoint analysing the excerpt from The Prelude by William Wordsworth. Contains: Details about the poet Key questions on different sections of the poem for students to discuss before annotating Colour coded annotations for students to use Information on the structure, form and style Plenary activities include drawing ideas from the poem and a fill the gap summary of the poem. You could make this harder by removing the word bank.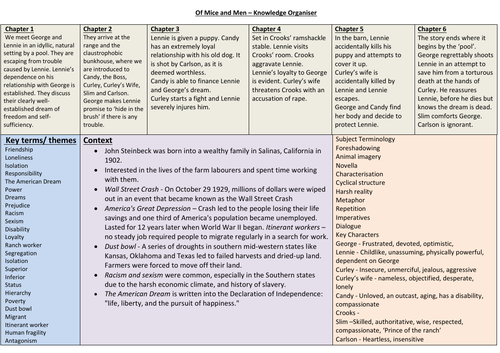 Of Mice and Men Knowledge Organiser A knowledge organiser with key vocabulary, plot and key quotations per chapter. Reviews are appreciated.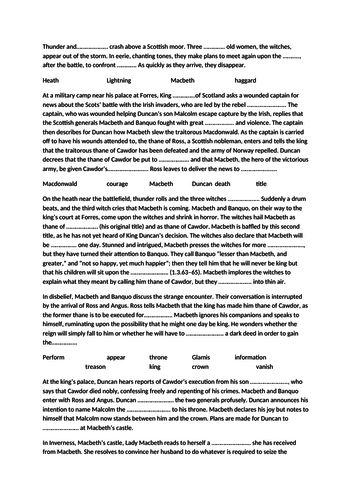 Very simple to use 'fill the gap' Macbeth summary that could be used as an introduction to the unit or a quick summary. Includes a word bank for students but could be removed to make it more challenging. Excellent to help reinforce key events in the play and can be used as the play is taught or as revision. Reviews are greatly appreciated.

A scheme of work well-suited for upper key stage 2/lower key stage 3. Detailed, well-resourced lessons for every chapter of Private Peaceful including knowledge organiser for revision. Each powerpoint includes: key vocabulary for the chapter detailed summarising quiz of the chapter with answers contextual information varied starters that check understanding of previous chapters key quotations worth discussing discussion points structural points about how the text has been organised Includes a detailed, fun wordsearch Includes a wordbank for each chapter with key vocabulary and definitions. Designed to take a minimum of 7 weeks but could take longer or reduced by taking out resources. Any reviews would be greatly appreciated.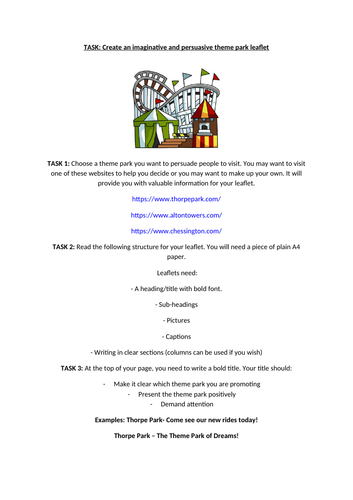 Worksheet that provides students with eight tasks to complete which helps them create a well-structured theme park leaflet. They can choose a theme park like Thorpe Park or create their own. Students are given examples of persuasive techniques, word choices and sentence openers. There is also advice for each section so that students carefully consider the language they are using. Creative, fun activity for students. Students can draw, research and develop their writing skills. You could ask students to create their own theme park first if you wanted to extend the task. Easy to use and work from independently. Reviews are greatly appreciated.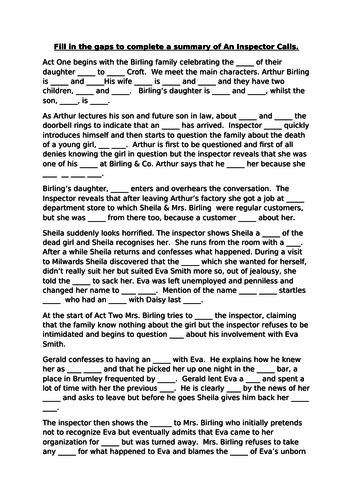 Fill the gap summary of act one and two for 'An Inspector Calls'. Includes a word bank for students which could be removed to make it more challenging. Really useful to ensure students remember key events from the play. Could be used when teaching the play or as revision. Reviews are greatly appreciated.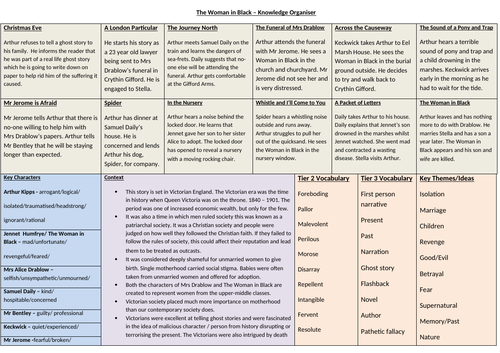 Detailed knowledge organiser for The Woman in Black. Includes: context Key quotations per chapter Key characters Summary per chapter Tier 2 Vocabulary Reviews are greatly appreciated.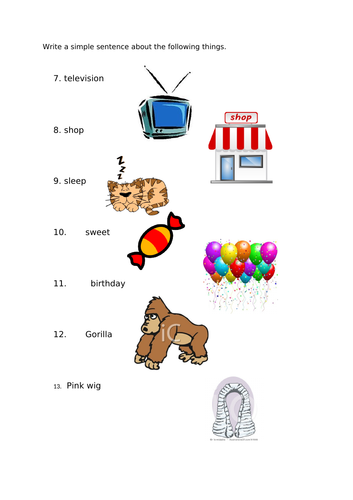 Two basic simple sentences worksheet with pictures. Really effective and simple. Reviews are gratefully received.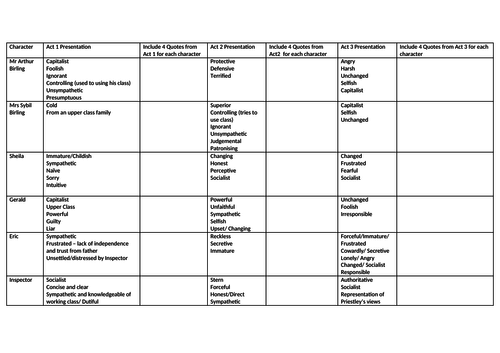 A character based worksheet that asks students to find quotations for each character in each act. Students are prompted to look for quotations that support the presentations listed. This worksheet could be helpful in preparation for character essays as they will have tracked quotations across the play. Great for revision or could be set for homework.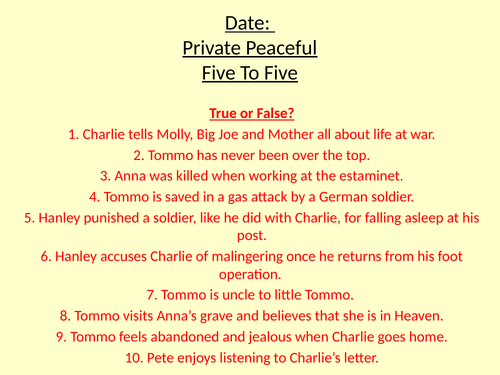 A detailed, well-structured lesson on chapter 12 (Five to Five) of Private Peaceful. Includes: True or false starter Context about Haig/Firing Squads Looks at theme of injustice Detailed quiz with answers Key vocabulary with definitions Reviews are greatly appreciated.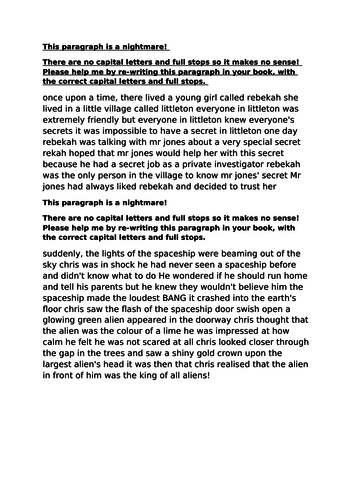 A worksheet with two paragraphs that have no capital letters and full stops. Paragraphs are made up of simple and compound sentences and works well when teaching these concepts. Reviews are greatly appreciated.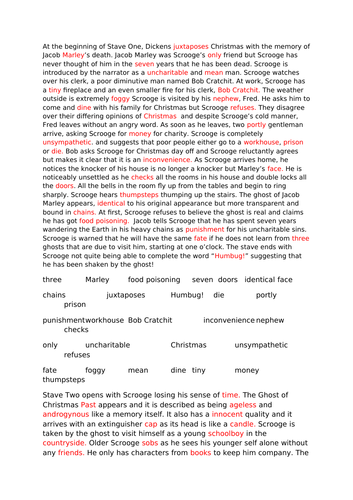 A summary for each stave of 'A Christmas Carol'. Each stave summary has a wordbank. Students fill the gaps that are missing within the summary. Great to keep in students' books as a revision resource and great as a revision activity. Worksheet with answers also enclosed for teachers. This resource could be differentiated so that some students have to choose their own words that appropriately fill the gaps rather than using the options available. Reviews are greatly appreciated.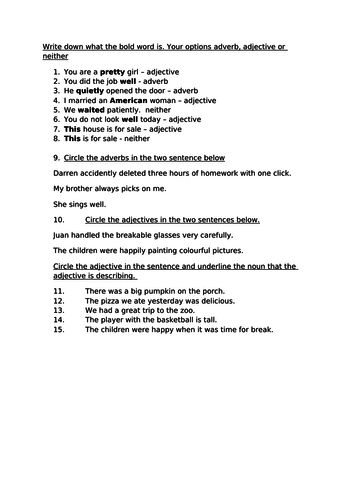 A simple worksheet that helps students identify adjectives and/or adverbs. Great as a starter or mini-activity to reinforce accurate use of subject terminology. Reviews are greatly appreciated.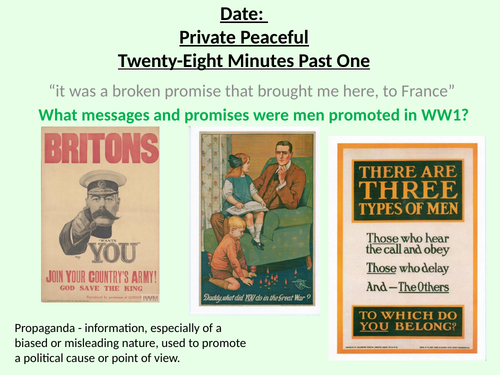 A well-resourced, effective lesson on chapter seven (Twenty Eight Minutes Past One) of Private Peaceful. Could potentially be split into two lessons due to amount of resources. Includes: Contextual information about enlisting, propaganda, Second Boer War, Battle of Marne, boy recruits Includes a detailed quiz of events within the chapter with answers Includes an activity that involves matching quotes with persuasive techniques from the sergeant's speech. Includes key vocabulary with definitions Explores Tommo's motivation to enlist. Well-suited for upper key stage 2/lower key stage 3. Reviews are greatly appreciated.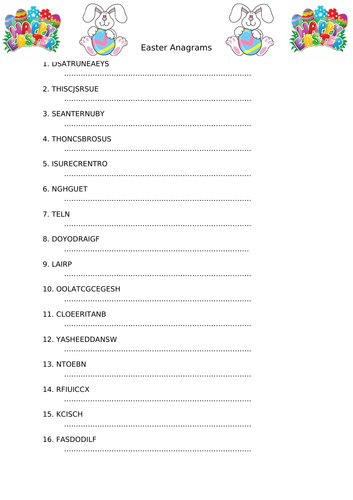 A worksheet with 20 Easter themed anagrams with short extension included. Teacher answer worksheet included. Reviews are greatly appreciated.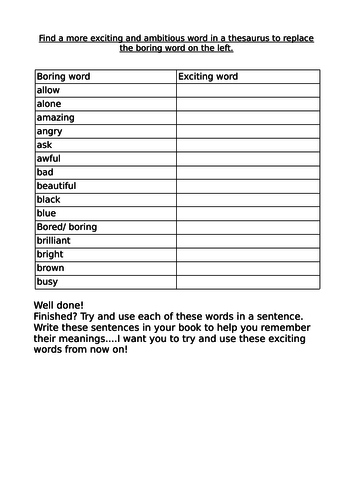 A worksheet with a list of "boring" words. Students are encouraged to use a thesaurus to improve the word but they could try to improve the word independently.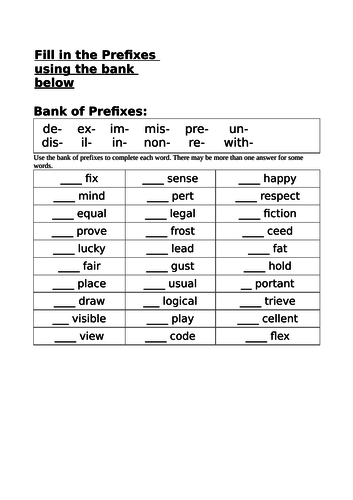 Students write down the prefixes that fit the word given. Three worksheets provided.