Michael's Resource-ium Emporium
Former journalist now doing edtech things at TES instead.
4Uploads
4k+Views
912Downloads
Former journalist now doing edtech things at TES instead.
This dissertation from 1999 examines ideas of place and placelessness in Underworld and other novels by Don DeLillo. It will likely only be of interest to English Literature students at HE level who are exploring 20th century American authors. *'I think all my novels have a strong sense of place', Don DeLillo told Rolling Stone in 1988, 'I do feel a need and drive to paint a kind of thick surface round my characters'. Few would argue with this - DeLillo's New York may join Dickens's London and Joyce's Dublin as literary tourist routes - but there is something else. DeLillo's writing captures a phenomenon most noted in the late twentieth century, a product, principally, of vast corporations and globalisation: namely, placelessness. *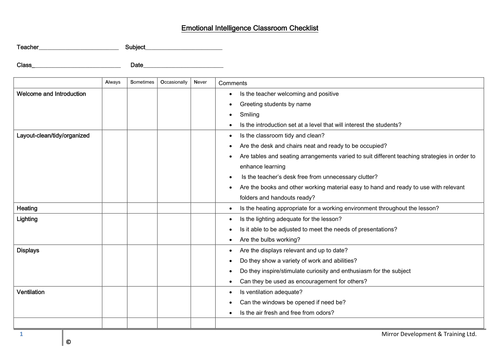 This is an Emotional Intelligence Checklist for the classroom created by consultant Victor Allen, which he mentions in a behaviour article in TESpro. For more information from Victor, visit: www.mirrordt.co.uk
This short video, filmed near West Wittering in West Sussex, shows a mysterious object that can be found out in the water. It is a remnant of the D-Day landings that remains in British waters.