Two lessons focusing on the analysis of language with the ghost of Christmas Past and Scrooge's school house. Taught with an AQA language paper 1, Q2 focus. Includes starter, extracts, checklists and adapted AQA language paper 1, Q2 mark scheme.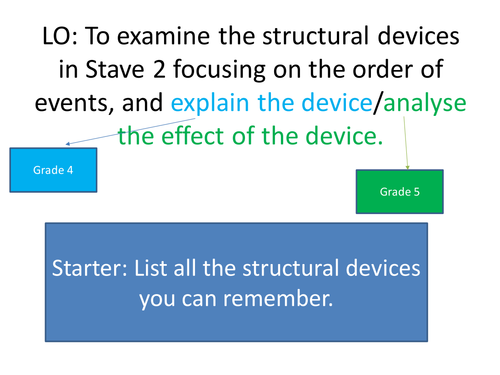 Analysing the scene of Fezziwig's ball for structure. Includes structure checklist, example answer and short activities to identify structure.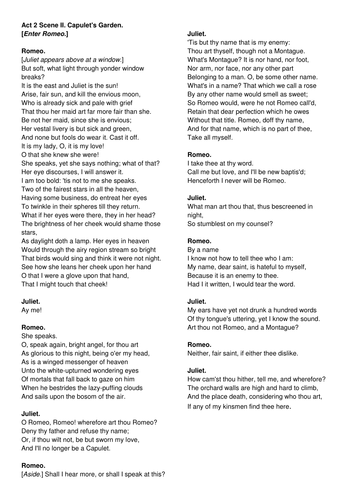 An AQA literature focused lesson on AO1 and AO2. Includes starter, language device/word class activities, questions and mini essay plan.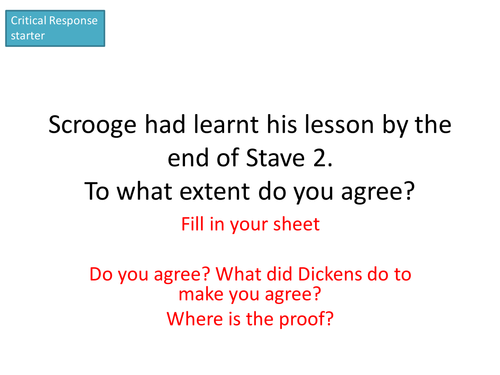 Two lessons focusing on the transformation of Scrooge's house and the ghost of Christmas Present. Lessons include critical evaluation style starters, white board activity, language analysis and group work.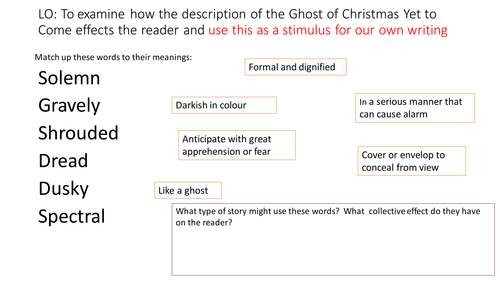 Using the ghost of Christmas yet to come from A Christmas Carol as a stimulus, students will analyse how the ghost is presented and then plan to write to describe. Includes starter, extract, activity and plenary.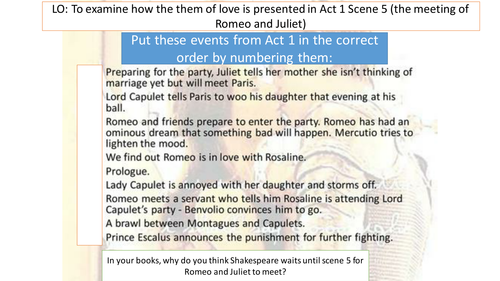 A lesson using 3 different versions of this scene to examine the presentation of love and Romeo and Juliet in Act 1 Scene 5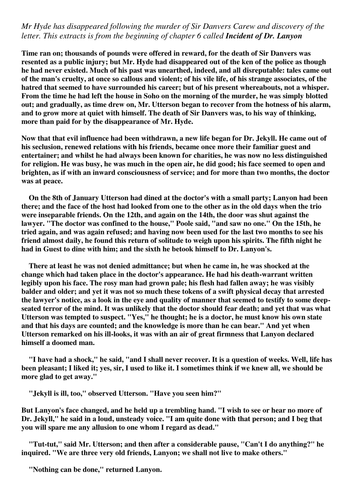 Using an extract from Dr Jekyll and Mr Hyde as the prompt, a language paper 1 including creative writing question. Use the AQA lang paper 1 mark scheme to mark.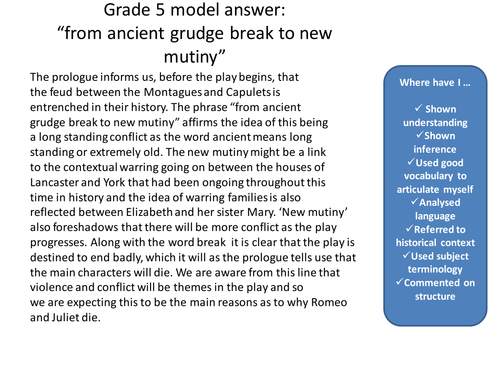 A simple examination of five quotations from Act 1 Scene 1 with AQA literature focus. Students initially practise the skills of inference and ordering of quotations before examining the quotations for language/structure (AO2), context (AO3) and critical response (AO1). Includes a model answer analysis of prologue and homework for students to write their own.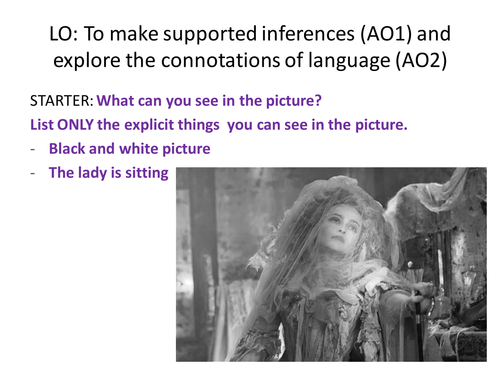 Two/three lessons to be used as introduction to A Christmas Carol. The lesson focuses on inference/connotations from the extract describing Miss Havisham from Great Expectations. The second looks at the context of women in Victorian Britain before using this to write a diary entry from the POV of Miss Havisham. Includes literacy starters and plenaries.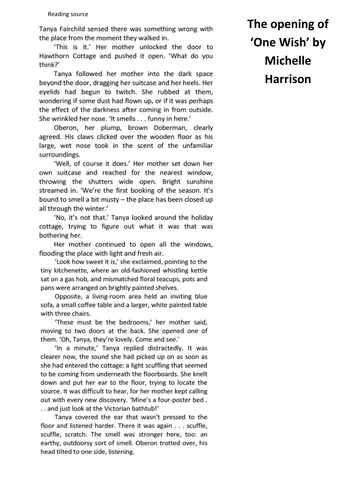 An exam paper based on language paper 1. Uses extract from One Wish by Michelle Harrison.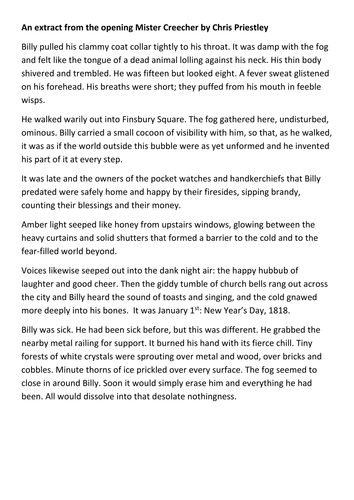 An exam paper based on language paper 1. Uses extract from Mister Creecher by Chris Priestley.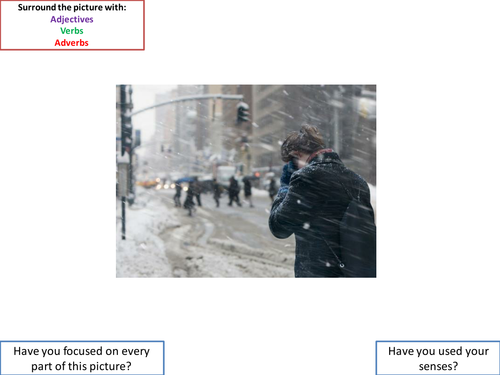 A lesson focusing on improving vocabulary in order to make the best vocabulary choices and describing the full image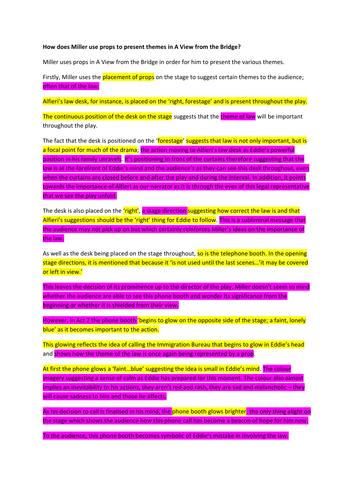 Activities examining the connotations/purpose of the props and costumes in A View from the Bridge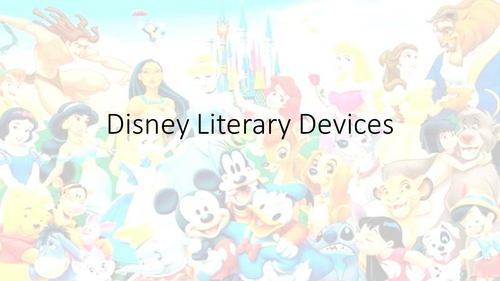 A set of 23 posters with definitions and examples of literary devices used by Disney. Includes: similes, personification, motif, symbolism, dramatic irony etc.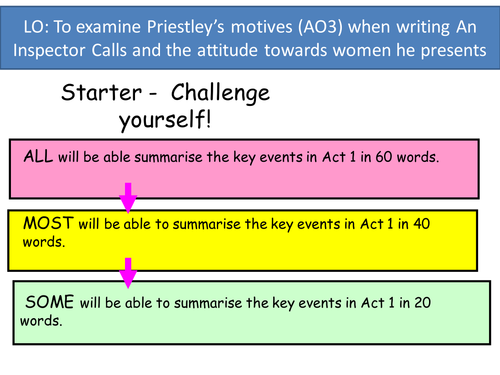 A series of three/four lessons on Act 2 of An Inspector Calls. The lessons include a focus on the presentation of women/public vs private life and generations. Includes contextual information, activities, starters and plenaries. Focus on AQA AO3.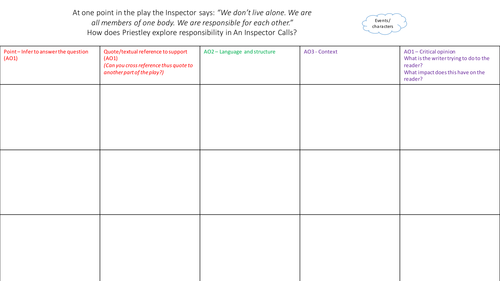 Two essay plans on the theme of responsibility and classes focusing on addressing all AQA new spec AOs.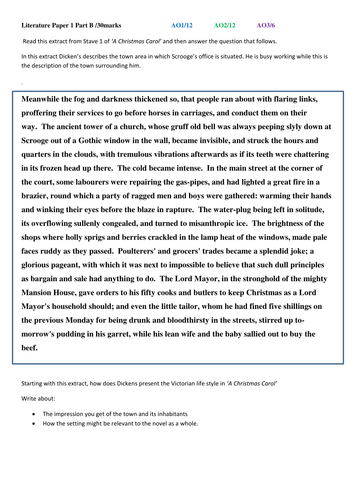 A set of three extracts from A Christmas Carol, set out like the AQA literature paper. Includes questions and prompts for answering.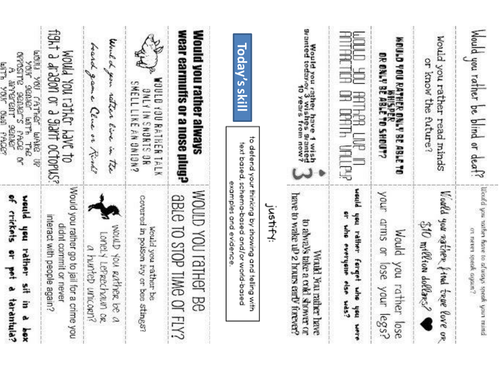 Using an old AQA sweet shop extract, students practise planning and writing a critical response. Lesson includes fun starter, flow chart of process to answer question and planning stage.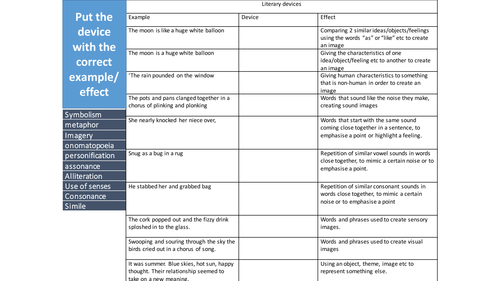 A lesson focusing on identifying/matching up devices, correcting spellings and planning a writing to describe question. (2 writing to describe plans and images are included).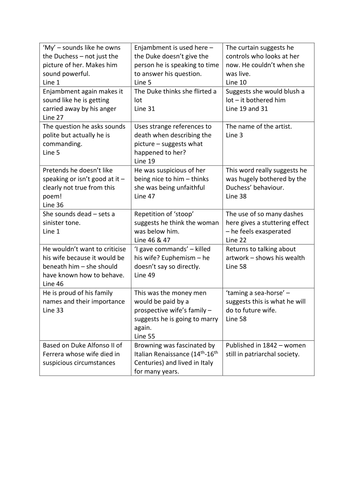 A lesson modelling annotation and understanding of My Last Duchess. Second lesson on understanding the AQA AOs and comparing Ozymandias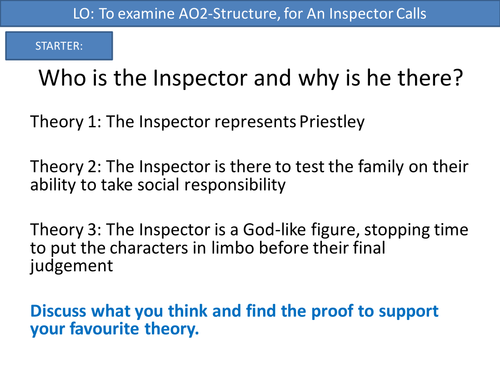 Two lessons: 1st - focuses on the structural aspects of An Inspector Calls (events in Eva's life, timeline of events in the play, tension graph) 2nd - focuses on what AQA AO1, AO2 and AO3 cover for An Inspector Calls plus planning sheet for class to complete on presentation of men and women. Includes: Starters on Priestley