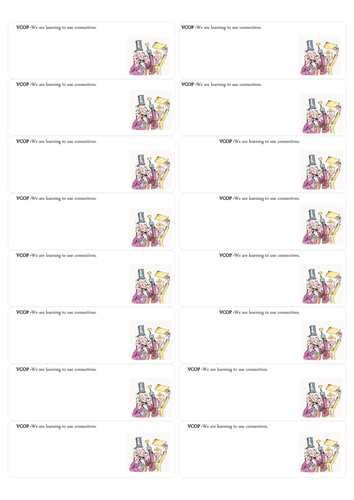 Roald Dahl VCOP Resources aimed at Year 1 / Year 2 but could adapt and use for older years in KS1 or KS2. When I had my first class, I wanted to have a VCOP board that was unique and related to an author, so I picked Roald Dahl as he is one of my all time favourites! I created posters for each section, vocabulary display words which I printed two sets of, laminated one for the wall and one as word cards which I used for a range of activities in Guided Reading and Literacy too. I also created Punctuation Pyramids using the display words from each section so it correlated with my display - this got brilliant feedback in observations throughout the year. I have also included blank images I used to create new words throughout the year (in the poster display pack) alongside VCOP themed labels which I used in Literacy skills books (thought I'd include these as an extra) I'm going to use the same display this year and the pyramids again in my Year 1 class. Words on PDFS are Cursive. Would be fantastic as a back to school display especially as Roald Dahl's centenary celebrations are upcoming.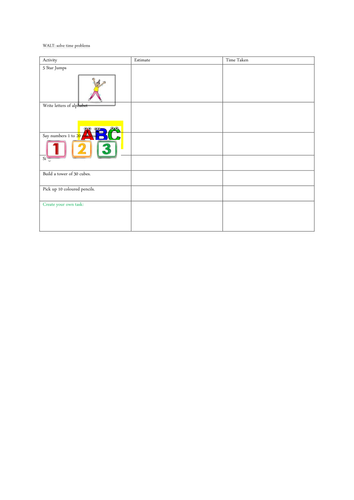 Solve Time Problems Worksheet Used with my Year 1 class last year. Got them into groups, then challenged them to time how long using stopwatches it took them to complete each activity. If you do not have stopwatches, can use timer on computer.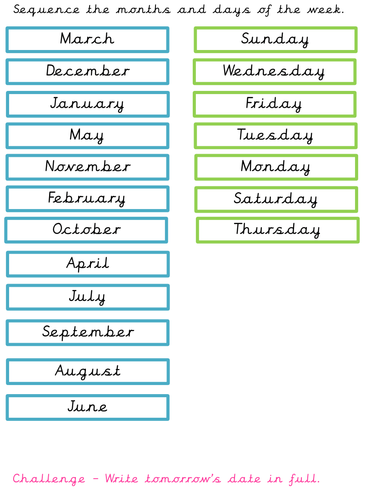 Months and Days of the Week Sequencing Activity cross curricular with Fine Motor Skills Cut Stick Used with Year 1 - cut and stick into maths book.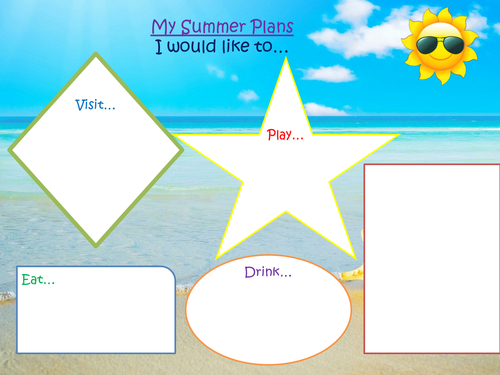 Summer Plans worksheet with beach background, and different shapes with different ideas to start. Can write in sentences or as labels.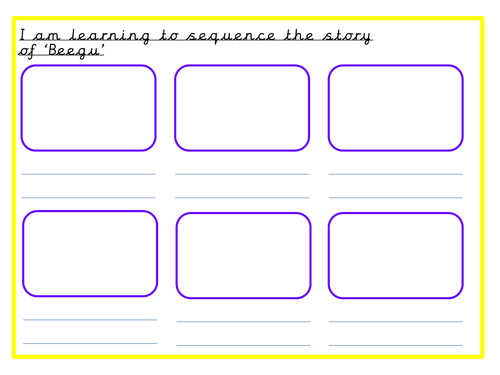 Sequence the Story of Beegu 6 panel frame with lines for writing Year 1 KS1 6 frames, with lines - am planning on using pictures for LA, labels for MA and sentences for HA. PDF and Powerpoint format (in cursive, so will need editing in Powerpoint)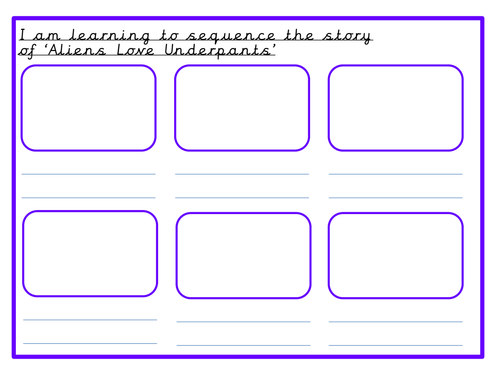 Sequence the Story of Aliens Love Underpants KS1 Year 1 Writing Activity PDF and powerpoint included - in cursive writing.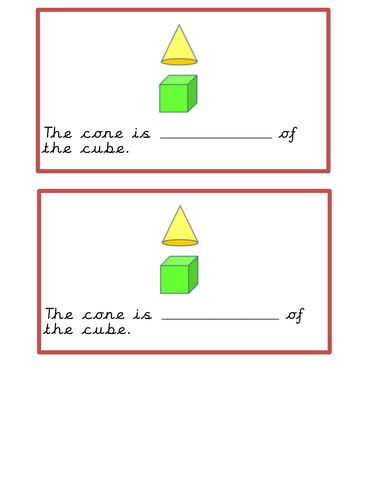 3D Shapes Position word problems - gap for missing position word, and one to make up themselves. Used in recent lesson. PDF and Powerpoint for editing. 5 different problems in total.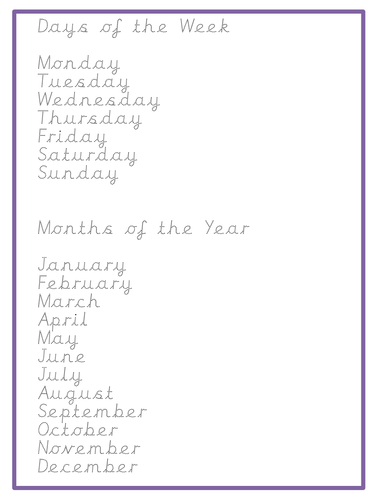 Cursive Dotted Handwriting Days and Months Going to use for Early Morning Work before teaching sequencing.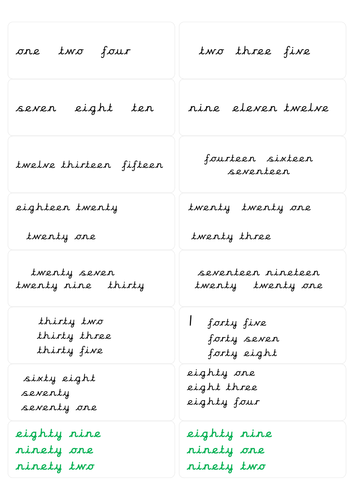 Differentiated Identify Missing Number Activity for Year 1 Numbers as words for HA Labels to stick into maths books.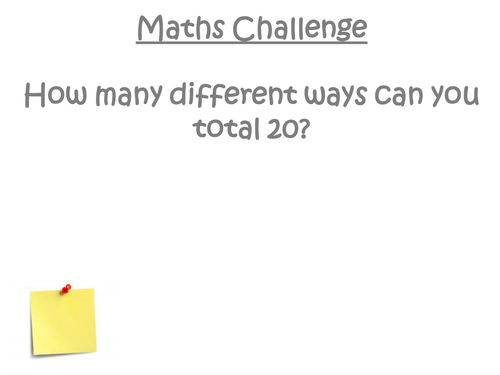 Set of different numbered challenge posters for totalling numbers. Use for a working wall display for Maths, with children writing answers on post its.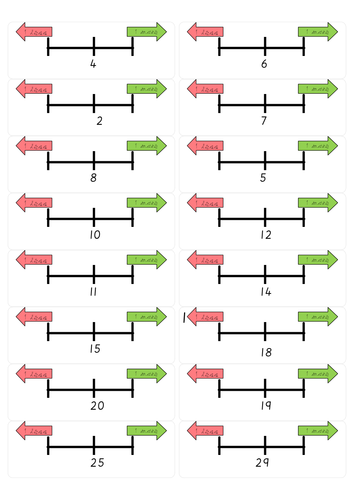 One 1 More 1 Less Ten 10 More 10 Less Labels Activity Stuck labels into books for children to complete.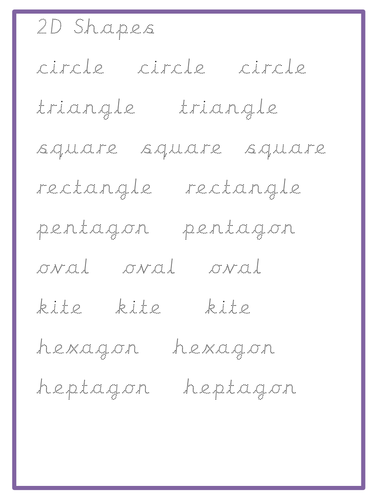 Cursive Dotted Handwriting 2D Shapes for Year 1 Going to use as Early morning work before teaching shapes this term.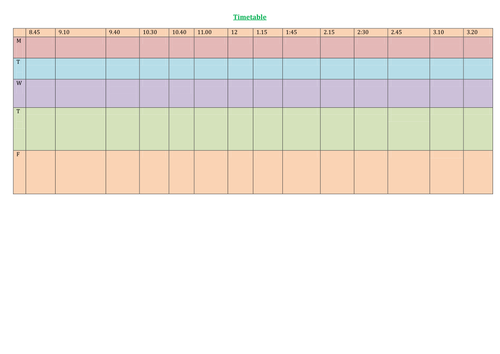 Timetable template used for my Year 1 class. I have kept the timings in, but document is fully editable. Have used for 2 years now, with different coloured days in table grid.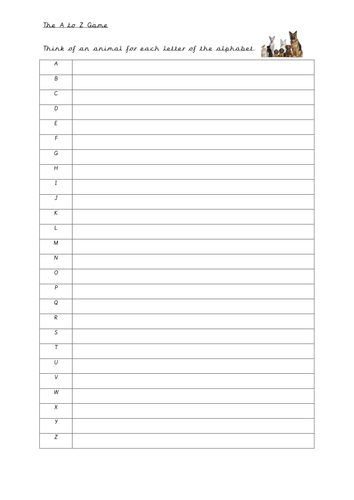 Early Morning Work Year 1 A to Z Game Literacy Animals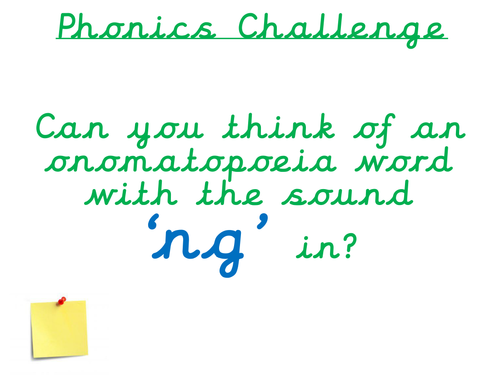 Phonics Noun and Onomatopoeia Challenge Posters using Split Digraphs for Working Wall I get the children to add post its to each poster with an answer. Focus on onomatopoeia for some phase 3 - 5 sounds Nouns and split digraphs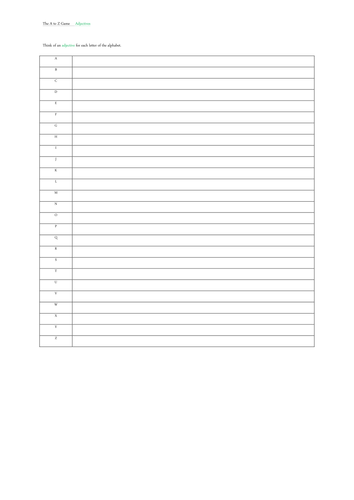 Early Morning Work Year 1 A to Z Game Literacy Adjectives Nouns Verbs Used for Literacy starters, plenary and extension work too as open ended task.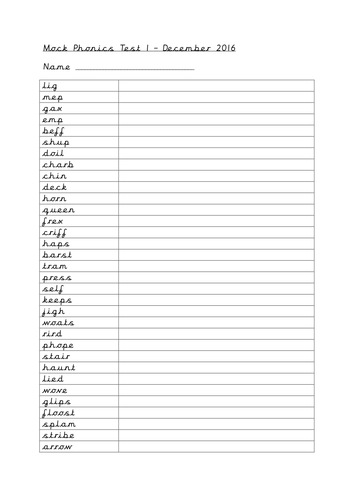 Year 1 Phonics Assessment 2016 Mock Tracking Grid Using words from last year's Phonics test, used for round 1 of mock testing in Term 2-3. Tracked answers out of 40, and aiming to complete again with words from 2015 test.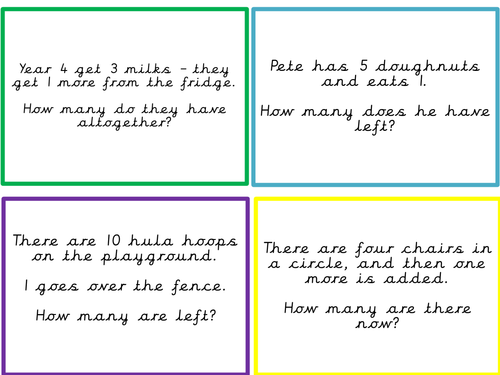 1 more 1 less, 10 more 10 less word problems covering a variety of topics. Used in my year 1 class last year, children found them easy to decode. Could laminate and use or stick them in children's books. 28 different questions ranging using numbers from 1 to 100.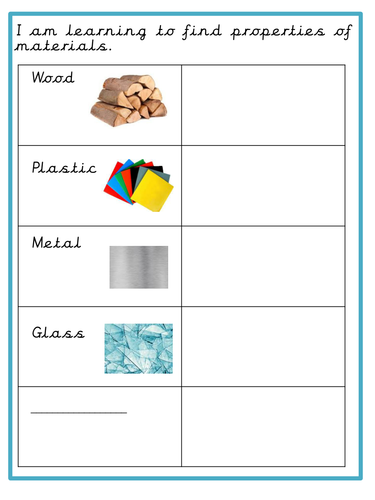 Properties of Materials Worksheet Year 1 Glass Wood Plastic Metal and one gap in the table for children to think of their own. In cursive writing. PDF and Powerpoint included for editing.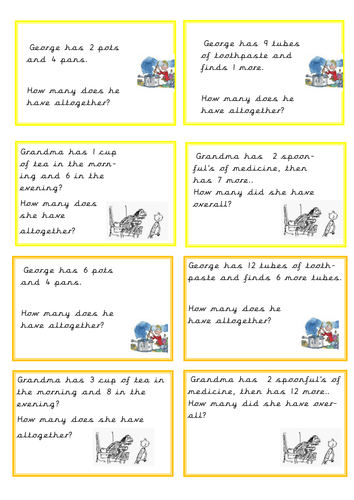 George's Marvellous Medicine Maths Word Problems - 8 different word problems for Maths addition. Year 1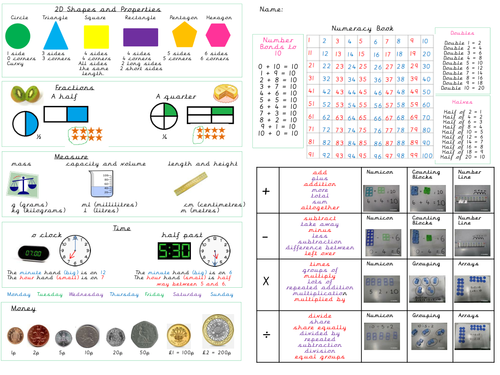 On a recent course, Maths books had a front cover on them with areas from the Year 1 /2 curriculum on the front, alongside child's name at the top. I've created 2 documents a helper mat, and front book cover and uploaded in PDF format, and the book cover as a powerpoint. Please note it is in cursive, so you may need to adjust the font in the powerpoint if you are editing. Hundred square is cursive and odd/even. Includes shape, time, money, addition with vocabulary. For my personal books, I added at the top my school's logo and class name which you can add to yours in the editable ones.