6Uploads
473Views
217Downloads
Multiplication fly swat. Includes 2,3,4,5,6,7,8, 9 and 10 times table allowing for differentiation. Most likely to be used as a fast finisher, plenary or lesson starter. Children work in pairs and are given a fly swat / use their hands to answer multiplication questions called by teacher. One point to the person in each pair how can swat the correct fly first!
This resource is an adapted version of the classic Monopoly game. This game allows children the opportunity to practice their multiplication tables. They are able to buy, sell and trade the properties they buy using Mathopoly money. The challenge questions are a range of word problems with the chance cards similar to the original game. Rulebook is included which outlines the simplified rules for the game.
An interactive resource - organised by stage - that includes a list of recommended reads. The hope is that the children will interact with this resource to help them look for new, exciting reads! This has been designed for the Scottish curriculum, however, this can be easily adapted for the English curriculum. Change the sections as follows: Primary 7 = Year 6 Primary 6 = Year 5 Primary 5 = Year 4 Primary 4 = Year 3 Primary 3 = Year 2 Primary 2 = Year 1 Primary 1 = Reception
Editable positive praise cards on a variety of backgrounds to suit your preferences. Simply print on card!
Three different types of brain breaks included; independent, teamwork and health and wellbeing. 12 of each type of brain break are included, meaning there are 36 different activities to choose from based on your setting.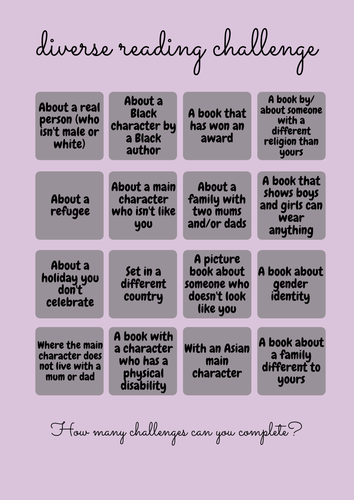 Diverse Reading Challenge to encourage children to read a broader range of texts about different cultures, lifestyles and religions. This could be completed as an individual or as a whole class challenge over the course of a period of time. Children could be encouraged to bring in books to share with the class that they have at home.