Mister Harms
All things Social Studies...and some other fun stuff!
24Uploads
8k+Views
338Downloads
All things Social Studies...and some other fun stuff!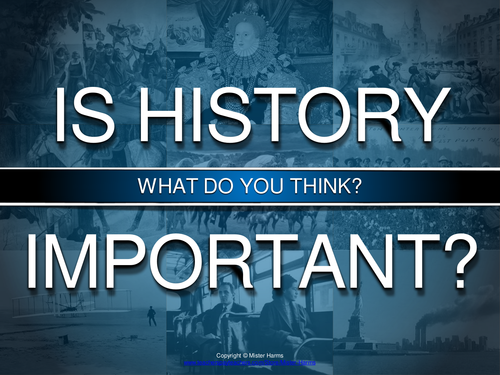 This PowerPoint presentation is a must have or any history class! Start the first day of school or first lesson with "WHY" because students always want to know why? Why am I learning about history? Why do we have to study this stuff anyway? When am I ever going to use this in life? Isn't history about a bunch of old dead people and things that have already happened? I typically use this for a first day of school, or first day of history class lesson! You've heard these questions before. These are great questions that should not be dismissed but rather explored. I always begin my first day of any history class going through this PowerPoint discussion to convince my students that history is truly important to them. I have found that the "WHY" must be answered before the "WHAT." When students know why, then learning can begin. I hope this resource helps your students as much as it has helped mine, and gets them excited about learning history! Enjoy this full "NO PREP" mini lesson. What's Included in the PowerPoint: - A note to the teacher that helps explain why history is so important. - Lesson ideas to incorporate before and after the presentation. - 6 reasons as to "Why we study history?" to present to students - A link to an inspirational 4 min video about history's influence. - Numerous discussion notes and evidences for each of the 6 points to help the teacher lead the large group discussion and/or lecture. - This is ready to go with "NO PREP" or research needed. Yeah!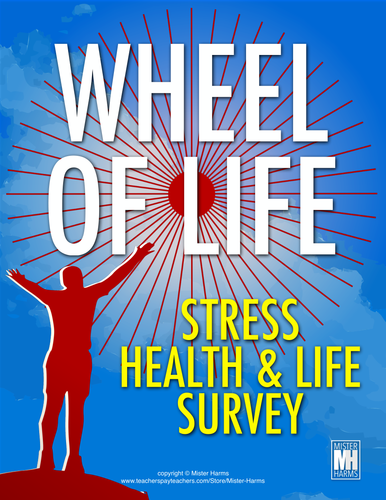 Great for any Psychology or Health class, students will take a self-reflective survey regarding their own mental health, physical health, personal life, and more. Answering 6 questions each in 8 areas of their lives, students will complete a total of 48 questions. With the results, students will map out their scores on the included "Wheel of Life." This wheel is a great visual to see how their life is "rolling along." This life assessment survey is a great way for students to assess where they are at in life, give them encouragement where they are succeeding, and shed a light on areas for improvement. Stress, health, and life are all measured in this activity. As a teachers, you may even want to fill it out yourself. I know I do from time to time. This may be used in any health or psychology class. I use this during my Stress, Health & Disorders unit within my Psychology classes. Download the preview for a sample look at the questions and format. Enjoy this life changing lesson and thank you so much for your comments and ratings. What's Included: - 4 worksheets of 12 questions each (48 total questions) - 6 questions on Physical Health - 6 questions on Mental Health - 6 questions on Spiritual Health - 6 questions on Financial Health - 6 questions on Family Health - 6 questions on Social/Relationship Health - 6 questions on Time/Productivity Health - 6 questions on Lifestyle Health - 1 worksheet with the "Wheel of life" to map out results - Reflection questions for students to complete and discuss: How is your life is rolling along? What areas are going well? What areas are flat and need improvement? Like any wheel, what areas need attention and some extra maintenance? What practical items need to be addressed?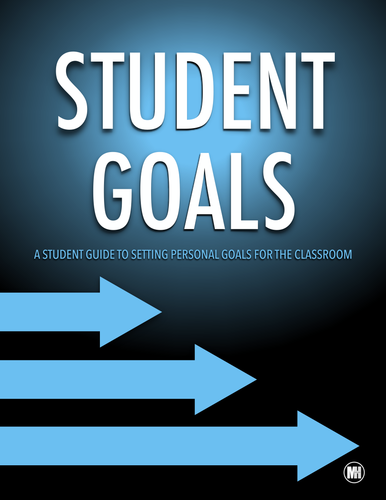 Overview From leadership gurus to accomplished CEO's, setting goals is a proven lifestyle practice of the most successful. If you don't know where you want to go, how can you even get there? If you don't know where the target is, how do you know where to aim? This concept is true for student achievement as well. As teachers, we are always looking to help our students maximize their potential and this STUDENT GOALS resource will bring the proven goal setting process into the classroom. What's Included? Students will take initiative in their own goal setting by completing the given goals worksheet. Once completed, you the teacher will now have a platform to discuss with the student their goals for the class and the appropriate target to aim for. This Student Goals resource includes two different versions. One version has pre-made questions such as "What grade do I want to achieve in this class?" The second version is an open template with four slots for you or your students to create custom goals. Use whichever version fits your needs best. I like to use this resource at the start of my classes as students have the best intentions during the first days of any course. I know this will be a great accountability resource to help keep your students motivated, participating, and achieving their highest potential. I find that students who take ownership in drafting and signing their own goals, will perform at a greater level than a teacher just telling them to do better. I am excited for your students to grow in their potential with this STUDENT GOALS resource!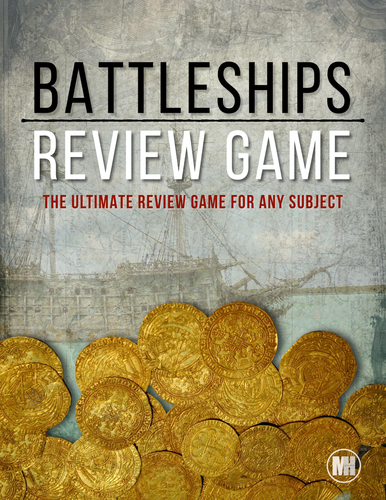 BATTLESHIPS is the ultimate REVIEW GAME to use for any subject and most any grade level. I created this years ago as I was trying to find a way to keep students engaged and excited about the content being studied. Now I have finally packaged this class favorite into a format for others to enjoy. Here's how it works. Students will be grouped into teams, and each team will have 10 ships loaded with various treasures. The ships will be numbered, but unseen by the rest of the class. The teacher will run the game by asking questions, calling on groups who raise their hands, and recording the captured treasures. The ultimate goal is to answer questions correctly, attack another team's numbered ship, collect the treasures of each ship (or maybe even the negative treasures), then repeat until all unit content or teacher questions have been covered. The team with the most gold at the end of game is declared the winner! Played similar to the well-known Battleship board game, this game keeps students engaged and wanting to study so they can beat their friends in a friendly, competitive game of BATTLESHIPS. Nothing quite beats competition in the classroom! It just might be the new class favorite! All necessary rules, printouts, and score keeping sheets are included. Just print, play, and make your students' day! Enjoy studying with this ultimate review game. If you have time, leave a rating and comment as I'd love to hear how it goes for you!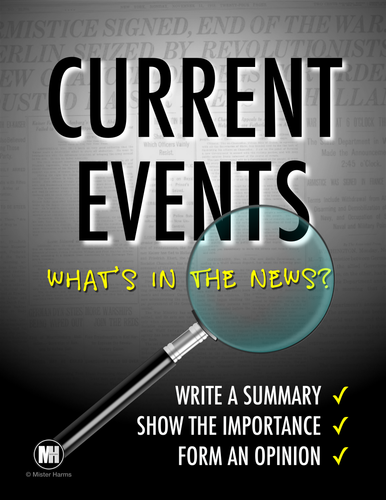 This Current Events Summary is an excellent tool for students to get involved with the news and the current events of the week. A simple writing format helps students find, summarize, and write opinions about current news stories and current events. I find this activity to be a practical filler for various social studies courses. Included: - Student directions: Find, Highlight, Summarize, Importance, Opinion - Student writing form (2 pages) - Grading rubric