5Uploads
1k+Views
4k+Downloads
Glossaries for all the keywords used in the AQA specification for KS3 science. Note: key words are written in order of appearance in the topic (not alphabetical order!) Each glossary is written in the format: know, apply and extend. Can be used to set spelling tests and bingo tasks…
Glossaries for all the keywords used in the AQA specification for KS3 science. Note: key words are written in order of appearance in the topic (not alphabetical order!) Each glossary is written in the format: know, apply and extend. Can be used to set spelling tests and bingo tasks…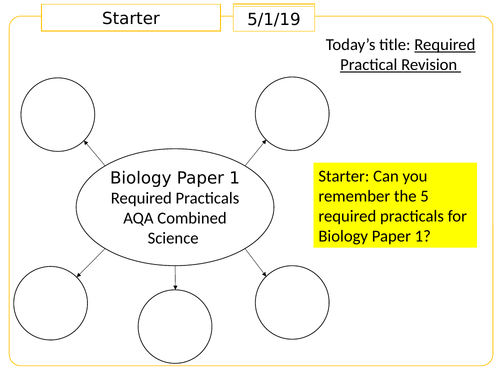 A structured power point to help students create a revision resource for the Biology Paper 1 required practicals. This is suitable for AQA combined science (higher and foundation). Templates for the mind map are included.
Adaptable templates for a calendar competition we set for KS3 pupils. The example worksheet is tailored to science but could be easily altered to suit any subject.
A set of adaptable quiz cards in a VI friendly font (Arial 36 bold). The content covers the Bioenergetics topic including combined and separate science. Terminology used in both the questions and answers is closely matched to the specification. I like to print them out on A4 and fold them in half so that the question is on one side, and the answer on the other then place them in an A5 zip lock so they don't get lost!