Njscarlet - supporting learning in RE based subjects
Looking to support hard working teachers in RE based subjects
231Uploads
39k+Views
28k+Downloads
Looking to support hard working teachers in RE based subjects
This bundle includes resources for 19 lessons based on the specification and SoW of the new AQA GCSE RE Christian beliefs unit. It has a PowerPoint for each lesson guiding students through the unit with supporting resources which include lessons on exam questions, model answers and a revision guide
This bundle includes 18 well resourced and detailed lessons that guide students through the Christian Practices topic. There are plenty of learning checks, exam practice opportunities, homework opportunities and includes a detailed revision guide to accompany this topic. This is an ideal bundle to get the best progress out of your students in this new demanding GCSE
These 20 lessons will support teachers in delivering the new AQA RE GCSE Buddhist beliefs topic. It features detailed lessons on each of the sub-topics in the specification with 2 model 12 mark answers and a conprehensive revision guide
This bundle includes well resourced lessons and a revision guide which will support progress and learning for students studying the new AQA GCSE RE Theme E - Religion, Crime and Punishment. Teachers will be able to easily develop these lessons to suit the needs of their students. There are plenty of opportunities to assess and check learning as you go through
This bundle includes resources for 19 lessons based on the specification and SoW of the new AQA GCSE RE Christian beliefs unit. It has a PowerPoint for each lesson guiding students through the unit with supporting resources which include lessons on exam questions, model answers and a revision guide
These 20 lessons will support teachers in delivering the new AQA RE GCSE Buddhist beliefs topic. It features detailed lessons on each of the sub-topics in the specification with 2 model 12 mark answers and a conprehensive revision guide
This lesson is based on the new AQA GCSE RE specification. This lesson takes on the difficult concept of the Eucharist and the importance of this event in different Christian denominations - Students will summarise our learning from the previous three topics with some one mark questions and will write down the answers in your exercise books Students will be introduced to a set of exam questions based on the learning of today's lesson and will answer these questions on a worksheet provided as we move through this lesson Students will research the features of the Eucharist and contrast different denominations in Christianity with the practice of the Eucharist Students will be set homework on the Eucharist and will have to list down three things that they have learnt about this lesson and give feedback at the end of the lesson
This bundle includes well resourced lessons and a revision guide which will support progress and learning for students studying the new AQA GCSE RE Theme D - Religion, Peace and Conflict. Teachers will be able to easily develop these lessons to suit the needs of their students. There are plenty of opportunities to assess and check learning as you go through
This lesson - planned with a double two hour lesson in mind - takes on the role of feminism in Buddhism and will look at several case studies of how women are treated in Buddhism which will include: How The Buddha treated women The teachings from the Pali Canon and other texts - including the Parable of the Dragon King's Daughter The role of Rita Gross - a prominent Buddhist feminist A focus on the Dalia Lama and women There are plenty of learning checks throughout with a student workbook to accompany learning
This 7 lesson topic (including assessment) is a brilliant foundation course for students in KS3 preparing to start GCSE RE. This topic is loosely based and inspired by the brilliant scheme of work from Themes to Inspire by Dynamic Learning. This topic will guide student progress through themes such as violence, war and pacifism with a religious response plus key learning such as pacifism, Just War Theory and includes plenty of learning checks
Using different sources of information, this lesson will give the opportunity for students to study the development of Buddhism in Britain by creating a time line of important events in the history of Buddhism in Britain with key players. Also, with reference to 2011 Census data and other sources, students are given the opportunity to take their learning further and discuss the authenticity of Buddhism in this country. This resource is planned with the Eduqas specification in mind but can be easily adapted for other exam board specifications
This lesson will help students learn and understand the importance of the Three Refuges (Jewels) in Buddhism. This lesson will help students understand the importance of taking refuge in everyday life and introduce the concept of Buddhists taking refuge in the Buddha, the dharma and the Sangha. It will support progress by supplying students with the opinions of different scholars and Buddhists
This lesson - which is planned for a double two hour lesson - will look at the relationship between Buddhism and other religions and how Buddhists should behave when encountering other religions. The emphasis within Buddhism on the individual testing the teaching and staying true to experience, even if that means following a path different to Buddhism (with reference to the Kalama Sutta v.9 & v.10 and Majjhima Nikaya 56.16 – the Buddha's conversation with Upali will be taught in this lesson The emphasis on seeing good within all religions with a focus on Emperor Ashoka, Rock Edict NB 7 and Rock Edict NB 12 will also be a focus for students to research Finally, students will be challenged to research two modern day case studies in looking at the relationship between Buddhism and Islam in Myanmar and Sri Lanka
These series of lessons - each one designed to last for at least a double (and sometimes a triple) - will support the learning of students studying either the first year of A-Level or those sitting an AS. It contains a detailed look at the foundations of Buddhism with each lesson supported by scholars, Buddhist quotes and learning checks.
This bundle includes 16 well-resourced and detailed lessons that guide students through the Buddhist Practices topic. There are plenty of learning checks, exam practice opportunities, homework opportunities and includes a detailed revision guide to accompany this topic. This is an ideal bundle to get the best progress out of your students in this new demanding GCSE
Based on the new AQA GCSE RE specification, this is lesson 1 in theme E which will support learning on the concept of. Students will be supported in their progress by: Reviewing some of the key terms that we will need to use in this topic by sticking in an information sheet on these key terms Students will be introduced to the importance of understanding the 5 aims of punishment in this topic and will start to use the acronym of these aims of punishment – DRRPP Students will research the 2011 summer riots in English cities and will watch some video clips informing us about these riots In groups, students will go through a selection of crimes that were committed during this period and decide what the punishment will be Students will finish by discussing the reasons why people commit crimes and groups, they will make a list of reasons why they think people commit crimes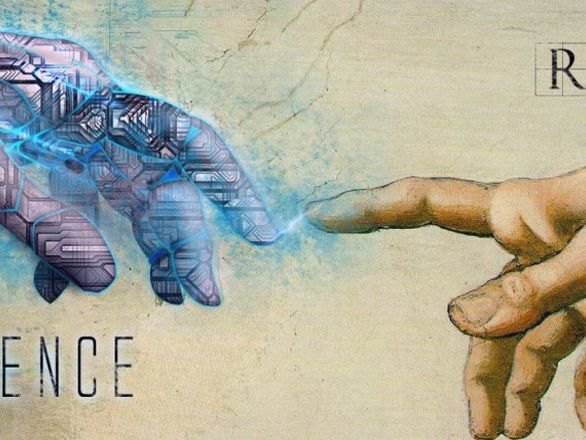 This lesson is based on the new AQA GCSE RE specification. This lesson is the third in a series of lessons that guide students through 'Theme B: Religion and Life' unit of the GCSE. The resources available will use dyslexia friendly fonts so all students can access the learning - Students will summarise our learning from the previous six topics with some one mark questions and will write down the answers in your exercise books Students will then recall the differences between science and religion on the origins of the universe and life and will make a list of three differences between science and religion Students will study and research the different interpretations in Christianity of the Genesis creation story and will answer four tasks based on research about these different interpretations Students will study the role that science and religion play in people's lives and will make a list of things that attract people to science over religion Students will make a list of things that make people religious and will then plan for a potential 12 mark question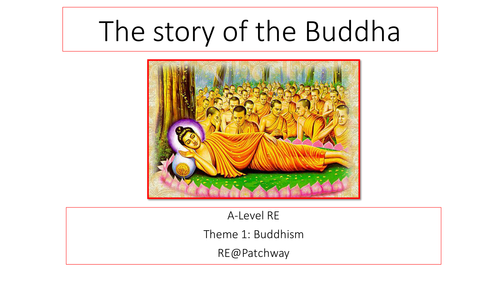 This lesson will guide students through the story of the Buddha's life up until his enlightenment. It will help students understand the idea of myth and symbolism within the story and deal with the question of how it shows his biography as a hagiography. This is most suited for A-Level but can be adapted for GCSE too.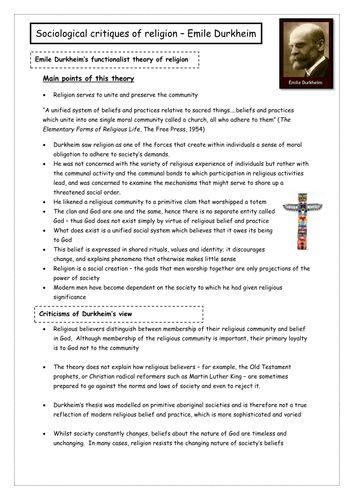 These three profiles will introduce the main arguments against religion - and the analysis of these arguments - of Emile Durkheim, Karl Marx and Sigmund Freud for a creative discussion class with students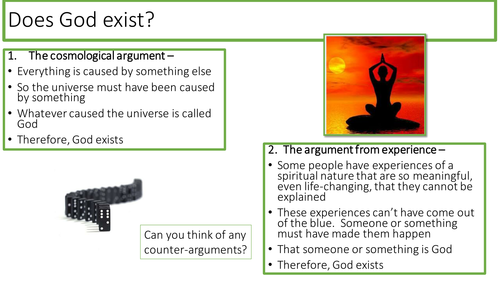 The second in a series of lessons for KS3 (Year 8 or 9) RE that is based and inspired by the brilliant SoW by Themes to Inspire by Dynamic Learning. This lesson introduces the popular philosophical reasons why people believe in God such as the cosmological argument
Based on the new AQA GCSE specification (and can also be adapted to other specifications) will guide students through the complex Buddhist idea of dependent arising with a focus on the Tibetan Wheel of Life and kamma and the samsara cycle of birth, death and re-birth I HAVE ALSO INCLUDED ANOTHER LESSON THAT CAN EITHER BE USED AS A FOLLOW UP LESSON TO REINFORCE LEARNING AND PROGRESS ON THIS DIFFICULT TOPIC OR BE USED FOR A REVISION LESSON LATER ON IN THE COURSE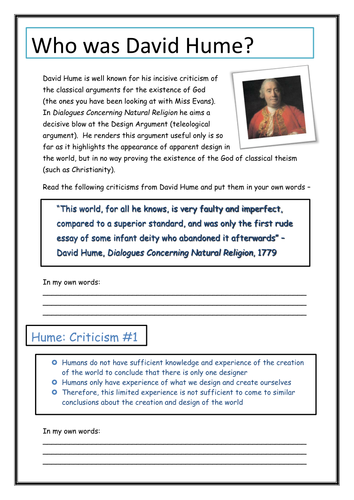 Worksheet to help students tackle the ideas David Hume had on the design argument
This short PP includes famous quotes from atheists to create a discussion with students