Nrsdoha's Shop
A range of resources for Psychology, Sociology, Geography and many more.
11Uploads
3k+Views
1k+Downloads
A range of resources for Psychology, Sociology, Geography and many more.

A resource to introduce the speaking examination for the Cambridge IGCSE in English as a Second Language. Written for the 0511 syllabus but also can be used for the 0510 (just an amendment on it being worth 20% of the final grade) Based on the student's book by Burch, Koshy et al, so it can be used alongside the relevant pages in the book (from page 290 onwards)

Here is a powerpoint overview of the Sacchi study: 'DOCTORED PHOTOGRAPHS AFFECT MEMORY FOR PAST PUBLIC EVENTS' I have added some background research and some basic evaluation points as well as breaking up the summary provided by edexcel into more manageable chunks for the students. Its still a work in progress but seeing as there wasn't much available on this, I thought I'd create it. Enjoy and hope it comes in helpful!

Designed for my IGCSE Travel and Tourism Class for the Cambridge syllabus. However, I'm sure it could be adapted for for other exam boards or a Geography lesson. Resource is an intro to perishable tourism destinations with picture match queues and destination information for students. Source for the pictures and text was taken from a Guardian article: https://www.theguardian.com/environment/gallery/2012/may/30/destinations-under-threat-tourism-in-pictures Can be edited and statements can be cut into a card sort to differentiate, or statements could be made into a gap fill etc…

A resource for the Cambridge IGCSE- English as a Second Language but might be useful for other ESL classes or syllabuses. An overview of how to write a long writing question to describe or explain. Some visual prompts and guidance from the student book in a more visual format. Good feedback from the students on this and was a little clearer for them than the information in the student book.

A series of short, fun activities to serve as an introduction to some of the topics students will study for Psychology GCSE. It was designed as a 20 minute activity with different stations. Ready to go, accessible to SEN students and students can complete independently. Can also be a fun activity for tutorial time for year 7s and above. Experiments include: The Stroop Colour Test Can you tell a criminal by their face? Conformity Links to Optical illusions Change blindness Feel free to make changes and adapt where necessary. Enjoy!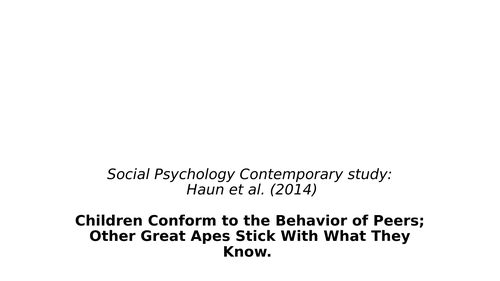 For the Edexcel IAL in Psychology. A simplified overview and summary of the study with some evaluation points for students.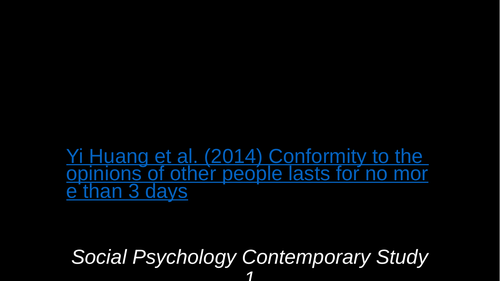 Yi Huang Conformity Study For the Edexcel IAL Psychology Contemporary Study Unit 1- Social Psychology Just a revision and background resource of notes for the Yi Huang study for my students to help them summarise the study as they found the summary of studies booklet hard to grasp as well as the original full text. Has a description of the study and some evaluation points

This was designed for students studying the Cambridge IGCSE in Travel and Tourism and for their unit 5 work but could equally apply to business and marketing students. Our students were struggling to remember some of the concepts from the 4 Ps (Place, Promotion, Price, Product) so I came up with these silly mnemonics to help them in their revision. An editable powerpoint is attached if you wanted to add/remove anything or make it look prettier (please let me know and upload if you do!)

Detailed Presentation Resource on the Prot study for the IAL Psychology Unit 2: Learning Theories.

A presentation on the Capafons study (1998) as part of the Learning Theories topic in Unit 2 of the IAL in Psychology (Edexcel). Covers the description and evaluation of the theory and some example past paper questions with answers. Link to a video talk through of me waffling over this presentation is attached too.

The contemporary study, McDermott (2008) for the Edexcel IAL in Psychology- Unit 2- Biological Approach. Some notes and a few evaluation points to run through in class as an introduction.