ACT 2 CAM
Some resources from our drama classes (non-formal setting), focusing on devised group work and actor training.
9Uploads
20k+Views
8k+Downloads
Some resources from our drama classes (non-formal setting), focusing on devised group work and actor training.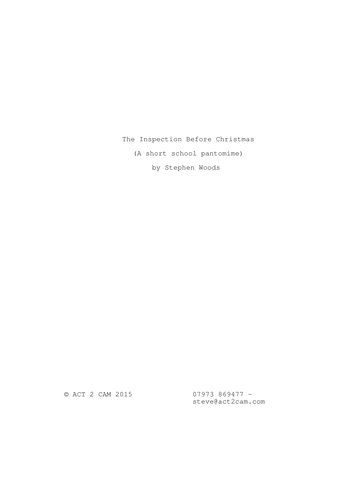 A quick and easy Christmas pantomime Suitable for ages 7-16 (or could make a great staff panto!) Would make a great one-off christmas activity, or could be extended over half a term. Leads to a 20 - 30 minute performance 14 written roles can be expanded or reduced to suit your group. All roles can be played by either gender. Minimal props and costumes, though these can be given more attention if time allows. A great little play that your kids, staff and parents will love!
These mirror exercises, discussions and stimuli are a great way for students to explore self and other. They are extremely accessible and engaging at all ages levels of experience, from beginners to advanced. They provide a platform to explore a host of drama skills, knowledge and understanding.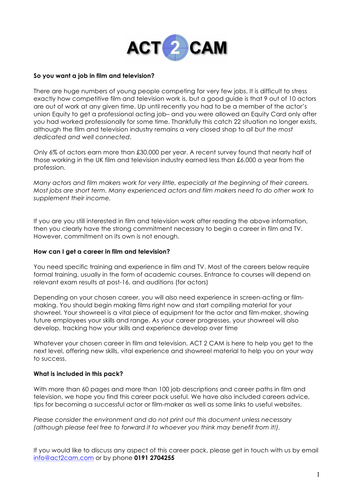 A Compilation of Jobs in Film and Television, with useful hints and tips on becoming an actor or film-maker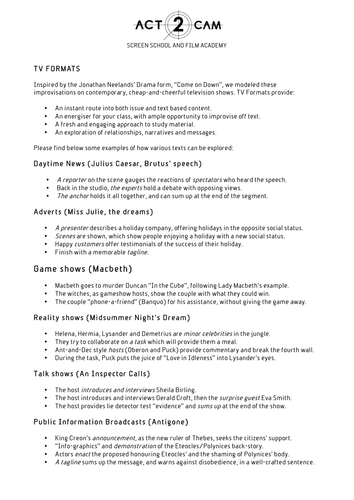 Some drama exercises developed by young people at ACT 2 CAM, our screen-acting academy. Great opportunities for off text improvisation. Fabulous for refreshing stale material and reinvigorating classes. These engaging and self-differentiating activities are great fun! Let us know what you think :) Steve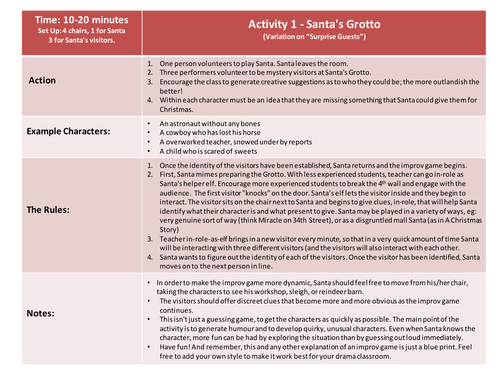 Around an hour's worth of activities for a one off Christmas Drama lesson. No paper, pens or props required! Clear set up, action, rules, examples and notes, to help even the least experienced of teachers Great fun, with educational content which can be teased out (improvisation, accepting, advancing, etc)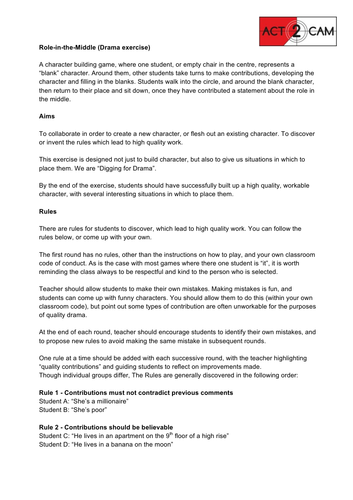 A thorough look at the aims and objectives of the Drama exercise, "Role-in-the-Middle", with guidelines, examples and rationale for experienced and inexperienced drama teachers alike. The aims are to collaborate and create a new character, or flesh out an existing character. To discover or invent the rules which lead to high quality work. A character building game, where one student, or empty chair, takes the centre, representing a blank character. Around them, other students take turns to make contributions, developing the character and filling in the blanks.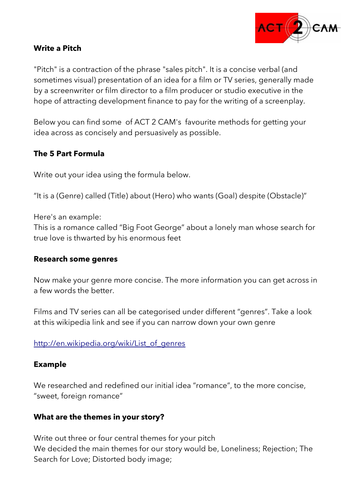 Stand-alone lesson activity on writing for a specific purpose, to a specific audience. Introduces the concept of a pitch in simple terms. Covers Genre, Theme, Beats.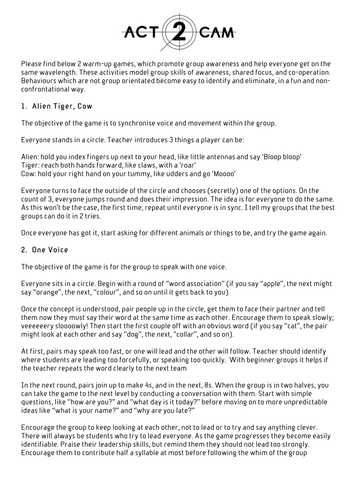 2 neat Drama warm-up games. Covers group awareness, shared focus and co-operation. Behaviours which are not group orientated become easy to identify and eliminate, in a fun and non- confrontational way.