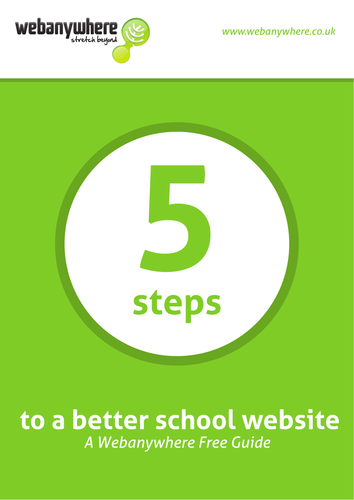 Schools need to compete for prestige, work hard for outstanding Ofsted results and ensure they fully meet their planned admission level each September. A key tool in the promotion and success of any school is the website. Via School Jotter - http://www.schooljotter.com/ School Jotter

Quick & Easy Christmas Crafts for the Classroom Via http://www.schooljotter.com/page/apps/resources/ & https://www.webanywhere.co.uk/school-jotter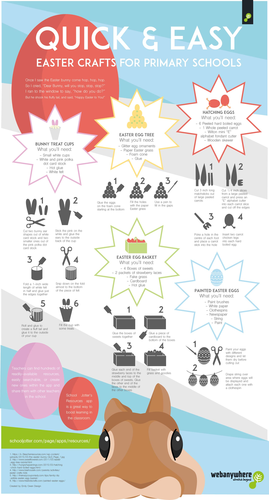 Great DIY ideas for Easter Via http://www.schooljotter.com/page/apps/resources/ & https://www.webanywhere.co.uk/school-jotter

Reward Systems are widely used to motivate students to perform better in school. Many education experts consider them to be a great way to improve students' participation in the classroom, while others argue that even though rewards do work, there are several disadvantages of using them, and the gains are not worth the price. The infographic illustrates some of the most popular benefits and risks. Source: School Jotter http://www.schooljotter.com/

This is an infographic on some of the linguistic peculiarities of British/American English. Source: http://blog.schooljotter.com/british-vs-american-spelling/

The infographic was created for November's Anti-Bullying week and shows some shocking statistics about bullying. Source: http://www.schooljotter.com/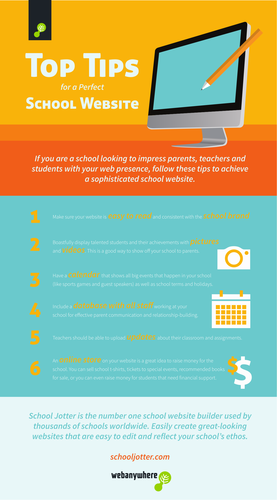 If you are a school looking to impress parents, teachers and students with your web presence, follow these tips to achieve a sophisticated school website. Tip #1 Make sure your website is easy to read and consistent to standard school brand recognition. Tip #2 Boastfully display talented students and their achievements with pictures and videos. This is a good way to show off your school to parents. Tip #3 Have a calendar that shows all big events that happen in your school (like sports games and guest speakers) as well as school terms and holidays. Tip #4 Include a database with all staff working at your school for effective parent communication and relationship-building. Tip #5 Teachers should be able to upload updates about their classroom and assignments. Tip #6 An online store on your website is a great idea to raise money for the school. You can sell school t-shirts, tickets to special events, recommended books for sale, or you can even raise money for students that need financial support. School Jotter is the number one school website builder used by thousands of schools worldwide. Easily create great-looking websites that are easy to edit and reflect your school's ethos. http://www.schooljotter.com/ Source: http://www.webanywhere.com/our-blog/perfect-school-website-infographic/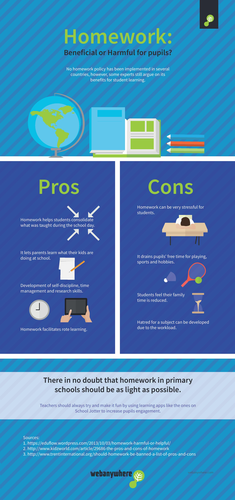 No homework policy has been implemented in several countries, however, some experts still argue on its benefits for student learning. The Pros Homework helps students consolidate what was taught during the school day. It lets parents learn what their kids are doing at school. Development of self-discipline, time management and research skills. Homework facilitates rote learning The Cons Homework can be very stressful for students. It drains pupils' free time for playing, sports and hobbies. Students feel their family time is reduced. Hatred for a subject can be developed due to the workload. There in no doubt that homework in elementary schools should be as light as possible. Teachers should always try and make it fun by using learning apps like the ones on School Jotter to increase pupils engagement.

Moodle is one of the most popular virtual learning environments and learning management systems worldwide, used both in education and business sectors. Its latest version is finally out! Check out all the new features and bug fixes. Source: Webanywhere - https://www.webanywhere.co.uk/moodle

Schools tend to have something of an old-fashioned presence on the internet. Primary school websites especially are known for being too colourful, and, let's face it, it can be difficult to read their content! Follow these tips to revamp your school's web design.

Let your students feel the Easter spirit by decorating their own Easter eggs. Some of the greatest Easter egg ideas can be found in this infographic: Via http://blog.schooljotter.com/easter-egg-decoration-ideas-for-the-classroom/

Some of the greatest innovations for the classroom through the years. Source: https://www.webanywhere.co.uk/

Some interesting tips for teachers on things they should and shouldn't do in the classroom.