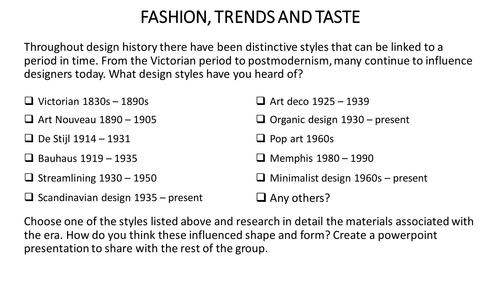 Powerpoints on chapter 2, some with follow up tasks. Easily editable to your own requirements.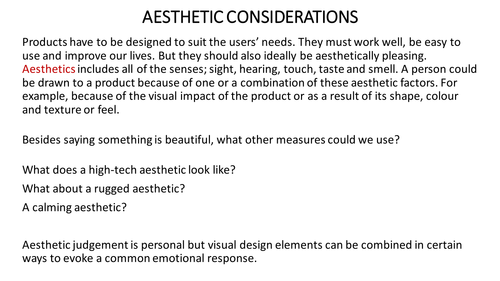 Powerpoints for the OCR specifications. Covers the full chapter, follow up tasks easily added.
How materials can be measured based on physical properties and definitions of these characteristics. KS4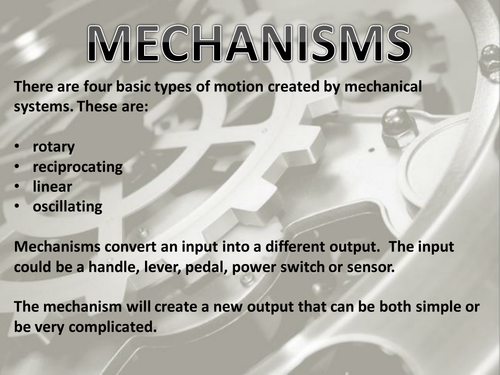 Introduction to mechanisms for KS3. Types of motion and 'real world' examples also shown.
Introduction to databases with interactive questioning and editable slides for class specific questions. Also a small test at the end. KS3
Interactive introduction to spreadsheets. Definition of a spreadsheet, breakdown of a spreadsheet (rows, columns, cells), and simple formulae explained. A quiz at the end to check understanding. KS3
n introduction to magazine cover for a graphics activity. Examples and analysis of covers and layout sketches with a task on the last slide.
Quality Assurance and Quality Control and systems used in manufacture (inspection, testing etc.). KS4
Sustainability, the 6R's, product life cycle and moral, cultural and economic issues. KS4
Introduction to the elements that make up a computer system. Input and output devices and the internal components (memory, storage and processors. The slides bring up pictures that students can guess the names of. KS3
Apple and I-D magazine used as a starting point to introduce logo and corporate identity development.