131Uploads
12k+Views
2k+Downloads
Languages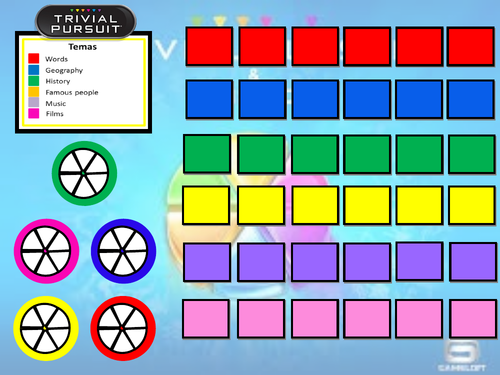 Trivial pursuit -Spanish culture quiz but easily adaptable to other topics by using the template. The power point contains: Trivial pursuit Interactive board with questions for 5 players. Perfect resource for the end of year.

Lesson to introduce preterite tense based on page 67 from viva higher. Grammar focus. Sports and preterite tense (regular and irregular verbs) formation (with practise). Simple lesson to revise preterite before you introduce imperfect tense.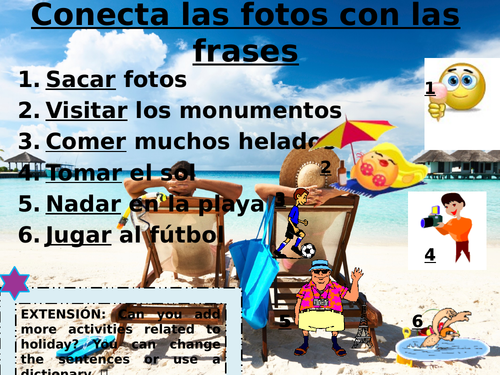 Amazing resource full of games and creative approaches to teaching Spanish near future. Perfect for observations and interview lessons!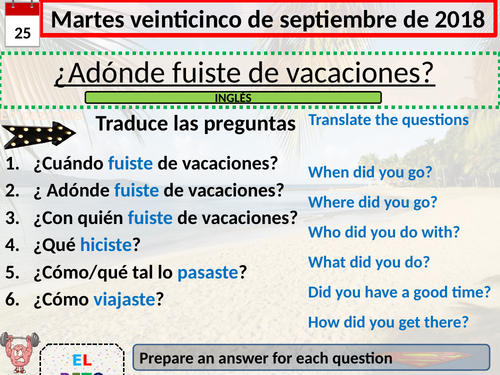 3 lessons based on Viva Foundation- Module 1 (¿adónde fuiste? pages 10,11). Powerpoint contains: questions and answers in the past vocabulary on holidays preterite tense -formation and irregular verbs cards game weather expressions in the past reading/listening/writing Extra lesson with different activties and games to consolidate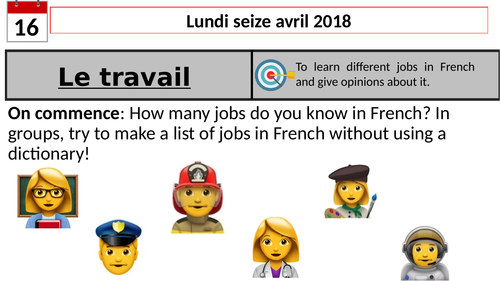 10 lessons on the topic of jobs aimed for KS3 students. Language: French.

Three lessons based on VIVA module 4 'punto de partida/intereses e influencias' and ¿qué sueles hacer? (mixture foundation and higher). Grammar focus (present tense and stem-changing verbs).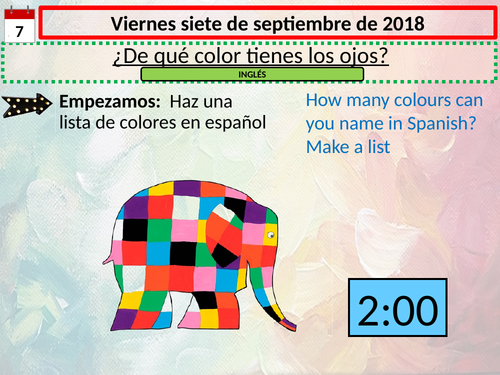 3 lessons, Year 8 Spanish. Personal information, hair and eye colour, personality, agreement and comparative sentences.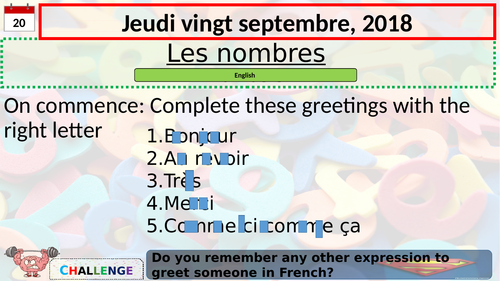 numbers (1-21) and how old are you. Two lessons based on ACCESS -French. YEAR 7/ YEAR 6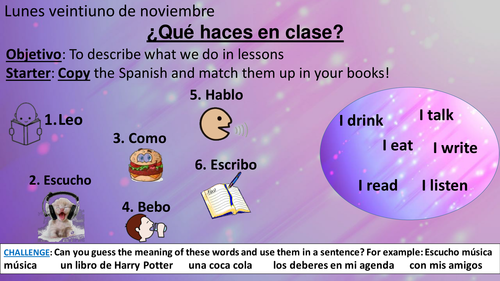 ¿Qué haces en clase? Based on Mira 1, Year 7 Spanish, ideal for observations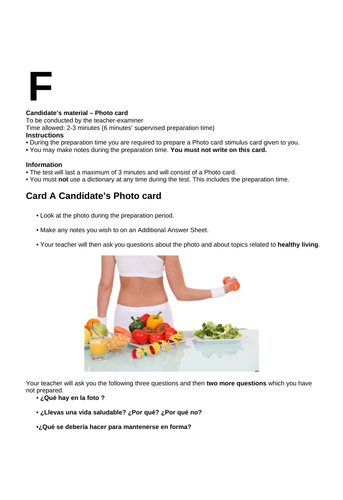 Speaking assessment GCSE style designed for KS3 students of Spanish and French. Topic: healthy living.

5 lessons based on Module 1 from VIVA (foundation/higher). Contents (32 slides) : GCSE writing task Irregular verbs weather how to improve sentences questions and answers about ideal holidays consolidation games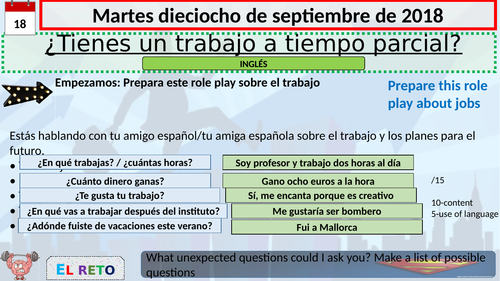 A lesson based on page 140 from Viva Higher. The power point contains: Role play on the topic of jobs. Use of lo/la pronouns to avoid repetition. Reading from page 140 -Viva Higher (with some modifications) in a GCSE style.

2 lessons based on that chapter from Viva (module 1-holidays) Lesson 1: expressions in the past tense, vocabulary (activities in the past), one listening activity and speaking practise with ´lo mejor fue cuando/lo peor fue cuando and reading activity. Lesson 2: quiz on last lesson, recap game, role play GCSE task, translation game.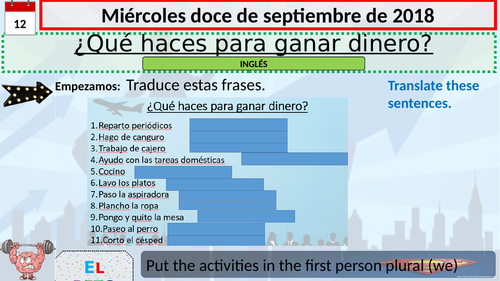 3 lessons based on Viva module 7 (jobs) foundation and higher. Contents: Chores Listening Speaking Vocab test Grammar focus: structures with infinitive Photo card task Role play task Grammar focus: lo /la to avoid repetition GCSE reading task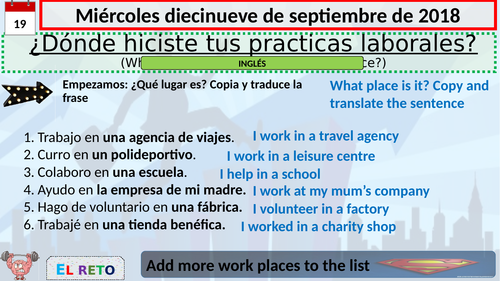 3 lessons based on pages 142/143 from Viva Higher and 136/137 Viva Foundation. Lessons contain: work places vocabulary Preterite tense, use and formation with activities writing task Listening task from Viva higher imperfect tense (use and formation) Use of preterite versus imperfect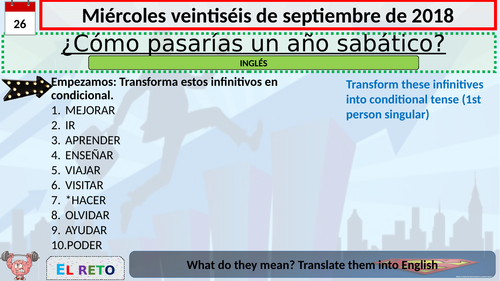 4 lessons based on Module 7 from Viva. Lesson 1: Conditional, formation and uses, conditional practise, reading/translation and listening activities. Lesson 2: Conditional practise, reading and key vocabulary related to transports + 'how to recycle language from the question in your answer' starter activity. Lesson 3: Structures to use future tense, reading and listening tasks + open plenary (writing/speaking). Lesson 4: GSCE writing question (90 words)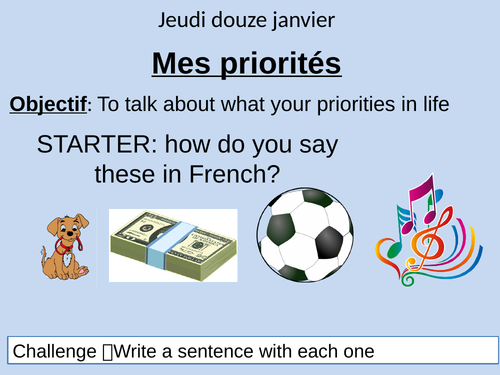 One lesson based on Studio 3 (priorities) low ability group. French. Lesson contains: starter/vocabulary introduction Beat the teacher game Speed game Listening activity Writing about priorities in life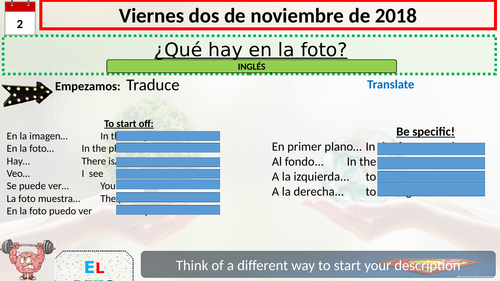 Exam practise. A lesson for students to practise the photo card task for the theme FREE TIME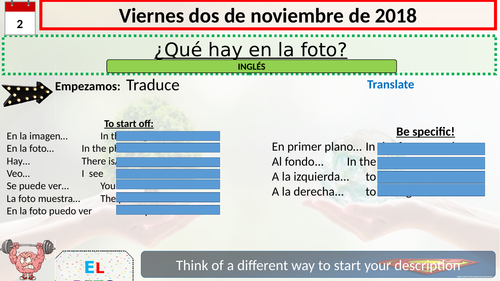 One lesson to practise photo card on the topic of holidays. Lesson contains Starter sentences Photo description activity and preparation Photo task Foundation and Higher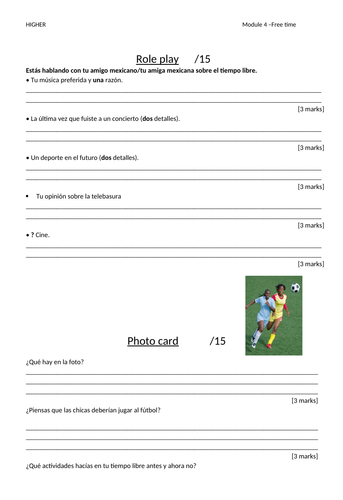 A role play, a photo card task and 6 conversation questions for your students to practice. Free time