Reena Khirodhur's Shop
French teacher- KS 3 resources- fun and relevant lessons worked down from NEW GCSE specification
16Uploads
2k+Views
442Downloads
French teacher- KS 3 resources- fun and relevant lessons worked down from NEW GCSE specification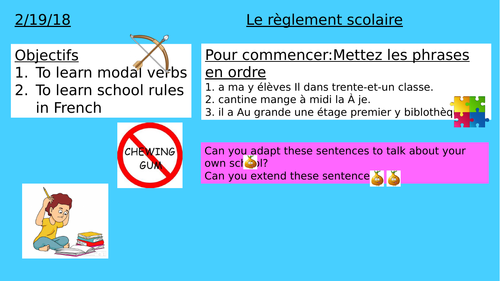 Lesson on school rules- worked down from EDEXCEL GCSE FRENCH SPEC. Colourful grid on school rules Modal verbs Negative modal verbs Listening activity Dice game Lesson well differentiated so no need to adapt!!!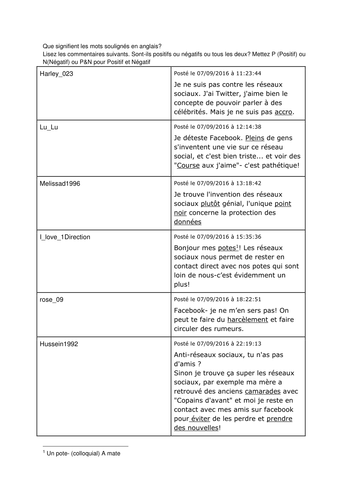 In this pack, there are 3 worksheets. The quiz can be used as a fun starter, then there is a worksheet with answers. The other worksheet, which is a blog gets students to think about if the comments are positive or negative. You can then use the comments to practise translation or make a reading comprehension out of it. The comments can also be used as phrases students can learn for the speaking exam.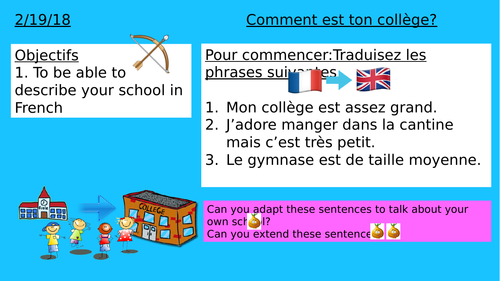 Lesson on school descriptions- Listening gapfill, reading questions, translations Game of 'contre le prof' Lesson well differentiated Key vocab list Students looked at invitations. They studied names of places, times, modal verbs. I used these worksheets as homework I gave to my year 9 students but they could also be used as classwork.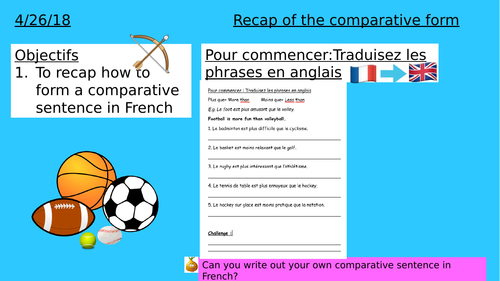 Starter on the comparative and answers Whiteboard activity on the comparative Listening activity- differentiated Running translations activity Differentiated writing activity Plenary -LANCEZ LA BALLE All corrections are on PPT- very easy to follow!!!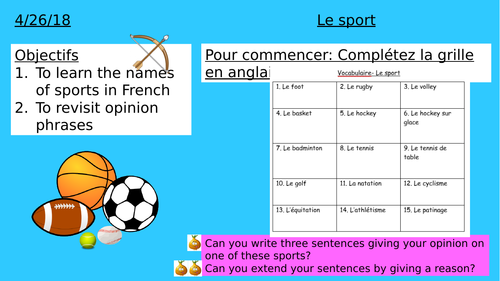 Starter- Vocab on sports Speaking activity- Ping pong Recap on opinion phrases Listening activity- Differentiated Differentiated white board activity Act it out plenary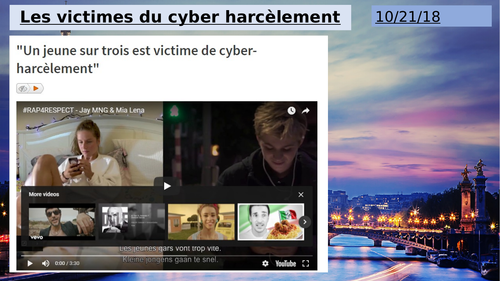 Lesson based on Unit 2 of the AS FRENCH- Le Cyberharcelement Lesson has activities- no need to plan!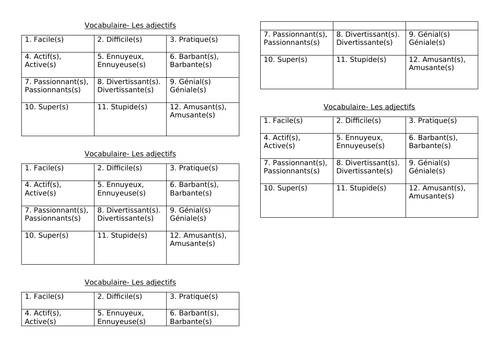 Starter- Adjectives vocab grid Listening gapfill activity can be differentiated Differentiated follow up reading activities- MA differentiation in TL Differentiated listening activity Plenary- consequences game ALL CORRECTIONS OF ACTIVITIES ON POWERPOINT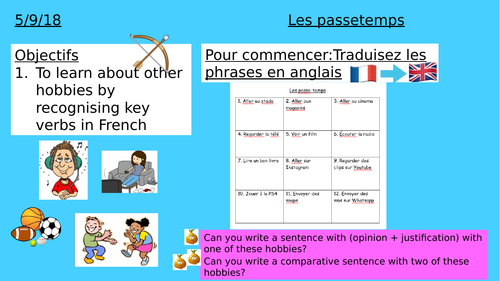 Starter- Vocab grid on hobbies, extension tasks with a challenge Listening gap fill- differentiated Reading follow up activities differentiated Listening activity 2 - differentiated Trapdoor activity as a plenary but could also be used for written support Plenary- act it out ALL ANSWERS ON POWERPOINT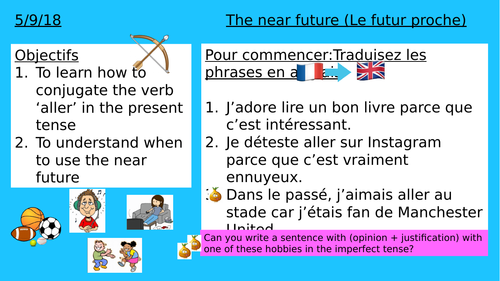 Starter- translation from fr to eng- challenge (extension task for MA) Activity with a song- fun activity that Years 7 and 8 loved! Grammar explanation KEY WORD SHEET Traffic light activity for quick understanding check (afl) Differentiated whiteboard activity Differentiated grammar based activities Table translation activity from FR TO ENG Translation tasks fro eng-fr (DIFFERENTIATED) Plenary-battleships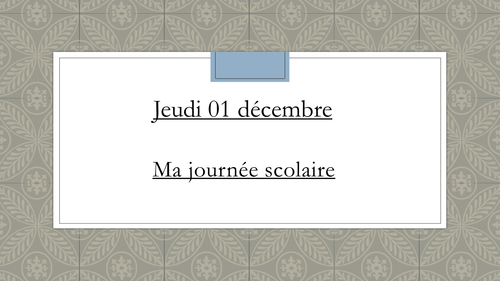 The powerpoint is revision for school subjects. It can be used before students have an assessment or as part of a normal lesson. There is an accompanying worksheet.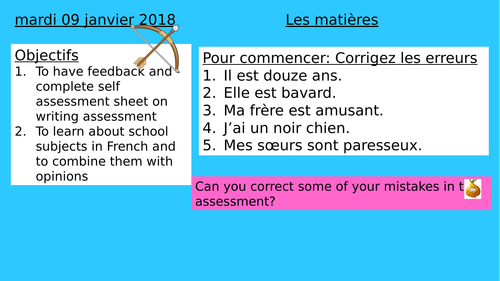 Year 7 or 8 School bundle Lessons on school subjects, the comparative form, adjectives to describe school subjects, the present tense er verbs, telling the time, daily routine and revision lessons on the topics. Writing lesson included with student self assessment. Speaking lesson included Lessons are differentiated with all answers on powerpoints- little preparation required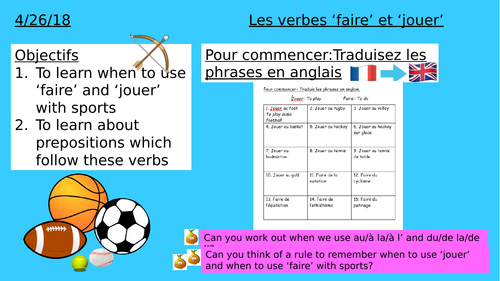 Starter- Jouer v/s faire and partitive articles and sport- challenge for MA in starter GCSE style reading activity- CHALLENGE FOR MA NEW GCSE style listening activity- challenge for MA Differentiated writing activity Plenary snakes and ladders!! VERY EASY TO NAVIGATE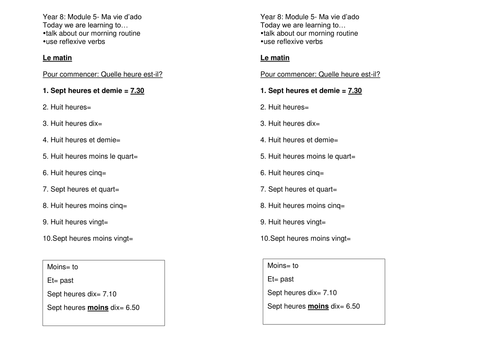 There is starter linked to telling the time in French. The second worksheet gives students a start on reflexive verbs. There are differentiated worksheets for higher, middle and lower abilities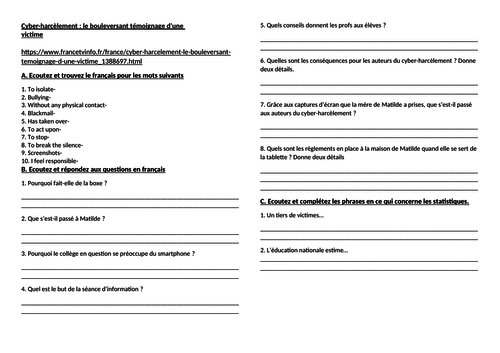 Authentic video news clip with questions- great to set as homework for your AS class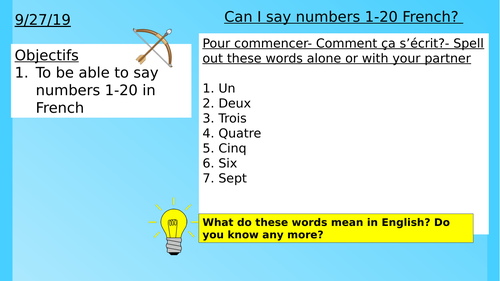 Whole lesson included Unit 1- Relationships, family and friends Numbers 1-20 How to say age in French